Mattracks Land Cruiser road test
---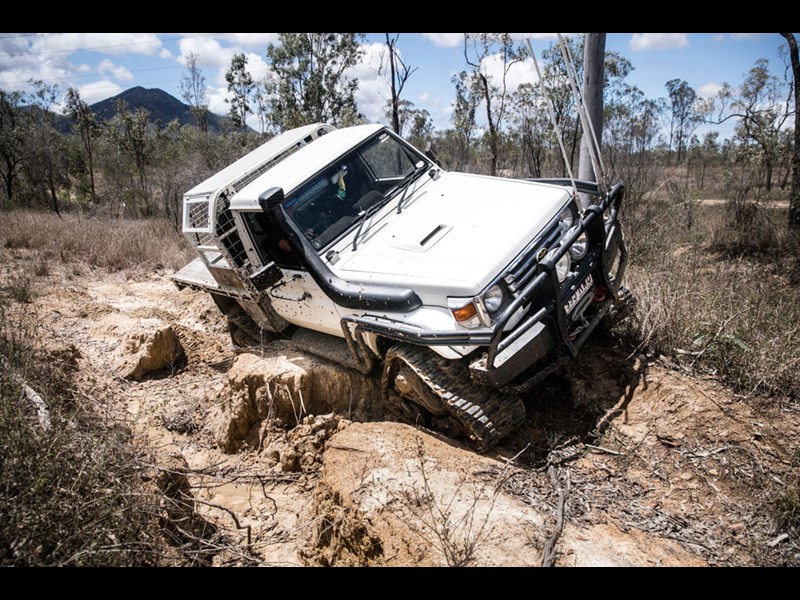 Aside from being exceedingly cool, these Mattracks make the Toyota very stable off-road.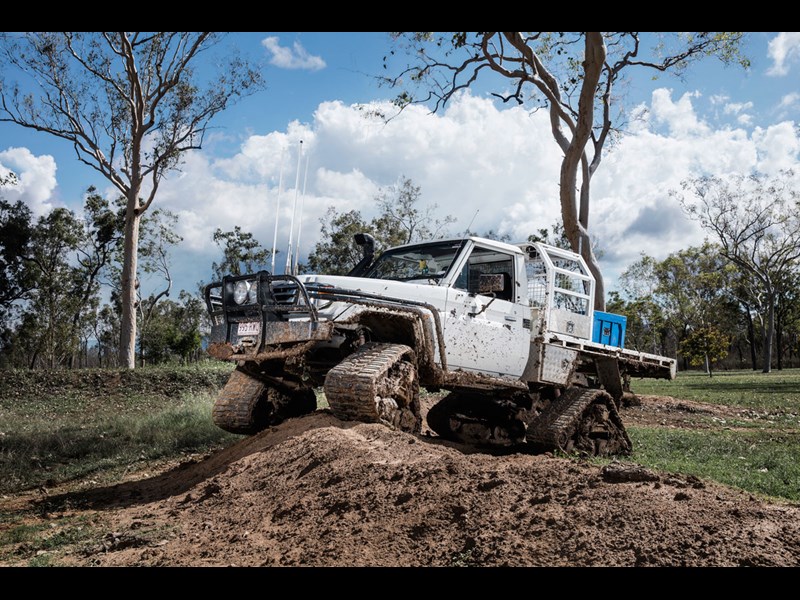 They also look awesome!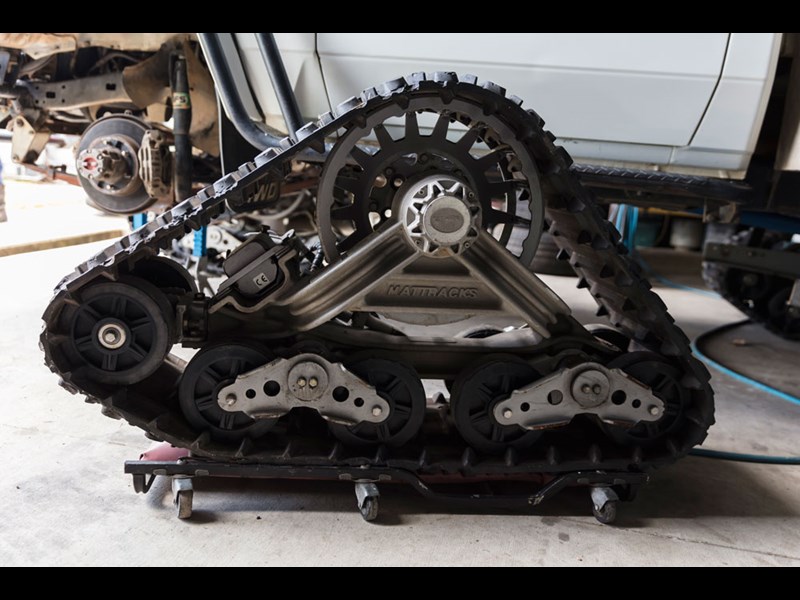 The track units are pretty hefty yet wheels can be refitted easily in a workshop.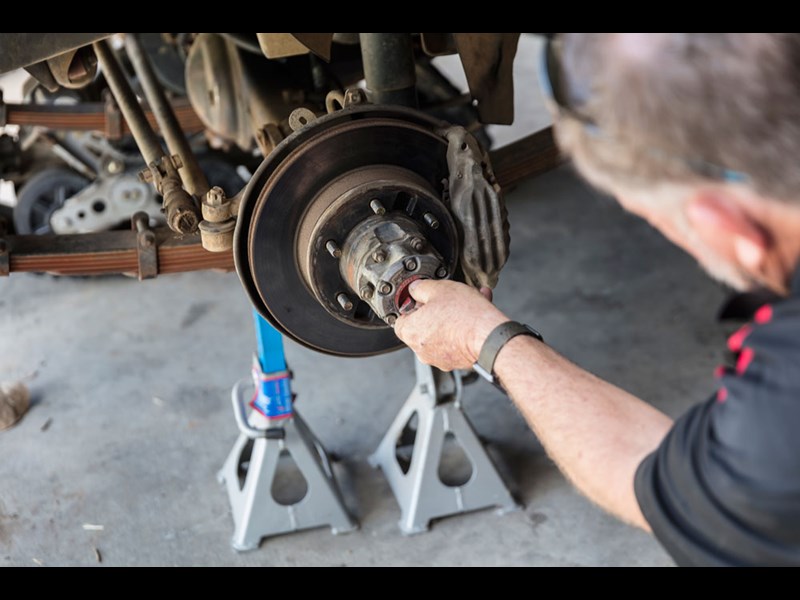 You do however have to remember to lock the front hubs before fitting the tracks!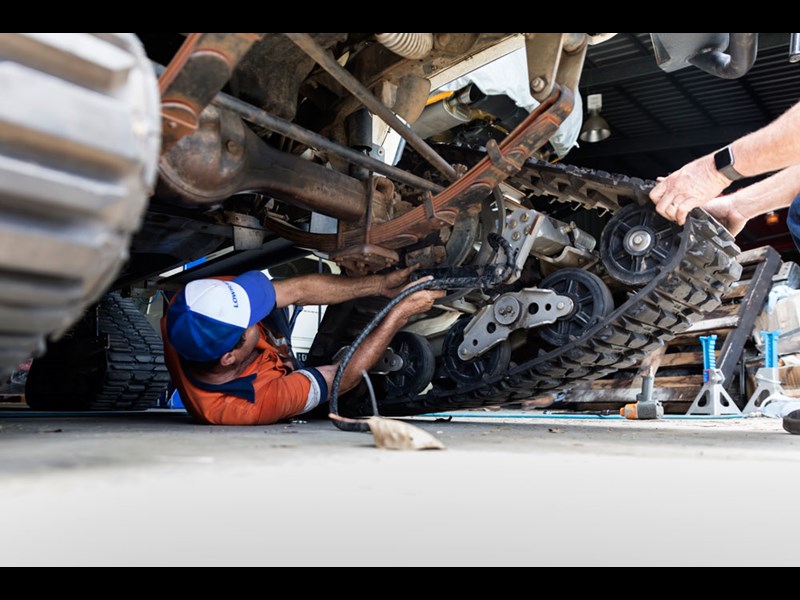 It looks a bit fiddly. However Mark Dooley reckons that a set can be fitted in about an hour.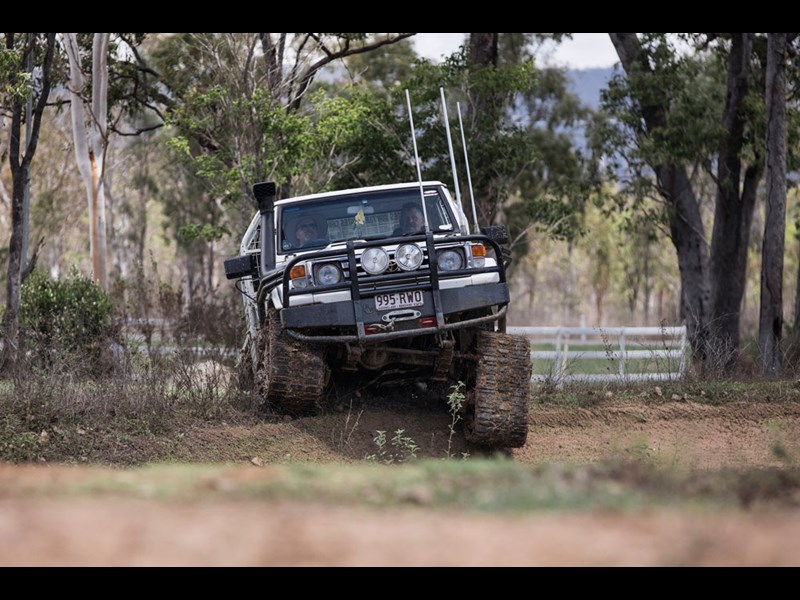 The 'Cruiser was amazingly sure footed on a variety of surfaces.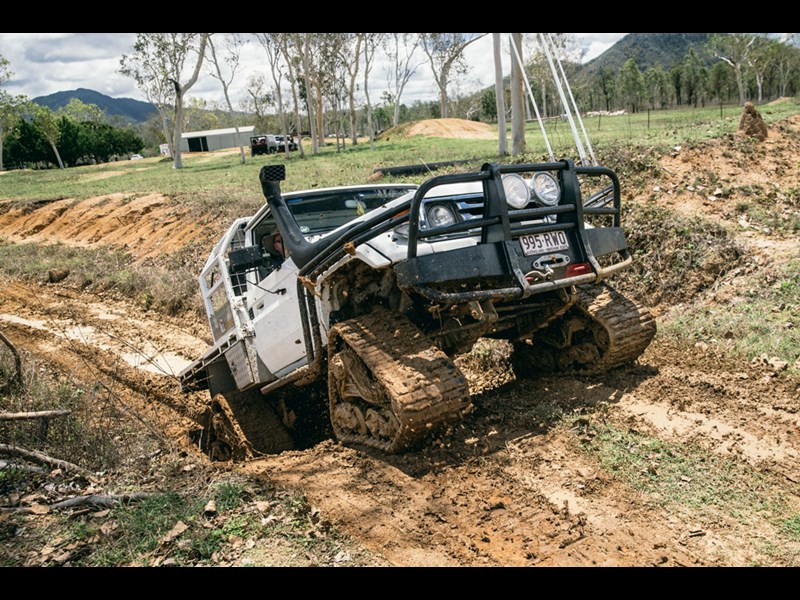 Another advantage of Mattracks is you gain between 150 and 200mm of ground clearance.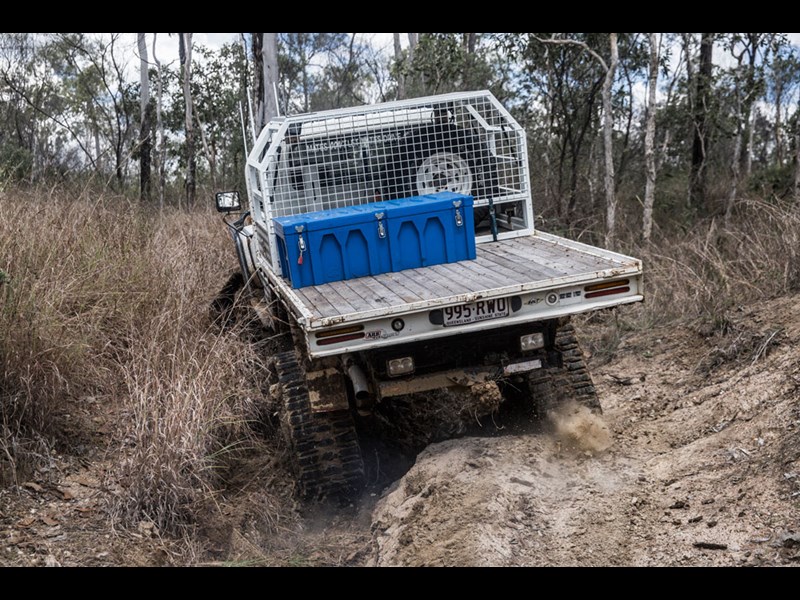 Clearly I was having way too much fun.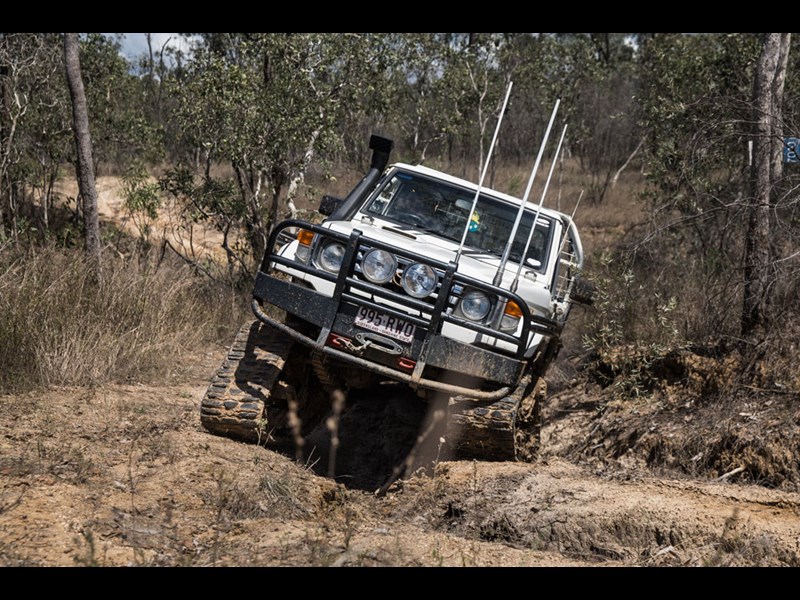 They may not be cheap but they're bloody effective!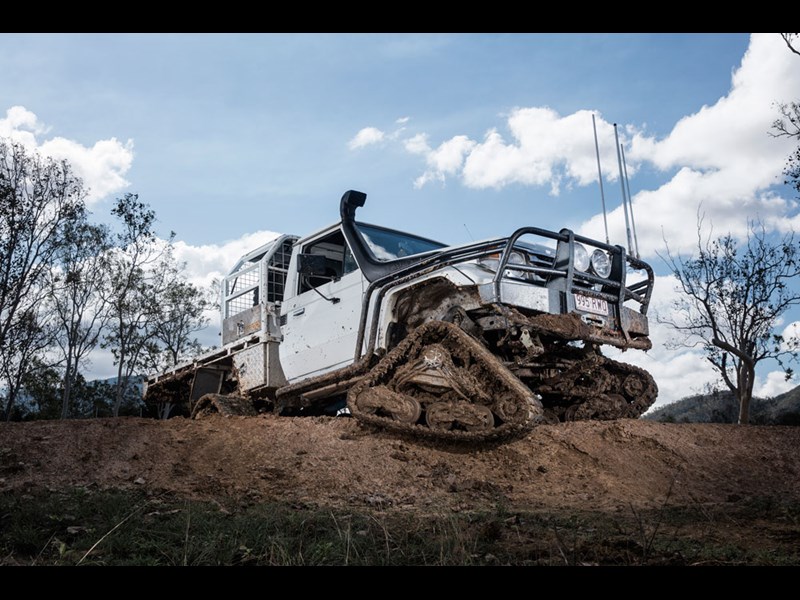 : Snow, sand, mud and slush are no obstacle with these tracks on all four corners.

Who hasn't wanted to turn their fourby into an unstoppable tank? Matt Wood once again uses work as an excuse to play out his childhood fantasies during company time.
So playing with 4x4s can be an expensive and potentially obsessive business.
Shopping for lift kits, diff locks, body lifts, bigger wheels, better shocks and bigger tyres; the list goes on. It's all pretty much on the cards whether you use your 4x4 for work of for play.
One day you're contemplating a winch, the next you're trying to convince yourself that you also need some more bar work to go with it. And then you realise that all that bar work looks naked without extra lighting attached to it.
It can quickly become a dangerous and potentially wallet lightening experience.
I recently resorted to bumbling around on the internet in a foolish attempt to distract myself from buying 4x4 stuff and came across Mattracks.
These track units are made in the US and turn the average 4x4, UTV or even light truck into a ditch hopping snow-bunny during the winter months.
If you were unfortunate enough to see Fate Of The Furious you may have noticed it also featured a Mattracks equipped RAM pickup. Ken Block has even had a crack with a tracked Ford Raptor in the snow.
This got me thinking.
Townsville based Fire Express are the Australian distributor for Mattracks. So I caught up with Mark Dooley, Owner and Director of Fire Express Australia.
Basically I just wanted to see if they were as cool off-road as they looked. And of course to put them through their paces in some mud and muck.
The Mattracks units essentially bolt on to a vehicle's existing stud pattern.
They can be removed at anytime and wheels can be refitted reasonably easily.
Some minor modifications are required to initially install the tracks then it's up to you if you need to swap between wheels and tracks.
These bolt on mods don't interfere with wheeled operation if you whack your wheels and tyres back on.
Mattracks come in sizes to most popular 4x4s as well as UTVs and even quad bikes. There are also non-driven variants for machinery as well as variants to suit trucks with a GVM of up to 10.5 tonnes.
Of course, the main advantage of a tracked vehicle is low ground pressure whether it be a tractor a dozer or a skid steer.
Mud, snow and sand all pose challenges for wheeled vehicles even if they are 4x4s. Basically tracks give the vehicle bigger yet lighter footprint.
For example, the Land Cruiser you see here has a ground pressure of just 14kPa. To put that into perspective, while driving this set up I pulled up in a dry creek bed hopped out and sank up to my ankles in sand. The 'Cruiser however had barely broken the surface.  
According to Dooley, it was the aftermath of cyclone Yasi in 2011 that sowed the seed of local Mattracks distribution.
After Yasi had slammed into the North Queensland coast leaving a trail of destruction in its wake Dooley noted that the emergency services were having difficulty getting around in flooded and waterlogged areas.
Consequently he thought that Mattracks may have potential in the Australian market.
Fire Express Australia is also the local distributor of Fire Express firefighting units.
These units are compact, lightweight portable firefighting units that can be vehicle mounted, motorcycle mounted or even back pack mounted and feature a patented spay head.
But for me it's all about the tracks. For the demo drive Dooley fitted a set of these tracks to his son's LC75 so we could test their mettle.
But before we could go make some marks in the mud I got to have a look at the installation and what it requires. In the case of the 'Cruiser you have to remember to lock the hubs before fitting the tracks. Failure to do so will result in swearing and a possible face-palm as you'll have to pull the front track units back off again to lock them.
Brackets are fitted to the ball joints on the front and the rear spring hangers to prevent the track units from rotating on their hubs when off road. A rubber torsion block within the unit's housing also ensures that the tracks tilt upwards when confronted with an obstacle rather than trying to rotate downwards on the hub.
There's also an optional power assist function that you'd be mad not to opt for. This requires a pressure sensor and quick release fittings to be mounted to the power steering box.
This makes turning a hell of a lot easier as it raises the forward rollers as you turn the wheel reducing drag and friction on the tracks.
Mattracks use a steel frame while the rollers are mounted to composite rods and as you may have guessed the tracks are rubber and are driven by a detachable sprocket.
Can you legally drive them on the road? It seems like that's dependent on your state or territory.
Victoria's Country Fire Authority has a Mattracks equipped LC79 complete with Fire Express firefighting unit based at Mount Buller that is road registered within the resort area though it's conditionally limited to 60km/h.
However, up in sunny Queensland Mark will happily trundle into town in the tracked 'Cruiser for a latte.
The downside is that you have to take it easy as the tracks can get quite hot, "60 kays an hour is okay," says Dooley, "You can do 80 but only for a 5 kay stint or so." However, as I was to find out though, the ride is also pretty unforgiving on hard road surfaces.
Maintenance wise the tracks need weekly greasing in full-time working roles. There are 18 grease nipples on each unit.
Dooley demonstrates the track unit installation, saying that a flexi head on the rattle gun is a big help when it comes to doing up the wheel…er…track nuts due to clearance issues.
With the right set up installation isn't to big a job though the track units themselves are quite heavy. Dooley maneuvers the units into place using a wheeled mechanic's creeper. 
Then it's time to fire up the old 1HZ powered 'Cruiser and go for a blast. This old girl is pretty typical of what you'd find many in the back blocks using for work and play.
A 50mm suspension lifts becomes a substantial 200mm lift with the tracks fitted. There's an ARB compressor on board with ARB diff-locks front and rear.
The old NA diesel 6 has had an aftermarket turbo and intercooler fitted along with a suitably chunky exhaust. The 'Cruiser certainly sounds the part as we idle out of the shed, a subdued turbo whistle builds in intensity as we pick up speed on the grass.
While the ride may be pretty harsh on the road, out in the paddock it's as smooth as. The 'Cruiser just glides over the lumps and bumps that would usually have wheels juddering in their wheel arches.  
Of course I'm grinning like a fool while at the wheel. The Mattracks give the Land Cruiser a tough military look, and it feels as stable as a rock. The Toyota's tough exhaust note only enhances my childish glee.
On dropping down into the slushy creek bed I give it the message with the right pedal and I'm rewarded with a spray of mud up the side.
The truck just rumbles over the top of slush rather than sinking into it hurling a couple of very satisfying muddy rooster tails into the air behind me.
If the 'Cruiser was fitted with wheels I'm sure it would've still made it through most places we took it. However it wouldn't have done it anywhere near as quickly or easily.
Our photographer Nathan was getting a little frustrated with the shoot at this point.
As a veteran 4x4 photographer he's accustomed to framing shots of flexing fourbies with wheels hanging in the air as they clamber through the muck. In this instance the track equipped Toyota was just not raising a sweat. 
The only obstacles that really pose any challenge to the Mattracks are rocks. The tracks tend to butt up against a boulder rather than roll over the top of it like an off-road tyre running low air pressures would.
Clearly these tracks are most popular in snow applications, and rightly so. The Australian Antarctic Division uses them as well as alpine fire and emergency services.
While that's clearly a niche market they've also found favour up in the tropics.
A couple of North Queensland stations are now using Mattracks equipped Land Cruisers to get around during the wet season when they'd usually be isolated by water and mud.
The possibilities are endless.
During my drive we clambered down soft sandy creek beds and river tributaries as well as wallowing in a bit of mud. With diff-locks only needed on a couple of occasions 'Cruiser was effortless off-road.
The track units just plant the truck solidly on the ground. A Mattracks fitted Land Cruiser was recently tested for lateral stability in Victoria and it reach a cross slope angle of 50 degrees before threatening to tip.
While clambering through the bush this was very apparent. It's a very stable and confident way to carve through the bush.
They aren't however cheap, depending on the US dollar exchange rate you'd be looking at about $55,000.00 to outfit your Land Cruiser like the one on these pages.
I feel like I should at this point be pointing out the practical and commercial applications of Mattracks however I keep coming back to the fact that they are just awesome fun off-road and there's nowhere you really can't go.
How can you put a price on that??
Subscribe to our newsletter
Sign up to receive the ATN e-newsletter, digital magazine and other offers we choose to share with you straight to your inbox
You can also follow our updates by joining our LinkedIn group or liking us on Facebook. 

Trucks For Hire | Forklifts For Hire | Cranes For Hire | Generators For Hire | Transportable Buildings For Hire