Renault Trafic L2H1
---
The current incarnation of the Renault Trafic arrived in Australia mid-2015. Renault has never been one to shy away from a styling statement and the Trafic is no exception.
I happen to think it's quite a nice looking van.
Renaadvances on the Aussie LCV market have been something to behold over what amounts to be quite a short period ult's of time.
Details
The front wheel drive Trafic uses a 1.6-litre turbo-diesel for power, which is available in single-turbo (66kW/260Nm) and twin-turbo (103kW/340Nm) guise.
Not bad from an engine that is nearly half the size of the HiAce's 3-litre unit.
In Australian terms, however, what does hamstring the Trafic is the lack of an automatic transmission option.
That said, the Trafic is equipped with a very slick shifting 6-speed manual tranny.
Clearly the Trafic needs a torque converter auto to fully take the market by the horns.
But at least Renault didn't go down the track of trying to use an automated manual and the inherent compromises that go with those types of 'boxes.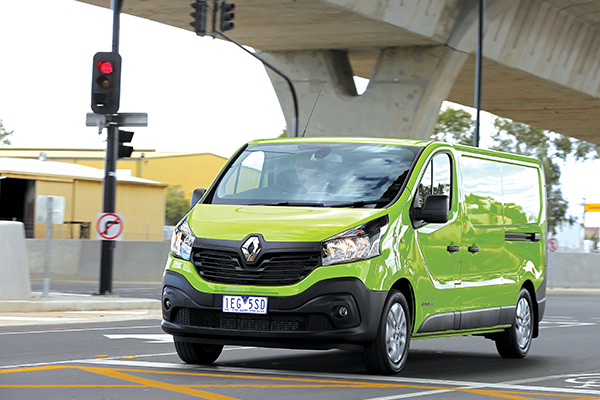 More than one manufacturer has tried to pass off an AMT as a real auto option and regretted it.
The Trafic has a payload of 1,200kg and our LWB twin-turbo L2H1 variant had a load area volume of 6 cu m. And somewhat refreshingly it also wasn't white.
There's no denying that the Bamboo green colour stands out a little, maybe too much as I found out after being egged in peak traffic one evening. Maybe it was a contract hit.
The L2H1 gets a steel bulkhead which virtually eliminates any driveline rumble from the cargo area. Plus being front wheel drive there's no diff driving away under the load area floor.
The bulkhead also has a load through flap that makes room for long skinny items up to 4.1 metres in length. It will also tow up to 2-tonne braked.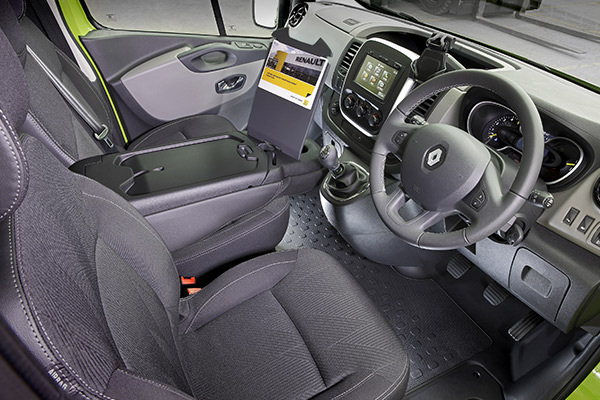 Barn doors at the rear make for easy forklift access and an Aussie-sized pallet will fit between the wheel arches.
The sliding door isn't quite wide enough to take a pallet however.
This is one of the challenges of a European van that has been designed to take skinnier Euro sized pallets.
Ideally you'd want the load to be balanced between the front and rear axles not sitting right at the back of the van, especially a front-driver.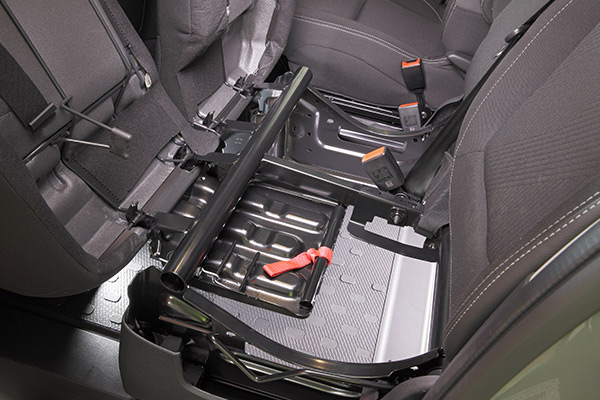 Dual sliding doors are also an option for those wanting access the load area from the right hand side. And there's a handily placed 12v outlet standard in the rear cargo hold.
The cockpit is a very pleasant place to step into. Our van was fitted with the optional Premium Pack which for an extra $2,390 you get climate control, touchscreen multi-media and sat nav and smatterings of chrome and gloss black in the interior.
There's also heated seats and patterned cloth upholstery. Optional 17-inch alloy wheels also help make the Trafic look a little more spiffy.
Safety kit includes driver and passenger air bags as standard while lateral air bags remain an option.
The expected electronic stability gizmos are also standard as are auto headlights and auto wipers on twin-turbo vans. These also get cornering lights which use the fog lights to illuminate in the direction that the van is turning when the lights are on. Daytime running lights are standard on all models.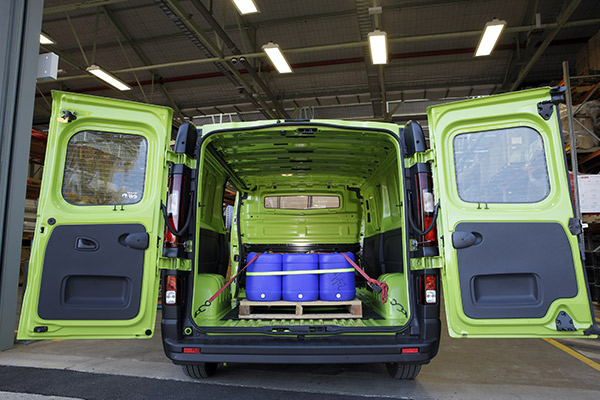 Performance
The little 1.6-litre diesel is a smooth unit.
There's slight turbo-lag which is probably understandable given the engine's modest displacement and its dependence on turbo-charging. But once the revs climb it happily pulls between gears.
As mentioned previously, the manual 'box is a slick shift which makes the most of the power on tap.
The centre seat flips down into a handy console and clipboard and there's an abundance of storage for paper, pens and coffee. A universal smartphone mount rounds out the premium office feel of the Renault.
Verdict
Even though I'm not generally a huge fan of front-wheel-drive vans out on the open road, the Trafic handles quite well.
There's little in the way of torque steer when putting the foot down and the whole van feels quite balanced on its feet. And the ride is surprisingly supple and un-commercial like even when empty. It's a classy little unit to drive.
The L2H1 Trafic has a list price of $39,490 and ours had the $2,390 Premium Pack to make for a total of $41,880 less on-roads. The Trafic comes with a 3-year/200,000km warranty as well as 3-years roadside assist and 3-years capped price servicing.
Specs
Engine: 1.6-litre 4 cylinder twin-turbo-diesel
Power: 103kW/340Nm
Transmission: 6-speed manual
Capacity: 6 cubic metres
Payload: 1,200kg
Picking a winner
If space isn't your final frontier then it's hard to go past the iLoad as a business proposition.
The availability of a torque converter auto widens the appeal of the Hyundai for fleet customers, and what it lacks in flair it makes up for in understated functionality.
Image aside, it really is an enjoyable little van to drive.
The Toyota HiAce is a perplexing vehicle, it really does feel ancient in comparison to the others.
Yet it remains the biggest selling van in this market segment, with the iLoad a close second.
I can only put this down to the Toyota's image of durability and reliability as it really is outclassed by virtually all others from behind the wheel.
Trying to pick the better van between the Transit and the Trafic, however, is a tougher ask.
It's like trying to decide which is the healthiest glazed donut.
Both vehicles are virtually neck a neck on drivability and appointments.
The Transit gets brownie points on the standard safety kit front.
But from a business perspective the Renault has a pretty attractive warranty 200,000km over three years versus Ford's 100,000km over the same period.
Plus Renault's claimed fuel figures are marginally better that the Ford's, 6.2l/100km versus Ford's 7.1l/100km.
Both the Ford and the Renault are seriously hamstrung by the lack of a full automatic transmission.
While Europe's preference for stick shift vehicles remains, it's not likely that we'll see an auto in either of these vans anytime soon. Both manual transmissions, however, are excellent to operate.
The iLoad's long warranty and capped price servicing regime also make it an attractive proposition. Most commercial operators however, will burn up warranty kilometres before they reach the 5-year warranty expiration. And it's a great van to operate.
If you can handle the lack of space in the back and are after an auto this is your machine.
A long wheelbase iLoad, if it existed, would be a huge boon to Hyundai locally. But if you want more space then I'd recommend reacquainting yourself with a gearstick.
Out of this bunch, both the Transit and the Trafic are excellent vans to drive with levels of equipment, comfort and safety equivalent to most family cars.
Subscribe to our newsletter
Sign up to receive the ATN e-newsletter, digital magazine and other offers we choose to share with you straight to your inbox
You can also follow our updates by joining our LinkedIn group or liking us on Facebook. 

Trucks For Hire | Forklifts For Hire | Cranes For Hire | Generators For Hire | Transportable Buildings For Hire