Hyundai iLoad Series 2
---
The Hyundai iLoad and van and iMax people mover copped an update earlier this year resulting in the Series 2 version of this popular platform.
Details
Thanks to the update, a 7-inch touch screen with voice activation is now standard as is a rear view camera on models with a lift up tailgate.
Side airbags are also now standard fare for the Hyundai and cruise control is also now standard on diesel auto versions. And it also copped a few bits and pieces to pretty it up a little on the outside.
A 2.4 litre petrol engine mated to a 6-speed manual is available but as a commercial proposition we're more interested in the diesel variants.
So our iLoad was fitted with a 2.5 litre common rail turbo-diesel donk which makes 125kW and 441Nm when sitting in front of the optional 5-speed automatic.
Manual versions with the same CRDI engine use a waste-gate turbo instead of the auto's VGT and create 100kW and 343Nm.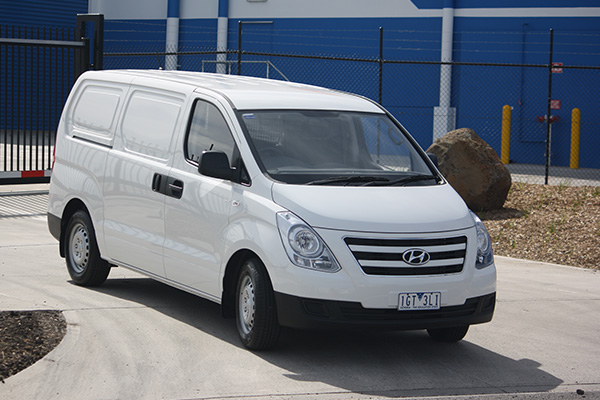 The iLoad has a payload of 1098kg as an auto and 1113kg in manual guise. But it only has a load volume of just 4.42 cubic metres and is only available in the one wheel base.
It's kind of a one-size fits all approach that means it has less space than some competing SWB models.
Dual sliding doors are standard and barn doors are an option on the rear. However as is typical of this segment, an Aussie pallet will only fit into the rear of a barn door equipped iLoad as the side door opening is just 970mm.
It's worth noting though that you lose the reverse camera if you go for the swinging rear doors.
The auto will tow a braked load of 1500kg while the stick shift will tow 2000kg.
Our test vehicle was the iLoad CRDi auto and was fitted with the optional mesh cargo barrier and parking sensors.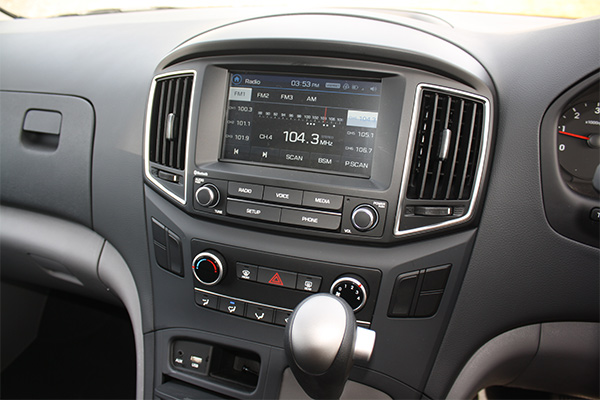 The iLoad doesn't have the option of a bulkhead between the cabin and the load area.
The Hyundai's cockpit is roomy enough and there's a centre seat that flips down into a small console with cup holders.
In iLoad guise, there's more a sense of simple functionality around the instrument cluster and controls.
Storage is adequate much in the same vein as the HiAce, you'll probably still end up with stuff floating around the cabin anyway.
That said, the centre stack and touch-screen give the grey interior a bit of a lift and everything is well-placed and easy to reach.
Once behind the tilt-adjustable wheel, it's easy to see why this van is running a close second behind the inexplicably market leading HiAce.
The driving position in the cloth trimmed seats is commanding and comfortable. And like other vans on the market that share a people mover platform it feels less commercial than it actually is.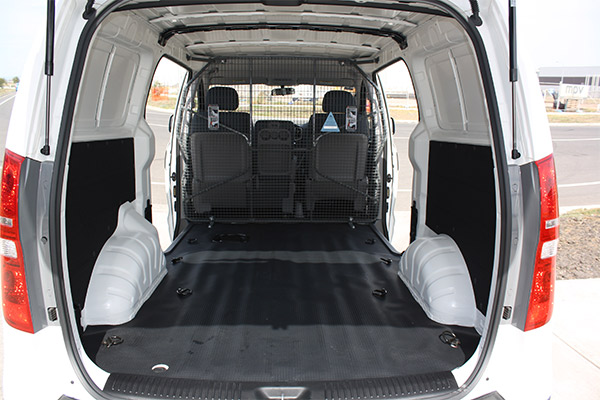 Performance
The 2.5-litre diesel is reasonably quiet but is a very willing performer with little lag once the go-pedal is pushed, and it works very well with the 5-speed auto.
The decent whack of torque comes on tap at a very usable 2000rpm which again matches with the auto nicely. 
The lack of a bulkhead between the cabin and the load area means that there is quite a bit of road rumble from the rear-wheel-drive platform, though a decent load in the back hushes things down quite a bit.
Unlike the Toyota, the Hyundai is equally happy on the open road and around town and it handles twists and turns very well, even when empty.
Verdict
The iLoad is a comfortable and easy van to spend a working day in. It's a ripper little van to drive even if it lacks the flair of its Euro rivals. 
There are floor mounted tie down points in the cargo area, however, these tie downs and their mounting bolts sit above the surface of the floor which makes it easy to gouge and tear boxes and parcels when shuffling freight around.
Our test vehicle had a list price of $40,122.72 with options and comes with a 5-year, 160,000km warranty
Specs
Engine: 2.5-litre turbo-diesel
Power: 125kW/441Nm
Transmission: 5-speed automatic
Capacity: 4.42 Cubic metres
Payload: 1,098kg
Picking a winner
If space isn't your final frontier then it's hard to go past the iLoad as a business proposition.
The availability of a torque converter auto widens the appeal of the Hyundai for fleet customers, and what it lacks in flair it makes up for in understated functionality.
Image aside, it really is an enjoyable little van to drive.
The Toyota HiAce is a perplexing vehicle, it really does feel ancient in comparison to the others.
Yet it remains the biggest selling van in this market segment, with the iLoad a close second.
I can only put this down to the Toyota's image of durability and reliability as it really is outclassed by virtually all others from behind the wheel.
Trying to pick the better van between the Transit and the Trafic, however, is a tougher ask.
It's like trying to decide which is the healthiest glazed donut.
Both vehicles are virtually neck a neck on drivability and appointments.
The Transit gets brownie points on the standard safety kit front.
But from a business perspective the Renault has a pretty attractive warranty 200,000km over three years versus Ford's 100,000km over the same period.
Plus Renault's claimed fuel figures are marginally better that the Ford's, 6.2l/100km versus Ford's 7.1l/100km.
Both the Ford and the Renault are seriously hamstrung by the lack of a full automatic transmission.
While Europe's preference for stick shift vehicles remains, it's not likely that we'll see an auto in either of these vans anytime soon. Both manual transmissions, however, are excellent to operate.
The iLoad's long warranty and capped price servicing regime also make it an attractive proposition. Most commercial operators however, will burn up warranty kilometres before they reach the 5-year warranty expiration. And it's a great van to operate.
If you can handle the lack of space in the back and are after an auto this is your machine.
A long wheelbase iLoad, if it existed, would be a huge boon to Hyundai locally. But if you want more space then I'd recommend reacquainting yourself with a gearstick.
Out of this bunch, both the Transit and the Trafic are excellent vans to drive with levels of equipment, comfort and safety equivalent to most family cars.
Subscribe to our newsletter
Sign up to receive the ATN e-newsletter, digital magazine and other offers we choose to share with you straight to your inbox
You can also follow our updates by joining our LinkedIn group or liking us on Facebook. 

Trucks For Hire | Forklifts For Hire | Cranes For Hire | Generators For Hire | Transportable Buildings For Hire