Rear Wheel Drive Renault Master Series Video Review
---
Renault looks to capitalise on market share gains with the addition of three new rear wheel drive variants
Currently, if you want a light commercial vehicle to carry a 2- to 2.5-tonne payload, clearly you're looking for a light truck. And our market is packed with examples of competitively priced, predominantly Japanese small cab-overs that will do the job.
However, recent rumblings on the European front are threatening this accepted wisdom. Vans from European manufacturers are growing in size and capacity and cab-chassis variants with a payloads equalling those of the Japanese light truck are emerging onto the Australian market.
Renault has launched three new models in Australia that may just challenge the notion that a Japanese cab-over is the way to go. The new models are variants of the large Master van and for the first time feature rear-wheel drive.
In Australia, the Master has traditionally fed power from the 110kW 2.3-litre turbo diesel engine to the bitumen via the front wheels, with the choice of either a 6-speed manual cog box or a self-shifting version, the Quickshift AMT.
However, the unfailingly cheerful looking front-wheel drive Master suffers from pretty ordinary on-road handling and performance especially when lightly loaded and especially in AMT guise. 
Engine
All the new RWD models use the existing 110kW, 2.3-litre direct injection turbo diesel powerplant.
The dual cab model also comes with an Eaton diff lock as standard, while a range of local body building solutions are currently being sourced.
Transmission
All Masters use dual rear wheels to deal with the extra payload gain. As with the FWD Master models a 6-speed manual transmission is used and the Quickshift AMT takes care of automated cog swapping duties.
However, the RWD versions get a new ZF sourced AMT that uses an electro-mechanical shift rather than the hydraulic shift found in FWD versions.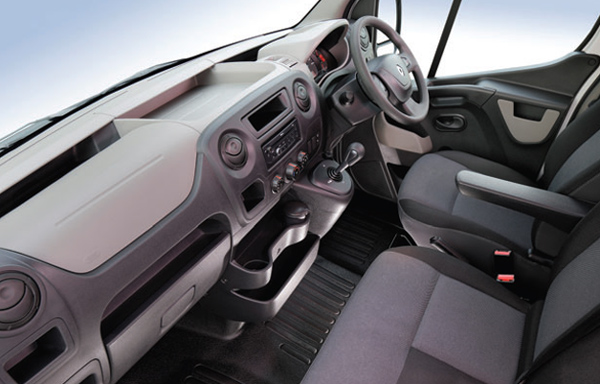 Cab and controls
The new RWD models consist of two cab-chassis variants, a single cab, and a dual cab as well as a long wheelbase extra high roof van with a cavernous capacity of 17 cubic-metres.
The dual cab has seating for seven, including the driver, with a four across bench seat in the rear. The single cab is available in two different wheelbases and both are available with tray bodies fitted.
A big wide step behind the front wheels makes for sure-footed entry, though the driver's footwell is a little cramped, and I don't exactly have huge feet, though I am a chronic sloucher.
An optional Isri suspension seat soaks up any bumps that make it into the cab and the driving position is excellent. It's a vehicle you can easily hop in and out of all day, or sit in for long hours on the road comfortably.
The Master cab is well endowed with storage scattered all over the joint. There are even multiple power outlets for today's gadgets and bit and bobs. The centre seat in the front flips down into a handy console with a swing around computer platform, and of course a subject that's dear to my heart, there are cup holders dotted throughout the cab and even handy pockets for bottle and thermos storage.
There's even a glove box chiller for keeping drinks cool in the heat. I still find the centre mounted overhead display for the radio and satellite navigation a distraction as it tends to haunt your peripheral vision.
There are also no A-pillar grab handles, not a huge issue for the driver, but passengers may be looking for something to hang on to, though that also may have been a result of my driving.
However, a bigger grab handle issue is in the rear seat of the dual cab. With four blokes across the back seat, there's nothing to hold on to on rough terrain … except each other, and journo's just aren't that friendly with each other. It's not hard to picture a work crew cracking heads as they rock and sway across a site.
The back seat is large, roomy and has a decent storage bin underneath it, but it's also about as comfy as a park bench and I wouldn't really like to travel too far in it.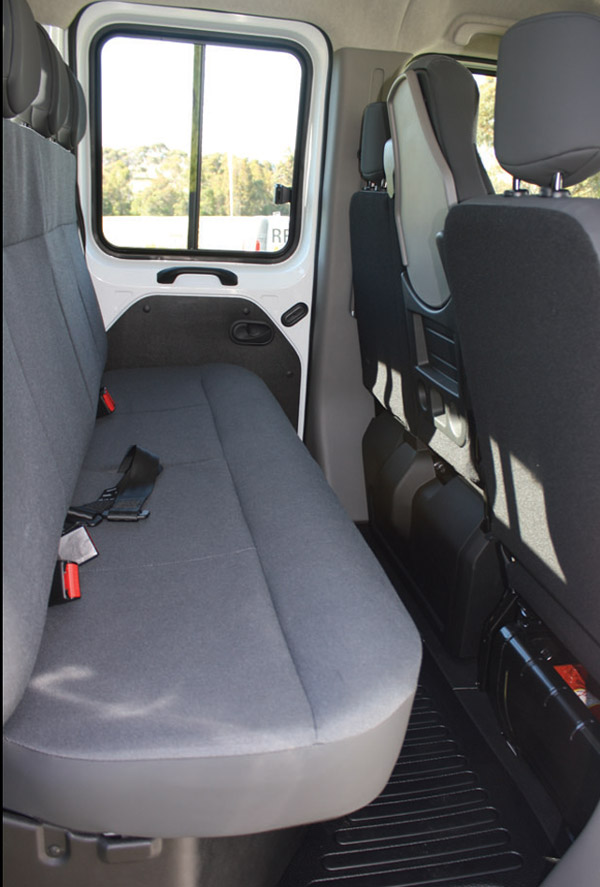 Load
RWD will now take care of business for Master models over 3,500kg GVM, and the semi-bonneted cab-chassis and vans have landed smack in the middle of car licence-light truck territory.
The long wheelbase high roof van has 17 cubic-metres of load volume and a payload of 2,130kg, towing capacity is 3,000kg braked.
The jumbo van and cab-chassis Master variants all have a GVM of 4,500kg and a payload of 2,500kg.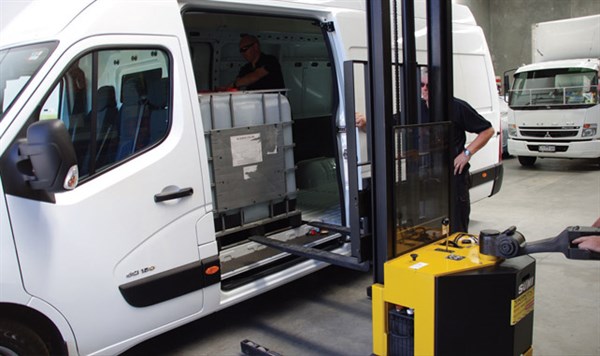 Performance
At the launch of the new Master models recently, we got to drive a cross-section of the range, both empty and loaded, to get a feel for the new drive configuration.
Hitting the road in a manual cab-chassis first up highlighted improvements almost immediately.
Having the dual rear wheels for propulsion has taken the torque out of the steering. And as you would expect for a European gearbox the light, direct manual shift on the 6-speed is excellent, so much so that it does make the whole AMT thing look a bit unnecessary.
As we were initially driving empty vehicles it gave us the opportunity to gauge the ride and noise levels of the Master.
The 2.3-litre engine is a result of the alliance with Nissan and also surfaces elsewhere in the Nissan X-Trail SUV. It's a reasonably willing engine, if a little harsh sounding when pushed.
But when trundling along empty it responds well lower down in the rev range.
A stop along the way allowed for all of the vehicles to be loaded with CP7 pallecons of water to bring then up to somewhere near operating weight. This made the engine draw on its 350Nm of torque somewhat and also brought out some harshness in the engine when working hard.
All of the vehicles did, however, provide an excellent ride, and it's here the Euro's potentially have the light cab-over by the short and curlies.
Ergonomically, the Master makes a lot more sense than an entry level cab-over truck.
And that brings us to the automated transmission. As a general rule I tend to despise these things as they tend to end up being a compromise between a hydraulic, torque converter auto and a good manual gear shift.
The good news is that the 6-speed ZF AMT is better than the FWD Quickshift option, and low speed clutch engagement is better. The bad news is it's still an AMT. 
Verdict
The ZF unit is more intuitive and seems to respond quickly to subtle throttle inputs, however, like most AMT's it performs better when loaded. The added momentum provided by the vehicles' weight seems to smooth out any indecision and jerkiness that can be an AMT characteristic when empty or light.
The AMT is also a reasonably happy solution for the motorhome crowd, or even plant equipment roles where the vehicle is always loaded. Apart from that I'd go the 6-speed manual every time.
With only a tray on the back, the cab-chassis Master generates a bit of wind noise at highway speeds, and the 110kW powerplant certainly lets you know it's there even though it's reasonably muted.
The big van, however, with its bulkhead separating the load area from the cockpit, seems significantly quieter.
I don't know how many will be tempted away from their utes by the Master, but there may well be a cultural shift on the car licence-light truck horizon. After all it wasn't that long ago that people were still throwing goats at each other.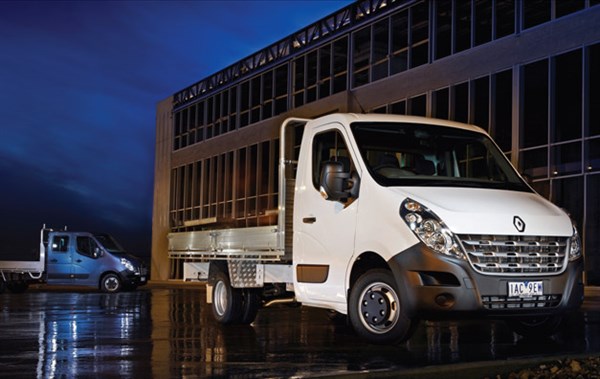 Specifications
Make/model: Renault Master RWD Cab-Chassis and High Roof Van
Engine: 2.3 litre turbocharged and intercooled direct injection diesel
Power: 110kW @ 3,500rpm
Torque: 350Nm @ 1,500 to 2,750rpm
Transmission: 6-speed manual or 6-speed Quickshift AMT
Payload: Long wheelbase/high roof van 2,120kg
Single Cab-Chassis: 2,500kg
Dual Cab-Chassis: 2,270kg
LWB van load volume: 17 cubic-metres
Towing capacity: 3,000kg (braked)
GVM: 4,500kg
Subscribe to our newsletter
Sign up to receive the ATN e-newsletter, digital magazine and other offers we choose to share with you straight to your inbox
You can also follow our updates by joining our LinkedIn group or liking us on Facebook. 

Trucks For Hire | Forklifts For Hire | Cranes For Hire | Generators For Hire | Transportable Buildings For Hire