Silverado: No Toy, this Big Boy
---
In the US, they call the Chevrolet Silverado a "full-size pick-up". In Australia we call it one hell of a ute!
Today's popular dual-cab utes are far bigger and can carry and tow much more than ever before, but even the biggest and brawniest of them look decidedly small and puny compared to the newly released Chevrolet Silverado. This is a ute from another and altogether different world.
The Silverado comes to Australia courtesy of Holden Special Vehicles (HSV), the official performance-vehicle partner of Holden. Not that the monster-sized Chev ute is a performance vehicle in the mould of the tweaked Commodore V8s more commonly associated with HSV but it nevertheless has a set of numbers that make a very big statement. How does 1234Nm of torque sound? Or a towing capacity close to 6000kg?
Climb Aboard
As you walk up to the Silverado you can't help but be impressed its sheer size. At over 6 metres long and nearly two metres high it dwarfs even the biggest of today's mainstream dual-cabs.  A measure of its size can be seen with its 3886mm wheelbase, which is 666mm longer than that of the Ranger/BT50 twins that share the longest wheelbase amongst today's popular utes.
Despite also riding very high (with 250mm of ground clearance), the sidesteps and a conveniently located assist-handle make it dead easy to climb aboard and once there you find yourself in a notably wide and tall cabin. A very plush and comfortable driver's seat too although at this entry-level spec there isn't any height adjustment for the seat (which shorter drivers would appreciate) nor does the steering wheel adjust for reach.
This 'Work Truck' or WT models seats three across the front thanks to a fixed third seat (with a lap-only belt) above the transmission tunnel. When not in use the backrest of the centre seat fold down to become a centre console complete with three drinks holders. The general fit and finish is also good given much of the RHD drive conversion is factory done.
Plenty of room too in the back seat for three six-foot-plus adults even when the front seats are set back to also accommodate an over-six foot driver or front-seat passenger.
One glitch is there's no rear-seat centre headrest although all three rear-seat passengers do get lap-sash seat belts.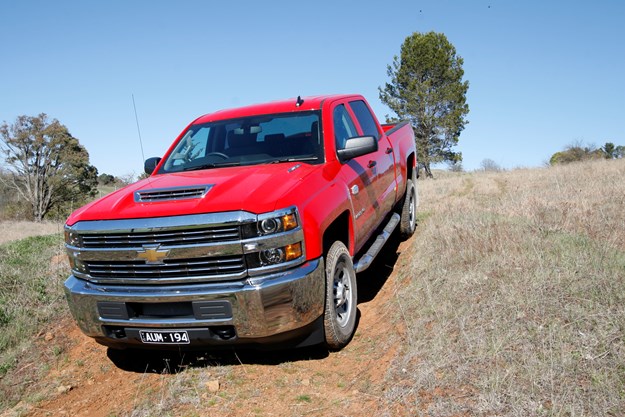 On the Road
Fire up the big 6.6-litre diesel V8 and while it sounds like a diesel, and a very big one at that, there's nothing too truck-like here. It's certainly more subdued that the 4.5-litre diesel V8 in a Toyota LandCruiser 79-Series ute, if you wish to drawn a comparison to a popular and in some ways similar vehicle.
The Allison six-speed automatic transmission is operated via shifter on the left side of the steering column, which feels a bit odd at first if you're more used to right-side column-shift automatics, but is easy enough to get used to.
Once underway the big V8 is effortless almost beyond description, even if it does has 3500kg of unladen weight to deal with. With barely a touch on the throttle the Silverado dismisses with any driving duties, hills included. In fact, in the Silverado you wouldn't know what hills are…

At 110km/h the engine is ticking over at around 1500rpm in top gear and is quiet and surprisingly refined. Nice refinement from the gearbox too, not that it needs to shift much given it shifts out of the low gears early and holds the tall gears seemingly forever.
Pedal to the metal highway-speed overtaking is also impressive and such is the ease of what the engine does and the general lack of road noise it's very deceptive of highway speed. When you look down at the speedo you're always going faster than you thought…
The price you pay for all this is reasonably high but still not unreasonable fuel consumption. Over the 1000km road-test kilometres of mixed driving the Silverado used 17.7 litres/100km. The upside is the 136-litre tank still gives you a decent range.
In general driving you don't feel the Silverado's size as much as you may think. The steering is also surprisingly light (perhaps a little too light) and the general handling is stable and predicable on most roads even if there is some bump-steer from the rear axle on potholed unsealed roads when the vehicle is unladen. Otherwise the ride quality when unladen, often a ute problem, is good.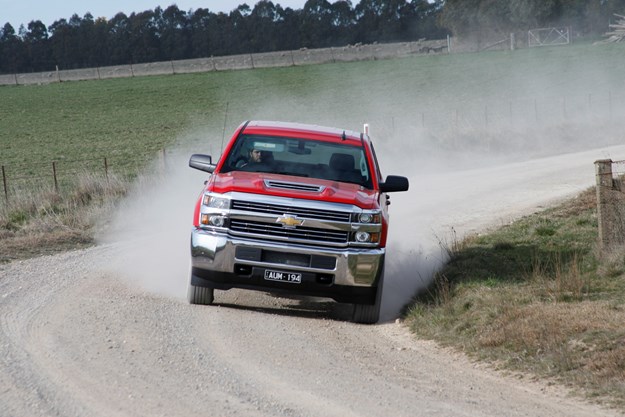 In the Paddock
The Silverado might be a bit flash to drive around the paddock but if you do so wish it has clearance aplenty and robust 'Light-Truck' construction tyres with a mild all-terrain pattern. Engaging high-range 4wd on the run is also easy and while you have to stop to engage low-range 4wd (as is the norm) the electro-magnetic shifter rarely balks either going in or out of low range. Plenty of tractive ability too thanks to an auto-engaging (mechanical) rear diff lock. Best of all the electronic traction control stays active on the front axle when the locker engages.
All that doesn't make the Silverado useful on off-road trails as it's simply too big and it lacks the wheel travel to negotiate lumpy ground and is limited by its approach and ramp-over angles.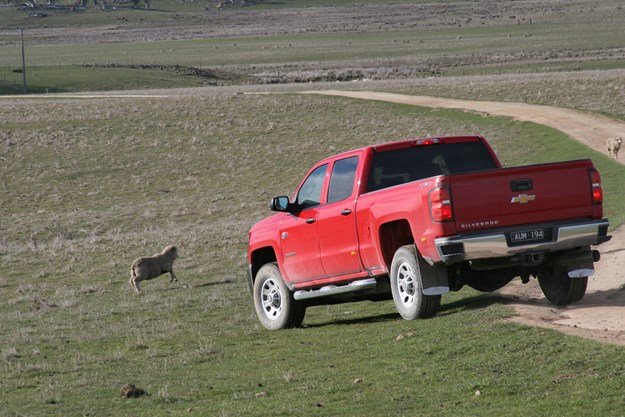 Load Carrying and Towing
The Silverado is built to tow and with a pintle coupling can tow up to 5890kg although at the time of writing this was pending certification. With a 70mm ball it's good for 4500kg, or with a standard 50mm ball it can tow 3500kg. Even the 4500kg rating puts it in a league of its own compared to mainstream utes.
The Silverado also comes with an in-built trailer-brake bias controller, a tow-mode for the transmission and exhaust brakes. With its 1234Nm of torque and extra long wheelbase it should make an effortless and stable heavy-duty tow tug, something that we can hopefully test once the 5890kg certification comes through.
Surprisingly the Silverado's payload is under 1000kg but the upside is a monster tray that's over half a metre longer and a little wider than the biggest tray you'll get on one of the popular dual cabs.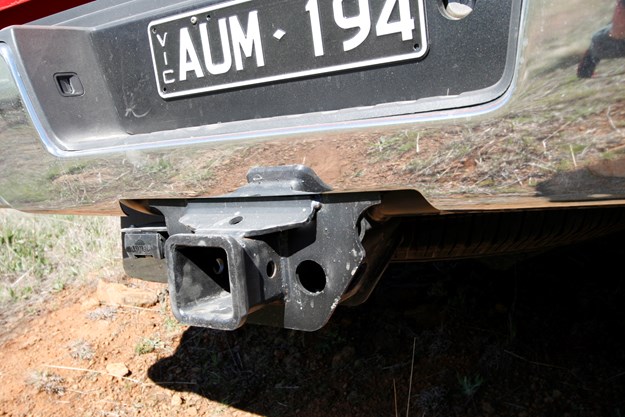 Ownership
While the Silverado's right-hand-drive conversion is done locally by HSV, much of the preparation work for Australia is ex-factory. Given HSV's connection to GM in the USA, items such as the AM/FM radio, kilometre speedo and dash are factory-fit RHD. Even the RHD steering system is made by the same supplier that produces the LHD steering system, all positives from an ownership point or view. The Silverado will be sold through selected Holden dealers and all HSV dealers and is offered with a three-year/100,000km warranty.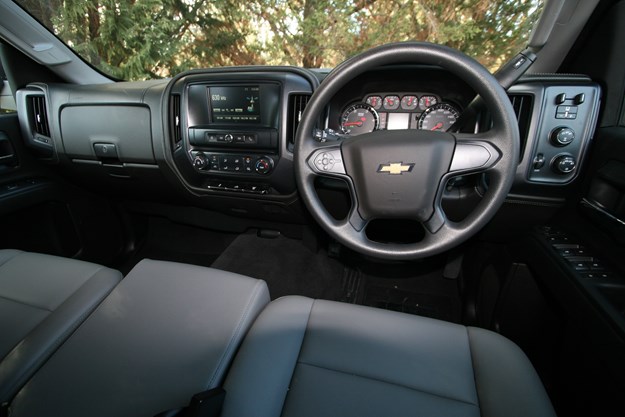 The Bottom Line
There's not much not to love about the Silverado provided you don't need to park it in the local Woolies carpark! In general driving you quickly get used to its size but parking it in confined spaces is never easy. It's also surprisingly comfortable and refined for what is inescapably more truck than ute.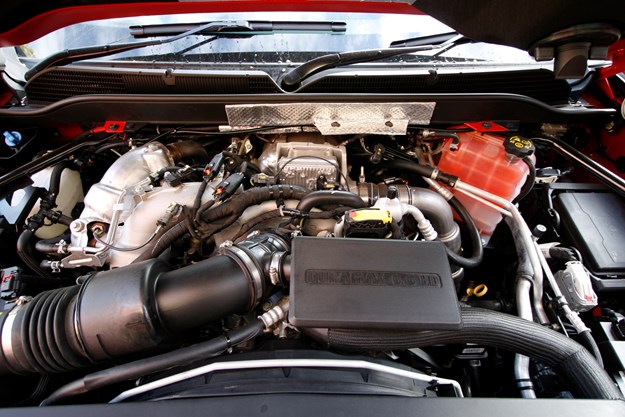 Silverado model range
The Silverado model range starts with the 2500HD WT, or 'Work Truck', which gets you seating for six but still leather, carpet, eight air-bags, a seven-inch touch screen, a rear-view camera, a six-speaker audio system with two USB ports and a auxiliary input, and 18-inch steel wheels wearing Light Truck designation all-terrain tyres.
The next model up is the 2500HD LTZ, which seats five via two front bucket seats with electric seat adjustment. The LTZ also adds power adjustable pedals, steering-wheel reach and two-position memory for the driver. Additional LTZ features includes push-button start, a bigger eight-inch touch screen, Apple CarPlay and Android Auto connectivity, and a seven-speaker BOSE audio system. Safety additions include forward collision and lane-departure warnings. Mechanical changes include 35mm twin-tube gas-charged suspension dampers, a thicker front stabiliser bar, transfer-case protection and 18-inch alloys.
From there the 'Midnight Edition' is effectively a LTZ in black and with black-finish for the wheels, sidesteps, grille, bumpers and other exterior items. The 'Custom Sport Edition' is also based on the LTZ, but is white themed and rides on 20-inch wheels. The top-of-the-range 3500HD has dual rear wheels and a longer tub.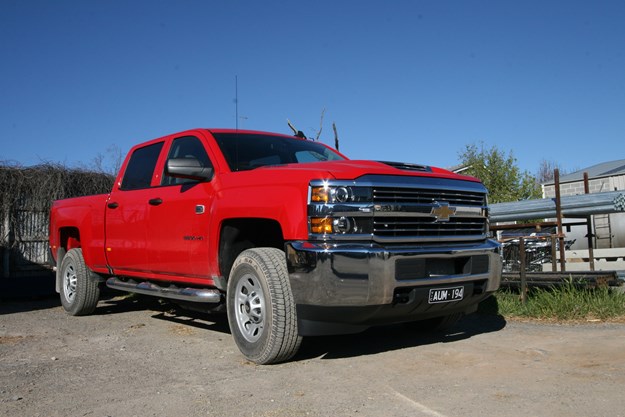 Subscribe to our newsletter
Sign up to receive the ATN e-newsletter, digital magazine and other offers we choose to share with you straight to your inbox
You can also follow our updates by joining our LinkedIn group or liking us on Facebook. 

Trucks For Hire | Forklifts For Hire | Cranes For Hire | Generators For Hire | Transportable Buildings For Hire