Truck and dog combo shines for Hino
---
Every now and then a new truck comes along with the ability to surprise and impress in equal measure, and we've found just such a truck in Hino's revitalised range of 700-series heavy-duty models. In fact, so surprising and so impressive was a truck and dog combination recently put through its paces that we're now thinking Hino may actually have the best Japanese heavy-duty truck in the business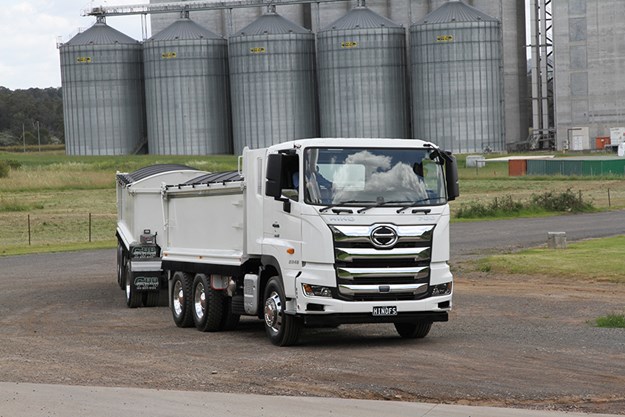 As the saying goes, 'timing is everything' and, if that's the case, Hino's introduction of its vastly renewed 700-series heavy-duty range could be a classic case of just the right truck at just the right time.
Time will tell, of course, but right now it appears Hino is in a prime position to capitalise on a range of new models that, on one hand, etch an entirely new line in the sand for the Toyota-owned truck brand and, on the other, have the potential to exploit shortcomings in a couple of its competitive countrymen, namely Isuzu and its lately-acquired corporate collaborator UD.
For its part, and despite unbroken leadership of the overall Australian truck market for more than three decades, Isuzu Australia has been devoid of a genuinely competitive heavy-duty prime mover or higher horsepower rigid model, and for almost as many years the company has been anxious to fill the void.
Of course, its lacklustre Giga heavyweight was available until recently, when it was withdrawn from the market, but it was a model that largely failed to attract more than token attention and, now, further exposes a highly visible hole in Isuzu's local stable.
Meantime, and despite Isuzu Motors' acquisition of UD from Volvo, there's no sign that UD, and its well-equipped Quon, will anytime soon become the saviour for Isuzu Australia's heavy-duty hopes, particularly with the Japanese brand continuing to be sold through the Volvo Group Australia network.
What's more, Quon's performance peak remains limited to 460hp (343kW) from a Volvo 11-litre engine and with no sign of the Swedish maker conceding to the introduction of its considerably more powerful 13-litre displacement, UD's current peak is unlikely to satisfy Isuzu's ambitions for a true heavy-duty flagship able to go toe-to-toe with the Europeans or its Japanese competitors.
Moreover, while a recent brief discussion with Isuzu Australia's top management at least confirmed the company's continuing dream of one day displacing Kenworth and Volvo at the top of the heavy-duty tree, it failed to outline any plans for the addition of a suitable contender for prime mover and heavy rigid roles.
As for the much-mentioned and somewhat exciting possibility of Japan's new Giga model being developed for our market with the lively performance of a Cummins X12 engine, Isuzu's purchase of UD has apparently seen that project shelved. Indefinitely, it seems.
All this suggests the time couldn't be better for Hino and, similarly, Daimler's Fuso, to make the most of Isuzu's vacuum and, in the process, perhaps rescind the widespread reputation of UD's Quon as the best-equipped Japanese heavy-duty truck in the Australian market.
As already explained in previous reports, Hino's new line in the heavy-duty sand is an expanded model range equipped with exceptional levels of standard equipment. Among many notables are a highly advanced safety package, the addition of Hino's nine-litre engine in rigid versions to accompany the existing 13-litre plant, a powertrain pushing through fully automatic or automated manual transmissions, and a stylishly refurbished cab paying high regard to driver comfort and convenience.
By any measure, it's a remarkably comprehensive range, not only far beyond anything Hino has previously offered in its heavy-duty stable, but equipped to be a truly potent competitor to equivalent Japanese and European models.
Our first on-road sample of the new line-up was supplied recently in a 6x2 2632 model punched by a 320hp (239kW) version of the nine-litre engine that, like its 13-litre brother, complies with Euro 6 emissions standards.
Fitted with a curtain-sided body grossing around 18.5 tonnes and driving through a six-speed Allison automatic, a lengthy test run over diverse routes confirmed the model's absolute suitability for shorthaul distribution roles. However, as our report also explained, there were a couple of curious quirks with the driver monitoring system.
Quirks or not, though, we could draw only one conclusion: "There's no denying the extraordinary advances in Hino's new 700-series and the immense potential for a much healthier slice of the heavy-duty market.
"It's early days and we're still to climb behind the wheel of a truck 'n dog version but even so, there's plenty to suggest Hino has a hit on its hands."
A 'hit' indeed, with no greater example than the recent performance and manners delivered by an FS2848 six-wheeler tipper coupled to a three-axle dog trailer.
Sure, after a demanding 250km route from Hino HQ in southern Sydney down to industrial Wollongong, up the long Mt Ousley climb and across to Mittagong in the Southern Highlands before returning through suburban Sydney, there were a few things about the truck that, in our estimation, could further enhance the model's significant appeal.
---
RELATED ARTICLE: Hino 700 rigid a class act
---
We'll get to those 'things' shortly but, overall, this version of Hino's reborn heavy-duty range was nothing less than a model of superb road manners and adroit operational ability, quickly generating the thought that this particular unit is possibly the best Japanese truck this commentator has ever driven.
Externally, 13-litre models such as the FS2848 are distinguished from their nine-litre siblings by four (rather than three) chrome grille slats but, of course, it's from behind the wheel where the true character of the truck – and this truck in particular – becomes most apparent and so easily appreciated.
Smart specs
Other than the extra slat in the grille of 13-litre versions, the greatly upgraded cab is common to all 700-series models and as previously reported, "Hino has ignored sceptics who suggested that its modern contemporary cab trim – first revealed at the 2019 launch of the standard cab 500-series range – was perhaps a touch too flash."
From any angle though, it is an attractive, stylish and highly functional layout. Again referring to our previous report, 'Mounted on a four-point air suspension arrangement, the impressively refashioned cab stands reasonably tall but well-placed grab handles and wide non-slip steps make it an easy climb to a spacious, comfortable interior.
'The driver sits on a quality Isri high-back seat with ample adjustment aided by generous tilt and telescopic steering wheel increments. It would, in fact, be an odd-bod that couldn't find an agreeable driving position in the new Hino.'
What's more, there's plenty to like with the new dash design. As Hino rightly states, 'The ergonomically designed wraparound dash features all-new instrumentation with large, high contrast speedometer and tachometer, and a central multi-information display, which contains important details such as SmartSafe settings, driving economy, gear selection and vehicle maintenance data.'
And, of course, there's a high quality multi-media unit for the radio and all the technical titbits such as Bluetooth and reversing camera.
Additionally, control buttons on the steering wheel offer fingertip ease for phone calls and adaptive cruise control settings, while column-mounted stalks are provided for the engine brake [and retarder], wipers/washers, lights and the like.
Indeed, given the high standards of comfort and operational ease in an environment of modern and functional quality, it wouldn't surprise if the great majority of drivers consider the interior of the new Hino a cut above other Japanese contenders in an equivalent class. It's simply a convenient, comfortable and altogether classier place to work.'
Equally, the standard 'SmartSafe' safety package is shared across all 700-series models, featuring the modern and increasingly-accepted advances of autonomous emergency braking, pedestrian detection and 'safety eye' functions, a driver awareness monitoring system, vehicle stability control, lane departure warning, adaptive cruise control and an electronic braking system. Not quite so advanced but definitely worthwhile in any safety suite are LED headlights and daytime running lamps, and reversing camera.
Fortunately, though, some of the driver monitoring functions in the 13-litre test truck weren't as overly active with unwarranted warnings about driver awareness or heavy acceleration as they had been in the nine-litre rigid model.
There is, however, another major safety asset in the form of a Jacobs engine brake on nine-litre models and on 13-litre versions, the combination of a Jake brake with ZF's multi-stage Intarder hydraulic retarder. In the FS2848 truck 'n dog, the effectiveness of the retardation system was absolutely brilliant. Yet, as we've expressed before, given all the advanced safety features in the new range, it was somewhat surprising Hino didn't adopt disc brakes.
Still, company insiders are adamant the move from a traditional S-cam design to Hino's 'Taper Roller' brake system not only provides significant gains in tare weight but also delivers smoother and more consistent brake feel. And in our test run, there was certainly nothing to complain about the progressive and potent braking performance of the new Hino.
The biggest surprise of all, however, was Hino's decision to retain peak power of the 700's reliable 13-litre engine at the existing peak of 480hp despite being fully aware of Fuso's planned addition of a 13-litre 510hp (380kW) model to its heavy-duty Shogun range. From any angle it appears a strange decision, particularly in a power-conscious market such as Australia and even more particularly, because Hino has a 500-plus version of its 13-litre engine already available in Japan.
Even so, Hino has done a superb job of tailoring an ideal powertrain to its 13-litre common rail engine's performance peaks of 480hp (353kW) at 1,600 to 1,800rpm and 2,157Nm (1,590lb-ft) of torque from 1,000 to 1,500rpm. In fact, with peak power and top torque on tap across a broad rev range, engine performance can feel decidedly brisk in suburban traffic streams as it feeds through the exceptionally slick steps and intuitive smarts of ZF's super-smooth 16-speed Traxon automated transmission, operated through a simple rotary knob on the left side of the dash.
On undulating country roads, though, there were also occasions when performance could feel decidedly 'doughy'. Again, it's hard to understand Hino's apparent reluctance to crack 500hp (373kW) when there are so many advances in other areas.
Driving through an overdrive (0.821:1) top gear into a 3.9:1 rear axle ratio, 100km/h is notched on top of the torque band at a twitch over 1,500rpm, with the truck running on polished Alcoa wheels fitted with 295/80R22.5 tyres on the steer and 11R22.5 on the drive.
While the front end rides on taper leaf spring packs, Hino offers the choice of a Hendrickson airbag rear suspension or the Japanese maker's own six-rod assembly on the FS2848 and wisely, perhaps, chose the latter for a truck and three-axle dog combination fitted with Hardox steel tipper bodies from Chris's Body Builders in Melbourne.
It's also worth noting the FS six-wheeler is available with wheelbases of 4.2, 4.5 and 6.3 metres, the latter obviously for long rigid bodies and the shorter two largely for tipper and prime mover applications.
Ups and downs
Among very few disappointments with the test unit was that gross weight was on the shy side at 38.5 tonnes rather than at full weight of 45 tonnes or thereabouts. If nothing else, a higher weight would have given the exercise more real world cred. After all, the FS2848 is rated for gross weights up to 63 tonnes.
Nonetheless, there's no denying the fundamental qualities of Hino's top toiler and, from the outset, superb handling and road manners combined with an intuitively adept drivetrain to quickly forge a confident and highly positive opinion of the model's many attributes, including one of the modern world's best inventions for heavy trucks – hill hold! Combined with the aptitude and sweet shifts of the Traxon transmission, lift-offs from a standing start at steep intersections were totally stress-free and around town, in tight traffic, it was simply a supremely comfortable, quiet, smooth and altogether easy combination to operate.
Yet, just as its 6x2 sibling revealed in our earlier test, the wide mirror housing on the driver's door considerably impedes right-side vision at roundabouts and the like. Hino isn't alone in this design flaw but it's certainly something that needs to be addressed.
However, as the demands changed to rolling hills on the run south to Wollongong, the combined attributes of adaptive cruise control and the retardation of a Jake brake working in concert with the formidable strength of a three-stage ZF Intarder were brilliantly capable of keeping road speed firmly under control. There are a couple of deceptively steep grades on the run to Wollongong but so effective was the retardation effort that even slight touches on the service brakes were rarely required.
Of course, the most demanding descent of all is the long drop down Mt Ousley where a 40km/h truck speed limit is strictly enforced, yet keeping the Hino restrained was as simple as swapping between 9th and 11th gear, and moving the retarder wand through its various stages as the different grades and traffic flow demanded. Easy!
On the uphill run, the steepest pinch saw the Traxon transmission drop to 9th gear and, after that, migrating seamlessly through higher gears. Quite simply, this is a superb transmission that makes the most of the 13-litre engine's relatively modest but altogether honest outputs.
At this point, though, it's worth mentioning that throttle pressure is perhaps too soft in the final stages of travel, causing the transmission to kick down a gear or two when it's not necessarily required.
From Mt Ousley the truck was pointed west to the Hume Freeway before the long drag up Skyline near Mittagong where, with cruise control making all the decisions, the combination dropped back to 11th gear around 1,400rpm. Again, the seamless and perfectly timed shifts highlighted an ideally programmed powertrain.
By this stage of a reasonably demanding run, the Hino's on-board computer was showing an underwhelming fuel average of 1.6km/litre (4.52mpg) but with the toughest legs behind, the trip back to Hino headquarters from Mittagong and through Sydney's southern suburbs saw the fuel average improve considerably, finishing a testing day at 1.9km/litre, or 5.4mpg. All things considered, it was probably a reasonable return for an engine with little more than 6,000km on the clock at the start of the exercise.
Overall, the FS2848 truck-and-dog combination firmly reinforced the initial impression that Hino's new range of 700-series heavy-duty models is something special, far beyond anything the brand has ever offered before and further endorsing the belief that some Japanese makers are now entirely capable of going head-to-head with their continental competitors.
Yes, it's surprising and even disappointing that Hino didn't push its 13-litre engine to 500hp and more, and there's still room for improvement in things like the driver side mirror placement.
However, when the total powertrain is appraised on its collective merit, and handling, comfort, driving ease, safety and road manners are assessed as positive contributors to a remarkably smooth and effective workplace, the only conclusion is that Hino's 700-series trucks have the features and abilities to carve a high profile and ultimately highly profitable future for the brand.
As for the suggestion that the FS2848 truck and dog combination supplied for this exercise is perhaps the best Japanese heavy-duty truck I've ever driven: Well, so far, it probably is.
Whether that's still the case after driving Fuso's 510hp Shogun flagship in the next couple of months … again, time will tell!
Subscribe to our newsletter
Sign up to receive the ATN e-newsletter, digital magazine and other offers we choose to share with you straight to your inbox
You can also follow our updates by joining our LinkedIn group or liking us on Facebook. 

Trucks For Hire | Forklifts For Hire | Cranes For Hire | Generators For Hire | Transportable Buildings For Hire