Mettle on Metal - Volvo Australia
---
In normal times, the last year or two probably would have been something quite special for Volvo in Australia. A time of high achievement driven by strong sales and the optimism of smart new trucks. But 'normal' went into limbo as Covid led the charge to crash Volvo's party. Still, there's determination, there's experience, and there are new models – all the things the Swedish maker is relying on to get back to its own 'normal'.
It takes only a short step into the past to see how sharply the Covid era has impacted Volvo's present. Mid-way through 2020 when the economic and social ramifications of the global pandemic were still ramping up to full ferocity, Volvo was the undisputed dominant force in Australia's heavy-duty truck market with a formidable 18.8 per cent of the category, several points ahead of eminent rival and fellow local manufacturer, Kenworth.
So strong was Volvo's charge on the back of a proven product range, so purposefully planned and so clinically constructed over the previous few years, that some industry commentators – including this one – were absolutely convinced that by year's end the Swedish powerhouse would be firmly fixed at the top of the heavy-duty tree. Pandemic or no pandemic.
Yet, it wasn't to be.
Sure, it can be adventurous and even foolhardy to predict success at Kenworth's expense, particularly given the brand's remarkable and increasingly historic resilience in maintaining market leadership.
But such was Volvo's impetus that insiders and industry watchers alike had every reason to believe and, indeed, expect that 2020 would be the Swedish brand's year to take the heavy-duty crown.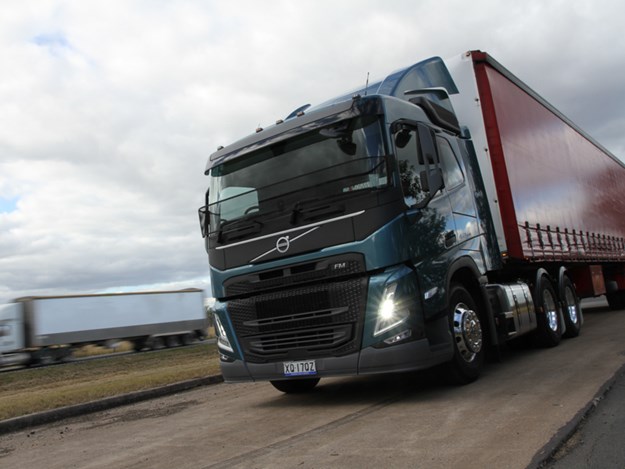 In ridiculously short time, however, the wheels started to wobble as the second half of the year unfolded. Within a few months it was blatantly apparent that confident expectations of market leadership in 2020 were fast melting into mirage.
At the end of a year like no other in modern memory – not least for those who lost their jobs as Volvo Group Australia (VGA) moved quickly to cut overheads – Volvo had slipped back to its bridesmaid's berth with 16.4 percent of the heavy-duty class, significantly behind a bolting Kenworth on 19.9 per cent.
Moreover, the new year has so far brought little relief for the corporate giant. In fact, from the outside looking in, things have become progressively more difficult for Volvo in 2021, struggling to keep Kenworth within striking distance while a salivating Scania and marauding Mercedes-Benz circle like sharks on the scent of a wounded whale.
At the half-way point this year, Volvo had at least held onto second spot but with an underwhelming 12.4 per cent of a surprisingly strong heavy-duty sector, it was hardly a performance to write home about.
On the other hand, at the halfway mark this year, Kenworth had powered to a seemingly unassailable lead with 20.8 per cent, and most indicators pointing to an even stronger performance in the second half.
Potentially more worrying for Volvo though, cab-over combatants Benz and Scania continue to gain ground, with insiders at both brands quietly optimistic that first half performances will lead to record sales by the end of the year.
It is, of course, no coincidence that their gains have run in sync with Volvo's slide.
Still, it's fair to feel a flicker of empathy for Volvo. After all, while Covid -19's influence has been brutal on everyone, everywhere, it certainly could not have come at a worse time for a truck maker on the cusp of launching a major new range of FH and FM models.
Indeed, several years of planning and investment in the lead-up to the new trucks had to be quickly reassessed and reorganised as Covid took hold, causing disappointment and worse, disruption to supply lines across the entire network.
The thing is though, the impacts of the COVID pandemic are certainly not exclusive to Volvo.
Almost every brand in almost every industry has to varying extent been battered by dramatic disturbances in supply lines, begging the question: Why has Volvo slid while others have improved or at least maintained their market position?
A tough question perhaps, but one which didn't cause a moment's hesitation for Volvo Trucks Australia vice-president Gary Bone.
From the top
There's little doubt the amiable country kid from Nhill in western Victoria still lurks somewhere close under the skin, and maybe that's what gives Gary Bone the innate ability to quickly know his audience and adapt accordingly, whatever the social spectrum or the circumstance.
Highly competitive, commercially astute and naturally affable, all in the one breath at times, he has developed into a consummate corporate performer, possessed of a wily intellect and confident character.
He is also a man on the move. After 16 years or so with Mack and VGA which included a few years at Mack in the US before returning to senior leadership roles with VGA, in 2013 he moved outside the trucking industry for the first time to take up the managing director's role with former John Deere distributor, Chesterfield Australia.
Almost six years later and with an undisguised desire to get back to trucks, he rejoined VGA as vice-president of Mack before early this year moving across to take control of Volvo at a time when the task of rebuilding the corporate flagship's market strength is certainly not for the faint-hearted or fanciful. Cometh the hour, cometh the man, as Shakespeare sayeth.
Rumours, however, that Bone is heir apparent to current VGA president Martin Merrick produce an immediate and definite response, even a tad tetchy.
"I can assure you, it is absolutely not on my agenda," he says bluntly. "My goal, and only goal, is to get Volvo back to where it should be."
As for the conditions which led to the brand's somewhat dramatic slide from the back half of last year, Bone's reaction is equally immediate and definite, explaining that Covid's effects on supply lines – and subsequent impact on the introduction of a new family of Volvo models – have caused a major makeover in how and where components are accessed for VGA's Wacol (Qld) production plant.
"Look, we got tied up in the global logistics supply chain (and) a lot of disruption in incoming goods definitely started to impact on production flow at Wacol," he asserted.
"To recover from that, we took down the line speed to try and put some predictability into the flow of incoming goods, and that's really what created the slowdown of available vehicles."
Quiet for a moment, Bone continued: "So we took the decision in late 2020 to secure our local supply chain with less reliance from incoming containers because, let's face it, COVID will probably be with us for a while and disruptions will be with us for a while as well.
"We are now," he insisted, "well into the process of bringing the supply chain closer to the factory.
"We've opened a 14,000 square metre warehouse in Brisbane, so instead of working on just-in-time and having goods bobbing along across the ocean, we will have supplies a kilometre from the factory instead of 12,000km.
"We're also investing heavily in local supply chains to try and alleviate some of the challenges we've had with global supply."
Furthermore, "We're making some really big investments in the factory. I won't talk about what the (current) build-rate is, but when we get back to full strap, we'll build more trucks at Wacol than we ever have before."
His confidence was impressive but with the momentum of some competitors snapping at Volvo's heels, the conviction could easily seem misplaced given that all brands have been affected to some extent by disruptions to supply lines.
However, it was an adamant Bone who continued: "If I look at our European competitors, they're all bringing in CBU [completely built-up] models. That's quite different to what we've faced.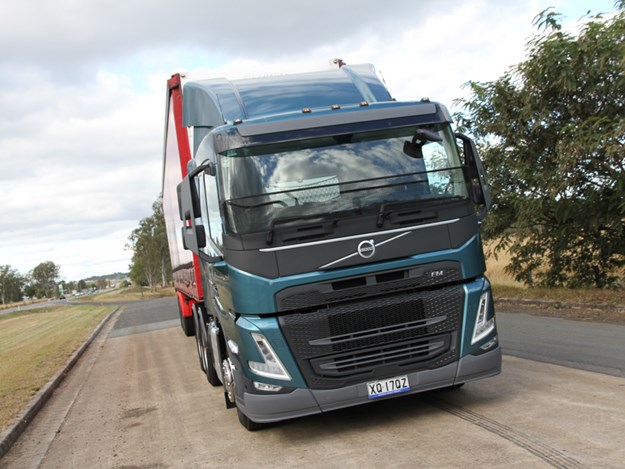 "We have a lot of cross-docking issues in Singapore with our containers being off-loaded there, and then reloaded to get to us … that's why we're working to bring supply lines closer."
As for when these shortened supply lines might lead to a turnaround in Volvo's market fortunes, an emphatic Bone said the recovery is already happening, citing the brand's 15.9 per cent slice of the July heavy-duty truck market as an indicator of better times ahead.
Volvo's turnaround is, he contends, "… already here. We look at our order books and they're extremely strong. We have some continuity of flow coming out of the factory (and) from our perspective, the turnaround is happening now.
"We're starting to fill up the pipeline back into the dealer group and I think you'll see some really solid market share numbers starting to flow.
"We will be back, and very strongly by the second half of the year," he declared, leaving no doubt that as the last trucks in Volvo's superseded range are belatedly built and delivered, the door is finally swinging open for the much-anticipated new model line-up to play its vital role in Volvo's recovery.
Drive time
When it comes to the launch of a new model range, few do it better or with more flash and fanfare than Volvo. Unless, of course, a global pandemic gets in the way and throws the best laid plans into turmoil.
Still, despite the dramas and disruptions, Volvo has at least kept its new truck show on the road, literally, travelling the country whenever and wherever to put as many people as possible behind the wheel of pre-production and prototype units and in the process, maintain the message that new FH and FM models with a vast array of modern features are just around the corner.
There has, of course, already been much written about the new trucks as Volvo has busily promoted the pending arrival of a range which is claimed to tick a lot of boxes for the brand, particularly in fuel, function and emissions.
When it comes to the premium FH range, for instance, Volvo doesn't beat around the bush. 'The FH is smoother, more intelligent and more efficient than it's ever been,' the company states.
And on first impressions, there's plenty of appeal in an FH line-up sporting new ratings among a mix of Euro 5 and Euro 6 versions in both 13-litre and 16-litre displacements.
Indeed, Volvo appears to have done its homework for the Australian market exceedingly well, starting with Euro 5 and Euro 6 500hp 13-litre models and a 540hp 13-litre unit also available in Euro 5 and Euro 6 form.
It's also worth noting at this point that all models in the new range, both the flagship FH and utilitarian FM, are available with the standard I-shift 12-speed automated transmission or optional 13 and 14-speed versions with crawler ratios. A smart move.
Up the power scale, 16 litre models start with a Euro 6 FH550, a Euro 5 FH600, Euro 6 FH650 and at the top of the tree, a Euro 5 FH700. For heavy-duty work in this era of emissions-conscious sobriety, it's easy to see the FH550 and FH650 Euro 6 ratings being especially attractive to a wide cross-section of the market.
Yet arguably the most intriguing model of all in the FH fold is the Euro 6, 13 litre FH500 I-Save unit which, along with an 11 litre FM460 model, were provided for short test drives out of Volvo's Wacol headquarters.
But what, exactly, is I-Save?
Well, as we reported almost two years ago during speculation of Volvo's future product plans, I-Save is the platform for what the Swedish maker describes as a 'long haul fuel package', accompanied in Europe by claims of a seven percent improvement in fuel consumption.
Put simply, I-Save consists of tailored cruise control and transmission functions, the advanced I-See topographical system to determine ideal shift points on regular routes, a tall rear axle ratio and most notably, the addition of a turbo-compound system to create the DT13-TC engine.
In basic terms, a turbo-compound system employs a second turbine driven by engine exhaust which captures a significant proportion of the heat energy that would otherwise be lost through the tail pipe and, by channelling it through a gear train and clever fluid coupling, punches more power into the crankshaft via the flywheel.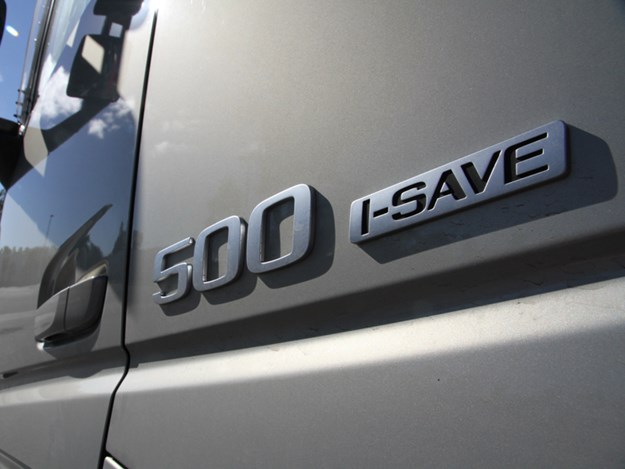 In principle and in practice, turbo-compounding is an effective waste recovery system and while there's nothing new or revolutionary about the technology – nor is it Volvo's first use of turbo-compounding – this modern derivative is employed entirely to boost torque, facilitate lower engine cruise speeds and consequently, enhance fuel efficiency.
In fact, it takes only a quick scan of the spec sheets of Volvo's two 500hp 13-litre Euro 6 models to comprehend the influence of turbo-compounding.
In the non-TC version, the 13 litre engine produces 500hp between 1530 and 1800rpm, and peak torque of 2,500Nm (1,844lb-ft) from 980rpm to 1270rpm.
In its turbo-compound I-Save equivalent, however, the 500hp D13-TC engine produces peak power from 1,250 to 1,600rpm, while torque output is boosted to 2,800Nm (2,065lb-ft) from 900 to 1300rpm. In effect, turbo-compounding delivers 300Nm more torque due to a system that simply makes use of otherwise wasted exhaust energy.
It's also worth noting that the 500hp I-Save turbo-compound engine punches out even more torque than the 2600Nm (1918lb-ft) produced by the 13 litre family's top 540hp rating.
Strangely though, the FH500 I-Save model provided for our short driving stint was a prototype unit with a 3.09:1 rear axle ratio rather than I-Save's taller standard ratio of 2.83:1.
Pulling a B-double combination, grossing around 58 tonnes and driving through a 12-speed I-Shift direct-drive transmission, the 3.09:1 ratio delivered 100km/h around 1550rpm whereas the 2.83:1 diff is said to reach 100km/h at a significantly more frugal 1,350rpm, or thereabouts.
What's more, the prototype truck was fitted with an I-Shift lever and driver-selected operating modes (economy or performance) whereas in standard I-Save format – with fleet applications the obvious target market – drivers will have a basic press button selector pad instead of a lever, and the transmission will be permanently fixed in 'economy' mode.
However, the I-Save model's fuel-saving features are certainly not limited to the powertrain, with a low-roof cab and medium-height chassis doing their parts to reduce aerodynamic influences on fuel economy.
But just how fuel-efficient is I-Save under Australian conditions? Well, obviously, it'll take much more than a few hours in a prototype with barely 17,000km of demo duties under its belt to judge the model's thirst for work.
Still, for what it's worth, the truck's on-board trip computer revealed a figure of 1.8km/litre (5.1mpg) on an easy 150km round-trip from Volvo HQ in Wacol to Aratula at the base of Cunningham's Gap; a result which perhaps provides a respectable base line for future assessments.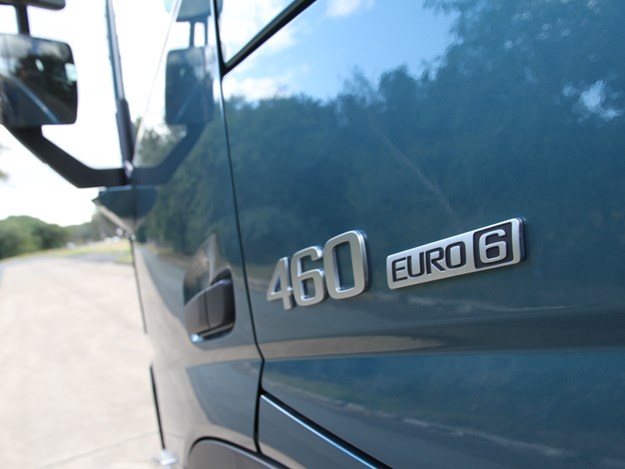 All up though, it is easy to understand Volvo's confidence that the FH500 I-Save, with its 70 tonnes gross mass rating and design potential for thrifty fuel economy, will be particularly appealing for certain fast turnaround B-double roles. Linehaul shuttles, for example.
Yet I-Save, of course, is just one part of Volvo's new entourage and like all models in the range, the FH interior layout has undergone significant change.
The most obvious among a swathe of updates which in large part typify modern European design trends, is the introduction of a digital dash, allowing the driver to select the instrument display of his choosing and equally, check the status of various components by simply scrolling with control buttons on the steering wheel.
Standing unusually tall on the left of the main dash is another screen providing digital access to a further swag of ancillary functions, not least the radio and in-cab control systems.
Many of the changes are aesthetic but nonetheless worthwhile, further enhancing Volvo's high standards of driver comfort and operational ease. One notable example is the introduction of a single rotary wand to engage the power divider and diff lock.
Lively FM
There is, of course, much more to the new FH than the few features listed here, just as there's much more to the entirely new FM than those reported after a few short hours driving a Euro 6 FM460 truck and single trailer combination at 38 tonnes in and around Brisbane's 'burbs.
Nonetheless, the latest FM shares plenty in common with its bigger brother.
According to Volvo, as much as 50 percent of the cab structure and equipment features are shared with the FH, including the digital dash arrangement and most operating functions.
And believe it or not, the new Volvos are perhaps even more whisper-quiet than their predecessors, while Volvo further claims that forward vision in the all-new FM cab is 10 percent improved over the soon-to-be-superseded shed.
Similar to its FH sibling, the FM range also covers plenty of bases with both 11 litre and 13 litre models offering Euro 5 and Euro 6 emissions standards.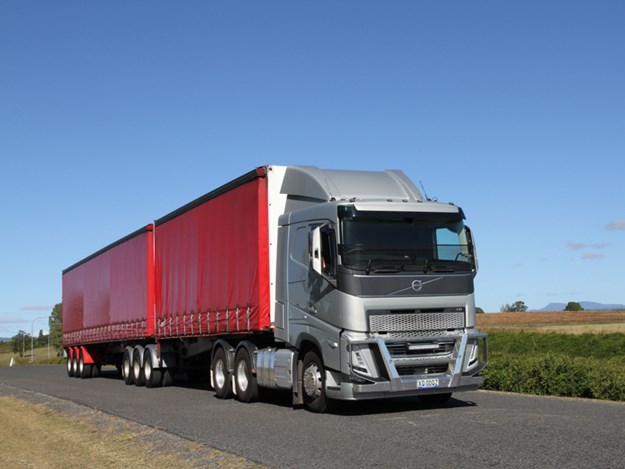 The 11 litre line-up starts with the Euro 5 FM380 and FM420 models followed by the Euro 6 FM460 while the 13 litre FM500 and FM540 are both offered in Euro 5 and Euro 6 forms.
Driving into a direct-drive I-Shift 12-speed transmission to a fast 2.83:1 final drive ratio – incidentally, the same standard diff ratio in the FH500 I-Save model – the 11-litre 460 demo unit was a surprise packet from the start.
Producing peak power (339kW/460hp) from 1700 to 1800rpm and top torque of 2200Nm (1622lb-ft) from 1050 to 1400rpm, the response and tenacity of this light and lively 11 litre lump were constantly surprising.
Meantime, the retarding ability of Volvo's integrated engine brake (producing 290kW of braking power at 2400rpm) was similarly effective in a model with a standard gross combination mass (GCM) rating of 50 tonnes.
According to Volvo, though, the choice of a slower diff ratio will allow the model to work at GCMs up to 60 tonnes.
Like the I-Save demonstrator, the FM460 test unit was also fitted with a number of options which included the latest 'Evolution' version of VDS – Volvo Dynamic Steering.
Some drivers, if not all drivers coming to grips with VDS for the first time, will probably find the system unusual, to say the least. It is, after all, a technology that affects pressure on the steering wheel and delivers the sensation – which can be disconcerting at first – that a force other than the driver is working at the wheel. And actually, that's exactly what's happening.
As Volvo explains, VDS is 'an active steering system producing a torque overlay of up to 25Nm (which can) reduce steering force up to 85 per cent, lowering driver fatigue'.
However, in its latest 'Evolution' form, VDS gives the driver the choice of several pre-defined settings, accessed through the digital screen on the left of the dash.
The standard is a 'default' (factory-set) setting designed for most drivers and conditions, but there's also a 'light' setting, a firmer 'stable' setting, a 'responsive' setting described by Volvo as a 'sporty feeling', or if the driver wants to create a personalised steering effort, there's a 'custom' setting.
Said to cost around $5,000, VDS may not be for everyone but equally, the technology is vastly improved over early versions and it's easy to see the system being tremendously worthwhile in some conditions, like the high-crowned, narrow, broken edge roads that proliferate along many of Australia's interior truck routes.
As for the fuel economy of the livewire FM460: Again, a few hours and slightly less than 150km behind the wheel in suburban traffic and busy freeways were hardly a definitive evaluation.
Even so, a fuel figure of 2.62km/litre (7.4mpg) recorded by the model's on-board trip computer was undeniably impressive in a truck with less than 2,000km on the clock.
Finally, while it'll take more than a short drive of just two pre-production versions of Volvo's latest models to cite long-term success, there was at least enough to suggest the Swedish maker and its Australian offshoot have combined to deliver a smarter and even more appealing line-up for this market.
The priority for Volvo now, of course, is to actually get the new trucks into the market and retrieve some semblance of normal. Or whatever 'normal' is these days.
Subscribe to our newsletter
Sign up to receive the ATN e-newsletter, digital magazine and other offers we choose to share with you straight to your inbox
You can also follow our updates by joining our LinkedIn group or liking us on Facebook. 

Trucks For Hire | Forklifts For Hire | Cranes For Hire | Generators For Hire | Transportable Buildings For Hire