Time travels: 40 years of Freightliner on the road
---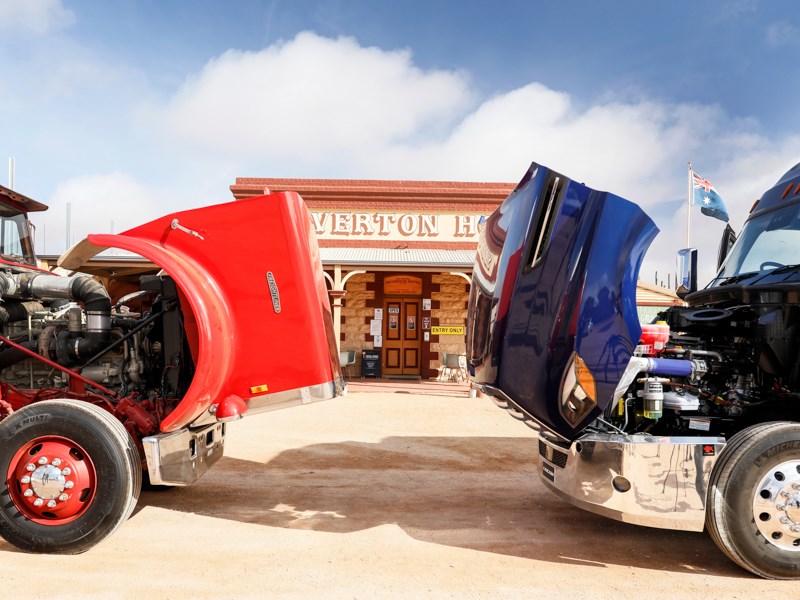 Performance standards are incomparable. The 1982 FLC120 has a Cummins NTC400 with a modest 1,150lb ft of torque. Cascadia 126 sports a DD16 at 600hp and 2,050lb-ft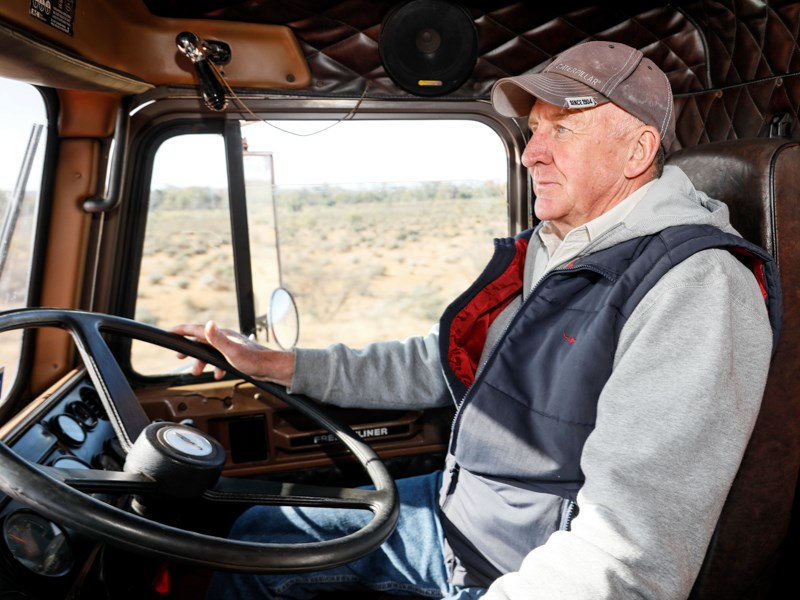 There's a lot to be said for the satisfaction and pride of a drive down memory lane, as long as the lane's not too long. Driving was simply harder work back then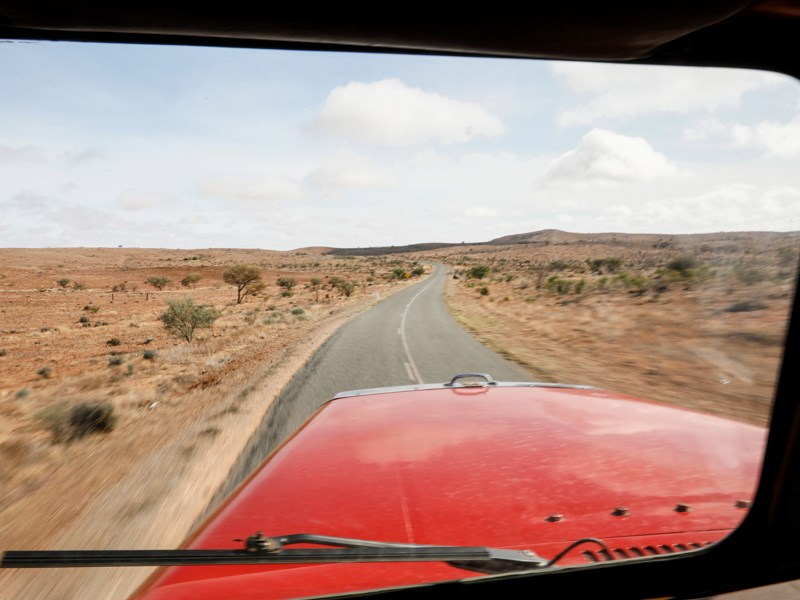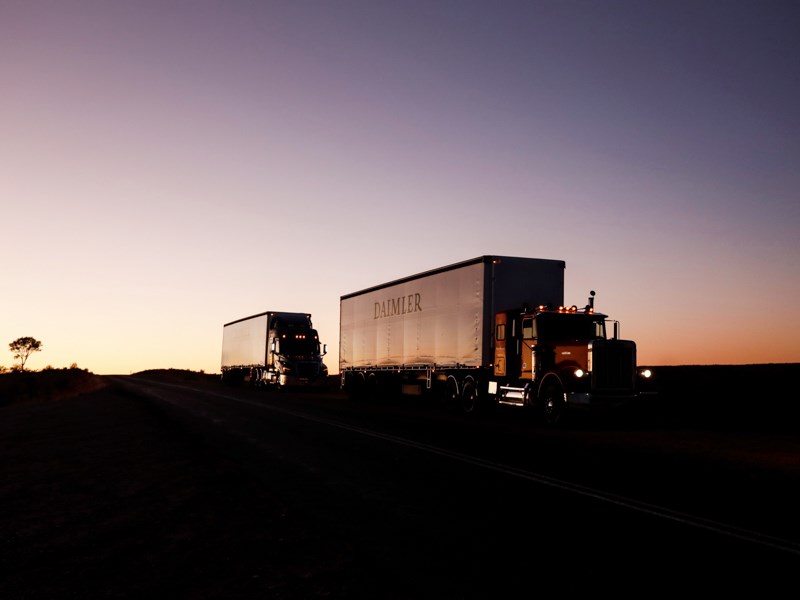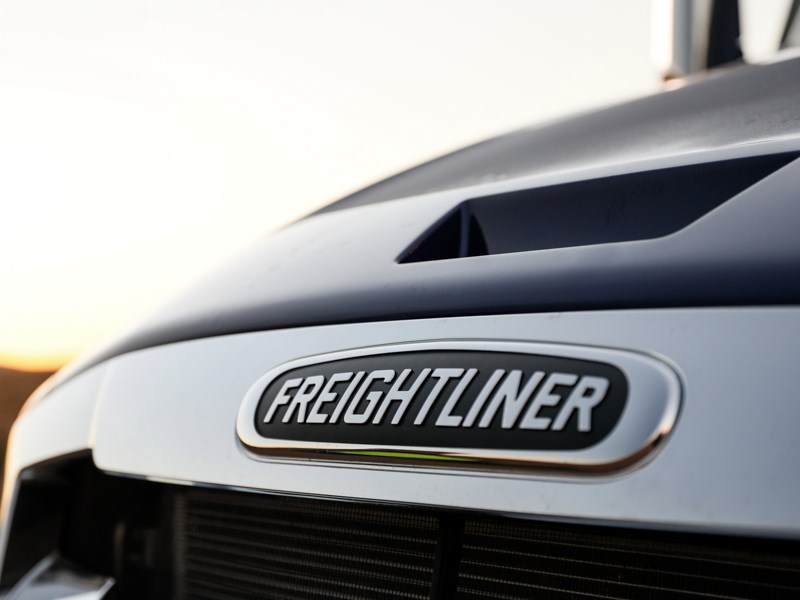 Cascadia's only apparent connection to its forebear is little more than the badge on the snout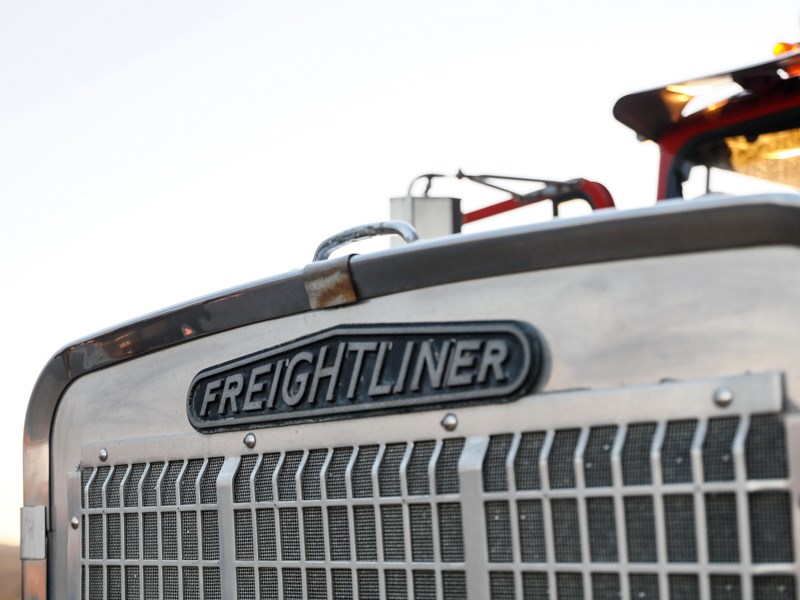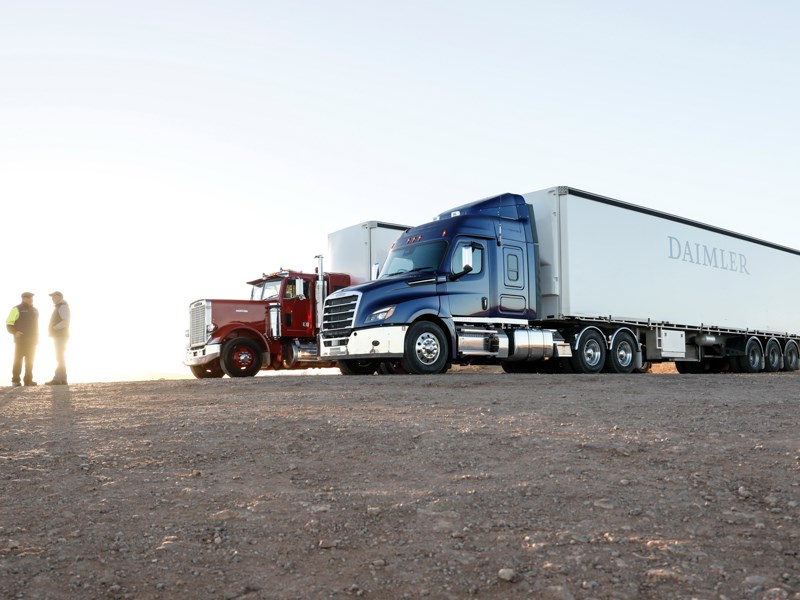 Like a ghost of the past, the FLC120 was just one of two brought to Australia for extensive assessment. Cascadia, too, underwent long trials before its local launch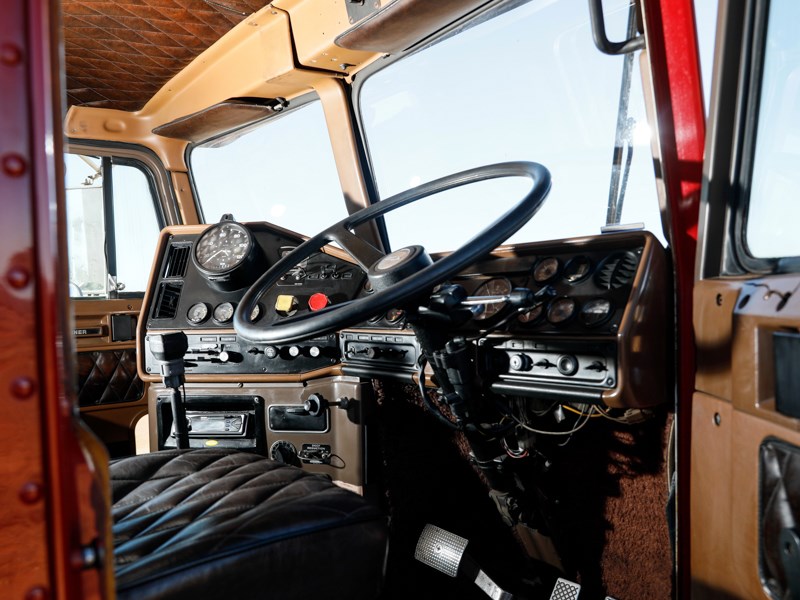 Modern trucks are far more complex in technical terms but from behind the wheel, comfort and ease are lightyears ahead of their forebears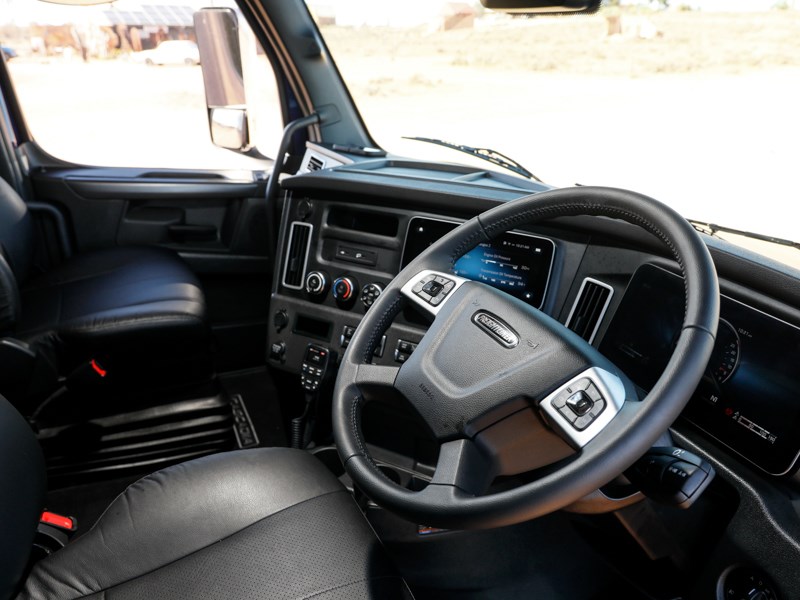 Modern trucks are far more complex in technical terms but from behind the wheel, comfort and ease are lightyears ahead of their forebears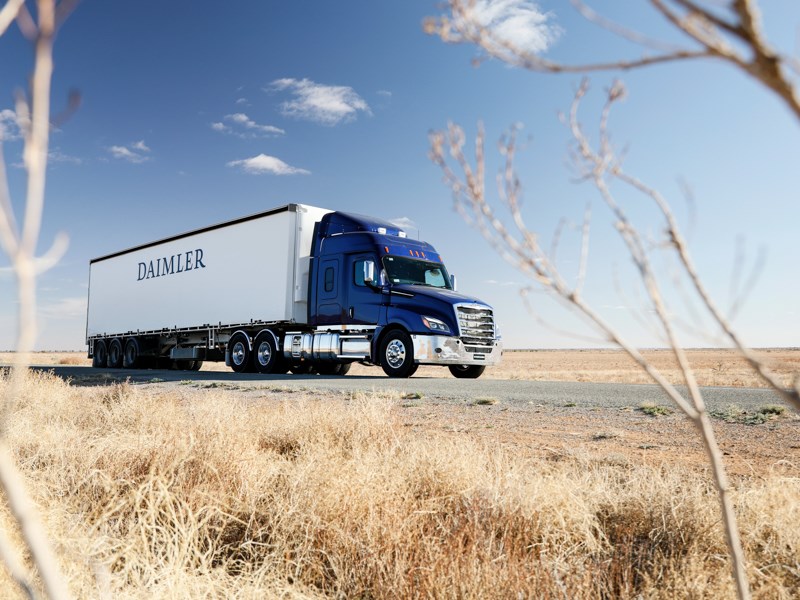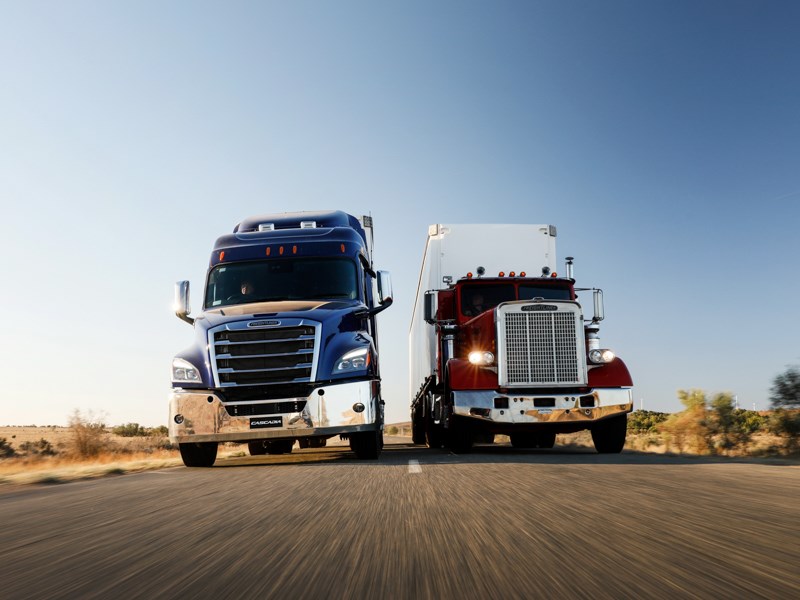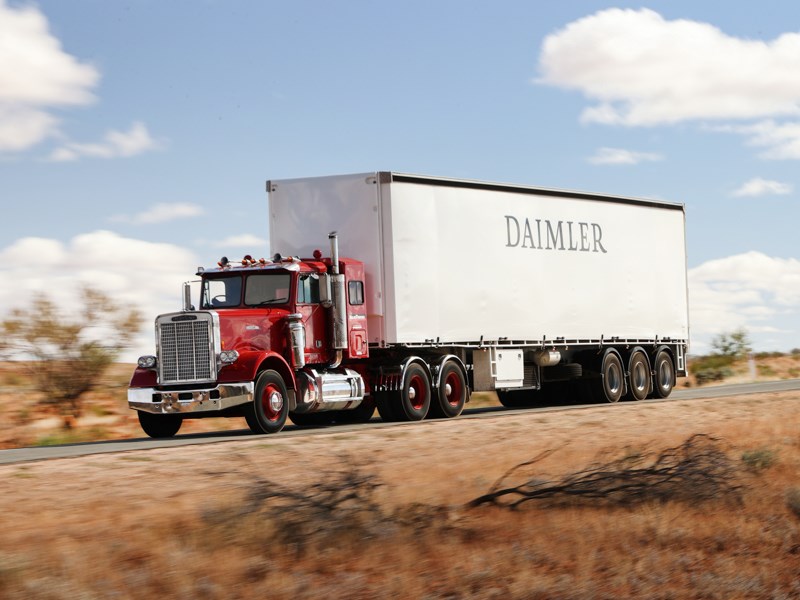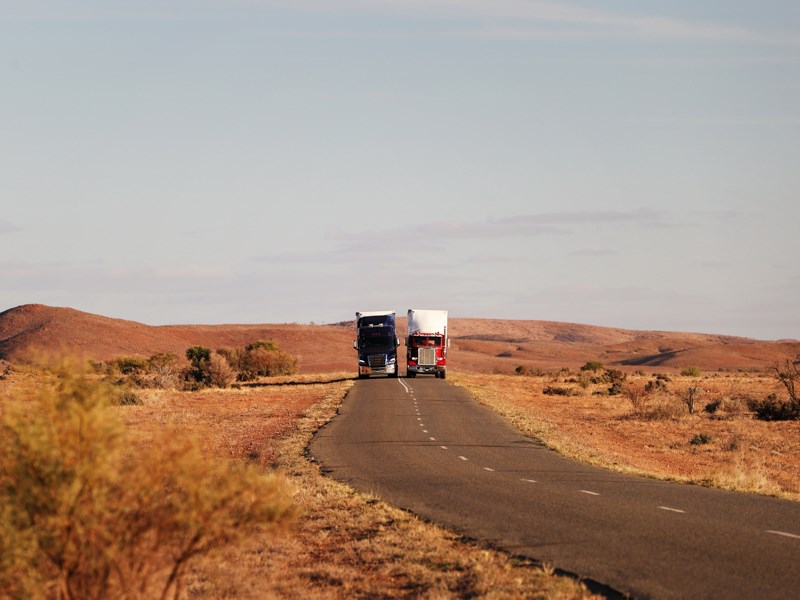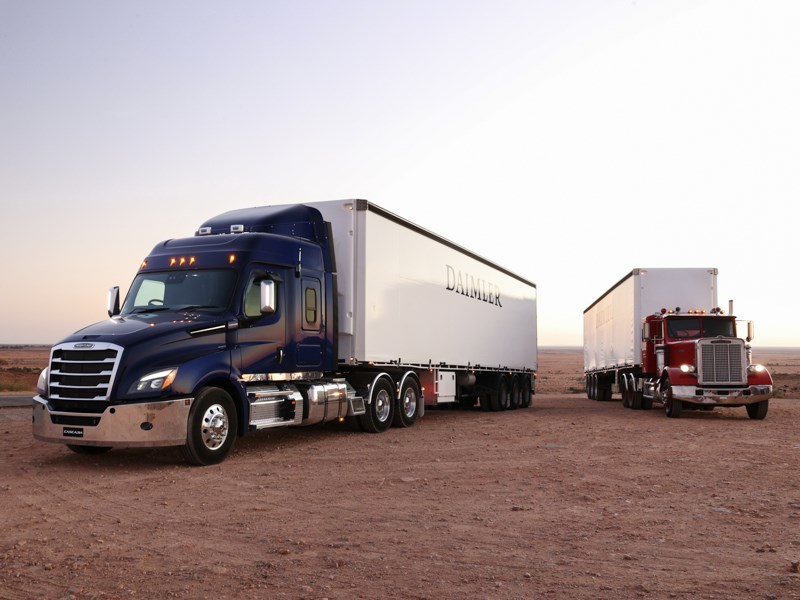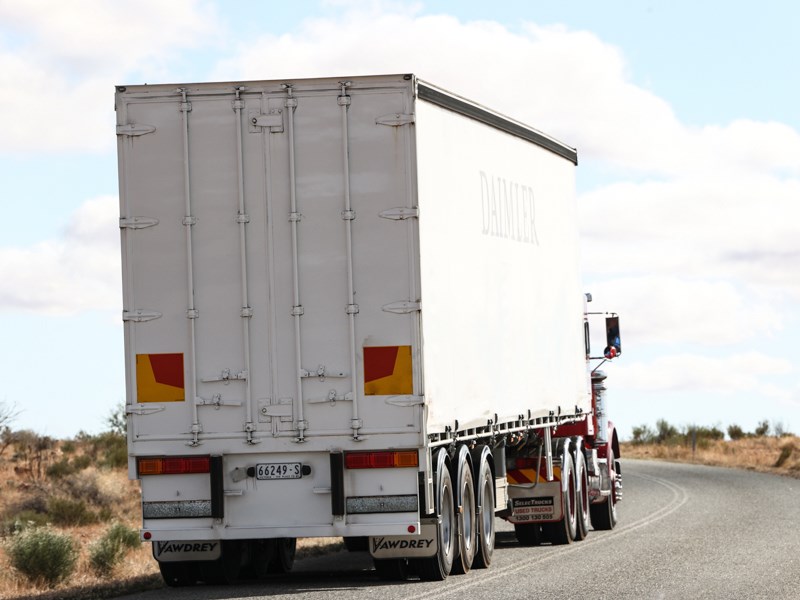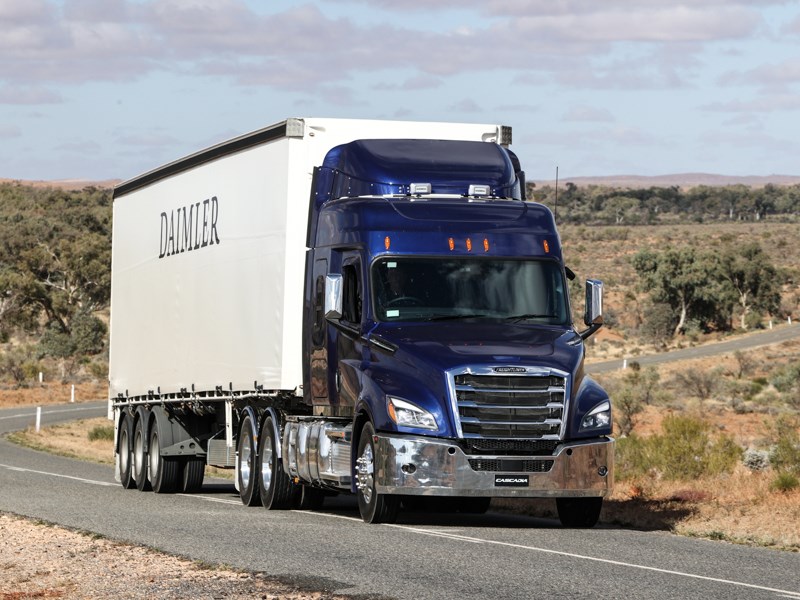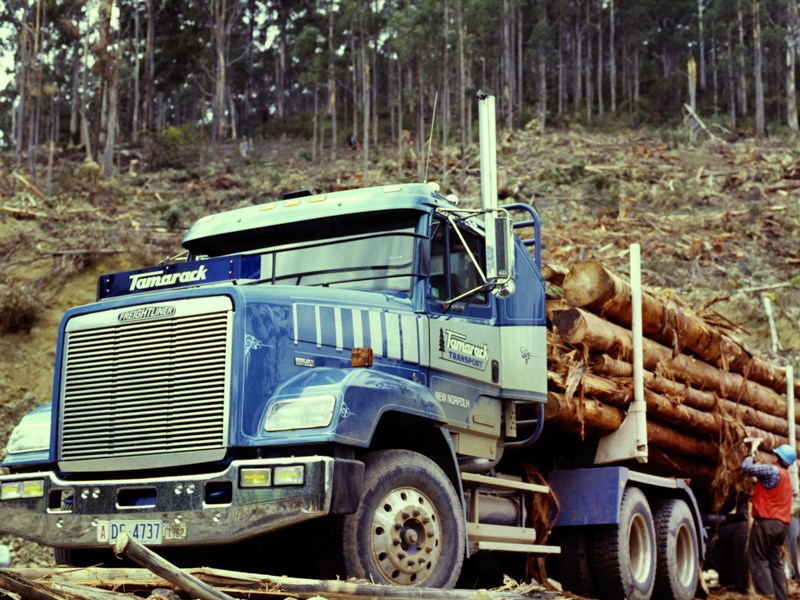 In a wise move, Australia's first Freightliner was the highly durable FLC112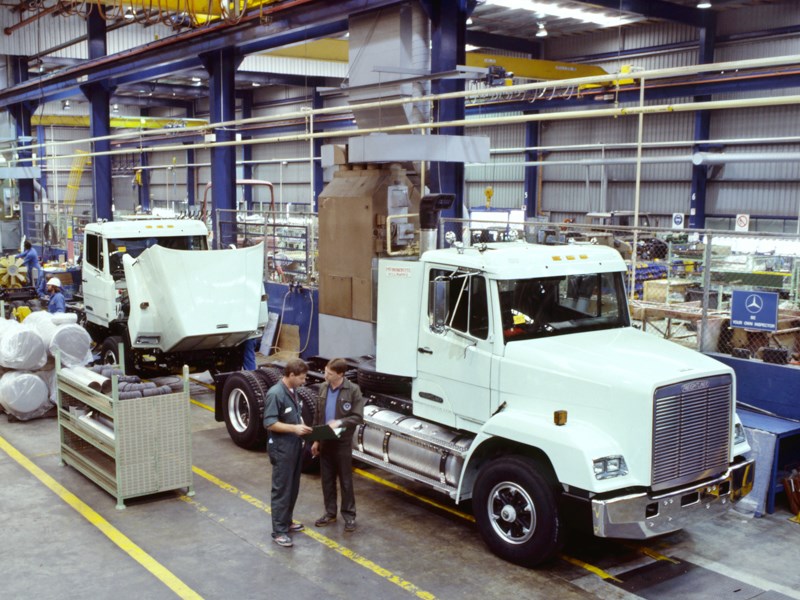 Australia's early Freightliners were assembled on a line at Mercedes-Benz Australia's Mulgrave (Vic) facility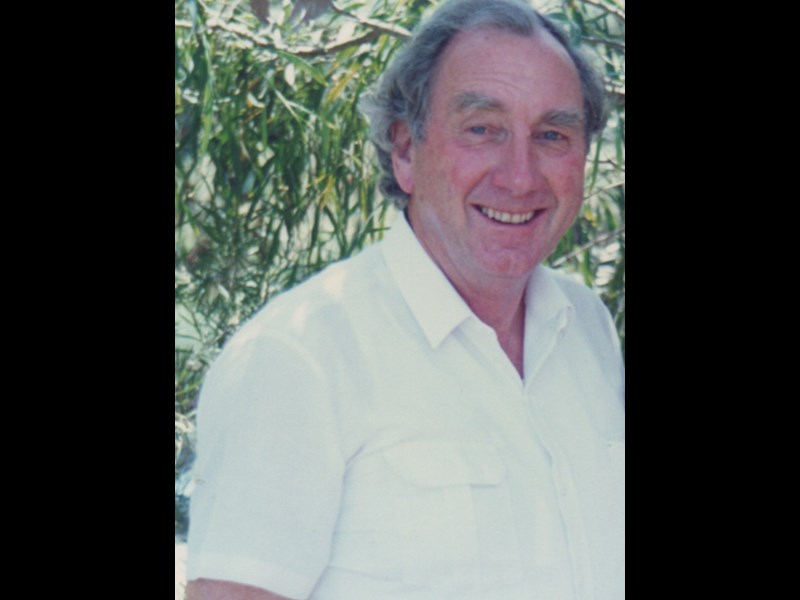 A founding father of Freightliner in Australia, the late Ian Bruce. Daimler-Benz's purchase of Freightliner in 1981 created huge excitement for the eventual introduction of the brand in Australia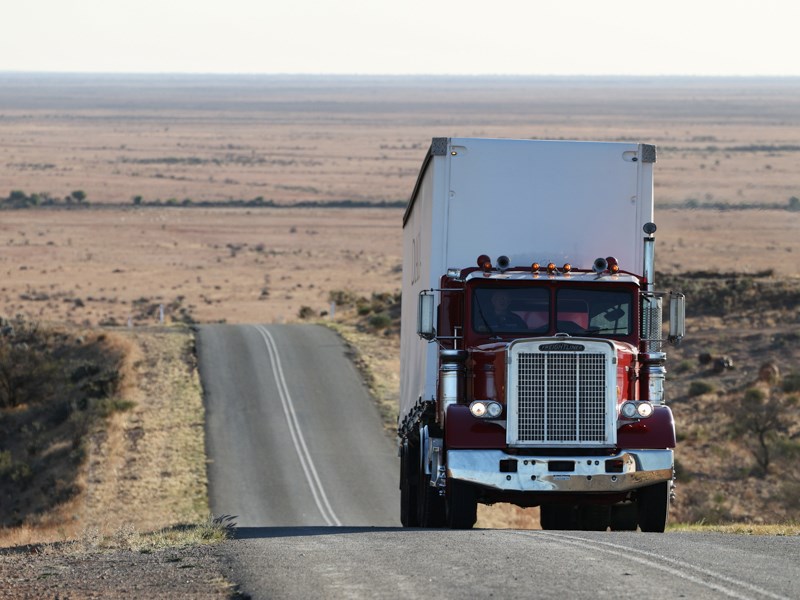 Over the hill, in more ways than one

No brand in the world today better highlights the technical evolution of conventional trucks than Freightliner with its unmatched advances in the latest Cascadia. Australia has certainly played its part in Freightliner development and in this remarkable report across 40 years of trucking, Steve Brooks delivers a detailed history lesson before doing time behind the wheel of two trucks that truly span the technological ages
Forty years ago, a seismic shift occurred in the global trucking landscape. A shift so vast it would eventually lay the commercial and technological foundations for Europe's ultimate ascension over Fortress America as the dominant force in world truck manufacturing.
It was 1981 when the company formerly known as Daimler-Benz bought the struggling US truck maker Freightliner, and whether by confluence or coincidence, it was also the year Swedish brand Volvo acquired the financially strapped White Trucks.
As historical milestones, these acquisitions by two titans of global truck manufacturing were the starting point – the beachhead – of Europe's assault and largely unchallenged annexation of the world's biggest heavy-duty truck market. There would, of course, be much more to come, with no shortage of corporate convulsions along the way but, even now, it remains easy to wonder if brash corporate bravado blinded American interests to Europe's ultimate ambitions until it was too late. Way too late.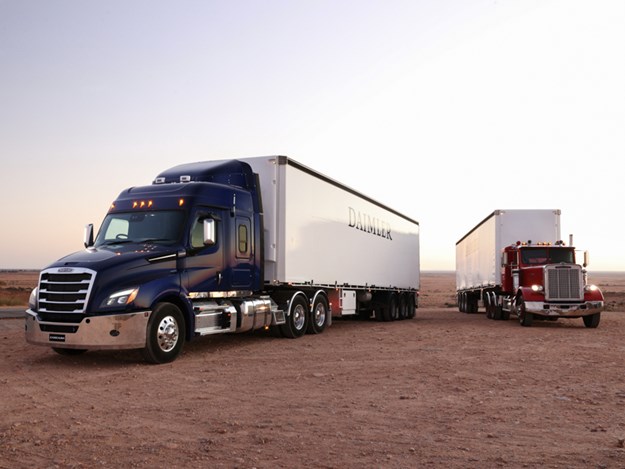 Yet, while Daimler-Benz's acquisition of Freightliner would develop exponentially into North American market leadership, Volvo hasn't reached the same heights of market strength in the US despite an '80s campaign that was unquestionably the most dynamic and boldly aggressive of the two continental invaders.
Five years after buying White, for instance, the Volvo White company bought the heavy truck business of the massive General Motors organisation. Ironically, and perhaps most profoundly typifying the economic trauma then afflicting most of America's truck makers, Volvo's expansion came around the same time a US investor group formed a company called Navistar International to rejuvenate the truck interests of the quickly corroding International Harvester Corporation.
Strangely, though, a couple of White offshoots rejected by Volvo in its '81 takeover would, many years later, become high profile parts of Daimler's bold new world, namely Western Star and a dormant brand in the White stable called Sterling. Down the track, Daimler, in 1997, would buy Ford's heavy truck business and recast Sterling in an entirely new light, only to eventually dump the brand altogether in 2008. Go figure!
Moreover, and despite Volvo's purchase of GM's heavy truck business, it seems the Swedes had little or no interest in also making a move on the General's huge Detroit Diesel engine division. Volvo, after all, had its in-house powertrain and was obviously more intent on pushing its own hardware into the mindset of American truckers, with somewhat mixed results.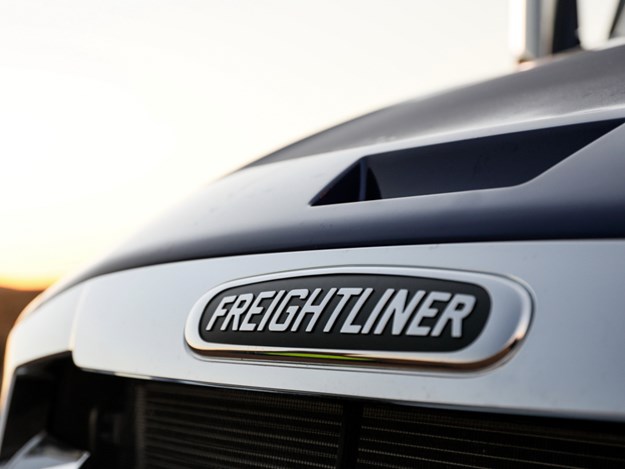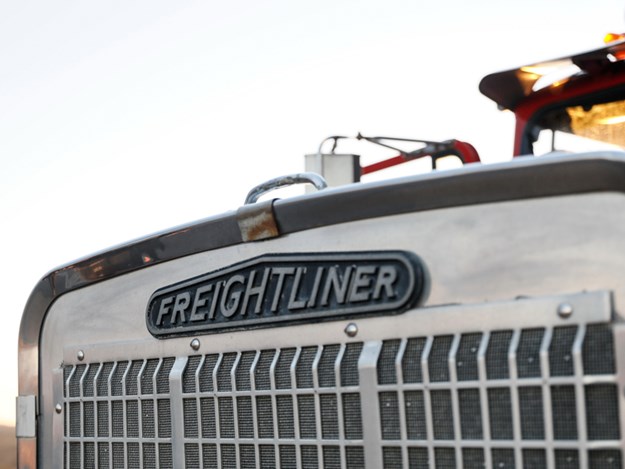 Still, the web of strategic takeovers and corporate complexity was far from finished. US automotive icon Roger Penske, for example, certainly saw the potential of GM's Detroit Diesel division – specifically the revolutionary Series 60 engine – and took control of the General's engine business in 1988. Then, after 12 years of hugely successful ownership but with difficult new emissions standards approaching, the charismatic Penske in 2000 sold the engine business to the company then known as DaimlerChrysler that, by the turn of the century, was forging plans to make Detroit Diesel a critical player in its HDEP – heavy-duty engine platform – global power push.
Funny thing though, Daimler's announcement that it was buying Detroit Diesel came just hours after news also broke that its barnstorming Freightliner brand had acquired Western Star from formerly Brisbane-based billionaire, Terry Peabody. Wild days indeed!
However, there was one American entity with expansion plans of its own, perhaps driven in large part by a desire to turn the tables on the Europeans and in the process, shore up its own future. In fact, Europe's control of American truck manufacturing would be nowadays absolute if it wasn't for the perception and strength of Kenworth and Peterbilt parent Paccar that, in 1996, paid more than half a billion dollars for the relatively modest Dutch brand, DAF Trucks. As an industry analyst writing in the Wall Street Journal rightly commented at the time: "This is Paccar making a clear statement to say they are going to be an international truck manufacturer in the future."
Even so, Europe's expansion continued and, in the same year Daimler bought Detroit Diesel – again, whether by confluence or sheer coincidence – Volvo acquired the heavy truck interests of French brand Renault and its famous American offshoot, Mack. It was a fortuitous lifeline for Mack, with several senior bulldog executives conceding that if the Swedes hadn't stepped in when they did, the famous dog would have soon been dead and buried.
Since then, of course, much else has occurred, with Volkswagen stepping into the North American truck fray through its Traton Group that, after taking possession of Germany's MAN and Sweden's Scania, has patiently wrangled control of Chicago-based Navistar.
Consequently, as society now rolls with unstoppable energy toward an era of climate-driven technological change and even greater corporate ambition, the stage is set for a long and fierce battle for global supremacy by the trucking world's four great superpowers – Daimler, Traton, Volvo and the lone surviving bastion of American might, Paccar.
Meantime, in the wash of all these events since 1981, Australia certainly hasn't been isolated or immune. In fact, much of what has occurred in Europe and the US has also manifested here to varying degrees. Some brands more than others.
Building a brand
Back in 1981, Volvo's takeover of White was far bigger news for Australian truck operators than Daimler's acquisition of Freightliner. And justifiably so. After all, up to that point, White had a long and celebrated history in our part of the world, and there were many devotees hoping Volvo's acquisition would lead to the brand's continuation in one form or another.
It wasn't to be, of course, and, as following events would show, the only skeleton of White's glory days would emerge from the local introduction of Western Star by a Brisbane-based group led by Peabody, who somehow managed to retain Star's Australian operation during the sale to Daimler.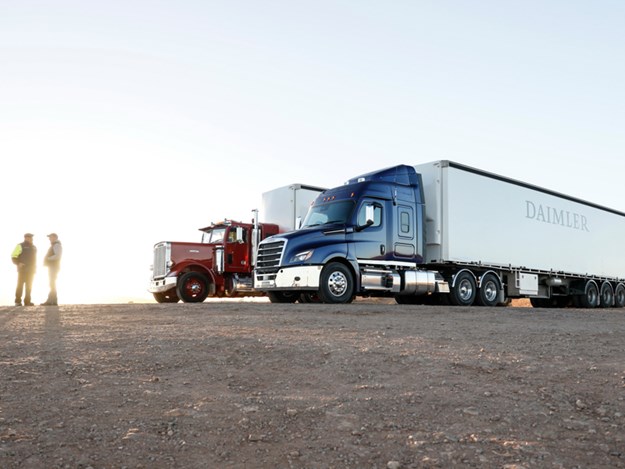 From the outset, however, Volvo did little to hide an intention to completely sever White's connection with Australia, trusting its Swedish NL and later NH models to contest the conventional truck sector. Many years afterwards, there were strong indications that Volvo's modern VN conventional in the US was being adapted for right-hand drive but this came to nought as Mack joined the Swedish stable, finally providing Volvo's Australian family with a locally-built and highly competitive conventional.
For its part, Paccar's Kenworth has largely continued to lead the Australian heavy-duty conventional class but, nowadays, there's also a major effort to take DAF to its full potential. In fact, there's little doubt that, in a few years from now, DAF's place in the Paccar Australia fold will be far greater than many might be currently able to imagine.
On the other hand, while reality hasn't always matched potential, Freightliner's emergence on the Australian market is nonetheless a story of remarkable intuition and initiative. It all started with the company once known as Mercedes-Benz Australia (MBA) and, critically, a handful of senior executives who saw immense potential for a new breed of US conventional suitably tailored to local conditions.
Ironically, the gap in the market left by White's departure would be one of many motivations for MBA's interest in Freightliner, but no motivation was greater than the desire to simply add a North American conventional to its entrenched range of Mercedes-Benz cab-overs.
Choosing the right Freightliner model was no straightforward task, though. Nor would it be a quick decision by the various executive voices within MBA, led largely, and somewhat forcefully, by the late Ian Bruce, who would become rightfully regarded by many as the 'Father of Freightliner in Australia'.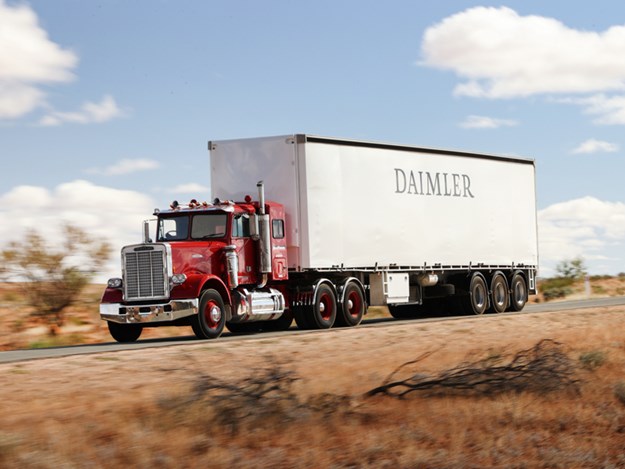 Understandably, the excitement within MBA's Mulgrave (Vic) headquarters after Daimler-Benz's 1981 purchase of Freightliner was almost palpable. Consequently, it wasn't long before a small group from Mulgrave's upper echelons boarded a plane bound for Freightliner HQ in Portland, Oregon.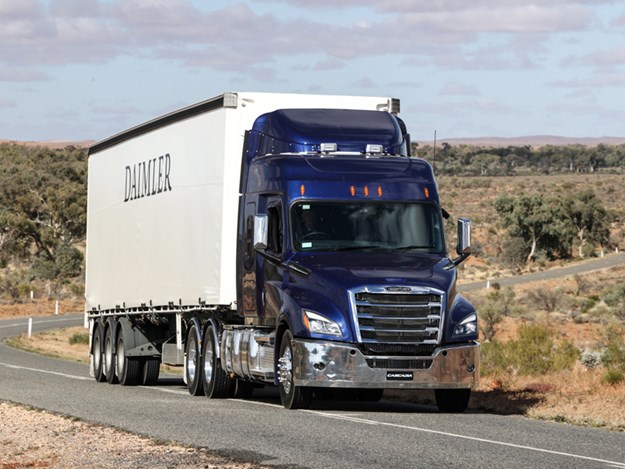 It's worth noting at this point that Freightliner had a well-deserved reputation for innovative engineering. The brand was founded in 1942 and its founder, Leland James, was a prominent US fleet owner who apparently viewed truck development as a somewhat natural fit for greater productivity in a road transport fleet. In the late '50s, for example, the brand was first to develop a cab-over able to tilt through a full 90 degrees and was an even earlier adopter of aluminium in cab construction.
Ironically, though, from the '50s into the '70s, Freightliners were sold in the US through the White network, even bearing a 'White Freightliner' badge, until White hit hard times and necessity drove Freightliner to assemble its own sales and service outlets.
Freightliner's long list of innovative achievements definitely wasn't lost on the ambitious Australian group who headed to Portland to not only search for a conventional contender, but also appraise Freightliner's willingness to satisfy a right-hand drive market for the first time.  
It wasn't long before a possible candidate was found in the form of an FLC120 model and, with excitement and conviction in abundance, MBA ordered two trucks for extensive testing in Australian conditions. The pair of aluminium FLC120s (120-inch [304.8cm] bumper to back-of-cab) were said to be the first right-hand drive units built in Freightliner's Portland factory and by mid-1982, they'd landed in Australia for what would develop into a long and arduous test regime.
While these events were supposedly unfolding with a high degree of secrecy, excitement in the MBA camp was difficult to contain. Even Bruce's usual caution started to wilt and it's still easy to recall a quiet but intensely deliberate discussion during a visit to Mulgrave in the early '80s.
Quizzed about Freightliner's potential for Australia, an anxious 'Brucey' first sought repeated assurances that confidentiality would be respected before eventually leading the way to a nondescript building where one of the two 'secret' FLC120s was undergoing engineering evaluation.
"Well, what do you think?" he asked after a few minutes and, if memory serves me right, the initial response was along the lines of: "It'll be interesting to see how that aluminium cab and all those pop rivets stand up to our conditions."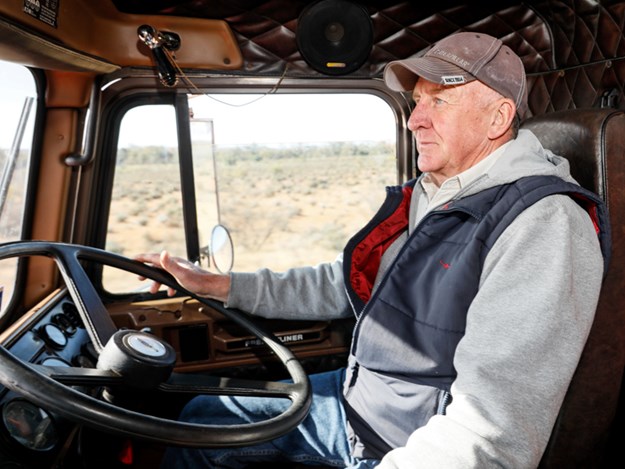 He immediately agreed, explaining that the other unit was already undergoing hard tests. Indeed it was, first at the Monegeeta (Vic) military proving grounds and, later, severe on-road tests around Wilcannia in far western NSW. Requests to drive one of the trucks were met with polite but definite refusal. In fact, it would take almost 40 years before the opportunity to drive one of those two trucks presented itself and, as fate would have it, just a few hundred kilometres west of Wilcannia.
Meanwhile, ongoing US developments were giving the Mulgrave mob plenty of other things to think about beyond the two trucks being tested here. Under Daimler's direction, Freightliner, in 1985, introduced a new 'medium conventional' model called the FLC112, obviously built on a 112-inch (284.5cm) BBC dimension but also sporting a steel cab adapted from the Mercedes-Benz stable, and largely intended for US shorthaul and construction-type applications.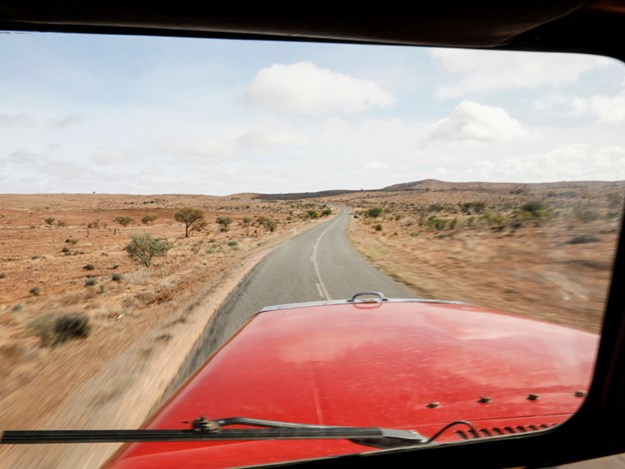 Australian interest in this model was quickly aroused, not least because of the durability and safety aspects of the welded steel cab compared to the FLC120's aluminium sheets joined by a plethora of pop rivets. Despite concerns, the word from within MBA was that the two test units were actually surviving well and, besides, tare weight was undeniably attractive.
It was, however, becoming increasingly apparent that the steel-cabbed FLC112 was building most favour in Mulgrave despite 1987 bringing news of Freightliner's US launch of its first 'aero' conventional, the FLD range. Still, the FLC112 was the increasingly short-priced favourite for a number of reasons including, perhaps, an easier and less expensive conversion to right-hand drive than either the FLC120 or its FLD successor.  
So, finally, in 1989, after almost seven years of protracted discussion and engineering assessment both here and in the US, and Portland's commitment to adapt a construction-type model into a truck suitable for everything from shorthaul tipper work to heavy-duty prime mover roles, the FLC112 became the foundation for Freightliner's first foray into right-hand drive markets.
It took time and lots of toil but, ultimately, the choice of the FLC112 – back then assembled on a now-defunct Mulgrave assembly line – proved to be an inspired decision as the model notched a solid reputation in everything from logging to linehaul, tippers to tankers and, eventually, even roadtrain triples. Indeed, it's not uncommon to see an FLC112 still earning an honest living.
Of course, much has changed since then. Big time! In Freightliner's case, some of the FLC112's successors didn't endure nearly so well while, on the cab-over front, Argosy failed to achieve its full potential despite an innovative design several generations ahead of anything else in the US cab-over class. In many estimations, including this one, Argosy will long be remembered as a case of 'what might have been'.
Yet, in the conventional class, no brand in the world today reflects the extent of technological transformation over the past four decades than Freightliner, capped by the current Cascadia.
And, strangely perhaps, it was in the backblocks of far western NSW where this transformation recently found function and form like nowhere else.
Forty-year flashback
It all started with a phone image of an old red truck and being casually asked by Stephen Downes, the head of Freightliner in Australia: "Do you remember this truck?"
"Yeah, I do. It's one of the two original Freightliners brought here in the early '80s for testing."
From that moment, it took only a nanosecond for an idea to gain traction: what better way to get a hands-on appreciation for the advances in truck technology over the past 40 years or so than to run an old banger like this 1982 FLC120 alongside a premium Cascadia?
And what better place to do it than the backblocks around Silverton, a quirky and remote little village in far western NSW where the past lingers gritty and real among the earthy ruins of early enterprise?
Gratefully, Downes agreed and, some months later, with chilled desert winds whirling under a bright and cloudless sky, two very different Freightliners rolled into this time-warped town.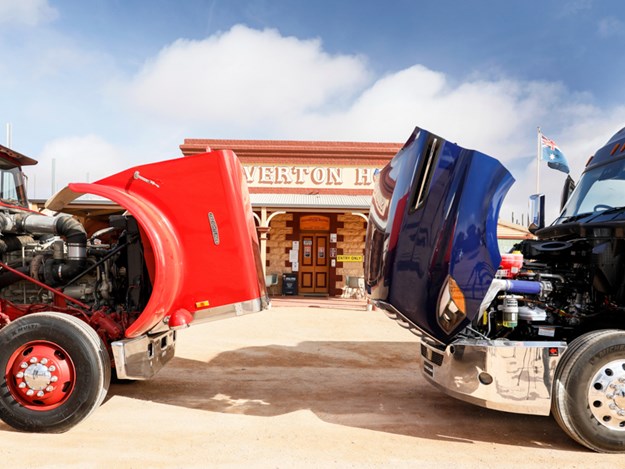 Despite a good deal of restorative work, the old banger still needed to be treated kindly. After enduring the uncompromising rigours of its original life as a test unit, the truck had spent much of its long existence delivering bus chassis around the nation for Mercedes-Benz Australia and its later Daimler descendant, all the while acquiring further data on Australian highway operations for feedback to Freightliner.
Originally a slimline unit, a 28-inch (71cm) Sleek-Line sleeper was added in 1990 along with disc wheels in place of the original spokes.
All up, according to details from Daimler Trucks Australia, the truck had notched around 3.6 million kilometres before it was given a modest makeover and briefly brought out of retirement for a burst of time travel.
Wisely, perhaps, the veteran arrived from Melbourne on the back of a drop-deck trailer hauled by the new Cascadia in the hands of another veteran of the linehaul league, Daimler's Leon Beard. Both trucks were then coupled to identical trailers purposely loaded to a gross weight around 34 tonnes, reflecting the loadings of a long-gone era.
Under the long and skinny snout of the FLC120 sat a 14-litre Cummins NTC400 engine stirring through a Fuller 10-speed transmission (manual of course, though the spec sheet claimed it was a 15-speed) feeding the engine's 400hp (298kW) and modest 1,150lb-ft (1,559Nm) of torque into a Rockwell SSHD tandem running a 4.1:1 final drive ratio and riding on Freightliner's remarkably enduring Airliner rear suspension. It was, of course, a powertrain typical of the time, though some sources question whether it was actually the truck's original specification. Whatever, it's a spec that served its purpose well, both now and then.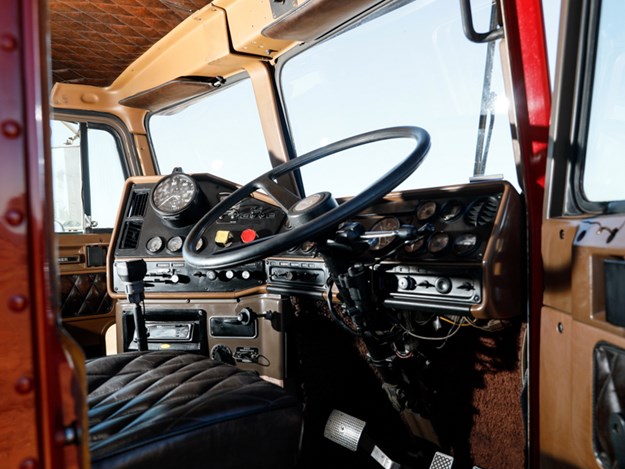 On the other side of the evolutionary expanse, Cascadia's only apparent connection to its forebear is little more than the badge on the snout. Everything else is nothing like it once was and comparing the specs of the two trucks borders on comical.
Indeed, the top-shelf Cascadia 126 with its stand-up cab, 48-inch (122cm) XT sleeper and sporting a gross combination mass rating of 110 tonnes, is something very special in the modern era.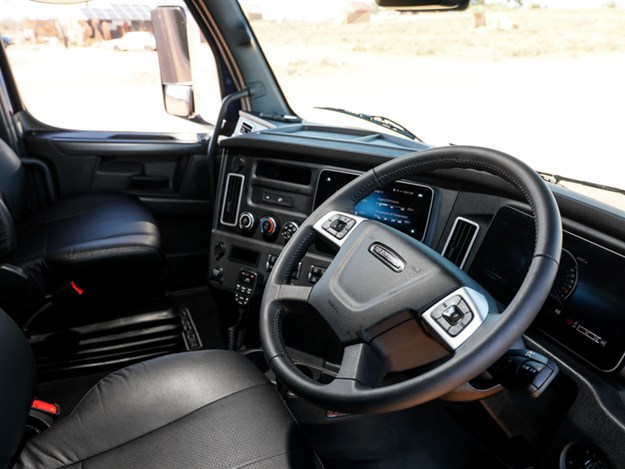 Under the broad drooping snout of the modern machine resides the 15.6-litre Detroit Diesel DD16 engine with 600hp (447kW) and 2,050lb-ft (2,779Nm) of torque pouring through Daimler's Detroit-labelled automated 12-speed overdrive transmission. At the back, Meritor's popular RT46-160 tandem ran a 3.58:1 diff ratio, riding on the latest version of Freightliner's Airliner rear suspension.
Then, of course, there's the emissions factor, which has forged and fast-tracked more technological development in truck and engine design than perhaps any other issue in history.
Back in the early '80s, for example, exhaust emissions were little more than a far-fetched black art, literally, and while some may rue the emergence and subsequent complexity of today's highly advanced emissions systems, the simple fact is that they are an essential and ever-evolving part of the modern trucking world.
Simply put, global society demands a new perspective on emissions outputs and, for its part, Cascadia's Detroit Diesel engines are configured to meet America's – and specifically, California's – exceptionally tough greenhouse gas standards and therefore exceed the Euro 6 emissions requirements that are yet to be mandated for the Australian market. In effect, the Detroit package is already ahead of a game that, in our part of the world, hasn't officially kicked off yet.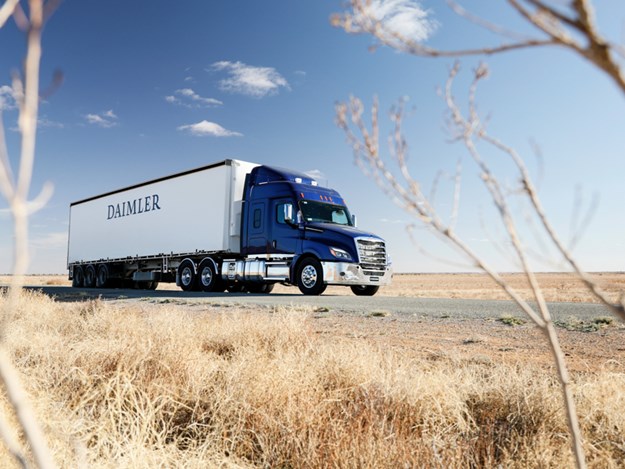 Equally advanced, however, is Cascadia's standard state-of-the-art safety package led by a driver's side airbag that can now be partnered by a side head airbag. Additionally, Cascadia comes with the proprietary 'Detroit Assurance 5.0' safety kit comprising features like advanced emergency braking, lane departure warning and side-guard protection system.
Furthermore, this particular Cascadia was also fitted for the first time with the digital dash layout now becoming increasingly available across Daimler's complete automotive armoury.
Still, and despite all the visual, mechanical and technological differences that separate 40 years of engineering epochs, it was only after two days of regularly swapping from the driver's perch of the old truck to the new, and vice versa, that the passage of time was revealed in all its stark and staggering immensity.
True, I enjoy a few days running down memory lane as much as anyone – even if the lane is becoming increasingly long these days – but to climb from behind the wheel of the FLC120 to the space, comfort, convenience and ease of Cascadia provides an insight of massive proportions, and blunt acceptance of the reality that the past is exactly where it belongs. In the past!
In the old banger, there's no ignoring the fact that to a driver 40 years ago, a Yank conventional of this type would have probably been something special indeed. A big banger worthy of a gun driver, or at least the image of a gun driver.
But, viewed in the glare of modern life, age shows. Sure, it's one thing to recall the satisfaction and pride of steering and stirring a tough truck well, of flat-shifting on a flat throttle and slick flicks of the stick to keep the power pumpin' on any pimple of a hill. Yet, there are other reminders, too, like the roaring noise and the limited vision, the rattles and rudimentary fittings, the dubious steering, the contortioned testicle-tearing climb in and out of the bunk hole and, after a few hours, the wearisome workload of just getting to where you're going. And underlying it all, the knowledge that your only defences against unwanted contact with the machines and obstacles of the outside world are unwavering concentration and a very thin shell of aluminium.
Then there's a truck like Cascadia, with all its technological treats and safety systems accompanied by the quiet, assured comfort and ease of an intuitive powertrain and exceptionally well-equipped cab.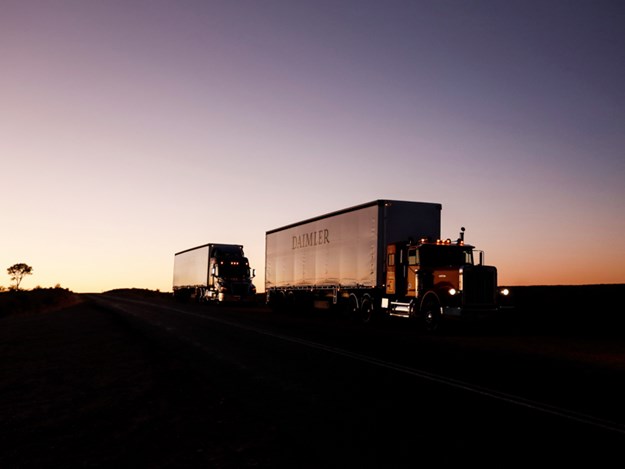 In 40 years, conventional trucks have come a very long way but, in our part of the world, and only since the launch of Cascadia, none nearly so far as Freightliner.
Sure, there's the durability factor still to be determined and the onus is squarely on Daimler Trucks Australia and Freightliner's American counterparts to ensure Cascadia achieves the market potential which eluded some of its forebears.
But so, too, is the onus on others in the heavy-duty conventional class to at least match Cascadia's attributes, particularly in safety standards.
Quite simply, lives depend on it.
Subscribe to our newsletter
Sign up to receive the ATN e-newsletter, digital magazine and other offers we choose to share with you straight to your inbox
You can also follow our updates by joining our LinkedIn group or liking us on Facebook. 

Trucks For Hire | Forklifts For Hire | Cranes For Hire | Generators For Hire | Transportable Buildings For Hire