Hino aims higher - New Hino 700 Series
---
Following extensive updates to its light and medium-duty line-ups, Hino has previewed a vastly upgraded range of 700-series heavy-duty models set to hit the market in the next few months. Advanced safety systems, improved and expanded powertrains, and new configurations are all part of a significantly stronger assault by a brand with ambitious plans for a bigger bite of the heavy-duty business.
It was no surprise that a major upgrade of the Hino 700-series heavy-duty range would follow much earlier updates to its 300-series light-duty and 500-series medium-duty models.
What did surprise, however, during a recent preview of the latest heavy-duty hopefuls was just how far Hino has gone in its bid to make the 700-series a far more competitive and appealing line-up, and in the process provide a platform entirely capable of challenging European competitors as well as its Japanese rivals.
Have no doubt, on first impression this is a heavy-duty line-up far beyond anything Hino has ever offered before in any weight class.
Moreover, while company insiders say it'll be three or four months until we get the chance to climb behind the wheel, there was enough to see and hear at a static display in Sydney to predict a bold new appreciation for the Toyota-owned brand's heavy-duty credentials.
Similarly surprising, though, was Hino's somewhat strange decision to retain peak power of the 700's reliable 13 litre engine at the current peak of 480hp. Strange indeed!
Consequently, Hino will remain the only brand in the market today that doesn't offer 500 hp or more from a 13 litre engine, yet fully aware that Japanese rival Fuso will later this year add a 13 litre 510hp model to its top-end Shogun range.
Again, a strange decision indeed, particularly given the brand's stated resolve to be a bigger player in the heavy-duty business and one day realise its long-held ambition to overtake Isuzu as Australia's top selling truck brand.
That said though, Hino Australia's somewhat circumspect manager of product strategy, Daniel Petrovski, was quick to hint that bigger things are brewing and what we were shown in Sydney is effectively the first phase of several phases in the brand's pursuit of a substantially bigger footprint in the heavy-duty field. Whether a 500-plus version is part of any future phase, he wouldn't say.
What he did say, however, is "The reliability of the Hino E13C engine is already well proven, and the improved version in the all-new 700-series range is available in two power ratings of 450hp and 480hp."
More to the point perhaps, the 13 litre in-line six is just one part of many significant features in a thoroughly modern makeover of Hino's flagship range.
One of the most appealing is the smart addition to the heavy-duty mix of the brand's A09C nine litre engine, with both nine and 13 litre displacements meeting Euro 6 emissions standards through the combined effects of a selective catalytic reduction (SCR) system, cooled exhaust gas recirculation (EGR) and a diesel particulate filter (DPF).
What's more, in an innovative move which recognises an increasingly obvious trend throughout the road freight sector, every model in the expanded range is fitted with either an automated manual transmission (AMT) or an Allison automatic. There are no manual options.
As Daniel Petrovski put it; "Australian customers clearly prefer the convenience of two-pedal transmissions (and) Hino is the only Japanese manufacturer to offer a true automatic transmission option across the light, medium and heavy-duty model ranges."
According to Hino, key new models include 4x2 and 6x2 rigids for distribution work and 6x4 and 8x4 models for heavier roles. Critically, after years on Hino Australia's wish list, the new eight-wheeler is at last equipped with the greater weight carrying allowance of a load-sharing twin-steer suspension designed specifically for our market.
Meantime, the addition of the nine litre engine to Hino's heavy-duty repertoire finally provides the brand with what it says is, 'a Hino solution in the 300 to 400 horsepower area.'
As the company explains, the nine litre line-up starts with the FH 1832 4x2 model, the FR 2632 6x2 and the FS 2632 6x4, all punched by the A09C engine rated at 235kW (320hp) and 1275Nm of torque, mated to an Allison 3200 six-speed automatic transmission.
For the higher weights of the FY 3036 8x4 model, the nine litre delivers 265kW (360hp) and 1569Nm of torque feeding into the heavier duty Allison 4440 series six-speed automatic.
In the 13 litre class, the revamped range starts with the SH 1845 4x2 model powered by Hino's E13C dispensing 331kW (450hp) and 2157Nm of torque.
All other 13 litres models – the high-roof SS 2848 6x4 prime mover, the FS 2848 6x4 rigid and the FY 3248 eight-wheeler – have the engine rated to existing performance peaks of 353kW (480hp) and 2157Nm of torque, though Hino points out that peak torque is now dispensed across a wider 1000 to 1500rpm rev range.
Coupled to all 13 litre variants is the ZF Traxon 16-speed automated manual transmission (AMT), with forward, neutral and reverse controlled through a rotary dash-mounted shift knob, uncannily similar to Traxon installations in MAN models. The knob also controls a 'slow mode' for crawling in either forward or reverse.
Furthermore, says Hino, 'The dash-mounted selector is complemented by a sequential-type shift lever on the steering column that allows the driver to switch between automatic and manual modes, and manually select gears.'
Also part of the AMT package is Hino's Easy Start (hill hold) system for smooth lift-offs on grades.
The list of standard features in the new range is undeniably impressive and includes alloy wheels in an obvious move to improve both tare weight and aesthetics.
Much like its light and medium-duty brothers though, some of the most notable advances in Hino's vastly upgraded 700-series have been in the deployment of advanced safety systems.
Safety First
Hino is adamant its new 700-series range comprises the safest trucks it has ever produced and it all starts with an electronic brake system (EBS) on every model.
Yet it's not just the quicker braking performance of EBS which sets Hino's new heavy-duty models apart from the current crop. As the company states, the 700-series has moved from the traditional S-cam design to Hino's 'Taper Roller' brake system which it says, '… reduces tare weight, decreases compressed air requirements, provides a smoother and more consistent brake feel, and uses less moving parts, resulting in reduced maintenance requirements and lower operating costs.'
Importantly, auxiliary braking is a strong suit in the new line-up with the inclusion in all 700-series models of the ever effective Jacobs engine brake, coupled in 13 litre versions with the additional braking strength of the ZF Intarder, integrated into the rear of the Traxon transmission.
Even on paper, service and auxiliary braking in the new Hino heavies appears a cut above.
However, it's the overall safety features in what Hino calls its 'SmartSafe' package which truly puts the new models on a higher plane.
"The 700-series answers a lot of the major safety issues that confront the transport industry and other road users," says Daniel Petrovski, "with the implementation of advanced driver assist technologies, Hino SmartSafe and more specifically, the introduction of Driver Monitor."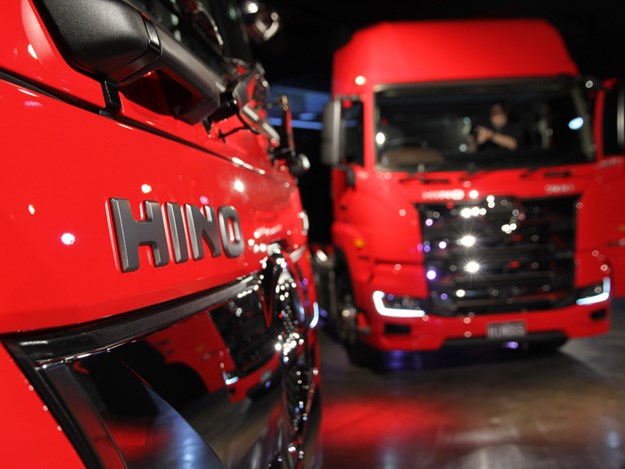 As a Hino statement explains, 'The new Driver Monitor system constantly monitors the driver's attention towards the road using key metrics such as driving posture, face orientation, and eyelid status via a camera integrated into the A-pillar.
'The system provides a visual and audible alert if it detects drowsiness or a lack of attention from the driver.'
Emphasising the benefits of the Driver Monitor system, Daniel Petrovski commented, "National Transport Insurance recently released the 2020 National Truck Accident Research Centre report which found that two of every three truck driver fatalities were as a result of either fatigue or distraction.
"The report also found the number of significant accidents caused by distraction more than doubled in the past two years, which makes Driver Monitor an important addition to the Hino SmartSafe package."
Safety has been a major focus for Hino over the past decade and more, first demonstrated by the inclusion in 2011 of a Vehicle Stability Control (VSC) system on the light-duty 300-series.
In fact, Hino now describes VSC as the cornerstone of its SmartSafe system which in the upcoming 700-series will include a radar-based Pre-Collision System (PCS) working in conjunction with Autonomous Emergency Braking to dramatically minimise the incidence and impact of collisions caused by driver distraction or poor judgement.
Similarly, a Pedestrian Detection system is also part of the SmartSafe package, along with Adaptive Cruise Control, Lane Departure Warning, reversing camera and a driver's airbag.
Meanwhile, LED headlights and daytime running lights are also standard in Hino's new heavies, as well as larger electronically adjustable, heated mirrors, a heated convex spotter mirror and spotters for the kerb and front of the truck.
Yet while SmartSafe is a highly impressive package, all its features will not be initially available on 8x4 models. Apparently, the priority is to get the loadsharing twin-steer into the market.
Citing delays in validating the VSC and PCS systems on 8x4 models, Daniel Petrovski said, "The addition of SmartSafe to the 8x4 models will occur in mid-2022.
"We have made this decision in order to fulfil our customers' requests for low tare weight and loadshare (twin) steer axle."
Contemporary design
There will, however, be no delays in supplying a significantly improved cab layout which, like the 500-series standard cab, uses a modern mix of tones and designs to produce an extremely functional and pleasing driver environment.
With some sceptics wondering if Hino had gone too far in its bid for a modern contemporary cab interior at the 2019 launch of the 500-series standard cab, Hino's Petrovski asserts;
"Feedback from drivers has been overwhelmingly positive since we first introduced the new-look interior."
Wisely, the new 700-series ignores the sceptics and delivers an attractive workplace with comfort and function obviously at the top of the design agenda.
As Hino states, 'the ergonomically designed wraparound dash layout features all-new instrumentation with large, high contrast speedometer and tachometer, and a central seven-inch multi-information display which contains important information such as SmartSafe settings, driving economy, gear selection and vehicle maintenance data.
Driver comfort starts with a cab mounted on a four-point air suspension and the inclusion of an Isri 6860 NTS2 driver's seat to provide more rearward seat travel, greater seat depth and lumbar air support.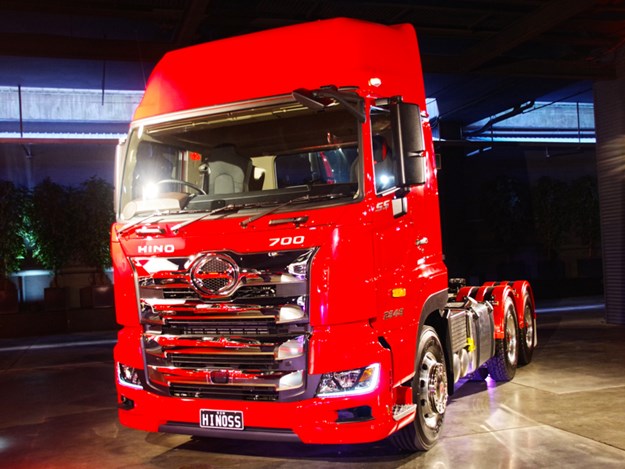 Likewise, generous tilt and telescopic steering wheel adjustments make it easy to find a good driving position for 'steerers' of almost any shape and size while control buttons on the steering wheel offer fingertip ease for phone calls, setting the adaptive cruise control system, and operating the information display screen.
On the outside, exterior design has been notably refreshed with style changes to the grille in particular. A shallower three-slat grille, for instance, denotes a nine litre model and a taller four-slat grille, a 13 litre version.
All up, even a short stint behind the wheel of several static trucks suggests Hino's new 700-series is something special for the brand in this country and perhaps, something special in the evolution of Japanese heavy-duty trucks.
Time will tell, of course, but right now there's a sense of expectation that on-road experience will only confirm what we're already thinking. Stay tuned!
Happy Birthday Jake
Hiding in the shadows of Hino's preview of its new 700-series trucks and the use of a Jacobs engine brake in all models is the fact that 2021 marks the 60th anniversary of Jacobs Vehicle Systems.
Jacobs introduced the first engine brake for commercial vehicles in 1961 and since then, more than nine million Jake brakes have been produced for trucks around the world.
In fact, Jacob engine brake use has grown markedly over the past few years. The company sold its eight millionth engine brake in 2019 but it was only two years later, in March 2021, that the nine millionth unit rolled off the Jacobs assembly line.
It may, however, surprise more than a few people to learn that the world's best known engine retarder was actually invented by Clessie Cummins, the man who in 1919 founded the Cummins Engine Company. And it may also be a surprise to learn that safety and a near-death experience were the reasons why Clessie Cummins made an effective engine brake one of his most enduring engineering legacies.
The story goes that in 1955 when Cummins retired from the engine company he'd created, his thoughts returned to a terrifying experience in the northern summer of 1931 when he and two colleagues drove a Cummins diesel-powered truck from New York to Los Angeles in an attempt to set a new truck speed record across mainland USA.
On the fifth day of the drive, at the top of a notorious pass on a stretch of historic Route 66 in Southern California, Clessie was at the wheel of the truck when it started a long, steep descent towards the San Bernardino Valley.
On a gravel road that plunged downwards for 35 miles (55km), criss-crossed by a busy railway line, the frequent slowing for twists and turns overheated the truck's brakes.
Clessie tried to restrain the runaway truck with engine compression but, with so much momentum and road speed, was unable to engage a lower gear than third. To his horror, the Cummins founder realised he "would just have to ride it out."
With a freight train cutting across their path a short distance ahead, he was sure his days were done.
Clessie Cummins later recounted how the truck passed the back of the train with inches to spare and how he had vowed that someday, somehow, he would make his engine work just as well going downhill as it did uphill.
Almost 25 years passed before Cummins found the time in retirement to study what might be done to turn his engine into an effective brake. By 1957 he'd developed a design that would revolutionise engine braking: His idea was to take advantage of perfectly timed motion already built into Cummins and Detroit Diesel engines, which have a third cam on the main camshaft that activates the fuel injector of each cylinder.
By transferring this motion to open the exhaust valve with a simple retrofit mechanism, the engine brake was born.
Although the principal of engine braking wasn't new, the details of Clessie Cummins' new technical approach made it novel enough to be granted patent protection.
As for getting his engine brake into the market, it wasn't plain sailing. Clessie Cummins was contractually obliged to offer his invention first to Cummins Engine Co. but strangely, his design was rejected on the grounds of commercial risk. Big mistake!
Fortunately, Clessie Cummins received a more positive response when he explained his idea to a vice-president of Jacobs Manufacturing Company. By April 1960, after the success of extensive tests of the design, Jacobs established a new Clessie L. Cummins Division (now named Jacobs Vehicle Systems) for the manufacturer of the engine brake.
The rest, of course, is history and while the raucous bark of earlier Jakes has been criticised by many, the one salient fact that can't be criticised is the engine brake's inestimable contribution in keeping truck drivers and other road users safe on downhill grades.
Besides, the modern Jake is far quieter than its forebears thanks to the fact that Jacobs Vehicle Systems engineers continue to work closely with engine manufacturers throughout the world, not least Hino.
Subscribe to our newsletter
Sign up to receive the ATN e-newsletter, digital magazine and other offers we choose to share with you straight to your inbox
You can also follow our updates by joining our LinkedIn group or liking us on Facebook. 

Trucks For Hire | Forklifts For Hire | Cranes For Hire | Generators For Hire | Transportable Buildings For Hire