Scania Raises the Stakes - R540 on the road
---
Part One: In this three-part series Steve Brooks delves into all things Scania starting with a test drive from Sydney to Melbourne in a new R540 B-double before a one-on-one talk with Scania Australia's quietly composed managing director Mikael Jansson on some of the factors behind the brand's steady rise in recent years. Then back in Sydney, Brooks climbs into the new baby of the bunch, the 7.0 litre P-series.
Recent years have been the best in Scania's 50-year history in Australia. Not spectacular and not without a few foibles, but certainly better than ever before and certainly enough to cause market leaders to keep a concerned eye on the brand's rising prominence from one end of the country to the other.
Scania's gains, of course, have come from the evolution of a significantly more appealing product range but so, too, have they come from more astute management.
Scania's Double Shot
Scania hasn't wasted any time slipping the new 540hp version of its 13-litre Euro 6 engine into the market. And nor should it, given that since the local launch of its much lauded 'New Truck Generation' (NTG) more than three years ago, the Swedish brand has been somewhat off the pace in the 13-litre power parade.
Sure, the new range has many attributes: second to none in safety, exceptional build quality, respectable efficiency, and when it comes to big bore brawn, there's nothing to match Scania's venerable V8. But as we asked several Scania operatives during the NTG's Australian launch, 'Seriously, why is the 13-litre engine limited to 500hp when the similarly sized engines of its main rivals, namely Volvo's D13 and Mercedes-Benz's OM471, peak at 540 and 530hp respectively?'
The official response was to simply cite the six cylinder engine's gritty torque output (2550Nm/1880lb-ft) and its subsequently stated ability to deliver an enviable mix of potent pulling power and frugal fuel economy at gross combination weights up to 75 tonnes.
Besides, as Scania stalwarts were equally quick to comment, if you want more than 500hp, there's always the 16.4 litre V8 with outputs starting at 520hp and going all the way to 730hp.
Even so, a few Scania insiders quietly admitted to being equally perplexed by the six cylinder engine's 500hp limit which, in our parochially power conscious market, appeared to be handing its main rivals – which now include DAF's Euro 6 MX-13 engine at 530hp – something akin to a free hit.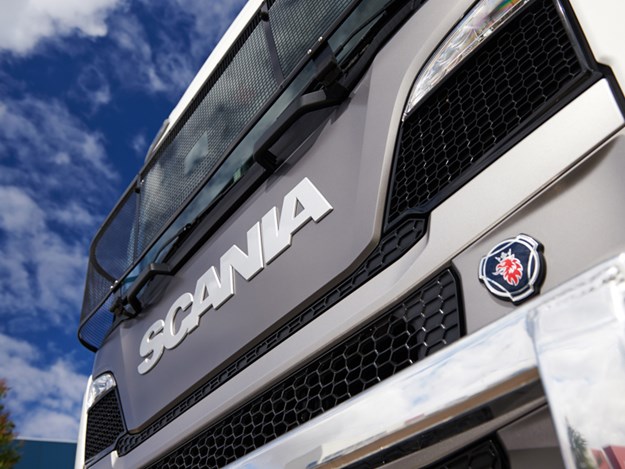 On the other hand, Scania's more senior people were again quick to firmly refute any suggestion of being off the pace, claiming the 13-litre 500hp rating in both the full-size R cab and the lower profile G cab has been 'among our most popular (and) widely praised for its performance, fuel efficiency and driveability.'
Fair enough, but with the recent arrival of the 540 rating, the company hasn't been at all shy about pointing out the new setting's ability to turn its '… six cylinder prime mover into a genuine long distance interstate B-double hauler.'
Call me cynical, but doesn't that suggest the 500 rating wasn't quite the genuine B-double linehauler its defenders declared? It would seem so.
---
Read about Scania's bigger cab for R and S-series, here
---
Whatever, there's no doubt the 540's additional horsepower coupled with an extra 150Nm of torque – taking peak torque out to 2700Nm, or 1990lb-ft – finally put the Swedish contender head-to-horsepower head with any contender in the highly competitive 12 to 13 litre class.
The extra punch, however, hasn't come without some critical updates to enhance performance and, predictably, fuel efficiency. In fact, the message from Scania is that like its in-line siblings, the DC13 engine has been reworked in a number of key areas, not least through the application of low friction coatings on pistons, rings and bores, plus modified inlet and exhaust manifolds, increased compression rates and higher cylinder pressures from Scania's durable XPI fuel injection system, and a new fixed geometry turbocharger.
Also new, and specifically designed to enhance efficiency when the engine is operating at low load cycles, are variable coolant pumps and a variable steering pump which, combined with all the other updates, allow Scania to confidently claim an overall fuel consumption improvement of up to 2.5 percent.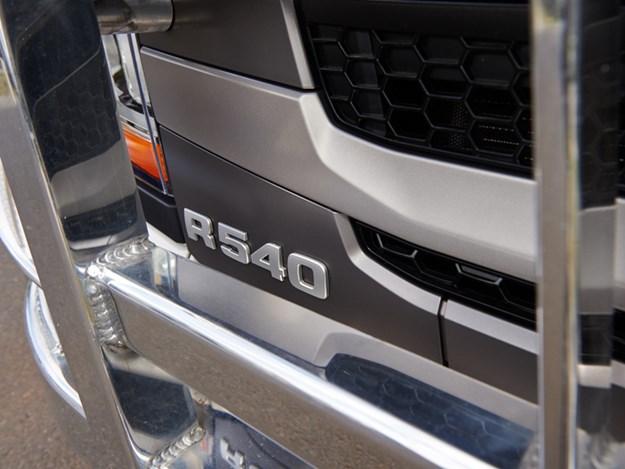 All up, it's simply a more potent package with 540hp (397kW) on tap at 1800rpm and top torque on stream from 1000 to 1300rpm. And yes, while the V8 is always an option for Scania's 500-plus proponents, it comes with a 300kg weight penalty over the steer axle compared to the six cylinder 540 rating.
So, to push the point just a fraction further, a 540 rating might have taken a lot longer than expected to get here but it certainly won't take long for word to get around that Scania's 13-litre can now punch as hard as any in the high end of the mid-bore business.
Down the Hume
Understandably, Scania has been keen to get bums on the seat of its latest linehaul specialist and the offer to take an R540 B-double with almost 34,000km under its belt on a daylight run from Sydney to Melbourne quickly became as likeable as it was logical.
Scania's affable driver trainer Dave Whyte, whose previous lives as an owner-driver and writer for several truck magazines have embedded a deeply ingrained regard for the Swedish truck, appeared more than happy to spend the day in the shotgun seat. Still, with a shrewd grin, he wasn't bashful about proclaiming high hopes for performance and efficiency as the combination headed out of Scania's Prestons dealership in Sydney's south-west at a gross weight of 58.5 tonnes.
The outfit settled easily into stride down the freeway and while much more than a year had passed since last driving a Scania, it didn't take long to be reacquainted with a slick powertrain and an impressive array of standard features.
Typically, the engine uses selective catalytic reduction (SCR) and a diesel particulate filter (DPF) to achieve Euro 6 emissions compliance, matched to Scania's highly intuitive and stunningly smooth 14-speed overdrive Opticruise automated transmission. Feeding into a 3.42:1 final drive ratio, 100km/h was notched around 1400rpm. 
Fuel capacity in the standard R540 is 1030 litres – 720 litres in the left tank, 310 in the right – and a 105 litre AdBlue tank, with steer and drive axles rolling on Continental 295/80R 22.5 tyres mounted on Alcoa DuraBright wheels. Scania states a tare weight with full tanks but no bullbar or driver at a tad under 9800kg. By comparison, a V8 under the same cab would easily push tare over 10 tonnes.
Disc brakes all-round operate in concert with an advanced emergency braking system and Scania's highly effective, multi-stage R3500 retarder and exhaust brake. In short, Scania braking is incredibly strong, smooth and no doubt, as safe as they come.
Standard safety systems are, of course, a major influence in all new trucks nowadays – still, some more than others – and while the R540's list includes a driver airbag, electronic stability program, lane departure warning, adaptive cruise control, and auto hill hold (arguably the most practical innovation of all), Scania has gone one better than its European counterparts with what it calls 'side curtain roll-over protection airbags'.
On the inside, there's plenty for a driver to like but there are also a few areas where the Scania isn't quite the equal of others. The sleeper, for instance, is not as functional or practical as the top-of-the-line Benz bunk and with a wide array of control functions on the steering wheel, familiarity can take quite a while.
In this estimation, operational ease could be improved by moving the small buttons for cruise control and downhill speed control from the bottom of the steering wheel to a higher position on the rim. Just a thought!
Similarly, and like most of its continental rivals, it took a while to feel completely comfortable with the Scania's soft and somewhat sensitive steering. But not too long.
Indeed, by the time the truck approached the first significant climb at Skyline near Mittagong, comfort and on-road confidence were well established and it was easy to concentrate solely on the R540's performance.
With the transmission in auto mode and the engine showing a propensity for digging deep into the torque band before dropping a gear, the Skyline climb forced the truck back to 8th gear with engine speed briefly reaching down to 1450rpm. A good effort, and one which was largely repeated on the pull out of the nearby 'dipper'.
At the back of the brain though, there lurked the thought that hill climbing performance could probably be improved in manual mode, making shifts earlier and where appropriate, taking two gears rather than one. And so it was that on the approach to the long hard pull over Conroy's Gap, manual mode was selected and the Scania ultimately steamed over the crest in 9th gear at 1200rpm. This was a highly impressive pull, with earlier downshifts allowing the engine to keep up a full head of steam and hang onto a higher gear than perhaps would've been achieved with the shifter in auto mode.
By this stage, confidence in the Scania's performance and technology attributes, not least high regard for the downhill speed control function, was winning an increasingly positive opinion of the R540's abilities. The quiet strength of the peak 13-litre rating and the inherent driver comfort were, in fact, making the trip pass surprisingly fast and with plenty of daylight remaining, the truck was soon enough mingling in the congested afternoon traffic of Melbourne's western ring road.
Final destination was Scania's Laverton dealership, but not before swinging into a nearby service station to top the tanks and physically confirm the trip computer's fuel reading of 2.0km/litre, or 5.65mpg for us older heads, for the 860km run. Either way, a respectable return by any measure, and enough to put the hint of a smile on Dave Whyte's dial.
It was, in fact, an even more respectable return given that the truck was largely driven to assess performance standards rather than any feather-footed, technologically tooled attempt to maximise fuel economy. Proving the point, trip data revealed the R540 averaged a lively 86km/h with an overall driving time under 10 hours.
So the end assessment is to simply vouch for Scania's claim that it has turned its 13-litre 'six cylinder prime mover into a genuine long distance interstate B-double hauler.'
Not before time perhaps, but there's no doubt Scania has now made the 13-litre linehaul class even more competitive.
Subscribe to our newsletter
Sign up to receive the ATN e-newsletter, digital magazine and other offers we choose to share with you straight to your inbox
You can also follow our updates by joining our LinkedIn group or liking us on Facebook. 

Trucks For Hire | Forklifts For Hire | Cranes For Hire | Generators For Hire | Transportable Buildings For Hire