Kenworth T410 SAR is the real deal no matter what
---
It may have taken a while to follow its 'Aero' sibling into existence, but an SAR version of Kenworth's new T410 is now up and running, sporting perhaps the best steering and road handling of any truck in the business.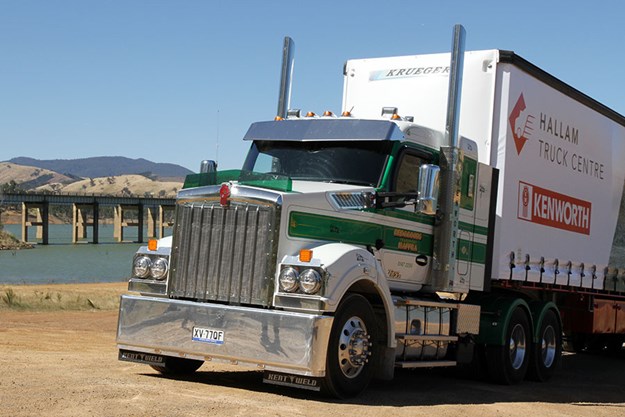 I'll be blunt. The perception in some minds has long been that Paccar's MX-13 engine is fundamentally a DAF product and, therefore, not worthy of a Kenworth. The reality, however, is that in either a Kenworth or a DAF, the MX-13 is a gutsy, respectably efficient engine that is at least the equal of any similarly-powered 13-litre in the business.
But don't just take my word for it. There are now a sizeable number of Kenworth owners and drivers with a highly positive view of the MX-13, driven in large part by a steadily expanding reputation for strong performance, staunch reliability and entirely acceptable fuel economy.
Take, for instance, the view of Lance Fisher, the long-serving fleet manager of Sydney-based fuel haulage specialist John L Pierce.
Widely regarded as one of the most professional and innovative fleet managers around, and certainly among the most authoritative in the fuel haulage industry, Fisher is responsible for a fleet of more than 120 trucks, predominantly Kenworths but also a significant number of Macks.
Yet, despite the bulldog's enduring presence, he makes no secret of a strong regard for Cummins, particularly for B-double work where the company sticks firmly to the tried and true combination of Kenworth cab-overs and conventionals punched by Cummins X15 engines. Simply stated, Fisher's steadfast opinion is that for top-weight B-double duties and everything above, Cummins cubes are king.
For single trailer roles, however, Mack Granites powered by the MP8 13-litre engine have been the norm for quite some time but with Granite about to be replaced by the long anticipated but largely untested Anthem, a forthright Fisher confirms the Paccar MX-13 mounted in Kenworth's T410 is starting to scratch deep into the dog's domain.
Since JL Pierce's first MX-13 arrived in a Kenworth T409 in October 2015, the company now operates nine of the Paccar-branded engines: eight in superseded 409s and one in an early version of the T410.
"Sure, we were a little apprehensive to start with," remarks Fisher, "but that original MX has now done well over 700,000km and, like the rest of them, there haven't been any real issues. A few little things early but nothing worth moaning about.
"In fact, the more I think about it, they've been fabulous. Reliability has been absolutely brilliant and fuel economy is excellent, at least the equal of the best of the MP8s.
"Seriously, the MX is a great engine for our work. Exceptionally good," he insists.
Similarly, the company's first T410 – with others now set to follow in the near future – has been "bullet-proof", he says without a hint of hesitation.
"Truly, a cracker of a truck and we send them everywhere, delivering fuel around town or running out to country areas.
"Drivers definitely like the [wider] cab," he continues, "and other than a minor issue early in the piece, there hasn't been a drama at all."
Arriving at JL Pierce's Toongabbie depot in western Sydney in the last weeks of 2018, the '410 was one of the first of the new models to roll off Paccar's Bayswater (Vic) production line.
What's more, Fisher contends it was among the first batch of T410s to be equipped with the Paccar-branded 12-speed automated transmission, which, coupled to the MX-13, is marketed as the 'Paccar powertrain'. Anywhere else, of course, the shifter is known simply as the Eaton Endurant, but no matter what it's called, the transmission's ongoing gross weight limit of just 50 tonnes remains difficult to comprehend.
It's an adamant Fisher who says there are no concerns with the suitability of the truck, the engine or the transmission for JL Pierce's single trailer work.
"None at all. If we were concerned, we wouldn't have ordered a few more," he says sharply.
So, if people like Fisher and astute family companies such as John L Pierce are content with the performance and efficiency of the MX-13, why has it taken so long for 'Paccar power' to carve stronger acceptance within Australia's broader trucking community?
The short answer is that, while Paccar Australia is a brilliantly successful engineering and manufacturing company, it has done a decidedly poor job of identifying and marketing the MX-13 as a Paccar product and, in the process, overlooking or even ignoring Kenworth's aspirational status in the minds of many. Lift the hood of a T410, for instance, and one of the first things you'll see is a big white fuel filter branded DAF rather than Paccar.
Anyhow, it won't surprise anyone to know the Paccar powertrain is the standard platform for Kenworth's latest creation, the T410SAR. So too, of course, is the 2.1 metre-wide cab, which first came to prominence in early 2017 with the launch of the T610 Aero and, soon after, the T610SAR with a set-forward front axle.
Paccar Australia spent big on the new models with the new cab, to the tune of around $20 million and it was obvious to almost everyone that a T410 would ultimately follow its '610 big brothers into the market.
Likewise, it also seemed only a matter of time before a T410SAR would join the ranks. After all, the T610SAR quickly showed its popularity in the market, to the point where it now outsells its Aero sibling by around two to one and strong early orders suggest the T410SAR will do much the same.
However, it was a case of first things first for Kenworth and as odd as it may seem, it was customer demand for a more powerful, purpose-built car carrier design which actually drove development of the multi-purpose T410SAR. 
Clever thinking
In a detailed presentation at Paccar Australia headquarters in Bayswater, director of product planning Ross Cureton explained that following the introduction of the new T360 and T410 models, Kenworth was rather suddenly faced with a dilemma: how to create a suitable car carrier prime mover around the 2.1 metre-wide cab yet still offer an adequate sleeper, while incorporating all the car carrier frame and gantry considerations that had made the outgoing T359 model popular with specialist car carriers.
"It was no easy fix but the goal all along was to make the ultimate car carrier for our market," a forthright Cureton commented. And that included, he added, the provision of more power than the 440hp (328kW) delivered by the outgoing 11-litre Cummins ISMe5 engine that powered the T359.
Given the demand for greater grunt, it was obvious the new T360 wasn't the answer, offering peak punch of just 400hp (298kW) from the 8.9-litre Cummins ISLe5 under the short snout.
So, the decision was effectively a no-brainer. It had to be the T410 with Paccar's MX-13 engine at ratings of 460hp (343kW) and 1,700ft-lb (2,300Nm) of torque, or 510hp (380kW) with 1,850ft-lb (2,500Nm) in support.
However, it was apparent from the outset that the T410 Aero version with its set-back front axle was far from the perfect platform for a car carrier frame. For starters, the mounting point for the sturdy stanchion on each side of the cab for the overhead carrier gantry would infringe severely on the set-back steer axle.
What's more, the 12.9-litre MX is significantly heavier – around 240kg heavier – than the Cummins ISMe5 and the extra weight over the set-back axle had the potential to compromise weight distribution.
Likewise, chassis 'real estate' for the fitting of emissions componentry, battery box, fuel and AdBlue tanks becomes considerably more problematic with a set-back front axle on the inherently short wheelbase of a car carrier prime mover.
Finally, while the T410 sleeper is 100mm wider than the bunk on the T359 (2,400mm compared to 2,300mm), there remained the distinct need for a low profile sleeper roof to accommodate the carrier frame and, equally, maintain the relatively low overall height of the superseded T359.
With all these considerations in mind, the car carrier project came to life based on a new low-profile sleeper, cab skirts to suit front stanchion mounts, a new 'traditionally styled' hood and a front axle set 400mm further forward than its Aero equivalent.
Significantly though, with gantry framework infringing on external space around the truck, the air cleaner and dual pre-cleaners needed to stay under the hood rather than externally mounted as they are on the T610SAR. Traditionalists may be critical of the under-hood location of the air cleaners but it certainly provides a far less cluttered exterior and better vision.
The end result is a T410SAR car carrier with all-important bumper to back-of-cab (BBC) dimensions of 2,850mm in day cab form and just 3,450mm with the compact 600mm sleeper. By comparison, a day cab Mack Granite – remembering it's about to be replaced by the new Anthem model – has a BBC of 2,960mm and 3,645mm with a sleeper. It's worth noting, though, Granite comes with the greater space of a 685mm sleeper but it's yet to be seen if Anthem will replicate its predecessor's role.
With the car carrier project on the boil, Kenworth's next task was to produce a more utilitarian T410SAR for the typical workloads of a 13-litre conventional truck, namely general prime mover and truck and dog combinations. As Ross Cureton's presentation revealed, the scope for a 'non-car carrier' version was relatively straightforward: Retain the traditional hood and grille design, allow for the provision of wide profile (super single) steer tyres with the standard taper-leaf front suspension and vitally, provide the same options list as the T410 except for a twin-steer layout.
Ensuring the operational efficacy of all these requirements fell to the Paccar Australia engineering team led by chief engineer Noelle Parlier. 
Pocket rocket
From this unmitigated male's perspective, the mind boggles in boundless difficulty trying to comprehend the combined pressures of being a wife, a mother and head engineer of a fiercely proud, endlessly busy, highly accomplished and historically macho Australian truck manufacturing company.
Not only that, but to combine those vastly different and incessantly constant demands after moving with hubby and 'tin lids' to the other side of Earth to accept a role as not only Paccar Australia's first American chief engineer, but the first female chief engineer, is deeply impressive.
Yet, for this charmingly witty and superbly credentialed 'pocket rocket' of a lady with the winsome ability to veil professional acumen and corporate goals behind confident words and a disarmingly bright smile, it's all part of the deal.
The details of her career and subsequent Australian appointment are, by Parlier's own definition, simple. Born and raised in Paccar heartland in America's Pacific North-West, she holds double major degrees in physics and electrical engineering, has been with Paccar for 15 years, and before the Australian appointment rose to assistant chief engineer at Kenworth headquarters in Seattle, working primarily in powertrain development, cabs, remote diagnostics and vehicle integration.
So, as the first American chief engineer here, what's the agenda?
In a nutshell: "Bringing Australia further into Paccar's global network was the main driver in appointing a US chief engineer for the first time rather than an Australian," Parlier explains.
Has Paccar Australia been operating largely outside the global network?
"Not at all, but you can always make things better."
Australia is a unique market with unique demands but it is also a comparatively small market. Does that occasionally make the Australian operation something of a headache or nuisance to Seattle?
"Absolutely not. Seattle is right behind everything Paccar Australia does and knows very well that the trucks built here are exceptional on every level." She's quiet for a moment. "And I mean every level."
As for accepting a job so far from home and hearth with responsibility for a team of around 100 people?
"Good question but seriously, why wouldn't we come here? The country and the company just have so much going for them. It wasn't a hard decision. Not really."
Yet, by the time Noelle first parked her feet under a Bayswater desk in October 2018, the T360 and T410 were already well advanced in engineering terms. As for a T410SAR, she says it was a project on the books but there was no certainty it would eventuate. Until, that is, demand for "a specially designed car carrier" opened the door for a new addition to the legendary SAR mantle.
Fast forward to the last weeks of 2020 and a quiet engineering backlot of a highly COVID-conscious Bayswater plant. This is somebody who knows her way around a truck and it's an entirely upbeat Parlier who climbs into the passenger seat of a T410SAR with barely a thousand kilometres on the clock.
The truck is one of two T410SARs bought primarily for intrastate single-trailer work by well-known Victorian operator Barry Bedggood from Maffra, 220km east of Melbourne, and generously loaned for a test run of almost 500km through Victoria's northern regions.
Kenworth is the truck of choice in the 25-strong Bedggood fleet and the two 410SARs are part of an order for at least six and possibly eight new conventionals.
In what is perhaps a relatively standard specification for a T410SAR prime mover, the Bedggood truck has the MX-13 delivering 510hp from 1,500rpm and near enough to 1,850ft-lb of torque at 1,000rpm. Predictably, the engine stirs through the Paccar 12-speed overdrive transmission into a Meritor RT46-160 rear axle set with a 3.9:1 final drive ratio, mounted on Paccar's popular Airglide rear suspension.
With four sleeper sizes to choose from, Bedggood's SAR is fitted with the functional 760mm mid-roof version and combined with the 2.1 metre-wide cab, there's certainly no hint of cramped quarters. In fact, with typically well-finished Kenworth cab trim and overall build quality, it's hard to imagine a better environment for regional runs requiring an overnight camp.
---
RELATED ARTICLE: Kenworth lays on master class to combat pandemic
---
Climbing into the cab is easy enough on well-placed, non-slip tank steps but the door opening angle is marginally restricted by the location of the mirror arms. Still, it's difficult to see cab access as a troubling issue for anyone other than those of gargantuan girth.
From the driver's seat, all-round vision is extremely good. The one-piece curved windscreen provides a clean sight over the drooping snout – though nowhere near as drooping as the original SAR – and while mirror arms have a marginal effect on door opening angle, they are extremely strong and hold mirrors that provide a wide, vibration-free view down the sides.
There's also plenty to like in a dash and switchgear layout, which is both practical and modern, with a central digital display allowing trip and engine information to be easily scrolled.
The Bedggood spec also includes an array of conventional gauges and ancillary features including the invaluable 'hill hold' function.
On the steering wheel arms are buttons for controlling radio volume and cruise control functions while just a fingertip away under the wheel is a column-mounted wand for engine brake and transmission controls.
Still, there were a few questions begging an answer even before turning a wheel. Like, why is the Paccar transmission limited to a gross weight of 50 tonnes when, with the optional Eaton 18-speed in manual or automated form, the 410SAR's gross combination mass (GCM) is 70 tonnes?
Straight to the point, Parlier said it's simply because there is no oil cooler or temperature sensor on the Paccar transmission so in the interests of long-term durability, GCM is limited to 50 tonnes. Right now, she conceded, there's little likelihood of any increase.
Okay, but why is the MX-13 limited to 510hp in a Kenworth and now out to 530hp in a DAF?
"DAF uses a Euro 6 engine, Kenworth Euro 5," she said simply. It's worth adding that in the Kenworth installation, the MX runs 12 volt electrics whereas DAF runs a typically European 24 volt system.
As for the probability of substantially more horsepower or even a bigger displacement Paccar engine, it was a succinct Parlier who said an electric motor working in partnership with the MX is a far more likely scenario.
Paccar Inc, she explained, is well advanced with electric power programs and while it may be a few years away, it is entirely possible an electric motor working in concert with the MX will be used to deliver an extra 70hp (52kW) or thereabouts. "It's an exciting time to be an engineer. I love it," she remarked as the MX was fired into life.
Pulling power
Heading away from Melbourne, it's only a kilometre or so from the Paccar factory before a short, formidable hill rises sharply.
Over many years, I've come to know this hill well. In a fully loaded truck it is a good early indicator of an engine's pulling power and with a manual shifter, an equally good indicator of whether you're on the ball or not.
Still, even with an automated 'box, this short, sharp pinch can quickly signal certain traits and given that Paccar's version of the Eaton Endurant is programmed specifically to work in harmonious sync with the MX engine, much was expected as the shifter wand was tuned into 'auto' mode for the start of the day's run.
The truck was hauling a tri-axle curtain-sided trailer and a weighbridge docket confirmed a gross weight of 42.3 tonnes. All was going well, shifts were fast and reasonably adroit, and a willingness in traffic to let the engine run up in revs before a skip shift suggested a high level of logic.
But as the grade sharply ramps up and under the pressure of load, road and full throttle, artificial intelligence suddenly appeared to suffer a moment of complete confusion. First, a surprisingly clunky drop to 7th gear, then deciding that gear was too low before quickly jumping up a cog to let the MX to do its thing and dig in.
Softly from the other side of the cab: "That wasn't very good."
No, it wasn't, but much the same thing happened a few hours later on a similarly sharp haul where this time, the only utterance from the passenger perch was a quiet "Hmmm!" Methinks a programming adjustment may be in the making. Maybe!
However, on a day of country running over varying terrain with plenty of hard pulls on twisting secondary roads, those two occasions were the only blemishes on the Paccar transmission's ability to efficiently dispense the MX-13's considerable and occasionally surprising grit and grunt.
Have no doubt, this is an engine that fights hard right through the rev range while on downhill runs, provides respectable retardation in single trailer work. B-doubles may be a different story but for singles, it's an altogether responsive and willing workhorse, uphill and down.
As for fuel consumption, a figure of 1.7km/litre after almost 500km of suburban and undulating country running in a truck with just 1000km on the clock is hardly indicative of what time and toil will ultimately return. Interestingly, Bedggood agrees, saying he doesn't give much thought to fuel consumption until a truck has upwards of 50,000km on the clock.
Nonetheless, it's apparent the Paccar-branded 'box does not offer quite the same levels of operational finesse and smoothness as its MX-powered DAF colleagues. Why? Because DAF uses European ZF transmissions in both 12- and 16-speed forms, and let's face it, when it comes to automated transmission technology, continental brands have the jump on their US rivals.
Word has it though, Eaton is well advanced with a new generation of 12- and 18-speed transmissions developing under the Endurant title. Right now, details are scant but as always, time will tell.
For now, perhaps the Paccar transmission's shortcomings on those two occasions simply typified the ongoing need for a driver to sometimes take control. Like, early the next day the same combination was run over the same hill near the factory, only this time in manual mode. The difference was phenomenal. Whether selecting one gear at a time or two, shifts came instantly and smoothly, settling comfortably into 8th gear and allowing the MX to haul its load calmly and easily over the grade. Sweet!
However, none of this commentary should detract from the lively and willing performance of the MX-13, the superb ride, driver comfort and operational ease inside the cab and most remarkably, the brilliantly direct steering and road handling of the T410SAR.
Like the T610SAR and T909 models, the 410SAR uses a Ross TRW power steering pump sited behind the front axle and quite honestly, if I've driven a truck that provides a more confident and capable handling performance on demanding and often rough stretches of road, I can't recall it.
All up, Kenworth's T410SAR is a smart addition to an already enticing and extremely successful model range. Sure, transmission programming could do with some tweaks but in every other department, there's much to like in this latest extension of the seemingly ageless SAR lineage.
No doubt, Kenworth has kicked another goal and as for the MX-13 engine, reality makes a mockery of the perception.
Subscribe to our newsletter
Sign up to receive the ATN e-newsletter, digital magazine and other offers we choose to share with you straight to your inbox
You can also follow our updates by joining our LinkedIn group or liking us on Facebook. 

Trucks For Hire | Forklifts For Hire | Cranes For Hire | Generators For Hire | Transportable Buildings For Hire