PART 1: Cascadia Kicks Off
---
It takes something very special, historically special, to bring to Australia not just the head honcho of the biggest truck maker in the world, but alongside him the chief of North America's top heavy-duty truck brand. Something special indeed, like the launch of the safest and most advanced conventional truck to ever hit the Australian market. Cascadia! Have no doubt, Freightliner is here to fight like never before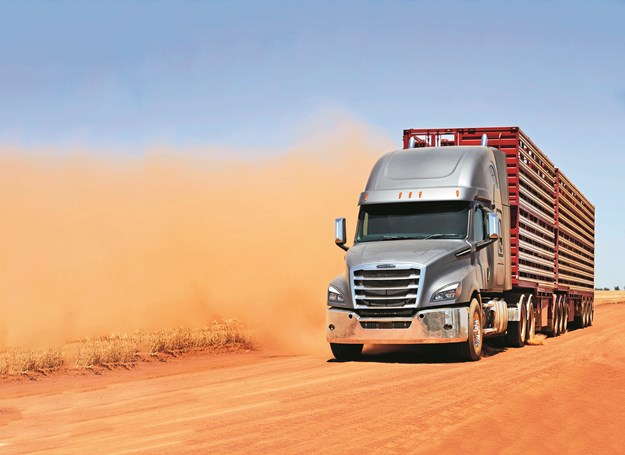 Martin Daum is chairman of the board of management of Daimler Truck AG. That makes him head of the world's largest truck maker.
Then there's Roger Neilsen, appointed in April 2017 to fill Daum's previous role as president and chief executive officer of Daimler Trucks North America (DTNA). That makes him king-pin of North America's biggest truck brand, Freightliner.
Singly, their presence in Australia to headline the official launch of a new model would be extraordinary. Together, it is nothing short of momentous, and made more so by an executive entourage which included several DTNA senior vice-presidents, a director of international sales, and the managing director of heavy-duty vocational truck development.
For Daimler Truck and Bus Australia boss Daniel Whitehead and Freightliner Australia director Stephen Downes, the coming together of such a powerful executive presence was manna from corporate heaven.
This was proof in person that the highest branches of the Daimler corporate tree are at least publicly committed to Cascadia's success in Australia and New Zealand. And more to the point, willing to take a big slice of responsibility for a $100 million right-hand drive development program – repeatedly said to be the largest investment ever made by DTNA outside North America – fashioned to finally achieve the potential which has proved so elusive to Freightliner for so long in our neck of the woods.
Consequently, and aside from the grand words and the precisely choreographed entrance of trucks in front of hundreds of invited guests in a refashioned rail facility in Sydney's south, it's difficult to see how Cascadia will eventually be anything other than a huge and long overdue success for Freightliner in Australia.
For starters, and as we've reported on several occasions over the past year and more, Freightliner's new flagship has the inherent features to carve an entirely unique presence in an Australian conventional truck market currently lacking the combined attributes of a world-class safety and powertrain package offered as standard equipment.
As Daum was keen to emphasise, safety and economics are no longer singular factors. "They run together," he insists, and citing with Neilsen the North American market's strong uptake of Cascadia's 'Detroit Assurance' safety packages.
What's more, right-hand drive Cascadia has undergone a test program here and in the US far beyond anything ever endured by its predecessors.
Late arrival
Make no mistake, Cascadia lifts the conventional bar in this country to an entirely new level and according to Whitehead, no less a corporate heavyweight than Daum has championed the right-hand drive Cascadia project from the outset.
In a surprising concession, however, Daum admitted it was a "big failure" not to develop the original Cascadia in right-hand drive way back at the model's birth in 2006. "It was," he said bluntly, "an engineering mistake."   
But it took until 2016 for the right-hand drive project to start. Nonetheless, as Daum and Neilsen faced a press conference in Sydney 's Opera House with the 'coat hanger' providing an archetypal back-drop to an obvious Aussie theme, neither hid from the fact that Freightliner has struggled to maintain a respectable Australian presence with models – namely Argosy, Century Class, Columbia – that were simply no longer part of Freightliner's future. Even Coronado is now on borrowed time with Neilsen quietly conceding, "… the sooner it's gone, the better".
As Freightliner's press statement reveals, the first stage of Cascadia's introduction includes models that replace the Coronado 122 and Century Class. The shorter-nosed Coronado 114 will continue as part of the range but apparently, not for long.
For Freightliner here and anywhere else, the future is Cascadia. Pure and simple!
Yet Freightliner has been in Australia since 1989 and with the exception of the original and immensely durable FLC 112 model, success has largely fallen well short of expectations. So, if Cascadia is indeed the start of an entirely new era for Freightliner in Australia and New Zealand, why has it taken so long to get here?
Daum didn't hesitate: "Trucks need to have the same genetics, a platform for all markets," he explained, "but every market has its own needs and regulations (and) it takes big markets to validate and supply the technology and the products. We need the global scale which Australia does not have."
In effect, the heavy investment in right-hand drive Cascadia is a direct result of the model's huge sales success in North America where 'New Cascadia' has alone delivered a staggering 170,000 units since its launch in 2016.
As Daum added, Daimler annually spends around 1.4 billion Euro (almost AUD$2.3 billion) in research and development, and "… we need volume to substantiate the investment."
Likewise, said Neilsen, "Technology has to be maintained to stay number one."
A 33-year veteran of the Freightliner fold who has ridden the wave to undisputed market leadership in North America, it was an upbeat Neilsen who asserted, "This is an iconic moment in the history of Freightliner in Australia (and) getting Cascadia right for Australia has been a major focus for us."
Equally, though, he is obviously aware that Freightliner has not yet achieved its true potential in Australia.
"We're not happy with not being number one," he quipped, critically adding that Australia is "… no longer just a special project." Right-hand drive Cascadia is a vital and incremental part of Freightliner production, he emphasised, built on the same line at the Cleveland, North Carolina, factory as its left-hook cousins.
There is, in fact, 85 percent parts commonality between left and right-hand drive models, a fact particularly pleasing to Whitehead and Downes, not least because it provides the platform for Australia and New Zealand to tap directly into new features, engineering improvements and model enhancements as they occur in the US. In the past, Australia has had to wait. And wait. And wait. And then wait some more for even the most elemental engineering modifications.
"We want to do it right this time," continued a forthright Daum, seemingly confronting the failures and flaws of the past. "We've made the decision to go all-in."
Asked if Cascadia is 'make or break' for Freightliner in Australia, he answered simply, "No! There has to be a long-term view and we believe in this market."
It was, however, a comment by Richard Howard, DTNA senior vice-president of sales and marketing, which perhaps brought the whole launch event into sharpest perspective. A man with complete conviction that Cascadia is the best conventional truck in the business, here or anywhere else, he said simply, "This is 'day zero' for Cascadia in Australia.
"The expectations are high but so is the truck able to meet those expectations."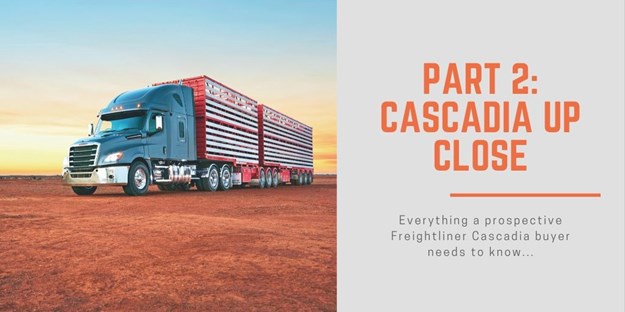 Subscribe to our newsletter
Sign up to receive the ATN e-newsletter, digital magazine and other offers we choose to share with you straight to your inbox
You can also follow our updates by joining our LinkedIn group or liking us on Facebook. 

Trucks For Hire | Forklifts For Hire | Cranes For Hire | Generators For Hire | Transportable Buildings For Hire