Fuso eCanter: electric dreams
---
While contemptuous politicians might think it clever to carry a lump of coal into parliament, the raw reality is that fossil fuels are increasingly on the nose with urban society. Fortunately, some of the world's leading automotive corporations are taking great strides in development of clean energy, not least the giant Daimler Corporation with potential game-changers like Fuso's electric eCanter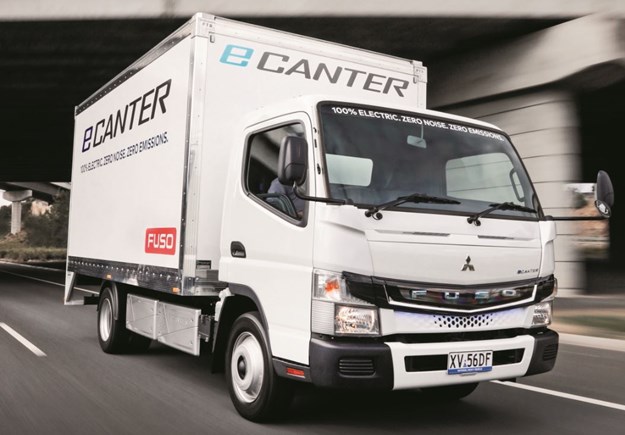 In case you haven't noticed, the world is changing. Fast!
Global warming, greenhouse gases, climate change. These are the terms driving the greatest changes of all and it matters little whether you're a sceptic or a believer, the evolutionary ball is rolling and it won't be slowing down. Not at all!
Certainly, there's still a long road ahead and no doubt there will be a few bumps, bounces and even economic bruises along the way, but the momentum for change is building and only the naïve and nonsensical can't or won't acknowledge it. Ignorance, indifference and vested interests among political powerbrokers and their marketing and media mouthpieces will not quell the fires of public concern. At least, not for long.
Funny thing, though, while big business and public opinion aren't always cut from the same social cloth, it seems climate change is one of those rare issues able to bring the two dynamics closer together, creating a powerful platform for supply and demand.
In this instance, however, it could be argued the supplier is actually the main driver of demand, with or without fiscal incentive, infrastructure or even verbal support from some governments, not least our own.
Take Daimler, for example. On the face of it, the global automotive giant is perhaps more sharply attuned to the snowballing public impetus of environmental concern than most other entities and over the past decade in particular, has appeared unflinching in its pursuit of operationally practical, economically feasible and environmentally sustainable alternatives to oil-based automotive energy.
---
See our exclusive video of the eCanter in action in Melbourne, here
---
The stakes are high but apparently, the corporate ambition is even higher. As Daimler announced in a statement last October, the goal is to have its new trucks and buses in the vast markets of Europe, Japan and North America in "CO2-neutral driving operation by 2039" and "battery-electric series-production vehicles by 2022 in all core regions".
These are massive, industry-changing undertakings, but as Martin Daum, the head of Daimler's global truck and bus business, announced in the same statement, "… we are clearly committed to the goals of the Paris Climate Protection Agreement and thus, to the decarbonisation of our industry".
"Having CO2-neutral transport on the road by 2050 is our ultimate goal. This can only be achieved if competitive conditions for CO2-neutral transport are created for our customers in terms of costs and infrastructure. Truly CO2-neutral transport only works with battery-electric or hydrogen-based drive."
Pushing the point, Daimler's Fuso premiered its prototype 'Vision F-Cell' (pictured below) at the Tokyo Motor Show a few months ago. Again, based on the seemingly tireless Canter platform, the F-Cell (fuel cell) reflects Daimler's increased activity in the hydrogen field and specifically the fuel's potential for extending the range of an electric vehicle without any CO2 output.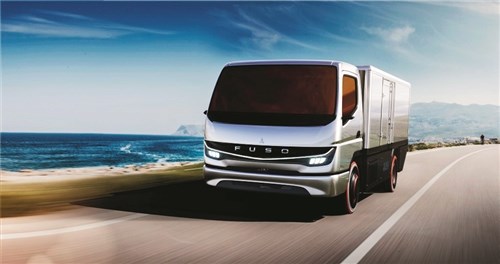 Obviously enough, the end goal is electric power, with Daimler openly committing to the development of electric models across its entire automotive portfolio, from Mercedes-Benz cars, vans, trucks and buses to Freightliner and Fuso trucks. What's more, Daimler says it has already invested heavily in the support systems for what it calls 'electric mobility', creating multiple synergies between its passenger car and truck divisions.
On cars, Mercedes-Benz explains: "The entire Mercedes portfolio is to be electrified, with various electrified alternatives available in every segment. In total, there will be well over 130 variants." Variants that will invariably include the high-end luxury models the brand is so famous for.
On the commercial vehicle front specifically, Benz says: "The heavy-duty Mercedes-Benz eActros (pictured below) with a range of around 200km is in intensive customer trials as part of an 'eActros innovation fleet' in Germany and Switzerland, with the first customer handover in 2018."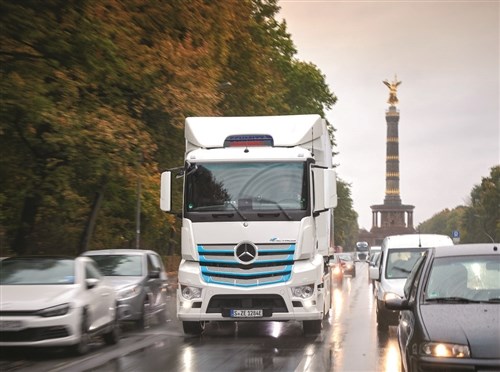 Down the weight scale, "Around 150 vehicles of the light-duty Fuso eCanter are already in customer operation in cities around the globe such as New York, Tokyo, Berlin, London, Amsterdam, Paris and Lisbon." There was also one for a short time in Melbourne recently, but we'll come to that a little later.
Meanwhile, across the Atlantic, "… the all-electric medium Freightliner eM2 and the heavy-duty Freightliner eCascadia trucks are also in practical customer testing."
Moreover, in late July at Freightliner's home base in Portland, Oregon, we were given rare access to a facility where, behind closed doors, the US market leader is busily advancing its electric heavy-duty program with a fleet of eCascadia (pictured below) test units in various stages of development. Predictably perhaps, we weren't allowed to take photos, exact details were scant and questions were answered in general terms only, but even a short visit left not an ounce of doubt that Freightliner is fully committed and extremely well advanced with electric power for the US heavy-duty truck market in the near future.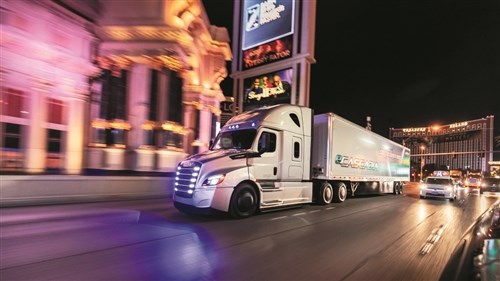 Nonetheless, it's fair to say technology entrepreneurs such as Elon Musk (Tesla) and the Nikola organisation, which has now formed a strategic partnership with Iveco to advance "emission neutrality in heavy-duty trucks in North America and Europe", have been major instigators of automotive electric power. However, as some pundits have routinely suggested, it was always going to take the commitment, vast technical resources and extensive model range of automotive giants to drive electric vehicles – especially electric commercial vehicles – to operational reality on a global scale. A giant such as Daimler!
As the German juggernaut has stated: "Daimler has been gaining experience with electric trucks since 2010 and has had its first all-electric truck in series production on the market and in customers' hands since 2017."
That truck is the Fuso eCanter, built in left hand-drive form at Daimler's Tramagal plant in Portugal and in right hand-drive at Fuso's Kawasaki factory outside Tokyo.
It is, of course, blatantly obvious that the world's biggest cities are already looking to counter the social and environmental impacts of intense congestion, with electric local delivery trucks firmly on the radar of many city planners. The population of the greater Tokyo region, for instance, is estimated above 38 million and there's nothing coincidental about the city now being equipped with around 7,200 charging points for electric trucks. 
However, Fuso insists its development of electric models certainly won't stop at the light-duty Canter. Following the Daimler mantra, the Japanese powerhouse has openly stated it "… will electrify its complete range of trucks and buses in upcoming years". And that includes launching an electric heavy-duty model within the next four to five years, possibly based on a concept vehicle known as 'Vision One', which was first unveiled at the 2017 Tokyo Motor Show and, according to insiders, "has progressed well beyond the concept stage and is now far down the path to becoming a production unit".
Introduced at the same show was a dedicated division known as E-Fuso, created with the unequivocal intention of becoming the global front-runner in electric trucks, and reportedly backed by substantial investments as well as access to the Daimler network of battery and charging technology. 
On the technology front, Daimler is digging deep into its pockets. Deutsche Accumotive, for example, is a Daimler subsidiary providing the batteries for E-Fuso trucks while another entity, Mercedes-Benz Energy, specialises in stationary energy storage systems and increasing the life cycle of batteries. As we reported two years ago, Daimler also has stakes in ChargePoint, said to be the world's largest provider of charging stations and infrastructure. Then there's its connection to StoreDot, an Israeli start-up company developing fast-charging battery technology.
All up, the message is plain and simple: Daimler intends to run second to none in bringing electric motive power to commercial reality and Fuso, or more accurately E-Fuso, is already a spearhead in the practical application of that intention.
Indeed, practicality was front and centre in Melbourne recently when we were given the opportunity to drive the only eCanter to so far appear on Australian roads, even if the truck was here on borrowed time. Welcome as the opportunity was, however, it was not our first stint behind the wheel of an eCanter.
CANTER TO A GALLOP
Driving an electric truck for the first time is a fascinating and totally surprising experience.
Sure, driving little trucks essentially designed for local delivery work can sometimes hold all the attraction of warm beer gone flat, particularly on the relatively sedate surfaces of a Japanese test track.
But then, for a small group of Australian truck writers visiting Japan towards the end of 2017, this was like nothing else. For starters, Fuso's Kitsuregawa proving ground, about 150km north of Tokyo, is rarely available to outsiders but after all the fuss and fanfare of the previous few days at the Tokyo Motor Show, Fuso was at least agreeable to allowing our small group to sample its electric 'credentials' for an hour or so. 
Word was, in fact, that we were the first foreign groups given access to the eCanter on the Kitsuregawa track.
As reported back then, the truck was a loaded tray-top model that from almost any angle looked just like any of the other tens of thousands of Canters working around the globe. However, it didn't take an intensely close look to appreciate a few profound differences, inside and out.
For starters, power is derived from six high voltage lithium ion battery packs, each dispensing 420 volts and 13.8 kWh. Critically, Fuso insists that compared to its diesel equivalent – specifically the popular Canter 815 model – European experience shows eCanter saving up to €1,000 (around A$1,500) in operating costs every 10,000km.
Then, as now, Fuso concedes that at its current level of development, eCanter has a range of between 100 and 120km and payload capacity up to 3.5 tonnes on a gross vehicle weight rating of 7.5 tonnes. Gross loaded weight of the test unit in Kitsuregawa was said to be over seven tonnes.
Detractors will argue driving range is not nearly enough for effective daily operations but none could argue about a performance that surprised and impressed in equal measure. As our report in late 2017 enthused, "… it drives like nothing else and the simplicity is extraordinary".
"Just turn the key, put your foot on the throttle and go. And go it does. Quickly. Acceleration is phenomenal as full torque comes on stream in an instant.
"What's more, there's no noise other than soft whines from the tyres and the driveline.
"Again, operational simplicity of the package is remarkable and one of the few gauges on the dash is an economy meter, showing a green band for the best preservation of battery life to maximise driving range. But once you've felt the surge at take-off, the temptation is strong to just keep the foot flat.
"The short hill climb section of the track had eight, 10 and 12 per cent grades and from a complete stop, the eCanter lifted off without fuss or vibration on the steepest pinch. Easy! Maximum gradeability according to Fuso's figures is 20 per cent.
"Right now, there's not much more to say other than express the firm belief that eCanter is the thin edge of an entirely new era in truck technology."
REAL WORLD CONDITIONS
Yet, as positive as the Kitsuregawa trial was, there came the hollow sensation of wanting more. More time at the wheel, in real world conditions rather than a brief run on a tightly controlled test track.
It would be almost two years before the sensation was satisfied, and only after eCanter had made its first public appearance in Australia at the 2019 Brisbane Truck Show and soon after, started a short-term trial with Australia Post.
Finally, the call came offering a day-long stint behind the wheel in Melbourne, driving the same van-bodied eCanter that had appeared in Brisbane, on loan from E-Fuso and apparently headed back to Japan soon after a few test runs such as ours. Unlike the truck in Japan, though, the one and only eCanter in Australia had no load and, according to Fuso's figures, tared around 4.5 tonnes, meaning a three-tonne payload potential on the model's gross weight rating of 7.5 tonnes.
As circumstance would have it that day, a large group of activists were protesting in Melbourne at the lack of government action on climate change. The irony of driving an emissions-free electric truck around the edge of the city and surrounding suburbs on the same day did not go unnoticed.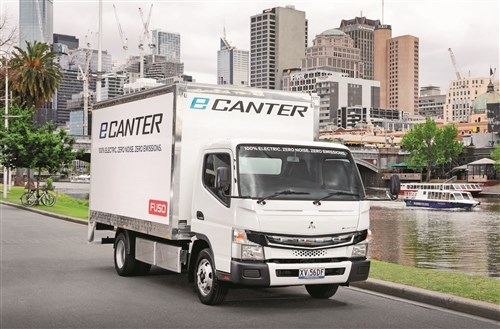 Yet, just like the Japanese experience, driving a small truck with no engine, no transmission other than an electric motor driving into a single-speed diff, and no noise other than the roll of rubber on the road, makes driving an entirely new experience. Early on, you're waiting for gearshifts that never come but routine and acceptance soon set in.
Judgements will vary, of course, but for me this exercise was something truly unique and entirely worthwhile. True, eCanter development still has a long way to go, but even at this relatively early stage, it brings the future into stark focus.
Just as it had in Japan, acceleration of the electric truck was stunning, pushing its 4.5 tonne mass from 0 to 60km/h in a twitch over seven seconds. Meantime, retardation through the two-stage regenerative braking system is incredibly strong.
It is, however, the remarkable ease of the truck that sets it completely apart from its diesel kin.
Like a diesel, though, the more you push the 'go' pedal, the more fuel (battery charge) you consume and it definitely pays to drive conservatively to maximise range.
Even so, without being particularly gentle on the throttle at different times, the range gauge on the dash showed there was at least 45km still available after spending the best part of five hours driving around Melbourne's inner and outer suburbs. Indeed, it's surprising how long it actually takes to notch up kilometres in the teetering traffic flows of city and suburban work.
Nonetheless, eCanter's driving range remains the truck's Achilles heel but when this pushes out to, say, 250 or 300km as it most surely will, given the pace of developments in electric propulsion – notably with the inclusion of hydrogen-based fuel cells to increase driving range – a whole new level of acceptance and appreciation will come into play.
Likewise, recharging systems and infrastructure are key elements that will take time and commitment from many institutions to reach satisfactory levels for commercial vehicles, but given the economies of scale in the density of the world's great cities, demand will drive investment. As it always does.
For its part, Daimler Australia has installed at its Mulgrave (Vic) headquarters a modern DC (direct current) recharging station used for both its increasing range of electric car models and vehicles such as eCanter. Consequently, according to Daimler Trucks Australia engineer Romesh Rodrigo, full recharge can be achieved in one to two hours on a dedicated DC unit, whereas full recharge from a general mains power (AC) outlet takes around four hours.
In our part of the world, with the government showing an almost blatant disregard for the economic and environmental benefits of electric vehicles, there appears no rush to invest in public recharging infrastructure.
It is, however, intriguing to hear government ministers decry the need for climate action on the basis of a lack of progress by the world's major polluters such as China. The thing is, though, within its own borders, China is now a world leader in the promotion and use of electric vehicles.   
Yet, no matter what the political pulse locally, and despite the current limitations on driving range and shortage of fast recharge outlets, the long-term environmental and economic benefits of electric vehicles are undeniable for shorthaul work in the ever-increasing densities of major cities, including our own.
Furthermore, the economic benefits go beyond the amount of fossil fuel to be saved. As Romesh Rodgrio points out, service costs on the powertrain are minimal compared to its diesel counterparts, with the most notable service feature being a glycol-based low pressure cooling and heating system for the electrical componentry. Other than that, service schedules are largely limited to fundamental items such as brakes and brake fluid, rear axle oil, greasing, tyres, air-con service and the like.
Still, while electric trucks aren't for everyone, several senior sources within Daimler Truck and Bus Australia confirm that operator interest in eCanter is now at the point where there's a confident push within the company to add the electric Fuso to the Australian product range, even if it's in small, limited numbers to start with.
It's a push coming from high up the local ladder with Daniel Whitehead, president and chief executive of Daimler Truck and Bus Australia Pacific, recently stating: "This is the first series production electric truck … developed and tested by Daimler over a number of years, starting off as the Canter E-Cell prototype that operated in its first public test program in 2015.
"The eCanter is not available in Australia just yet, but when it is, it will come with all the benefits of being backed by an established truck maker, including the assurance of parts, service support and warranty coverage provided by our national Fuso dealership network."
Bring it on!
SPECS
GCM: 7,500kg
Payload (test unit): Around 3,000kg
DC charging level 3: Less than two hours
AC charging level 2: Four hours
Performance: 135kW power and 390Nm torque. Direct-drive transmission
Power source: AC synchronous electric motor coupled to a single-speed reduction drive
Batteries: Six Daimler-sourced liquid cooled lithium ion battery packs (for a total of 360 volts, 82.8kWh)
Range: More than 100km – dependent on conditions and application
Brakes: Electric two-stage regenerative braking system and electro-hydraulic braking system with dual-caliper discs
Suspension: Front leaf springs with shock absorbers and stabiliser bar and rear leaf springs with shock absorbers
Steering: Ball-nut electro-hydraulic power steering
Cab: Wide cab three-seater
Subscribe to our newsletter
Sign up to receive the ATN e-newsletter, digital magazine and other offers we choose to share with you straight to your inbox
You can also follow our updates by joining our LinkedIn group or liking us on Facebook. 

Trucks For Hire | Forklifts For Hire | Cranes For Hire | Generators For Hire | Transportable Buildings For Hire