Iveco Stralis: X-Way vision
---
Given the 20-year cycle of new model development among the world's major truck producers, it won't surprise if Iveco's X-Way range of cab-overs is the final rendition of its flagship Stralis family. Nor will it be an earth-shattering shock if the next few years define the locally assembled X-Way as the best Stralis of all. We took a run in a premium X-Way prime mover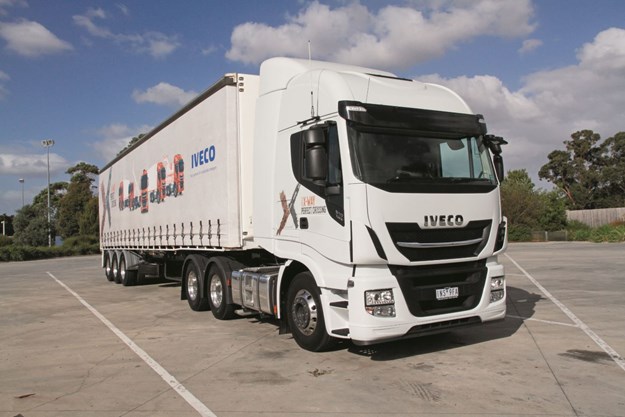 If a wock is something you thwow at a wabbit, does that make an X-Way something you get fwom a quack? Perhaps, but not in this case, because X-Way is actually a twuck.
I mean, truck!
And lame humour aside, Stralis X-Way is arguably the smartest, safest and potentially most appealing range of heavy-duty cab-over trucks to emerge from the Iveco stable in a long, long time. Ever, perhaps!
Assembled at Iveco's sprawling Dandenong (Vic) factory and targeting everything from off-road construction roles to local and long distance distribution work, X-Way is better equipped and better prepared than any of its predecessors to be more things to more people and in turn, boost Iveco's business in the heavy-duty truck market.  
But if you're wondering about the meaning behind the name: "It is," explains Iveco in a press statement, "a completely new range specifically developed for vocational and construction applications, providing the 'perfect crossing' (X-ing) for on-road work that also requires a level of off-road capability." Again, more things to more people.
Put simply, X-Way is the latest and most comprehensive result of an evolutionary process dating back to the first appearance of Stralis at its European launch in Italy in late 2001.
To be blunt, though, early examples of Iveco's flagship range weren't particularly inspiring from an Australian perspective. Far from it, in fact, 
As one of very few Australian truck reporters invited to a glitzy global launch event just an hour or so from Iveco's corporate headquarters in Turin, Italy, it's easy to recall even now the initial thought that a mountain of work would be needed to make the continental cab-over competitive in our neck of the woods.
Try as it might though, and for whatever reasons, Iveco has struggled with Stralis on the local market. While the likes of Kenworth, Volvo and, more recently, Scania and Mercedes-Benz have variously won sizeable stakes in the heavy-duty cab-over contest, Stralis has largely lingered on the fringes for most of the last two decades.
This new version, however, has the significant potential to at least put more numbers on the board.
In what amounts to a case of saving the best for last, X-Way is almost certainly the final chapter in the Stralis story as the model's 20-year anniversary now looms large on Iveco's horizon. As one senior insider at Iveco Trucks Australia agreed, most of Europe's major truck producers work on roughly a 20-year replacement cycle and Iveco is no exception.
Indeed, with tougher regulations in the continental pipeline, you can bet the European conglomerate is already well advanced with a Stralis replacement.
But don't hold your breath waiting for it to arrive here.
Wisely, most major truck suppliers have learned hard lessons about the traumas associated with releasing new products here without sufficient testing under Australian conditions. The adage that Australia manages to unearth issues and flaws that exist nowhere else in the world is as relevant today as it has ever been. Perhaps more so given the complexity of modern trucks.
Iveco has perhaps learned those lessons as well as any and if a Stralis replacement is to be released in Europe in, say, 2021 or 2022, it may well be several years before it hits the Australian market. And even then, only after extensive local testing according to Iveco's forthright and likeable product chief for Australia and New Zealand, Marco Quaranta.
What all this means, of course, is that Stralis X-Way will be a critical contender for Iveco for more than a few years yet. More importantly, the full range underwent extensive local development before its Australian launch in October last year.
As Iveco states: "The Stralis X-Way project marks the culmination of a four-year engineering program between Iveco Australia and Iveco's global engineering centre." And critically, "The new models have undergone extensive on-road testing in Australia and Europe over a three-year period with outstanding results."
THE DETAIL
In many respects, X-Way brings Iveco into line with the offerings of its major rivals, so before commenting on the performance and road manners of a premium Stralis X-Way test unit driven recently in regional Victoria, it's worth recapping the broader details of the entire model range.
For starters, it needs to be pointed out that while all X-Way models operate at Euro 6 emission levels and are designed to cover a diverse range of roles, they do not target the linehaul B-double market. That remains the premise of the top-shelf AS-L Series II Stralis model rated to 90 tonnes and powered by a 560 hp (2,300 Nm) Euro 5 version of the Cursor 13 engine, pushing through either a 12 or 16-speed ZF EuroTronic automated transmission.
On the other hand, X-Way is limited to a gross combination mass (GCM) rating of 45 tonnes, though Iveco emphasises that higher weights are possible following engineering application.
Meantime, X-Way cab options include a day cab (AD), sleeper (AT) and high-rise (AS) sleeper for prime movers and rigid models, but among the rigids only the eight-wheeler offers the premium AS cab.
Like existing Stralis models in the range, X-Way uses Iveco's latest European cab layout sporting a far more appealing instrument cluster, a comprehensive multi-media system known as 'Iveconnect', simpler and more logical control functions on the steering wheel, as well as climate control, high quality air-suspended seats and plenty of practical storage spaces. 
Also entirely practical is a new central locking remote control fob which allows the driver to easily check the operation of all exterior lights from outside the truck without any assistance.
As for wheelbase options, the prime movers are available on spreads of 3,900 and 4,200mm while the rigids come in lengths of 5,720, 5,800, 6,300 and 6,500mm.
All prime mover versions ride on an eight-bag electronically controlled air suspension (ECAS) at the rear with parabolic springs up front. Rigid variants use the same rear suspension but also offer ECAS under the front of eight-wheeler models. For traditionalists, six-wheelers with the AD or AT cab have the option of a mechanical rear suspension with parabolics at the front.
At the heart of the vehicles are new Cursor 9, 11 and 13 common rail engines with increased power and torque. Outputs range from 310hp (231kW) and 1,300Nm for the entry level Cursor 9 to 510hp and 2,300Nm of torque for the Cursor 13.
According to Iveco, Cursor 11 and 13 engines benefit from a new turbocharger that provides immediate response at low engine speeds and superior engine braking.
Common upgrades across the engine family include new rings and re-profiled pistons, along with new high pressure (up to 2,200 bar, or almost 32,000 psi) fuel injectors.
Euro 6 emissions compliance is achieved through what Iveco insists is its unique and patented Hi-eSCR system, first appearing in Australia last year in the latest Eurocargo medium-duty model.
Hi-eSCR is described as a single after-treatment system featuring passive DPF (Diesel Particulate Filter) – meaning regeneration does not require the driver to pull over and wait for the engine to cycle through the regen process. Other stated benefits are that it's uncomplicated and provides many advantages over EGR and SCR equivalents, including reduced fuel consumption and tare weight.
Coupled to the Cursor engines is the new HiTroniX 12-speed, direct-drive automated transmission which is effectively Iveco's version of ZF's latest and much applauded Traxon shifter.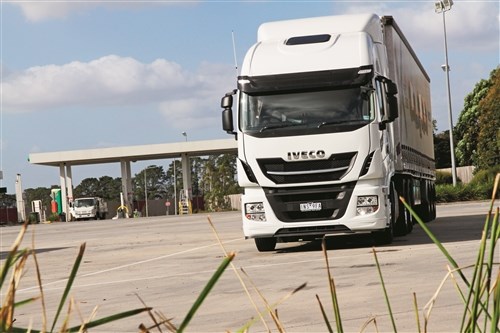 Iveco isn't shy about making significant claims for HiTroniX, including up to 80 per cent longer life – as high as 1.6 million kilometres – over other automated transmissions.
The new shifter also comes with a range of modern features which are generally typical of Traxon, no matter what's it called by the various truck brands now using it. There is, for instance, a 'rocking' mode to help extricate a truck from sloppy ground and a 'creeping' mode for ultra low-speed manoeuvring, as well as four reverse ratios.
Importantly for those applications working in the 'burbs after dark, the new transmission is said to be significantly quieter than ZF's Eurotronic shifter, not that it was a noisy box in the first place.
Fuel, of course, is a major factor and Iveco cites five features aimed at minimising consumption – Ecoswitch, 'Auto Only' Mode, Ecoroll, Gap Setting (part of the Adaptive Cruise Control system), and an engine anti-idling function.
Again, similar versions of these functions – known by various names – are also offered in other brands as fuel-saving measures, either as standard items or as options. 
Quickly explained, Ecoswitch limits speed to 95km/h, automatically adjusts torque output to suit the load, and disables the throttle kick-down function.
'Auto Only' Mode disengages the ability to manually make gear changes while Ecoroll is, as the name suggests, effectively a free-wheeling function allowing the truck to use its own inertia to roll down some grades. In X-Way's case, Ecoroll is only operational between 50 and 92km/h.
---
Read what Iveco had to offer at this year's Brisbane Truck Show, here
---
Part of the Adaptive Cruise Control system, the Gap Setting function provides a tolerance of up to five km/h above or below the set cruise control speed. 
According to Iveco, fuel savings are further enhanced by X-Way's Driving Style Evaluation (DSE) software. "DSE aims to improve the driving styles by giving feedback and making recommendations," Iveco says.
The system provides two types of feedback: indexes displayed on the dashboard that evaluate real-time driving behaviours, and pop-ups shown on the multi-media screen and on the instrument cluster. It may sound complex but in reality, it's quite straightforward and certainly motivational for any driver interested in driving more efficiently.
Finally, there's an anti-idling function which automatically cuts the engine after five minutes of continuous idling. However, if the truck is involved in a job requiring longer idling periods, the anti-idling function can be disabled, but only at an Iveco dealership.
Safety systems are equally high on the feature list and as Iveco boldly states, "X-Way will be amongst the heavy segment leaders in the area of safety".
All models are based on an electronic braking system supported with the standard inclusion of an electronic stability program, hill hold function, adaptive cruise control, advanced emergency braking system and daytime running lights.
A standard inclusion on prime mover models is an extended catwalk providing safe access across the back of the cab.
Optional safety equipment includes a hydraulic retarder, lane departure warning system, a driver attention (fatigue) support function, tyre pressure monitoring and bi-xenon headlights.
The X-Way range carries a two- year/500,000 kilometre standard warranty.
Expressing Iveco's confidence in X-Way, Marco Quaranta states: "Stralis X-Way will significantly strengthen Iveco's heavy market product offerings in Australia, opening the brand for consideration by a whole range of new customers … where our previous trucks may not have had the ideal specifications."
Citing a 460hp 8x4 and 360hp 6x4 as particularly strong additions to the Iveco stable, Quaranta concluded: "We see the revised model mix doing well in single trailer applications as well as in vocational work."
DRIVE TIME
It wasn't a long or difficult drive by any means. Just a few hundred kilometres from Dandenong, through local traffic and into Victoria's south-eastern districts before heading back to Iveco headquarters. 
All up, it was just shy of 300km but more than enough to indicate that as a local workhorse or regional runner pulling a single trailer, X-Way is a strong candidate. More than anything else perhaps, it was a drive that reaffirmed the opinion that engineering evolution has made Stralis a better proposition than either its early history or reputation might otherwise suggest.
The same, of course, could be suggested for the Cursor 13 engine, which hasn't always had a happy history in our part of the world either.
Nowadays, 'under-rated' probably best sums up both the truck and the engine underneath.
Anyway, a superbly prepared AS hi-roof model with almost 6,000km under its belt, punched by a 510hp Cursor 13 driving through the 12-speed HiTroniX transmission made easy work of a 40.5 tonnes gross weight.
Yet by far the most appealing aspects of this truck's performance were the exceptional synergy between engine and transmission, and the extraordinary intuition which typically defines today's top-shelf transmission technology.
In the stop 'n' start tempo of the 'burbs, for instance, the willingness of the combination to pull back to 1,000rpm and sometimes lower without jumping to an unnecessary downshift was remarkable.
Meantime, lifting off from traffic lights on a grade, the ingenuity to run relatively high in the rev range before a shift made for extremely smooth and untroubled acceleration. And as is the way of most automated shifters these days, skip shifts through the lower end of the range are the norm when moving from a standing start on level ground.
As a single trailer outfit, it's a combination with immense aptitude while the response of the Cursor 13 engine is equal to any in the same horsepower class. 
From behind the wheel, it doesn't take long to come to grips with the operational logic of the numerous functions and in most respects, the comfort and layout of this latter day Stralis cab are easily appreciated.
What's more, while the Stralis cab is starting to show its age in some areas of design compared to its main rivals, it remains entirely functional and comfortable. 
On the road, handling and ride manners were largely what you'd expect in a modern continental cab-over but on the other hand, there was a surprising amount of wind noise and, on rougher sections of road, an occasional squeak or rattle was easily noticed in a cab that was otherwise tight and quiet.
Notching 100km/h at a touch under 1,500rpm and with a powertrain obviously programmed to operate in the lower end of the rev range under most conditions, a respectable fuel return of 2.16km/litre (6.1 mpg) wasn't unexpected.
All up, X-Way is a truck with evolution on its side and subsequently, the attributes to deliver a sizeable boost to Iveco sales in a diverse range of roles where, as Quaranta conceded, "our previous trucks may not have had the ideal specifications".
Sure, somewhere down the track there's a new cab coming but as for the current powertrain, it's likely to remain the 'heart' of Iveco's heavy-duty business for many years to come. Rest assured, though, evolution will continue and maybe, just maybe, there's an even bigger Cursor with up to 600hp (477kW).
For now, though, X-Way is unquestionably the model range with the greatest potential for Iveco's heavy-duty ambitions.
Subscribe to our newsletter
Sign up to receive the ATN e-newsletter, digital magazine and other offers we choose to share with you straight to your inbox
You can also follow our updates by joining our LinkedIn group or liking us on Facebook. 

Trucks For Hire | Forklifts For Hire | Cranes For Hire | Generators For Hire | Transportable Buildings For Hire