UD Trucks: Little brother and the big picture
---
In a family photo of the giant Volvo Group, UD could be easily perceived as the little Japanese kid standing among the big boys of Europe and America. But don't be fooled!
In the corporate scheme of things, UD is a key weapon in Volvo Group's desire to dominate the heavy-duty global truck business, and as a quick-fire trip to Japan revealed, 'simple and strong' are right at home alongside top-shelf technology.
It's easy enough to see why, in 2007, the ever-ambitious Volvo Group bought the Japanese company then known as Nissan Diesel. With the Swedish corporation's unreserved determination to dominate global truck charts, the Japanese truck maker was the Swedes' express pass to Japan and the vast markets of Asia.  
Putting the group stamp on the brand, the name was formally changed in 2010 to simply UD, an acronym from Nissan Diesel's 'Uniflow-scavenging Diesel' days of the mid-50s. But 'scavenging diesel' doesn't quite mirror the modern message, so marketing maestros now insist it stands for 'Ultimate Dependability'. Whatever!
Anyway, UD was not then, and is by no means now, the biggest Japanese brand in the business. Not by a long shot. And true enough, in the lead-up to 2007 it may also have been the only Japanese brand willingly open to Volvo's advances.
Nonetheless, UD had something which undoubtedly had the Swedes excited: an entrenched history and similarly entrenched aptitude for specialising in big trucks, or least trucks bigger than your typical Tokyo toddlers.
Sure, like its Japanese rivals, UD has long had light- and medium-duty models in its product portfolio but more to the point, the brand's inherent reputation for designing and building heavy-duty trucks able to endure brutal Asian markets suited Volvo right down to the ground.
After all, the Swedes' main focus is the heavier end of the world commercial vehicle spectrum and typically, the numbers tell the story with blatant authority.
What's more, any peek into Volvo Group's figures provides an intriguing and indeed, surprising snapshot of UD's evolving stance within the corporate pecking order.
Right now, for instance, while Volvo Group's 2018 global figures are still being processed by the corporate beam counters, the group's returns for 2017 point with all the subtlety of a summer cyclone to the fact that heavy-duty trucks are indeed the group's main game.
Even so, you have to traipse through almost every page in the corporation's 2017 annual report before finding the breakdown of each brand's delivery figures. Somewhat sadly, though, the annual report offers no breakdown of each brand's contribution to the group's 2017 net sales of almost US$37.5 billion – slightly more than $53 billion Australian. Commercial confidentiality, I guess.
---
Read about Innisfail Carrying Company's win of a Quon for a year, here
---
In 2017, Volvo Group delivered a total 202,402 trucks around the globe and obviously enough, the flagship Volvo brand was the main contributor with deliveries of 112,245 units. Of those, 108,576 were heavy-duty (above 16 tonnes gross vehicle weight (GVW)). Fewer than 4,000 were medium-duty and there were no light-duty, below seven tonnes GVW.
In the Mack world, all its 19,644 deliveries in 2017 were heavy-duty, as you'd expect.
But cop this! UD delivered 20,583 units, which means in volume terms, Volvo Group's Japanese brand is (or at least was in 2017) a marginally bigger player in the group's global game than the iconic Mack.
Of those 20,000-plus UD trucks, more than three-quarters were heavy-duty (again, above 16 tonnes GVW), less than a quarter were medium-duty and a measly 204 were light-duty.
Now here's where the numbers are particularly revealing. The other member of the group quartet is, of course, the French maker Renault and as 2017 figures show, in volume terms it ran second only to Volvo. Admittedly, on the delivery of 49,930 units, it's a very distant second. 
However, while heavy-duty was indeed Renault's strongest field, with more than 28,000 units delivered, and medium-duty the weakest at almost 5,700 units, light-duty was certainly a big player with close to 16,000 units delivered in 2017.
Therefore, and contrary to what may well be the general perception, UD is not even close to being the leading producer of 'little trucks' within Volvo Group – a situation almost certain to continue as development and investment in the Japanese brand appear to remain comprehensively committed to trucks above a gross vehicle weight of 16 tonnes.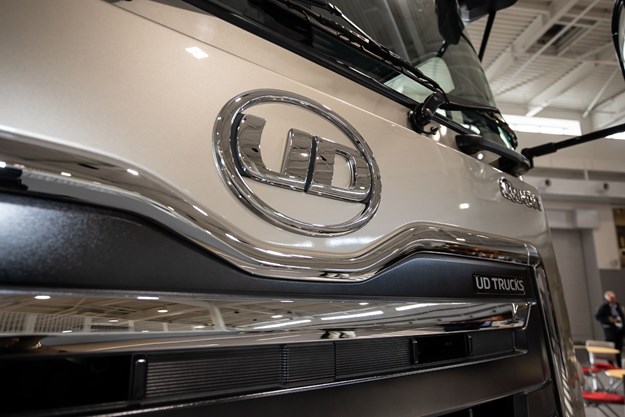 Indeed, during a quick trip to Japan for a preview and first demonstration
of the high-tech 'Fujin' automated truck, it became increasingly apparent that UD is effectively developing models tailored to different markets – arguably more than any other brand in the group – rather than what has been largely an historic reliance on a few models covering a lot of bases. 
Japan and Asia, for instance, today have entirely different model lines and, while Australian needs have been always met by trucks designed and built in Japan, change is definitely on the horizon as UD takes careful aim at specific markets.
Changing times
We'll talk about 'Fujin' soon enough, but suffice to say UD's presentation and demonstration of this highly advanced, highly ambitious automation technology, which figures firmly in Volvo Group's future, is a sure sign of the Japanese brand's increasing prominence in the corporate picture.
Meantime, in the six years since my last visit to UD headquarters and production plant at Ageo, little more than an hour north of Tokyo, it was obvious plenty of investment has gone into the facility. 
For starters, a major makeover has taken place on what was previously a somewhat antiquated headquarters complex where only a new engine production area offered some hint of UD's emerging impetus within the group.
Aside from an entirely new and modern head office building, there are now also showrooms and exhibition areas highlighting the brand's history and, critically, at least some of the product advances derived from being part of a vast global group. In short, UD now at least presents the appearance of a modern, dynamic corporate player.
While updates inside the production plant aren't nearly as apparent as the new buildings, several high-ranking UD insiders asserted that ongoing investment has delivered significant changes which have unequivocally enhanced and fine-tuned production efficiencies.
It's the same assertion made several years ago by UD executives in Australia who emphasised that the implementation of Volvo production processes at the Ageo plant have led to much faster reaction times and greater consideration for the specific requirements of Australian customers.
It is, however, the products rolling down the Ageo line that have changed most of all since that last visit in 2012 and in some cases, will change even more in the near future.
Top of the heap, of course, is the flagship Quon. A heavy-duty truck first launched in 2004 and totally revamped in 2017 with Volvo's lively 11-litre engine and super-slick 12-speed automated transmission, Quon has won justifiable acclaim from Japan to Australia. In many estimations, including this one, it is comfortably the most advanced and capable Japanese heavy-duty truck on the market.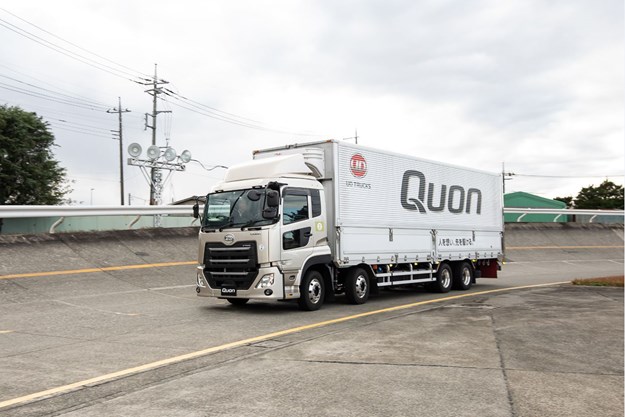 Also running down the Ageo line is the Condor, a long-serving model range of essentially 4x2, 6x2 and 6x4 rigid trucks we know here as the PK and PW. But this is where things are starting to change. Big time! And the changes will certainly have a notable influence in Australia, sooner rather than later.
While UD insiders aren't saying much, or anything for that matter, the current Condor is soon to be replaced. However, rather than develop its own replacement models, a deal has been done whereby Isuzu supplies trucks which will be mildly modified and re-badged UD. It is, in effect, much the same as an agreement with Mitsubishi Fuso which sees UD sell a re-badged small truck called Kazet.
These arrangements, however, are only applicable to the Japanese market.
To put it plainly, and much to the relief of UD's local leaders, Isuzu-sourced Condor replacements will not be coming to Australia.
Instead, it seems inevitable that the next generation of UD Condors for the Australian market – don't be surprised if they appear at the Brisbane Truck Show in May – will be adapted from a relatively new range of UD trucks called Croner.
Launched in the first quarter of 2017, Croner is one edge of a two-edged sword forged in Thailand, specifically targeting what UD calls 'growth markets in Asia, Africa, Middle East and South America'.
The other edge of the sword is the heavy-duty truck called Quester, first launched in 2013 and in September last year, celebrating the 15,000th unit to roll out of UD's Samutprakan factory on the outskirts of Bangkok.
Critically, neither Croner nor Quester are available in Japan.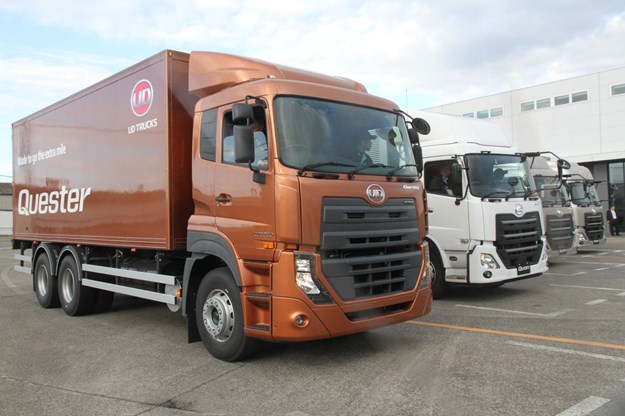 Above all else perhaps, these two models highlight the wisdom of Volvo Group's substantial investment in tough, relatively fundamental trucks designed and built from the ground up for these 'growth markets'. The alternative, of course, was to simply cobble downgraded versions of existing models such as Quon, but as several senior Volvo executives from various parts of the corporate castle have routinely remarked over recent years, specific markets demand and deserve specific models. It is, they say, no longer acceptable to increasingly astute and internationally aware Asian operators, to simply offer a budget version of an existing model. They want trucks developed for their markets, their conditions. Fair enough!
Yet ever since its launch in 2013, there has been occasional speculation on the likelihood of Quester – powered by either an eight- or 11-litre engine obviously derived from Volvo stocks – finding its way to Australia as something of a budget alternative to Quon. The speculation, however, has been steadfastly refuted by UD's local leaders and after a close look at the model and a few laps in a demo model on Ageo's benign test track, it's easy to understand why Quester won't be coming here in any shape or form. Simply stated, and as tough, durable and well-built as Quester may be, the simple fact is that the Australian market has progressed well beyond trucks of its type.
As for Croner, well, necessity is the mother of invention and the need for an efficient and effective replacement for the current Condor on the Australian market may well see a version with suitably upgraded specifications, equipment levels and electrical architecture land on these shores before this year's out. Again, I'm tipping it'll be at the Brisbane Truck Show.
Right now, it's all speculation, with company insiders resorting to the boringly banal line of 'We never talk about future product' when tackled on things like the eventual emergence of a Quon eight-wheeler (later this year, I'll bet) or a new Condor range based on Croner.
Still, in Croner's case it's not particularly difficult to find details which point to a sound platform, which suggests it would be equally at home in Asia or Australia.
For example, Croner basically comes in three weight ranges: there's the MKE for gross weight ratings between 10.4 and 11 tonnes, the LKE for 12- to 14-tonne applications, and the PKE for ratings between 15 and 17 tonnes. It is, of course, the PKE and its likely escalation to 6x2 and 6x4 configurations that hold the greatest likelihood of an Australian appearance, though the LKE may also be under consideration to maintain UD's role in Australia's medium-duty market.
According to the official blurb, Croner boasts the highest axle capacity in its class, a chassis with the highest tensile limit in its class, and a larger brake drum capacity than other trucks in its class. In short, it's built strong.
As for specifics on the PKE version, the engine is effectively the same 8-litre in-line six used in Volvo's FE model. Smaller models such as the LKE use a 5-litre four cylinder engine rated up to 210hp (157kW), coupled to a six-speed transmission in manual or auto form.
Known in UD parlance as the GH8E, the engine in the Croner PKE offers two power ratings – 186kW (250hp) and 209kW (280hp) with respective torque peaks of 950 and 1,050Nm, driving through either a nine-speed manual shifter or a fully automatic six-speed, most likely an Allison.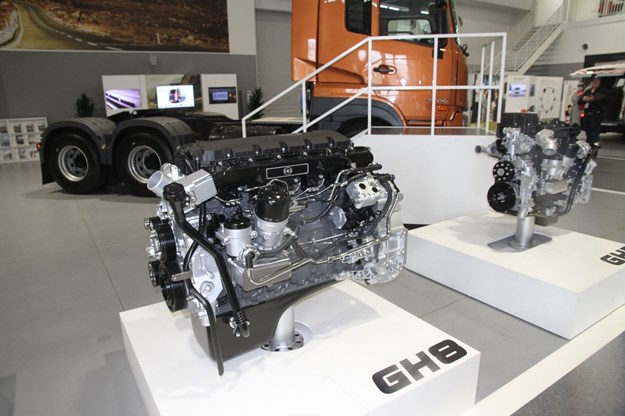 It's worth noting, though, the eight-litre engine is also available in Quester where peak power is up to 243kW, around 330hp (246kW).
For Asian markets, the engine operates at Euro 3 emissions levels and this will obviously have to change to at least a Euro 5 standard for Australia.
Rear air suspension is available while stopping power comes from a full air system with automatic slack adjusters, spring parking brakes and an exhaust brake.
For now, that's the basic detail on Croner and time will tell soon enough if the speculation is right or wrong.
Meanwhile, inside the bright new 'Experience Centre' at Ageo…
Cruisin' with 'Fujin'
So what's Fujin, other than the Japanese god of wind and subsequently, an entirely deserving nickname for a few people I know?
Well, reading from the UD script, Fujin is one of the two pillars – the other being Raijin, the Japanese god of lightning, thunder and storms – of UD Trucks' 'Innovation Roadmap' which aims to provide solutions for global issues facing the logistics industry, such as reduced CO2 emissions, the evolution of e-commerce, and driver shortages.
It's all part of what UD calls 'Vision 2030', setting a line in the sand towards the full commercialisation of fully electric and autonomous trucks. And right now, it's all 'big picture' stuff. A totally different world of freight movement, driven by trucks without drivers and for the most part, trucks that don't damage the air we breathe.
Between now and then, though, technology must not only evolve, it must prove itself. Is it safe, is it practical and most of all for hard-nosed truck operators, is it cost-effective?
There are also questions for society in general. Like, what to do with all these drivers potentially out of a job?
Whatever the questions, the technology continues to power ahead. Within major corporations such as Volvo Group it is increasingly apparent that teams of scientists and engineers are working closely with truck operators of many persuasions to continually fine-tune the relationship between automation and its practical implementation.
Volvo makes no secret of pushing the boundaries or publicising any significant step forward. Late last year, for instance, the company announced 'a landmark agreement' in Norway with six autonomous Volvo FH trucks hauling limestone on a five kilometre stretch through tunnels between the mine site and crushing plant.
For its part, Fujin is UD's implementation of advanced Level 4 automation technology developed within Volvo Group and described in a UD press statement as "the last step towards fully-automated transportation, where the driver can give the vehicle full autonomy over every aspect of driving."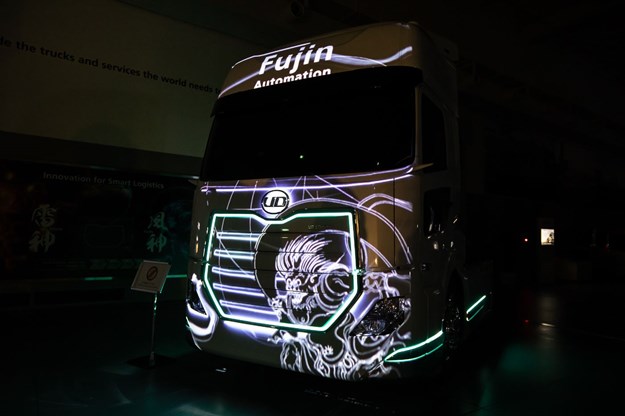 Importantly, according to senior executives from both brands speaking at Fujin's presentation in Ageo, Japan offers significant opportunities for the technology's commercial implementation by 2020, particularly in confined areas such as ports, factories, warehouses and construction sites.  
Based on a Quon six-wheeler carrying a shipping container and using GPS, radar, Lidar (infra-red), on-board cameras and, of course, all connected through dedicated software, the demonstration replicated all the stops and starts, tight turns and reversing procedures common to congested areas. It seemed the hardest part of the entire exercise was for the driver, holding his hands in the air in a 'stick 'em up' pose for the full duration as the truck weaved slowly through tangled twists and turns, forward and reverse.
A carefully programmed exercise, for sure, but certainly impressive and perhaps more than anything else, indicative of how far this technology has come in just a few years.
What's more, UD made no secret of the fact it is currently participating in the Japanese government's highway platooning projects, and will continuously improve the accuracy and safety of automation technologies, aiming to complete field tests and customer trials before placing the system into daily operation in a confined application by 2020.
In a brief discussion with Douglas Nakano, UD Trucks senior vice-president of technology, he eagerly agreed that being part of the Volvo Group certainly has its benefits when it comes to technology. 
"Even better, the benefits work both ways," he added with a shrewd grin.
As they should!
Subscribe to our newsletter
Sign up to receive the ATN e-newsletter, digital magazine and other offers we choose to share with you straight to your inbox
You can also follow our updates by joining our LinkedIn group or liking us on Facebook. 

Trucks For Hire | Forklifts For Hire | Cranes For Hire | Generators For Hire | Transportable Buildings For Hire