EXCLUSIVE: Freightliner Cascadia first drive full review
---
The most intensive and expensive test program ever undertaken by Freightliner outside North America has now kicked off with two left-hand drive Cascadias spearheading a dramatic charge aimed at leaving nothing to chance in the pursuit of a bold new future. Here is a Cascadia with the fundamentals to entirely reshape Freightliner's image in this country. We exclusively take it for a first-ever Australian test drive.
It's early days, and for that reason alone, Cascadia makes me nervous.
Nervous about saying how remarkably surprised and impressed I was after just a couple of hours behind the wheel. Nervous about suggesting that this truck has the inherent integrity to not just dissolve past disappointments, but actually create a future where reality at least equals potential. And, perhaps above all else, nervous about accepting that Freightliner's US masters are finally, truly singing from the same song sheet, working from the same blueprint, aiming for the same goals, and reaching for the same durability and quality standards as their Australian counterparts.
Again, it's early days, very early, and a few hours driving two Cascadia left-hookers on tracks around the Australian Automotive Research Centre's Anglesea (Vic) proving ground are light years from the harsh, uncompromising daily realities of Australian road transport. But, that said, there was something different and largely unexpected about these two trucks that went far beyond the eye-catching camouflage and Cascadia's unmistakable looks and lines. To put it simply, there was an undeniable, underlying solidness in the structure, which, in my estimation, probably hasn't been evident since the formative days of the original and decidedly durable FLC112 model.
The cab, for instance. There's a 'Benz-ness' about it. That's not to suggest there's any external design influence shared between Cascadia and its German counterpart. There is, nonetheless, the overriding impression that the engineering principles of corporate master Daimler have flowed deep into this latest-generation Cascadia. It's in the way the doors close, the almost oversized A-pillars, the sheer sturdiness of the whole structure. All the little things that add up to the notion that here is a truck of more robust character than perhaps any in Freightliner's modern history in this country.
Sure, on the inside there are a few parts of the trim that will definitely need attention before Cascadia calls Australia 'home'. Yet for two trucks built for a North American market where, let's face it, build quality isn't close to the same standard as ours, these first test units were surprisingly sound. Consequently, there's the sense that this time 'round, Freightliner is starting with a fundamentally strong foundation that can only grow as testing here and in the US continues.
More to the point, though, and a fact that may astound some, this extensive Cascadia evaluation and validation program is the first time Freightliner has ever engaged in such a lengthy, comprehensive test regime for any Australian model. There's little to be gained by trying to count the cost of Freightliner's failure to extensively test trucks under local conditions in the past, but you only have to look at the most recent sales figures, where the brand has dipped to barely 3 per cent of the heavy-duty sector, to realise that the cost has been huge. Massive!
However, according to the excited exclamations of executive heavyweights on both sides of the Pacific, the lessons and memories of past mistakes are playing a valuable part in the creation of an entirely new era. An era based on a Cascadia range that is not only North America's top-selling heavy-duty truck, but more importantly for our neck of the woods, is now centrepiece of a US$100 million right-hand drive development exercise that will continue to run for years after the model's local introduction early in 2020.
SQUARE ONE
In time, all current Freightliner conventionals on the Australian market will be replaced by Cascadia or derivatives thereof.  For the initial assault, however, existing Century Class models are almost certain to be first to go. And fair enough. After all, Century Class is now a tired design that hasn't been available in the US for many years and, with little spent on its ongoing development, hasn't had a particularly happy history with Australian operators.
In its place will be the descendants of a test program that, in its first phase, sees the two Cascadia left-hand drive B-double combinations coursing almost non-stop over set routes through regional Victoria and, when necessary, around the Anglesea test track.
Yet by the time this report appears, the first right-hand drive sleeper units will be close to joining the test program. Still, the question lingers: why start with two 'plain Jane' non-sleeper, left-hand drive models?
"We wanted to kick off the test program as soon as possible," answers an emphatic Stephen Downes, director of Freightliner Australia.
"We could've waited for the first right-hand drive units to be built but that would've cost us a few months in testing. Our goal is to accumulate well over a million kilometres in Australian road tests across a range of Cascadia models before they're launched here, and that's on top of all the shaker and simulation tests that have now started in the US and will continue to run for a very long time yet."
He also confirms that, while approval from Victorian authorities to run left-hand drive test units on public roads wasn't particularly straightforward, requiring the installation of various external cameras feeding vision into the cab, the effort was a small price for the opportunity to run early evaluation units in real-world conditions.
"As far as we know, this is the first time anyone has tested left-hand drive B-doubles on Australian roads," Downes comments. "But we certainly didn't do it to be first. We just wanted to get the validation and testing program up and running as soon as possible."
Right-hand drive units will, of course, be free to run across the length and breadth of the country without the need for extra approval. Furthermore, Downes says, the test program will be quickly expanded to cover a wide gambit of applications, including operations with fleets in applications as diverse as short-haul and regional single trailer work, to line-haul B-doubles and road train triples roles.
A determined Downes adds that summer testing will be a vital element in the validation process. "It's essential the trucks run hot and heavy in summer months," he remarked.
Asked if the Cascadia test program is essentially a mirror of the extensive pre-release trials of the latest Mercedes-Benz range, which, since its launch just two years ago, has effectively buried the poor reputation of the previous Actros family, Downes appeared to choose his words carefully: "No question, my colleagues at Mercedes-Benz did a good job of testing and evaluating their new models in the lead-up to their launch here. It has certainly paid off and, while we aspire to at least equal that level of success, to go beyond that would, of course, be better."
Quiet for a few moments, he confidently insists that the electrical and engineering architecture of Cascadia is way beyond anything in Australia's current conventional market; greatly enhancing analysis of every facet of performance and efficiency. According to an in-house summary of the validation process: "All the test fleet are equipped with data logging equipment, which is collecting information on engine performance, fuel efficiency, cooling system performance, and overall integrated powertrain performance [with] data sent back to the engineering HQ in Portland, Oregon, live via an in-house telematics system."
"It's all about collecting data to gauge everything that's happening with the trucks," Downes explains, "and all the trucks in the test program will be feeding data automatically and, in most cases, instantly back to the US almost from the moment they turn a wheel here." 
With the obvious exception of their left-hand drive layout, the first two test trucks are indicative of Freightliner's initial push with Cascadia. Previewed in Melbourne several months ago, the first unit in the country was the day-cab model with a 116-inch (2,950mm) bumper to back-of-cab (BBC) dimension, powered by a DD13 engine rated at 505hp (377kW) and 1,850ft-lb (2,508Nm) of torque. It has now been joined by a 126-inch (3,200mm) BBC model with a set-back front axle, punched by a DD16 engine dispensing 600hp (447kW) and 2,050ft-lb (2,779Nm) of torque.
While gross combination mass (GCM) ratings for each of the models are still being determined, the 126 is expected to carry a maximum GCM of at least 140 tonnes, with the 13-litre 116 likely to be between 70 and 90 tonnes.
On the prospect of a model with an even shorter BBC for short-haul work, such as the concrete agitator business where the current Columbia competes, Downes says simply: "That's a longer-term proposition, but we're certainly aware of the need, eventually."
Meantime, each of the two left-hook test units drive through Daimler's proprietary DT12 automated 12-speed overdrive transmission into a 3.4:1 final drive ratio mounted on Freightliner's Airliner rear suspension. As Downes was quick to explain, however, evaluation units will be trialled with a wide range of engine, transmission, and rear-axle settings to gauge the best fuel and performance packages for various applications. Or, as he puts it, "to find the sweet spots".
While the all-Daimler engine and drivetrain will be the standard specification, Downes confirms that an Eaton 18-speed manual shifter will also figure in the overall test program. "We will leave nothing to chance," he asserts.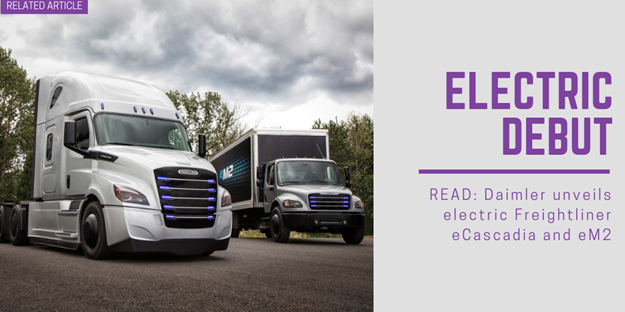 Vitally, each of the first two test trucks are hooked to curtain-sided B-double sets loaded close to 62 tonnes and, for the remainder of this year, testing will focus largely on mileage accumulation, determination of service and maintenance schedules dependent on various types of oils, initial fuel and AdBlue consumption rates, and hot-seating more than 20 drivers into the cab to measure the effects of different driving styles.
Next year will dig deeper into the nitty gritty, not least in validating Cascadia's extensive suite of safety systems for Australian conditions. According to Freightliner insiders, no other conventional on the Australian market will be able to compete with the standard safety features of Cascadia; a claim which again points to Daimler's steady influence on the core design agenda of its giant American arm. Meantime, 2019 will also see extensive powertrain and driveline combinations go under the microscope in an obvious move to streamline performance and efficiency levels of engine, transmission, and drivetrain packages. And, while all this is going on, durability and reliability of the entire vehicle will be continually assessed and, where necessary, modified in an unspoken but undisguised bid to bury the problems and perceptions of the past. In effect, to do what Benz did, and then some.
So, by the time 2020 arrives, and Cascadia's spearhead models hit the market, Freightliner's leading lights say they will be significantly better prepared with a vastly more appealing model range than any time in the brand's Australian history. Even so, the test program won't end there. Not by a long shot, according to an adamant Downes, emphasising that, apart from ongoing durability and reliability validation programs on initial and upcoming models, the reinforcement of service, support, and parts systems will be crucial to building a new future for the Freightliner brand in this country.
It's no secret that, over the better part of two decades, Freightliner sales and service departments haven't had a particularly easy time. A progression of product problems has plagued the brand and, in the process, put mounting pressure on service and parts divisions – not to mention sales figures – causing customers to not only decry various models at various times, but criticise embattled service and support outlets.
However, if all goes as Freightliner insiders plan and predict, Cascadia will break the cycle and relieve the pressure on service structures. Still, it's a pragmatic Downes who concedes that rebuilding market confidence in the Freightliner dealer group and its parts and service capabilities is a critical part of the program. Success depends on it.
"Absolutely critical," he says abruptly, confirming that "significant investments" will be made in dealer facilities and the training, tooling, parts, and people on Cascadia's front line. "All this will continue to be developed and expanded long after the launch of the trucks." 
TRACK WORK
It was early morning and, by the time we signed in at the Anglesea proving ground, the two Cascadias were already punching around the facility's circuits in a constant pursuit of test mileage at the hands of Freightliner product planners and service managers. In less than six weeks, for example, the 116 model had notched almost 20,000km on dedicated routes throughout regional Victoria and the Anglesea tracks. On the other hand, the 126 was on its maiden voyage the day I stepped in.
Climbing first into the 16-litre model, familiarity came quick due in no small part to most switchgear and control functions being almost identical to those used in the latest Mercedes-Benz models. It's a wise move to adopt the Benz switchgear layout, which includes gear selection and retarder operation on the same wand of the steering column, as well as one of the easiest and most intuitive vehicle information systems on the market.
In fact, in a world where trucks are nowadays full of highly advanced technical treats, the practicality and relative simplicity of control functions is a huge asset from a driver's standpoint. 
It also makes economic sense. As Downes remarks: "We are part of a global corporation, the world's largest truck builder, so of course there will be utilisation of components and resources where it's appropriate."
Still on the inside, gauges are laid out for easy scanning from what appears to be a reasonable quality driver's chair, and while the two 'lefties' sported stock-standard trim packages, the abiding first impression is that the quality of the mouldings used in the dash fascia and fittings are of a far higher standard than anything seen before in a Freightliner.
Time and toil will, of course, be the ultimate decider, but other than a couple of loose points in the roof lining and back wall, overall fit and finish weren't bad for trucks still in the first stage of an intense test program.
Meanwhile, forward vision is generally good, though the forward edge of the doors and A-pillars form a surprisingly wide structure, with the ability to impede vision across the front quarters.  Even so, in the 116 model, you could easily think you're sitting in a cab-over, such is the hood's lack of impediment to the view ahead. Predictably, the longer beak of the 126 isn't quite so unobtrusive, and Freightliner designers could perhaps give some thought to an emblem on the front centre of the hood to enhance the driver's line of sight to the road edge. Still on vision, the electrically operated side mirrors are an excellent design. Extremely well mounted on a single arm, they're also fixed low enough to avoid blocking the driver's view at roundabouts and the like.
As for the engines, it's worth pointing out that while the DD13 and DD16 derive from Daimler's well-regarded HDEP (heavy-duty engine platform) family, and subsequently share similarly strong traits to the same-sized engines in the current Mercedes-Benz range, those in Cascadia are configured for the latest US emissions standards whereas their Benz counterparts comply with the Euro 6 level.
According to Daimler Trucks Australia chief Daniel Whitehead, the decision to stick with the US system for Cascadia was a 'no-brainer' because it provides Australian models immediate access to US developments as they come on stream, effectively negating the problems and delays of the past where Australian requirements were basically a 'special project'.
In performance terms, the DD16's 600hp and 2050ft-lb of torque certainly made easy work of 62 tonnes on Anglesea's diverse circuits. It was, however, hard to be impressed with the powertrain's 'Performance' calibration, fuelling high engine speeds instead of digging deep into a formidable torque band, and causing the DT12 transmission to make shifts that, in many instances, were totally unnecessary. In the drops and climbs of Anglesea's back tracks, it was simpler and smoother to switch to manual mode. Automated or manual though, shifts were at least extremely quick and slick.
Yet as Downes explains from the other side of the cab, a wide range of shift programs with different engine ratings will be assessed before settling on final specifications. "If it's not right for our market, it won't get a start," he says seriously.
On the other hand, throttle response of the 500-plus DD13 was remarkably brisk, matched by a distinct willingness to haul back into peak torque before even the hint of a downshift. Impressive, even at this early stage of the exercise.
The shorter BBC of the 13-litre model also delivered a less reactive steering effort on Anglesea's highway circuit, but that's not to suggest the 16-litre 126 model was in any way wayward. Not at all. It's just that steering and overall handling of the 116 were exceptionally good. While all this was going on, noise levels inside the cab were comfortably subdued, with just enough of a healthy rumble seeping in to let you know there's plenty of punch under the snout.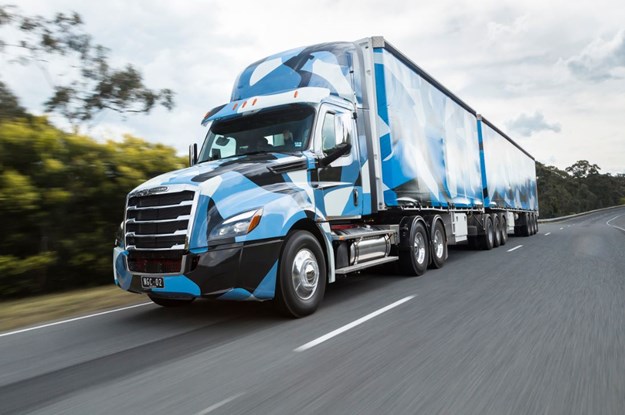 THE RUNDOWN
For now, that's probably as much as a few hours on a test track in left-hand drive versions of Cascadia can reveal. There is, of course, much more to come as right-hand drive models soon join the test program. Have no doubt, future opportunities to drive any of the test units on public roads are already on the wish list.
There's no doubt Freightliner will learn much as tests here and in the US continue both before and after the local launch of Cascadia in early 2020. But perhaps the greatest lesson for Freightliner has already been learned; the lesson that the Australian market is a unique beast on the trucking landscape, able to unearth frailties and flaws like nowhere else in the western world. Simply accepting another country's assurances that all will be well with a fully imported product, because it has been extensively tested in its homeland, has been shown to be flawed thinking on numerous occasions by numerous brands, but perhaps none more than Freightliner.
As Downes puts it: "With Cascadia, it's no longer a case of accepting what we're given or what we're told. To do that would be to allow the same mistakes to happen again. And believe me, that's the last thing anyone in Australia or America wants. 
"We have a real opportunity here. Better than ever." Indeed!
Subscribe to our newsletter
Sign up to receive the ATN e-newsletter, digital magazine and other offers we choose to share with you straight to your inbox
You can also follow our updates by joining our LinkedIn group or liking us on Facebook. 

Trucks For Hire | Forklifts For Hire | Cranes For Hire | Generators For Hire | Transportable Buildings For Hire