Test Drive: New Mercedes-Benz Struts its Stuff
---
Could the 2658 be the best Benz model to ever hit the Australian market? Steve Brooks thinks so
Whatever your opinion of Mercedes-Benz trucks – good, bad or indifferent – prepare yourself for change.
A big change, because the new Mercedes-Benz Actros is showing all the signs of being the best Benz to ever grace the Australian market.
That's the unequivocal conclusion after recently putting a 2658 model through its paces on a B-double run from Sydney's northern outskirts to Brisbane via the Pacific Highway.
After four years of testing and refining every piece of the product puzzle for Australian conditions, this is a truck that looks and sounds different to any Benz before it.
There's no question the new Mercedes-Benz stands out in a crowd with an external appearance that is unquestionably strong and aggressive.
Too aggressive in this 'softly, softly' world? Maybe, but appearances are an individual thing and standing just shy of 4m in height and 2.5m wide, the big Benz certainly stands tall and proud.
Interior Comforts
Indeed, it may well be the loftiest of all climbs into a cab-over but there are at least ample steps and grab handles for trips in and out of the cab.
Importantly, the big cab also provides large locker bins on both sides.
On the inside there's a lot to like. It's a supremely comfortable cab and after almost 900km, there was not the slightest hint of a bent back or numb bum.
The cab interior is fresh and clean, and the switchgear controlling the various functions are gratefully simple compared to some continental competitors.
Among the main control items, a foot-operated pedal under the left side of the dash allows a wide range of steering wheel adjustments while a wand on the right-hand side of the steering column provides fingertip control of multi-stage engine retardation and transmission shift modes.
Likewise, a wand on the left side controls indicators and wipers.
Admittedly, both wands are hidden from view under the arms of the steering wheel but familiarity comes quickly.
Internal storage space is adequate with overhead lockers and shelving under the centre of the dash.
Under the bunk there are also two large slide-out bins, the one nearest the driver being a good-sized fridge easily reached from the driver's seat.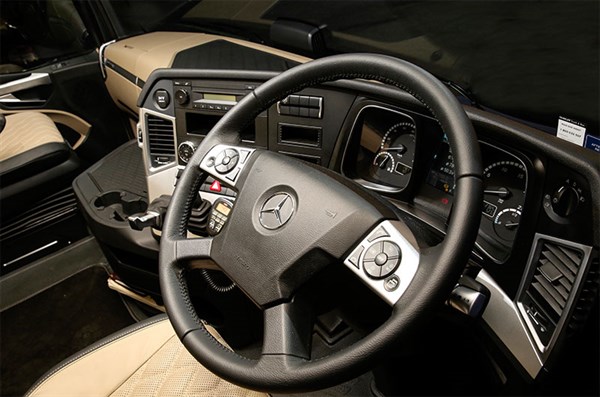 On the inside. A neat and fresh design with lots to like.
Without doubt though, the stand-out attractions of the cab are the flat floor, the standing room and the bunk.
Combined with a quality inner-spring mattress affording plenty of stretch and wriggle room, they deliver the best sleeper compartment of all European cab-overs on the market today; a fact verified by six hours of superb slumber.
This particular truck also had a fold-up second bunk but it's hard to see why anything other than a two-up operation would want it.
Its removal would obviously provide even greater internal room and ultimately, Mercedes-Benz would be wise to design hanging space for clothes and the like.
Performance
As for road work, the 2658 did not disappoint.
The 2658LS model carries a gross combination mass rating of 90 tonnes and is powered by the 15.6-litre OM473 in-line six cylinder engine using selective catalytic reduction (SCR) for Euro VI emissions compliance.
Peak outputs are listed as 425kW (578hp) at 1,600rpm and a potent 2,800Nm (2,065 lb-ft) of torque on tap from 1,080 to 1,400rpm. 
Performance feeds through Daimler's PowerShift 12-speed direct-drive automated transmission into the group's own hypoid drive tandem running a fast 2.533:1 final drive ratio.
Rear suspension is Daimler's airbag assembly while up front are long two-leaf spring packs.
Stopping power comes from disc brakes on all axles supported by ABS anti-lock and ASR anti-skid systems. In fact, braking performance is brilliantly smooth and strong, aided by an impressively effective three-stage engine brake.
Fuel capacity on this particular unit was 1,050 litres in single tanks on each side with a 110-litre AdBlue tank on the passenger side.
Unfortunately, the spec sheet supplied with the test truck offered no indication of tare weight which was surprising given its V8 predecessor's reputation for being heavy at both the weighbridge and the bowser.
However, as several Mercedes-Benz sources have confidently stated, the in-line six cylinder configuration allows far better weight distribution over the front axle than the V8 engine of its predecessors.
There's a deep-throated burble about this engine that is entirely unique for a Mercedes-Benz product and best of all, it's a burble that blends impressive standards of performance and efficiency.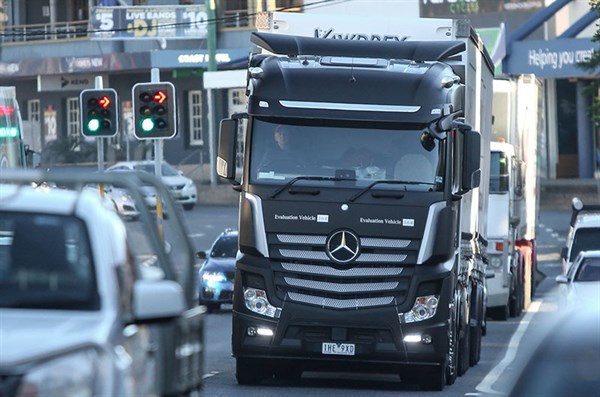 New Benz certainly stands out in a crowd.
Fuel economy was, in fact, outstanding for a truck running at a gross weight of 58.6 tonnes, with less than 2,000km on the clock and for a large part of the trip hammered by a thumping westerly wind.
At the end of the run, average fuel consumption recorded by the truck's on-board computer was a remarkably thrifty 50.3 litres/100km (1.99km/litre) or 5.6mpg. 
As far as performance goes, the big bore Benz did its job with consummate ease, digging deep into rich reserves of torque and coping comfortably with everything the Pacific put in its path.
Yet as good as the test truck was, it wasn't without a couple of quirks.
First, the mirrors. They're big and electronically controlled but mirror vibration at highway speeds was annoying and certainly not up to the standard of a premium linehauler.
Second, shifts through the PowerShift 12-speed box were undeniably smooth but all too often the transmission would drop two gears on modest grades when one shift would have comfortably sufficed.
Verdict
Still, it is easy to suggest a future where Mercedes-Benz will soon by supplying the armament to take the fight to any heavy-duty cab-over competitor.
Sure, it's a big statement and Daimler and its commercial colleagues will need to be fully prepared to back the new Benz with the highest levels of service and support.
In fact, nothing less will suffice if the truck is to realise its significant potential to once again put the Mercedes-Benz marque forefront in the minds of truck operators far and wide.
Read the full review in the next issue of ATN. Subscribe here to secure your copy.
Subscribe to our newsletter
Sign up to receive the ATN e-newsletter, digital magazine and other offers we choose to share with you straight to your inbox
You can also follow our updates by joining our LinkedIn group or liking us on Facebook. 

Trucks For Hire | Forklifts For Hire | Cranes For Hire | Generators For Hire | Transportable Buildings For Hire