Mercedes-Benz Arocs video review
---
The all new Mercedes-Benz truck range hasn't officially been released in Australia yet. Here is a first glimpse of the heavyweight Arocs before the local testing program fires up.
The Arocs is a new vehicle that hasn't graced Aussie shores until now. The Arocs is a severe-duty platform for high GCM and off-road work.
In its native climes the big Benz is pitched as a construction and off-road vehicle.
I recently got behind the wheel of Evaluation Unit 146, a 6x4 Arocs prime mover, before it was sent out to the back of beyond and the start of its test career.
The team at Benz Australia reckons that this big banger may just have the right credentials to make it as a road train hauler.
In Europe, the Arocs is available in a low tare weight variant called the Loader and the off-road variant called the Grounder.
It's fair to say that these clunky names probably won't resonate very well in Australia and Benz is even considering dropping model names all together and reverting to the number based nomenclature of the past.
Engine
The 146 is a 6x4 Arocs prime mover, and under the blacked out cab sits a Euro 6 16-litre 630hp in-line 6 cylinder HDEP engine.
The big six also develops 3,000Nm of torque and is equipped with a 475kW of engine braking.
The claim from Germany these days is that component life on the new range has been stretched out 20 per cent further than previous models. Another unconfirmed option is a water-based hydraulic retarder that adds another 400kW of braking power to the engine.
More than 800kW of retardation is certainly nothing to sneeze at.
Transmission
All of that circular motion gets to the back wheels via a 16-speed Powershift automated transmission, which uses a new dual plate organic clutch.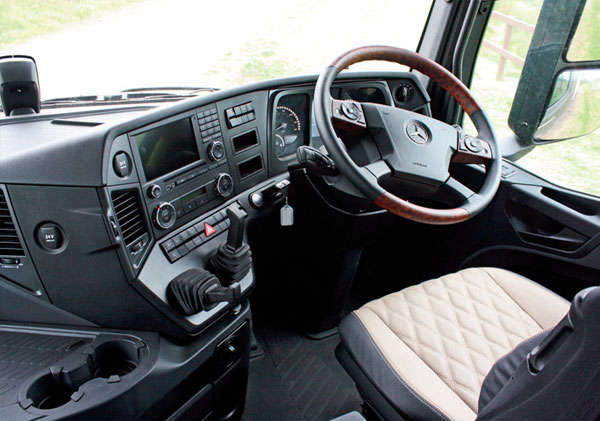 Cab and controls
The Arocs cab is quite imposing; this is the tallest cab in the range and this one was specced with a Bigspace sleeper cab.
Through the matte black body wrap it was still possible to see the toothy grin of the rather distinctive Arocs radiator grille.
This truck has a steer axle that sits further back than the Actros so time will tell how steer axle weights are going to play out, especially with the extra 150kg of the Euro 6 driveline. But it also sits quite a bit higher off the ground. This particular truck can be equipped to work in roles of up to 170 tonnes GCM, which explains the extra beef of the big Benz Banger.
So far, the local engineering team has been able to get 1,150 litres of fuel on board this truck with the target being 1,300 litres.
AdBlue capacity currently stands at 130 litres with a target to increase this as well.
Interestingly the batteries in the Arocs are mounted behind the cab at this stage and Benz has resisted the recent Euro trend of mounting batteries at the rear of the chassis to help with weight distribution.
Getting to the cab is a long climb as this cab is significantly taller than any Benz I've driven in the past.
Once inside in Mercedes-Benz Arocs, the environment is actually quite pleasant.
Euro manufacturers often struggle to provide a decent sized bed, yet this truck has a respectable 750mm wide mattress that isn't cut out around the seat. It also flips up to access the external locker boxes from inside the cab.
These Aussie trucks have gained an extra 50mm of cab depth, which makes a world of difference but another interesting feature that's available on the cab is the completely flat floor.
The Arocs gets a black coloured dashboard as it's expected to play in the dirt while the Actros will get a classier looking cream coloured one.
This truck also had a rather nifty key fob that can be used to check lights, oil and coolant levels.
The Mercedes-Benz Arocs uses a push-button start to fire the big 6 into life. Most other controls are fairly intuitive; my only gripe is that the transmission selector is tucked away a little too neatly under the steering wheel spokes.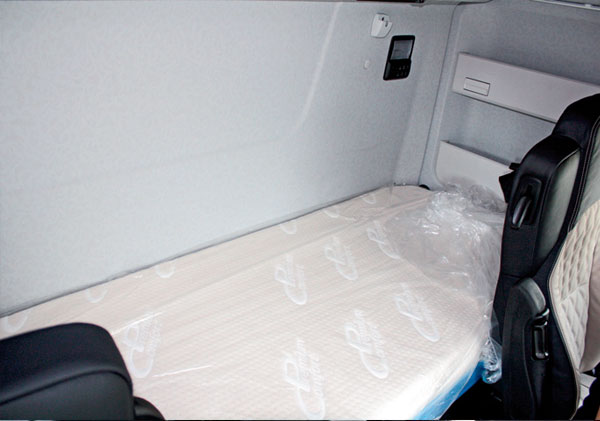 Performance
Within minutes of rolling out of Mercedes-Benz's Mulgrave headquarters, one thing was very clear: this was the most un-Benz like Benz I'd ever sat in.
The Arocs' engine sound had a harder edge and had urgency to it that the big lazy lugging old V engines never had.
All that torque and horsepower wasn't really getting much use as we only had one loaded trailer on board but the big Benz scooted though traffic quite well.
Handling seemed firm and the whole cab seemed reasonably firm and stable in its ride.
The in-line six seems to have better weight distribution than the old V engine, there's less engine hanging forward of the steer axle.
My experience with past Actros drives on public roads has generally seen me steering the cab through peaks and troughs like a yachtsman at sea.
The Powershift transmission meandered through the various ratios with ease, happy to skip here and there at such a modest weight.
This was also the first time I'd used the Benz EcoRoll freewheeling function, which kicked in nicely when coasting in traffic.
There will be a steel suspension option for those who do want to drag road trains with this beast. And at this stage the trucks still use a hub-reduction drive.
A hypoid drive option is currently under development.
We took the Arocs for a drive on some country dirt; this is after all where it's meant to be driven. The cab seemed well insulated with no squeaks or rattles at this early stage in its life.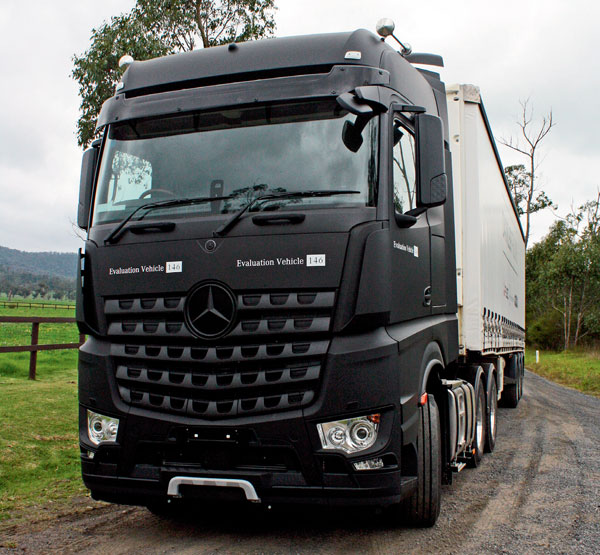 Verdict
It's the performance of the driveline that holds my attention the most.
Vertical integration in the Daimler family has served this beast well so far and the Arocs is a very different kind of Benz as a result.
Evaluation Unit 146 is being sent off to Western Australia where it will pay its dues in a road train role.
Now that's something I'd like to see.
Specifications
Make/model: Mercedes-Benz Arocs 6x4 (not finalised for release)
Engine: 16-litre Mercedes-Benz OM473 Euro 6
Power: 466kW (625hp) @ 1,600 to 1,700rpm
Torque: 3,000Nm max. @ 1,100rpm
Transmission: 16-speed Powershift AMT
Final drive: 4.33:1
GCM: Up to 170 tonnes (specification and approval dependent)
For the full breakdown of the Mercedes-Benz Arocs, read the June issue of ATN. Subscribe here.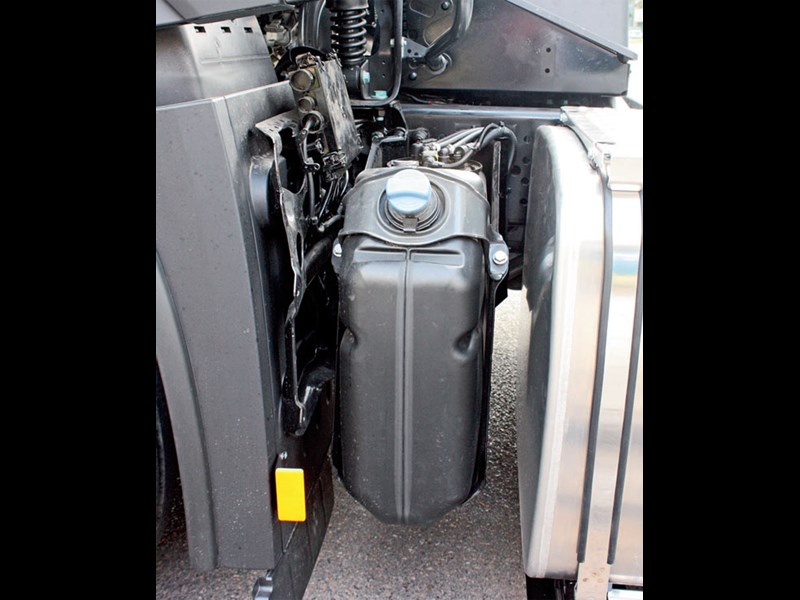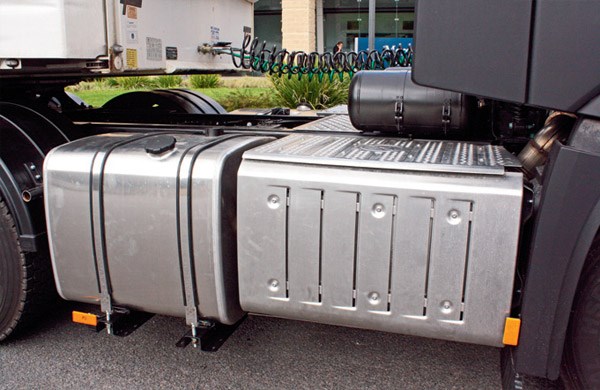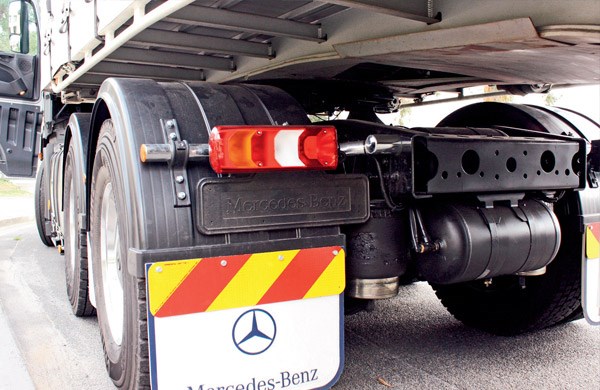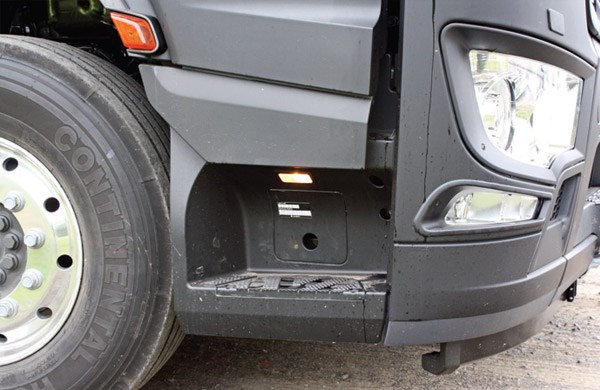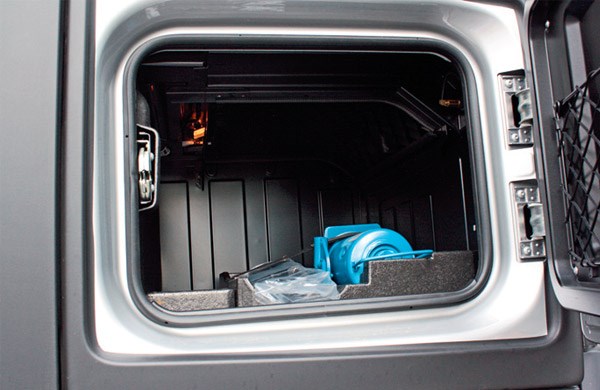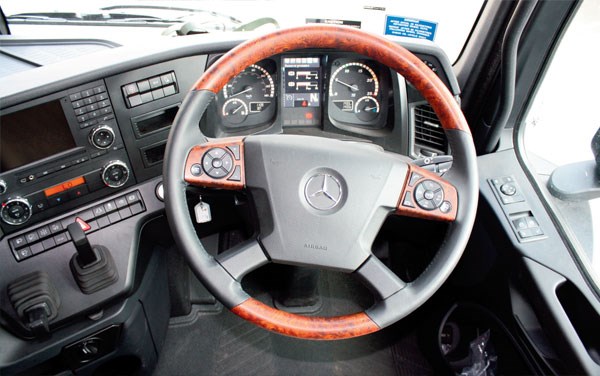 Subscribe to our newsletter
Sign up to receive the ATN e-newsletter, digital magazine and other offers we choose to share with you straight to your inbox
You can also follow our updates by joining our LinkedIn group or liking us on Facebook. 

Trucks For Hire | Forklifts For Hire | Cranes For Hire | Generators For Hire | Transportable Buildings For Hire