Isuzu FVR truck review
---
Isuzu has dominated the Australian truck scene for nearly 20 years. The latest incarnation of the F Series heavy rigid isn't likely to change that, writes Gary Worrall
Released to the Australian market in 2007, Isuzu's upgraded F Series trucks have proven to be another winner for the Japanese manufacturer in its quest for 20 years of market leadership locally.
While changes to Australian design rules, including tough new regulations for engine emissions and occupant safety, made it a level playing field for all manufacturers, the reality is Isuzu met the challenge head on and came up with a model line-up that covers virtually every possible application.
From the outside, the FVR is a fairly attractive beast of burden, with more rounded edges than before, adding to its aerodynamic effectiveness. Although, it's tempered by the fact it sits nearly 4m high, and slab-sided to boot.
Engine
The new cab design means the same 221kW are doing less work at any given speed.
While the SiTec II motor provides the same power and torque as its older equivalent, in its new guise it also meets Euro 4 emission standards, making it leaner and greener than its predecessor.
Transmission
While the new range featured a host of improvements over previous versions, one that began attracting attention was the addition of a ZF nine-speed transmission as an option for selected trucks, in place of the previous Eaton-Fuller nine-speeder.
Cab and Controls
Inside is where the greatest changes have taken place, making the FVR, and its related siblings, one of the best workplaces on wheels to roll out of a factory gate.
Isuzu made a conscious decision to give the F Series the most comprehensively equipped cab in its class.
The list of standard features includes an ISRI 6860 air-suspended driver's seat, driver's airbag, climate control air-conditioning, Bluetooth and i-Pod/MP3 connectivity, satellite navigation and a reversing camera.
Accessing the cab is simple enough: the door opens out to nearly 90 degrees, making it easy to climb in and out; the grab handles are well spaced; while the two steps offer plenty of support and grip for all size feet and in all weather conditions.
The ISRI driver's seat is a nice wide unit, with plenty of adjustment in each direction, and is designed to take drivers up over the 130kg mark, which covers pretty much everyone.
The ISRI seat is a good choice for a number of reasons. Not only is the base nice and wide, there is plenty of support across the back and shoulders making for a relaxed and comfortable driving position.
Add into that the integrated seatbelt, and there is no risk of being strangled by an overenthusiastic pre-tensioner ever again.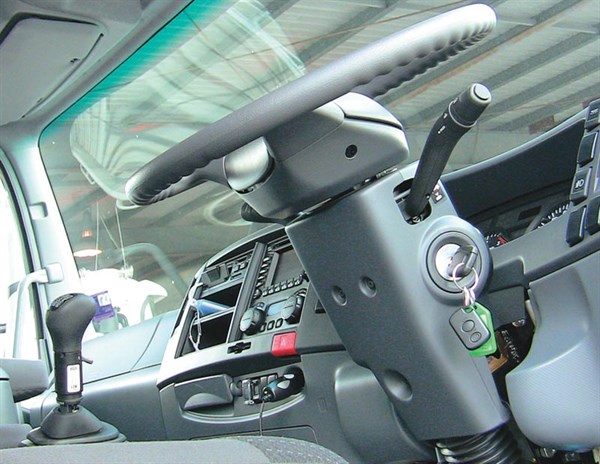 After you spend a couple of minutes getting the seat right — and this is time well spent, let me assure anyone who has never enjoyed an Isringhausen offering before — then comes the time to position the height and reach adjustable steering wheel.
By virtue of its infinite adjustments, plus the comfort of the driving seat, the new F Series is an extremely comfortable place to go about your day's work, whether it is multiple drop pick-up and delivery, or limited inter-urban shuttle driving.
The gearshift for the manual transmission falls to hand easily, and is appreciably narrower than the equivalent Eaton-Fuller unit from the previous model.
As well as being narrower, the ZF shifter feels tighter, although this may have also been because of the newness of the truck — when we collected it there were just over 2000km on the clock.
The splitter between high and low was a little tight (it seemed to get easier with each shift), but the key point was how precise the shifts are. Admittedly it is a synchro gearbox, but even with that in mind it was easy to forget you were shuffling cogs in a 16-tonne truck.
The dash layout is simple and effective. All you need to see is right there in front of you, including tacho, speedo, air brake pressure, temperature and a digital tripmeter/odometer.
Everything else gained a warning or advisory light, such as park brake, exhaust brake and DPD filter (more on that one a little later).
With all those previously listed goodies, such as the climate control air and electrically adjustable mirrors, reversing camera and the rest, driving is a doddle. This truck is as rewarding for an absolute novice as it for a 30-year veteran of the road.
The mirrors themselves are nice big units, offering a good field of view for traffic approaching from the normal units, while the convex 'spotter' mirrors made sure cyclists and pedestrians did not try and hide in the wheel arches.
The all-round vision was good, despite the upgraded cabin, the sight lines remain clear, with relatively thin pillars, combined with the curved windscreen, ensuring only minimal disruption for the driver.
This may also be because of the wide range of seat adjustments available, but the driver is able to sit further back, which also makes peripheral vision easier.
Hidden among the switches and dials is the HSA, or hill start aid, and what a little treasure that turned out to be when pushing towards top weight.
When it comes to hiding things, the FVR's numerous overhead storage lockers, glove compartments, door pockets and other little nooks and crannies make it the ideal venue for the next World Series Hide and Seek competition, as well as a great place to lose pens, work diaries, street directories and route plans.
The cup holder to the left of the driver is capable of holding a decent sized bottle of water, enough to keep you hydrated during a hard day's work.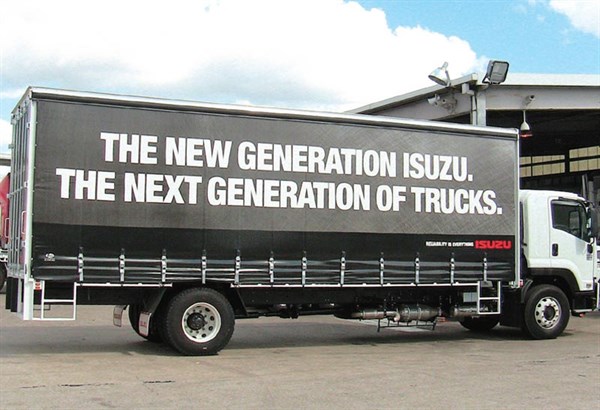 Performance
Our test truck was fitted with the ZF gearbox, which made for an interesting comparison with the older FVZ, also with 221kW, but instead going to ground through an Eaton-Fuller 'box.
Starting the FVR is simple: just switch the ignition on, wait for the glow plug light to go out, twist the key around to the start position and away it goes. With plenty of work going
into making the cab quieter than the previous model, the first thing you notice is just how nice it is to sit there with the engine idling while you use the integrated telephone to call into the operations manager to say you are ready to roll.
Engage first gear, especially if you are on an a slope with a heavy load, although as the load gets lighter it is possible to use up to fourth gear on take off.
The HSA comes into its own when you are heading off from a slope, although the first time still needed the park brake to be released manually.
Finding the clutch balance point was not difficult. Even though it runs heavy duty components, the FVR controls feel light, but retain a good level of feel and feedback for keeping the driver informed of what is happening around them.
The pedal placement is good, with plenty of space for a pair of steel caps without running the risk of jumping on the wrong pedal by mistake.
Isuzu has also given the clutch foot a break by including a foot rest. It is good to get the foot out of the way when you are on long straight drives; even five minutes is appreciated.
Running a mix of steel leaf springs at the front and airbags under the rear end, the ride of the FVR is surprisingly supple, even when loaded at 80 percent capacity.
The Brisbane test drive took in a mix of highway driving, including the Gateway Motorway and various minor roads as we completed a series of deliveries for a local transport operator. Regardless of the road surface, the FVR always felt composed.
It took a really large pot hole on the motorway to transmit any sort of shock into the cabin, and even then there was no steering kickback; the truck just held its line and kept going.
Brakes were also good. Standard fit includes Meritor Q Plus drums, front and rear, as well as an engine brake to help control the truck's speed.
Even in heavy stop-start traffic, the FVR was never in danger of running over the top of vehicles in traffic. The brakes were progressive, possibly due to the consistently heavy load, it never really dropped below 60 percent GVM, but regardless it always felt completely in control.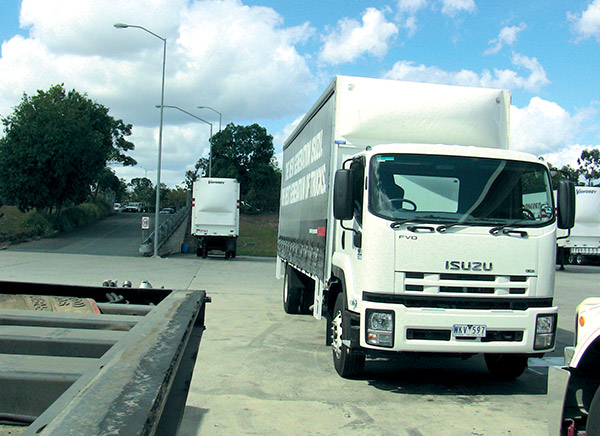 Verdict
Overall, the FVR is a very impressive truck, with a lot to like and not a lot to dislike.
Isuzu's decision to go with the ZF gearbox will win plenty of friends, because it is so much easier to use than the old Eaton Fuller.
There will be those out there who declare any gearbox that is not a Fuller is an impostor, especially a synchromesh gearbox, but the reality is ZF has igured out how to make high torque capacity transmissions that are also user friendly and that is what more people will appreciate, especially those new to the industry.
The other factor in its favour is the level of driver comfort. At a time when similar-sized trucks are celebrating air-conditioning, Isuzu is offering climate control air-conditioning, and plenty more to boot.
It is not for nothing that Isuzu is so popular with fleet operators, and the FVR is going to help keep them a corporate favourite.
Likes:
Driver comfort
High level of cab specification
ZF gearbox
Dislikes:
Specifications
Make/Model: Isuzu FVR
Type: 7-tonne cab-chassis truck Hybrid powertrain Diesel
Engine: ISUZU 6HK1-TCS 7.8-litre inline six cylinder, DOHC, four valves per cylinder
Drivetrain: 4X2
Transmission: ZF 9 S 1110 TO Nine-Speed Transmission with syncromesh wears 1-8 and low speed crawler gear
Diff: 5.63:1
GVM: 16,500kg
GCM: 32,000kg
Subscribe to our newsletter
Sign up to receive the ATN e-newsletter, digital magazine and other offers we choose to share with you straight to your inbox
You can also follow our updates by joining our LinkedIn group or liking us on Facebook. 

Trucks For Hire | Forklifts For Hire | Cranes For Hire | Generators For Hire | Transportable Buildings For Hire