Breathin' easier in the Bronx - Volvo VNR electric
---
A major beverage distributor has become the first fleet on the US East Coast to take delivery of an electric heavy-duty truck. In a powerful affirmation for the future of electric trucks, the delivery of a Volvo VNR Electric is being hailed as a vital first step in addressing poor air quality in an area with some of America's highest rates of asthma in children
In densely populated neighbourhoods around the largest food distribution centre on the US East Coast, more than one in five school-age children suffer asthma.
The distribution centre is in the South Bronx region of New York City and diesel trucks running in and out, day and night, have for many years been basted as significant contributors to the area's notoriously poor air quality.
Well aware of the district's air pollution problems, particularly since a study at the turn of the century highlighted the area's elevated incidence of asthma in children, Manhattan Beer Distributors (MBD) has followed earlier efforts to reduce diesel emissions in its growing fleet by recently taking delivery of its first battery electric heavy-duty truck, a Volvo VNR Electric model.
The electric truck is not, however, MBD's first move at minimising air pollution in the region. Among the largest beverage distributors in the US, the privately-owned company in 2001 retrofitted 15 of its 200 trucks to run on compressed natural gas (CNG).
"We did it, honestly, only because I thought it was the right thing to do," company founder and president Simon Bergson told leading US trucking publication FleetOwner in a recent report.
Since then, Manhattan Beer Distributors' fleet has grown to more than 400 trucks and around half are now fuelled by CNG.
Moreover, Volvo is certainly not a new brand in the MBD fleet with more than 160 VNR and VNL CNG heavy-duty units currently in the operation.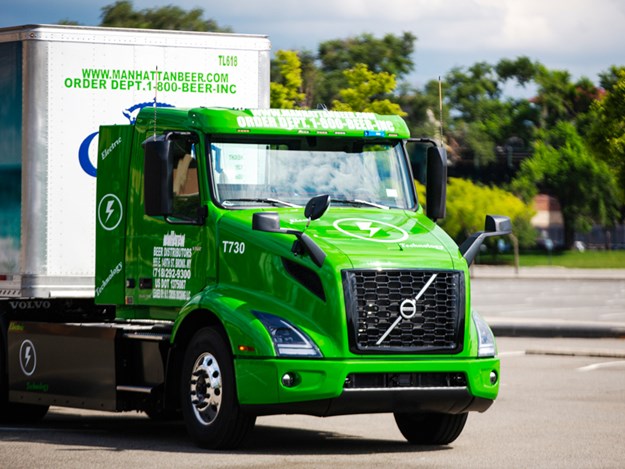 Yet in a bold bid to remove diesel emissions from its fleet altogether, the August delivery of the Volvo VNR Electric – the first of its type to join an East Coast fleet in the US – is planned to be the first of many.
MBD principals say they expect to have five VNR Electric trucks operating by the end of the year, with the goal to purchase 35 VNR Electric models annually for the next four years as it strives to reach the goal of being a diesel-free fleet by 2025.
Meantime, to support the addition of its VNR Electric trucks, the company has installed three DC fast chargers at its Bronx facility, said to be capable of charging the trucks up to 80 percent in 70 minutes.
Aside from the environmental assets, the move to electric trucks offers benefits in other areas as well, according to Juan Corcino, MBD's senior director of fleet operations and sustainability.
"Transitioning to electric allows us to go deeper into a maintenance-free truck," Corcino told FleetOwner.
Nonetheless, while the environmental benefit is a critical bonus, electric trucks need subsiding to gain price competitiveness against their diesel counterparts, he attests: "We foresee prices to go down and be more affordable to the point that you can afford the truck without an incentive and Volvo is working on reducing the price.
Similarly, Peter Voorhoeve, the past president of Volvo Group Australia who now heads Volvo Trucks North America (VTNA), suggests the total cost of ownership of electric trucks for applications such as beverage distribution could actually match diesel equipment by 2025, depending on how battery technology develops.
Battery costs
Currently, electricity is cheaper than diesel but while the batteries that power Class 8 (heavy-duty) trucks such as Volvo's VNR Electric aren't cheap, Voorhoeve suggests, "… as battery technology develops and energy density increases, the battery cost will go down.
"How quickly they (prices) will go down is a little difficult to say."
It's worth noting, too, that the purchase of Manhattan Beer Distributors' VNR Electric trucks was assisted by state and city subsidies funded through New York State's Volkswagen settlement funds, through the New York City Department of Transportation's Clean Trucks Program which aids the purchase of zero-emission vehicles and equipment. (Volkswagen, of course, was hit with massive fines by US regulators for cheating on its emissions compliance.)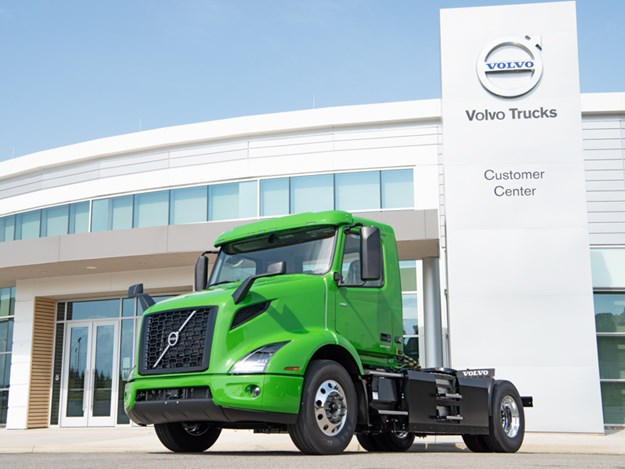 The initial plan is for MBD's first electric Volvo to service customers in Manhattan, where routes originating in the Bronx range from 15 miles to 35 miles (24 km to 56 km) and take six to nine hours, with the stop-start nature of traffic in the region benefitting the battery-powered truck's critical regenerative braking system.
While electric trucks for long-haul operations are further down the development pipeline, Juan Corcino suggests the Volvo VNR Electric is able to handle any of MBD's New York City routes where the average operating range is about 60 miles, with projections indicating the truck could potentially operate for two days on one charge.
Future focus
"It is the ideal location to get started," VTNA boss Peter Voorhoeve said at a press conference marking the introduction of MBD's VNR Electric, attended by politicians keen for New Yorkers to get a taste of a cleaner future.
"We're really, really grateful for the opportunity," Voorhoeve added. "This is a huge step. It's a huge event."
In fact, Voorhoeve likened the electric truck's introduction on the East Coast to an Olympic relay event. "We needed to work together to get to the finish line," he said.
"We played one role in this relay race and that was by developing the truck, which we started in 2018. We're now live. This is not a pilot or a tryout.
"This is now a normal commercial operation and a normal part of our offering."
Especially pleased with the growing interest in electric trucks was South Bronx political representative, Amanda Septimo. "I grew up not far from here," she commented during the New York press conference. "We hear the phrase 'environmental justice' but we lose sight of what the 'justice' part means … that it's really not fair that just because you are born in the South Bronx that you have a higher propensity to develop asthma in your lifetime.
"These are the types of program that really focus on the future," she said.
Appropriately, the final word at the press conference came from Simon Bergson who started Manhattan Beer Distribution with one truck in 1978, and has made a habit of looking for ways to demonstrate his company's environmental regard in an industry often criticised for its carbon footprint.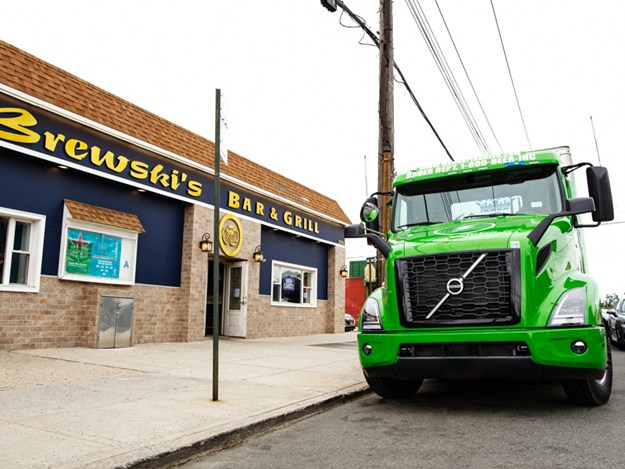 "It was really just the right thing to do and it does cost a little bit more money," Bergson said of phasing out diesel trucks, though he also envisaged that if a customer had the choice of choosing between an operator with a diesel truck or an electric truck, they were "maybe" more likely to nowadays choose the cleaner alternative.
Either way, Simon Bergson concluded, "But you know, it is the right thing to do for our planet, for our future, and for our community."
Subscribe to our newsletter
Sign up to receive the ATN e-newsletter, digital magazine and other offers we choose to share with you straight to your inbox
You can also follow our updates by joining our LinkedIn group or liking us on Facebook. 

Trucks For Hire | Forklifts For Hire | Cranes For Hire | Generators For Hire | Transportable Buildings For Hire