Fuso takes charge with the electric eCanter
---
There's an electric revolution sweeping the automotive world and, in the light truck league, Daimler's exciting Fuso eCanter sits at the top of the tree
Daimler Trucks Australia chief Daniel Whitehead is an affable, agreeable bloke. Most of the time. However, there are other times when, with his competitive instincts suitably stoked or umbrage taken at something or someone considered less than adequate, an abrupt and somewhat stern countenance can quickly surface.
Admittedly, those latter times are rare – at least in the public gaze – but such a transformation was briefly, and perhaps justifiably, evident at the recent media launch of Fuso's electric eCanter at Daimler's Mulgrave (Vic) headquarters.
"The eCanter," he said earnestly at the start of the presentation, "is a full production electric truck."
Then, with an instant change of tone and an intent most assuredly planned to hit a carefully targeted mark, it was a dour Whitehead who gruffly added: "Ours is a complete truck. It is not a Frankenstein addition to an existing truck."
Thus, with a few seconds to let the barb bite and with the deliberate diatribe off his chest, a confident and entirely upbeat Whitehead returned to extolling the many virtues of both the eCanter and Daimler's various paths to a sustainably cleaner automotive future.
Significantly, he would also outline the part Daimler Trucks Australia will progressively play in facilitating the local introduction of some of the most advanced powertrain technologies the commercial vehicle world has ever seen.
But why the Frankenstein jibe and more to the point, was the entrepreneurial Melbourne-based SEA Electric company the target? After all, less than a week before the eCanter launch, SEA Electric appeared to steal Fuso's thunder when it issued a detailed press release announcing it was about to start local production of electric trucks based on the cab and chassis of Hino 500 and 300-series models, which would, the statement asserted, 'place the brand [SEA] at the technical forefront for the industry".
---
Read more about Daimler's electric future here
---
"No comment," a blunt Whitehead answered at the end of the eCanter presentation when asked his opinion of SEA Electric's announcement.
"We have the only full production [electric] truck in Australia … ours is a Daimler truck from front to back, with all Daimler support and warranty, and everything that comes with that."
Likewise, it was an emphatic Whitehead who remarked: "It would be easy to do nothing but it's what the market will need. This is a serious truck," adding that the full gambit of standard Daimler Trucks' safety systems – anti-lock braking system (ABS) with electronic brake force distribution and advanced emergency braking, an electronic stability program, lane departure warning, hill hold, reversing camera and driver and passenger airbags – are intrinsic features of eCanter, just as they are in its diesel-powered sibling.
Whatever or whoever was in Whitehead's crosshairs, it was easy to appreciate his commitment and passion for the eCanter product.
In the development of electric trucks, specifically at the lighter end, Fuso has been at the forefront of Daimler's vast technological resources while on the local scene, Mulgrave's senior management has advocated long and hard for eCanter to become part of the Australian operation. And for good reason.
During a trip to Japan in 2017, for example, in the wake of eCanter's global launch, a small group of Australian truck writers were surprised with an opportunity to drive a loaded prototype model on Fuso's strictly controlled Kitsuregawa test facility.
It took just an hour or so to satisfy most of us that Daimler's investment had the potential to change the world in shorthaul metro delivery work.
Two years later, with Whitehead openly keen to at least start putting light-duty electric trucks in front of carefully selected fleets, an eCanter trial unit was shipped to Australia from Japan's specialist E-Fuso division and prominently displayed at the 2019 Brisbane Truck Show.
Almost immediately after the show, the truck started a short-term trial with Australia Post and soon after that, in the few days before the demo unit was shipped back to Japan, we had the opportunity to spend a day driving the truck around Melbourne.
As subsequently reported: "… just like the Japanese experience, driving a small truck with no engine, no transmission other than an electric motor driving into a single-speed diff, and no noise other than the roll of rubber on the road, makes driving an entirely new experience. Early on, you're waiting for gearshifts that never come but routine and acceptance soon set in.
"Judgements will vary, of course, but this exercise was something truly unique and entirely worthwhile. True, eCanter development remains a work in progress but even at this relatively early stage, it brings the future into stark focus."
All up, and suitably impressed with the model's dynamic performance in both acceleration and deceleration, it seemed just a matter of time before the electric truck would became part of Fuso's local ranks.
Steady start
Despite the positive feedback, a serious Whitehead says it took a good deal of negotiation and commitment to build the business case for Daimler Trucks Australia to join with counterparts in Europe, Japan and the US in adding eCanter to the model range. But now, the deal is done and, with production for Australia confirmed, a strategic path has been set to slowly, cautiously and selectively put eCanter into specific local delivery roles.
In fact, as this report was being prepared, Daimler's local leaders were not prepared to identify eCanter's first customer apart from logical indications it is a specialist provider of local delivery services. Even quiet questions post-press conference could not draw the customer's name but as one insider mentioned, the high profile customer wants to make a big thing of being first with Australia's first electric Canter.
However, it was at least confirmed that trucks will be leased for up to six years rather than bought outright to ensure Daimler's ability to react quickly to any issues and implement inevitable technical upgrades as they occur.
"The technology continues to move at an incredible pace," Whitehead commented.
Even so, according to several sources, demand is already outstripping Australia's allocated supply. As Fuso's press statement explains: "Given the global popularity of the eCanter, a limited number will be available for customers in Australia during the initial stages of the introduction but production availability is expected to increase in time."
Meanwhile, future uptake obviously depends on recharging infrastructure and while local Daimler insiders concede the current situation is 'very fragile', fiscal and logistical partnerships between supplier and users will be vital in establishing a network of recharging installations. Equally, the availability of interchangeable – slide in, slide out – batteries has still to be clarified.
Yet, recharging infrastructure is, as Whitehead noted, all part of the evolution in electric vehicles and, critically, the local extension of Daimler Truck's stated principle to be "the most advanced and capable CO2 neutral company in the world". In fact, the global giant confidently states that all its new vehicles in Europe, North America and Japan will be CO2 neutral by 2039.
What's more, eCanter is just one of 10 electric-powered Daimler trucks now in production and Whitehead confirms that Benz-badged electric trucks such as the eEconic waste collection model and an eActros are already on the Australian agenda.
So, too, is Freightliner's eCascadia an eventual possibility for shorthaul work here. Two years ago, during a visit to Daimler Trucks North America, we were given a short, exceedingly rare, yet undeniably enticing, look at the vast extent of eCascadia development as Freightliner ramps-up plans to introduce an electric powertrain for shorthaul heavy-duty applications in the US. Accordingly, Daimler's local leadership is paying close attention.
It is, says Whitehead, all part of a current Daimler Trucks clean transport strategy based on battery-electric systems for shorthaul roles and hydrogen technology for long distance operations, with series production of highly advanced hydrogen-fuelled models slated for launch in the 2025 to 2030 timeframe.
For its part, Fuso showcased its 'Vision F-Cell' (fuel cell) hydrogen-based model at the 2019 Tokyo Motor Show and states it will have hydrogen-powered vehicles in series production by 2029.
Well aware of Fuso's critical involvement in Daimler's rapidly evolving technology is the new head of Fuso in Australia, Alex Müller. Appointed to the role of director at Fuso Truck & Bus, Covid-19 delayed his arrival from Germany for more than a year, but at the launch of eCanter he was quick to insist: "The timing is good. We are in the middle of a revolution [and] today we are making history."
According to Fuso's press statement, eCanter has a range of more than 100km when fully loaded, and can be recharged to 80 per cent capacity in an hour using a 50kW rapid charger or fully charged in 90 minutes.
Six liquid-cooled lithium ion batteries mounted in the eCanter frame store 82.8kW/h of electricity (with 66kW/h of usable power) and feed a permanent magnet synchronous motor. Power output is rated at 135kW and 390Nm of torque can be delivered the moment the accelerator pedal is pressed.
Built at Fuso's Tramagal factory in Portugal, whereas diesel-powered Canters are produced at the Kawasaki plant in Japan, the eCanter cab is fundamentally the same as the standard Canter but features a unique instrument cluster which shows driving range and how much energy is being recouped through regenerative braking when the vehicle slows.
Unlike its diesel brother though, eCanter drivers sit on a quality Isri suspension seat.
And, just as it did in 2019, eCanter will be a major Fuso attraction at this year's Brisbane Truck Show. This time though, it's here for good. In more ways than one.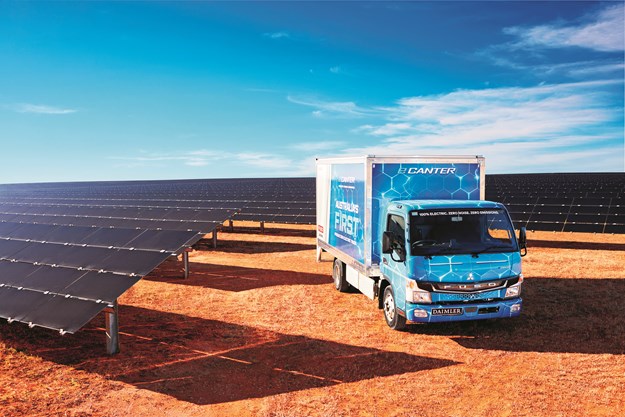 Subscribe to our newsletter
Sign up to receive the ATN e-newsletter, digital magazine and other offers we choose to share with you straight to your inbox
You can also follow our updates by joining our LinkedIn group or liking us on Facebook. 

Trucks For Hire | Forklifts For Hire | Cranes For Hire | Generators For Hire | Transportable Buildings For Hire