Shock of the new: Part 2
---
This is the second part of ATN's look at two of Australia's electric commercial truck early adopters' experience of their experiment in support of Ikea using SEA Electric-powered light rigids. In it, Paul Kahlert of All Purpose Transport and Finn Dunleavy of ANC explain the driver's view, how the managers went about it and how they view the future
DRIVERS' TAKE 
What driver training was there?
PK: I covered this in the routing part of the response – the vehicle needs to be driven differently to an ICE truck to maximise the regenerative braking and battery performance. We now have a program where a new driver travels as the 'offsider' for deliveries where they can see the different driving style and discuss this with an experienced driver.
FD: ANC selected some of our best delivery teams to become our first EV [electric vehicle] drivers. They were accomplished professional drivers already, but there was a learning curve in transitioning to driving a commercial EV. SEA played a crucial role, by providing training days and putting technicians in the trucks with our teams for the first month out on the road.
What was their attitude before?
PK: When the vehicle appeared at our depot, the initial response from the drivers was curiosity – they all climbed in the cabin, walked around the vehicle and commented that it was 'just a Hino'. There was some scepticism from the older drivers who were quick to criticise the short delivery range, even though their ICE vehicle drove a similar distance with their planned routes. Comments were made such as: "I hope you have got a long extension lead"/"Do you want me to bring my camping generator to put in the back."
FD: Unsure but excited.
And after?
PK: Drivers who have driven the vehicle all comment on the lack of vibration, ability to hear road users and speed off the mark as what they like. Our business model is using owner-drivers, so there is now an emerging appetite on when they can have one of these vehicles. Each day, the vehicle loads out of the Ikea warehouse adjacent to ICE vehicles – from the drivers' perspective it is 'just another truck performing home deliveries'.
FD: Surprised and over the moon. The drivers were blown away by the differences between what they had known about driving a truck and what the new EV vehicle offered them.
How did they handle the increased acceleration of an EV? Any speeding tickets?
PK: The driving teams have learnt that if you 'drive it like you stole it' from the lights, you will quickly diminish the range of the vehicle. It has become a 'badge of honour' for the driver to do the most distance and return the vehicle with highest battery percentage left.
[As for speeding tickets] fortunately no. We have the vehicle branded with Ikea, so it is important that our driving teams are seen as responsible road users. This is company equipment and we have strong COR [Chain of Responsibility] processes that would not support speeding tickets.
FD: The EV trucks are incredibly responsive and agile, but they are also an 8,000kg truck running at full capacity, and they are governed to 110km per hour. Sustainability is important, but the safety of our people and of the general public is even more important.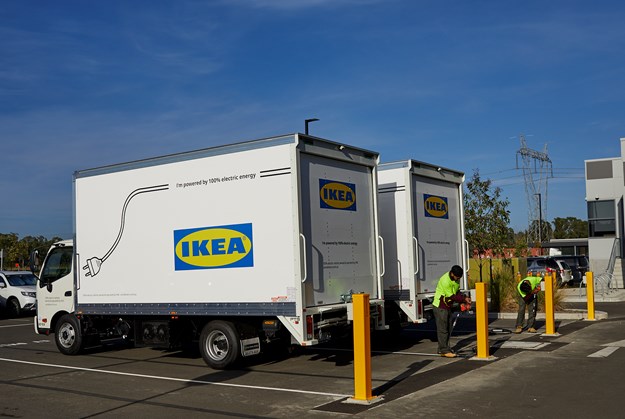 How did they adjust to the silence of an EV?
PK: An unintended consequence of the silence is that the vehicle primarily delivers in residential areas. Traditional ICE trucks have engine noise that can alert pedestrians, so I have jokingly suggested that we should play 'Mr Whippy' music from the truck to warn pedestrians about the vehicles' presence.
FD: Delivery teams found the quieter cabin environment a fantastic change to their day. Most truck drivers are used to sitting above a hot, vibrating, noisy engine, but in the EVs that is all gone, and they found communicating with customers prior to arriving at the delivery much easier to do in the new, improved cabin space.
How about brake use?
PK: Drivers like the vehicle 'automatically' restricting itself on the downward ascent.
FD: Regenerative braking is something they had to learn, in order to improve the energy recovery back to the battery packs, but it was all handled in the first week of on-road training with the team from SEA.
What did they report to management during the project?
PK: As above.
FD: In the beginning, 'range anxiety' was a big issue for the drivers, but after around two weeks, when they were more comfortable, all the feedback was nothing but good. We did have the odd day where charging issues overnight contributed to the vehicle not having enough charge to do a full day's work, however, that was not an issue with the trucks but rather the charging equipment.
Are there any quotes from them?
PK: As above.
FD: Feedback from some of our drivers: "The EV is quieter and smoother than the diesel trucks. They're great for driving in the local area and city driving. The customers love the EVs! They have a very positive impact at the delivery point, with customers intrigued to know which company the truck belongs to and whose initiative it was. We confirm it's a partnership between Ikea and ANC."
"Three to four days a week, customers ask questions about the EV such as 'how many kilometres can the truck travel?' and 'how do you feel about driving it?' We've even had customers calling their friends while we were on-site to say they just had a delivery by an EV!"
MANAGEMENT EXPERIENCE
How did managers prepare for this experiment?
PK: APT understood from the outset that the EV would not be as cost-effective to operate as an ICE vehicle. The initial purchase cost of the truck for an owner-driver is currently prohibitive, so we took the approach that it was an investment in our sustainability journey and put employee driving teams in the vehicle. At a senior level, we created the project in order to learn and then develop an EV Roadmap to support Ikea's 2025 target of 100 per cent zero emission deliveries. We are now seeing that the interest from OEM [original equipment manufacturers] is gaining momentum, particularly in Europe with countries such as Britain banning petrol/diesel cars from 2030. We took the EV project as research and development program to ensure that APT was ready for the change and was not 'late to the party', as it is apparent that electric vehicles will quickly be adopted.
FD: We researched for several years prior to buying our first vehicles. And then, as it took around nine months' lead time from placing the order to the vehicles being delivered, we had plenty of time to get ready. Ultimately, they may be EV but they are still just trucks doing transport work, which is an area we know well!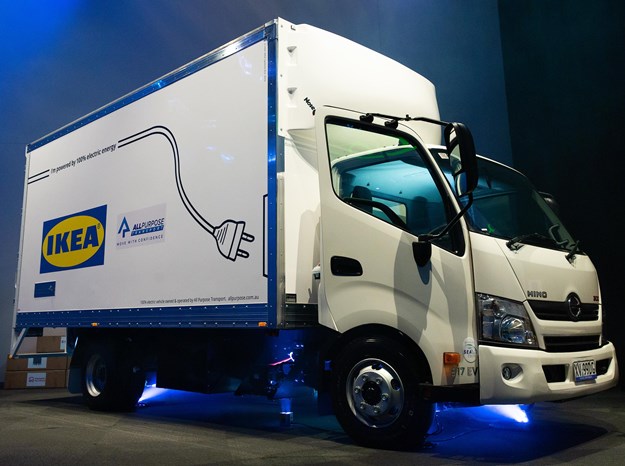 What liaison was there with Ikea during this period and what was reported?
PK: APT kept Ikea [up to speed] across the challenges that we experienced with the vehicles and they supported this as they knew we were on brand-new technology.
FD: Prior to our go-live date, meetings with Ikea were held as required, and they were always very consultative.
Once deployed, weekly and monthly reports and discussions were held with Ikea, keeping the transition to 100 per cent EV front of mind. Sustainable last-mile delivery is an important goal, and Ikea are keen to make it a reality in Australia – which is a goal that ANC shares.
Is there anything about managing electric trucks APT had not foreseen?
PK: I think the real test will be [now] when the predicted rain arrives.
The vehicle has currently not been driven on many wet days. Insurance was interesting. As this is a unique truck, they did not really have a pricing model – we ended up paying a $6,500 premium for the vehicle with a $10,000 excess (yes I am not kidding).
FD: I wouldn't say there were any unforeseen issues. We have obviously had to adjust our approach with how we use the vehicles based on range and capabilities, but that is only a short-term issue, particularly when you look at the bigger picture: EVs are improving with each generation of vehicle, and that technology is on a very steep improvement curve.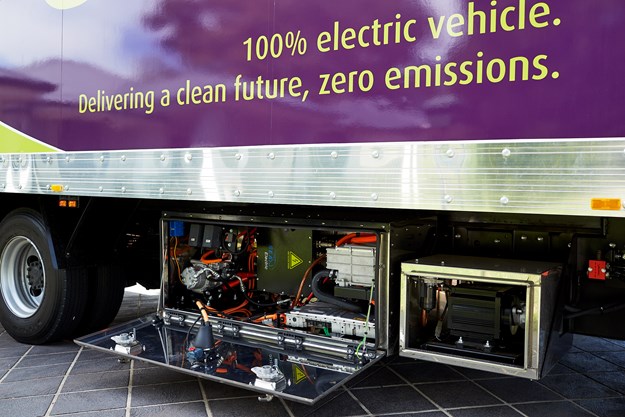 Did any HR issues arise?
PK: Not really – drivers who have not 'treated' the vehicle well have been quickly found out with the strong reporting that we on the vehicle – e.g., reduced battery life due to hard driving.
FD: There were no HR issues. We made sure we engaged with our drivers and that they were part of the whole process. ANC conducted thorough training and the delivery professionals were proud to be part of this leadership and innovation.
How did plans for leasing the trucks for drivers pan out?
PK: There have been some interesting changes being announced by OEMs overseas. Truck as a Service (TaaS) is where the provider will develop a leasing model that addresses charging infrastructure, vehicle cost, vehicle maintenance, driver training – all with a monthly payment. When the vehicle finishes the lease it can be either refurbished with newer technology or new vehicles can be purchased. The TaaS solution also provides management dashboard reporting showing key KPI activities for the truck.
FUTURE
How do you view it for such trucks generally and for your firm in particular?
PK: Within the next 10 years, I believe that our industry will see many small trucks becoming battery EVs and larger vehicles operating on hydrogen fuel cells – particularly in the metropolitan areas. The industry needs to be aware that this change will affect truck stops, workshops and many traditional services that support transport companies around ICE motors. Due to the large distances that transport companies travel in Australia, there will be a hybrid model with ICE motors still required.
FD: EV is the future, and the sooner we embrace the reality of the required change facing everyone in the transport industry, the sooner we can accept the situation. But for many it is an issue. If you are a delivery company working in the metro and urban areas of any major city, EV isn't something you'll be able to avoid in the future, either because of government requirements or the requirements of our clients meeting public demand. If you work in long-haul road transport, hydrogen trucks are the future in this space. 2020 is referred to as the climate decade and change is unavoidable; many boil the equation down to "what will the EV be worth in five years?" Rather, the question they should be asking is "what will the diesel truck be worth in five years?"
Is the scepticism warranted?
PK: The scepticism is only there because we don't have OEM EV vehicles available in Australia. You only have to look at the Tesla to see the uptake once you could purchase the vehicle. It was reported that VW is investing A$118 billion to retool two of its German factories to produce electric vehicles. I personally believe that once you have the EV equipment available at a strong price point, you will find that many metropolitan transport businesses will adapt to the new technology.
FD: Not at all – EV is a viable solution now. It's doable – and ANC and others are doing it. The upfront cost is currently high but factored out over the working life of the vehicle and the ongoing savings of using EV, you end up coming out in front.
Do you have any advice for other fleet operators considering going down the battery electric path?
PK: Make noise about wanting the equipment – OEM companies are not going to bring their equipment to Australia unless there is demand.
FD: Ask all the questions you need to and contact those companies that are using EVs. It's important to speak to people who have already gone through it, and then give yourself time to get comfortable with the idea and know nothing is going to go perfectly (but when does it ever in transport?!) The sustainable thing is always going to be the right choice; it might not be the easiest choice but the reward for all of us is worth it.
Part 1 of this feature is available here.
Subscribe to our newsletter
Sign up to receive the ATN e-newsletter, digital magazine and other offers we choose to share with you straight to your inbox
You can also follow our updates by joining our LinkedIn group or liking us on Facebook. 

Trucks For Hire | Forklifts For Hire | Cranes For Hire | Generators For Hire | Transportable Buildings For Hire