Shock of the new: Part 1
---
Australia's electric commercial trucks operational experience is still in its infancy but early Australian adopters are in a position to explain what it took to get this experiment on the road and what was learnt from it, in part one of a two-part series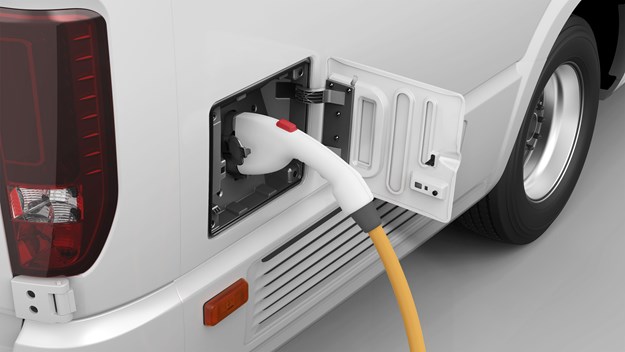 While it might seem electric trucks have had at least a decade to prove their worth in Australia, the reality is that the country is only starting a journey that will be decades in the making.
Certainly, a few test vehicles found their way into a couple of the nation's biggest fleets a decade ago or more.
But that can be seen as only the conception becoming a reality – a move at the cutting edge globally, before hydrogen fuel cell technology became something politicians and mainstream pundits knew about.
To gauge just how early we really are in the cycle, fast forward to 2020 and the reality is that there still is only one purveyor of commercial vehicle battery electric propulsion: SEA Electric.
Some competition is promised for the Victorian company that is now making progress in North America and has the local market, such as it is, to itself.
This, at a time when some customers are doing what they can to make their vehicle emissions reduction pledges a reality – global firm Ikea being one, but not the only one – and doing so on our shores using local transport companies.
Keep in mind also that the biggest vehicle in this effort is a light rigid.
Given the first steps have now been taken in what is effectively the start of the proof of concept stage and an experiment rivalling anything seen in Europe, ATN approached All Purpose Transport (APT) and ANC to gauge where they have taken us.
Each has had a year or more to work out how to set themselves up for EV use and how most effectively to use and work with them. APT, in the form of general manager Paul Kahlert (PK), and ANC, through national account manager Finn Dunleavy (FD), were able to respond quite comprehensively in a Q&A.
The questions sought insights into five main subjects: expectations, planning and testing, routes, truck performance and drivers' experience.
EXPECTATIONS
What input, parameters and advice did Ikea have around what was to be done?
PK: In 2016, I undertook a study fellowship to the United States for the ISS Institute sponsored by Australian Industry Standards (TLISC). During my tour of the US, I attended the American Trucking Association's annual conference in Philadelphia, where I saw the first electric vehicle. At the same time, Ikea had commenced their sustainability journey, where they signed up to the EV100 accord (www.theclimategroup.org/ev100-members).
With Ikea's head office in Sweden, they had already seen the quick uptake of EVs in Europe, where they had a combination of high delivery drop density and low travel distance. There were a number of OEM companies such as Renault and Daimler who had 'off the shelf' vehicles available.
When the edict to make this a global action was made, there was only limited input from the individual countries to Ikea's head office. In Australia in 2017, there were simply no EV vehicles available, outside of electric bikes/scooters, which could not support the new furniture home delivery task. As a result, in Australia, Ikea's transport service providers undertook their own investigations and research the equipment.
FD: In early 2016, Ikea informed ANC that it had joined the EV100 global initiative and that, as a result, ANC would need to transition the Ikea fleet to EV by 2025 to continue the relationship. There was also the expectation that ANC would meet progressive targets/milestones of EV delivery along the way in order to achieve full transition by 2025.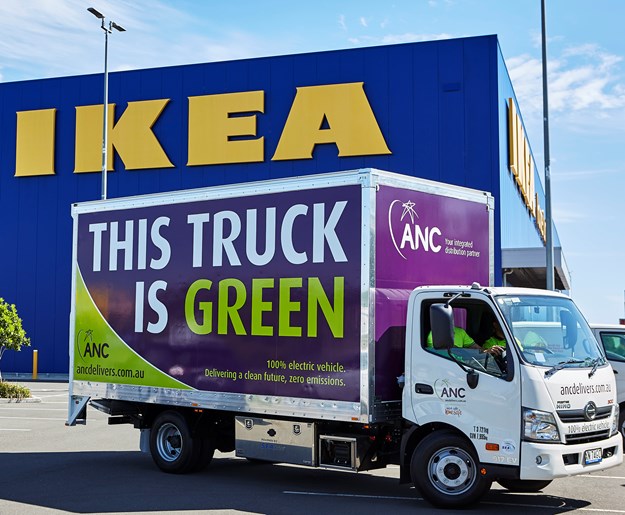 What did SEA say about what the truck could do and what the costs would be?
PK: SEA's representation on the truck's performance/carrying capability was very clear from the outset – both APT/SEA were very clear on what the vehicle could/could not do. Without any scale, it was clear that SEA's construction costs would be high and this needed to be passed onto the purchaser.
The vehicle was around 40 per cent more expensive than its ICE [internal combustion engine] equivalent. Due to the early stages of the technology, the delivery range of the vehicle was based on an unladen vehicle, so when you added 2–3 tonnes of deliveries, this had a substantial impact on range. Just to be clear, from the outset we knew that we would not be getting a vehicle that had the same coverage as its ICE counterpart.
We knew that we were investing in brand-new technology, with the view to be the first home delivery company in Queensland with a zero emission vehicle.
FD: SEA conveyed to ANC that the trucks we were considering could meet our requirements for metro delivery and the price at the time was commensurate with the technology required to build the vehicles.
---
How ANC unveiled its electric Ikea fleet, here
---
What did your research entail and what did that lead you to believe?
PK: The clock was ticking for us to get our EV program started. In effect, there was only one provider in Australia who was capable of putting an EV on the road to meet the timeline required.
FD: ANC did a European tour in 2017 to thoroughly understand the capabilities and requirements of an EV fleet. Our tour included test driving vehicles with Tevva Motors. In addition, we explored various vehicles that were available in Asia.
All the research ANC did prior to ordering led us to the understanding we would be an early adopter of large commercial EV delivery vehicles in Australia, and that while at the time (and is still the case today) there was no perfect solution for commercial EV, it would be pointless to wait for a perfect solution to arrive.
We needed to understand the nature of these vehicles and how they would work in the 'real world', and how the required work they needed to perform might be impacted by the different nature of EV when compared to more traditional forms of transport.
PLANNING AND TESTING
Why did you choose the number of vehicles you did?
PK: Our initial purchase from SEA was for one vehicle – this met our EV roadmap target of 'x' per cent of deliveries in the first year of operation.
FD: You can't really get an accurate result with just one test subject [so ANC went with three]. ANC is looking to the future, where, at some point, 100 per cent of our vehicles – not just the Ikea fleet – will need to transition to sustainable mobility. We need to have a clear picture of how they perform, so we can know what impacts there might be and what changes might be required to ANC's and our clients' business models in order to support the EVs and our clients' and customers' needs.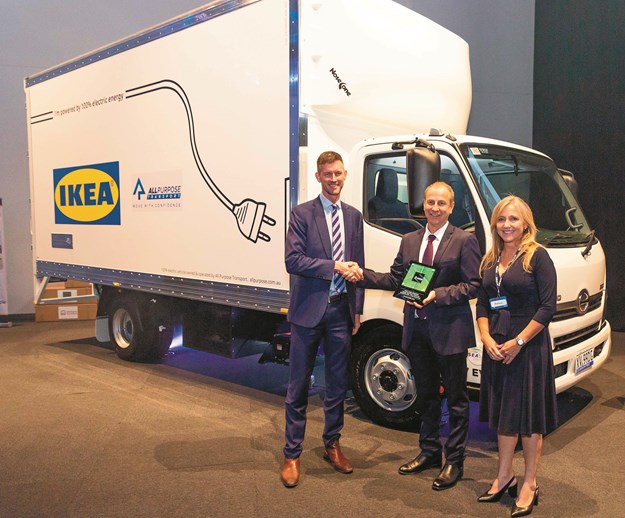 Who did the body work for them?
PK: Prestige Truck Bodies in Carrum Downs, Victoria.
FD: ANC required a few tweaks to a traditional cargo box to ensure they were as sustainably supporting of the EV format that we could make them. To enable this, we worked with Prestige Body Works in Victoria.
Who was the first person in the firm to drive a battery electric truck and what were their thoughts?
PK: For fleet operations manager Damien Contor, the first reaction was the complete lack of vibration and the only noise were the cooling fans on the side of the truck. He commented that the vehicle was quicker 'off the line' and the regenerative braking really assisted going down the hills. Staff who were watching the vehicle said 'it just looks like a normal truck without any noise'.
FD: I was the first of our staff to drive these vehicles on behalf of ANC – and they were very quickly deployed to our working fleet and the delivery teams who piloted them.
Everyone loved them and were truly surprised how good a vehicle they are to drive and operate daily. 
Understandably, in the early days, there were concerns about 'range anxiety', which is natural for drivers who have only ever driven fuelled vehicles. However, that was soon overcome with an operational change in our approach to their deployment of daily work, which is all part of the EV learning curve when it comes to commercial vehicles.
---
How like minds at Ikea and APT led to the EV move, here
---
What preparations did you make to host the trucks?
PK: The vehicle requires a three-phase power supply. We created an EV parking area adjacent to a three-phase electrical outlet. Our plan is to have three vehicles by the end of 2021, so we are in the process of adding a PV power system on the roof of our warehouse, along with future battery storage to allow up to eight vehicles to be charged together.
FD: A complete timeline to deployment was crafted and worked to. This included co-operation with Ikea on charging infrastructure on-site, livery, media events, driver training prior to deployment, shake-down phase and then operational roll-out.
Who advised on preparation?
PK: The preparation was simple as the charging infrastructure is installed in the vehicle – unlike electric cars, which require a separate charge station, the truck can be charged from any three-phase power connection.
FD: ANC worked with our service partners, the manufacturers and Ikea in the lead up to and beyond the vehicles' deployment in the field.
ROUTES
Were there any imperatives on which roads to use? (i.e., freeways being notoriously taxing on batteries)
PK: We learnt our lesson with highway driving very early with the EV. Whilst we were trialling we took the truck up the motorway adjacent to our operations and the team reported back that they could see the charge meter dropping rapidly.
On this basis, we instructed our fleet teams to schedule deliveries in areas where the truck was not required to travel on motorways.
With the regenerative braking the truck likes to have long hills to run down. Brisbane is notoriously very hilly around the CBD (Paddington/Rosalie), where the vehicle, fully laden, is required to climb short, steep hills. We found that this was not conducive to a long battery life and instructed our fleet teams to focus on routes close to our depot.
FD: While the vehicles themselves are limited to a top speed of 110km/h, highway driving does consume power at a quicker rate. We also work on keeping the EVs away from steep, hilly terrain (really steep inclines), as this also consumes charge at a quicker rate.
However, for normal metro deployment, these trucks have an operational parity to our diesel vehicles, as they are okay to work anywhere in the metro areas.
What were the characteristics of those routes?
PK: We created routes that are 20–30km max [distance] from the Ikea warehouse operation. Drop density is the key, so it is important that the fleet manager minimises travel distance whilst maximising delivery drops.
Over a period of time, with trial and error, the fleet teams now have an understanding on what works/does not work for the vehicle.
Another important finding that we had was the driving style of the operator. We have recorded the statistics of different drivers including km travelled, weight and battery life on return to base.
What became clear is that certain drivers, who drove the vehicle at full pace, had significantly lower range for the vehicle. The team that we now have operating the vehicle are achieving 10–20 per cent more distance due to their more conservative driving style.
We have included driving assessments as part of our training program to educate the drivers that there is a significant difference between an ICE/EV powered vehicle.
With the additional cost for the EV, and the delay on it getting repaired after an accident as a result of scarce parts, the selection of driver has become a high priority to protect the asset and make the vehicle a commercial proposition.
FD: Operationally, we would calculate our delivery runs to accommodate the range of the EV vehicles, factoring in a small buffer of charge as a 'reserve' to cover things like traffic, using the radio, air-conditioning, charging a handheld device for the driver, lights and those other tasks that consume energy. However, we can send them anywhere in our metro delivery area.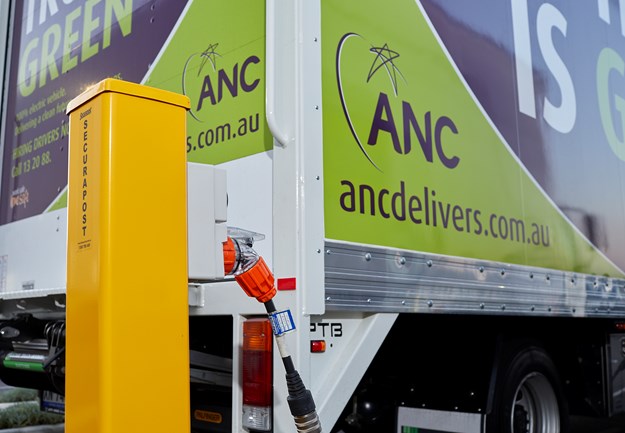 Were there any non-company charging options on them you were prepared
to use?
PK: We have been building runs that start/finish the vehicle at our depot's three-phase power supply.
FD: No. We set our EV operation to start and finish the delivery day at the Ikea distribution centre and the vehicles recharge overnight, ready for the next day. So, given we allocate the work based on the capable range of the vehicle, there is no need for infield recharging while deployed.
There was a learning curve on routing for EVs as opposed to traditional fuel-powered vehicles, but that is driven by the way we have chosen to operate them. Once large commercial EVs have a range of 400km plus, they will have no limitations in a metro delivery area. Currently, we are using them daily with no issues on a range of about 240km.
TRUCK PERFORMANCE
How long did you have/have you had the trucks for?
PK: We purchased the first vehicle in April 2019 and it was delivered to APT in late-November 2019.
FD: ANC took possession of the three EVs in early February 2019 and we had them fully deployed by the end of that month – and since then they have been on the road six days a week.
How did the running cost compare with diesel propulsion?
PK: There are two areas where we have identified savings on the EV: diesel – the cost for us to charge the vehicle vs diesel is around 70 per cent less; and servicing – tyres/brakes and greasing of the vehicle is the only cost.
The vehicle was only returned to us in July 2020 after there was an issue with the battery – we have not yet had the vehicle in for a service.
At the same time that we started the EV, we also replaced all of the internal and external lighting in the warehouse/offices so our electricity costs dropped. We have now installed monitoring on the EV charge point to accurately assess the saving.
We started the EV in December 2019 and immediately experienced issues with the battery.
In early January 2020, we sent the vehicle back to SEA in Melbourne where they identified that the battery had failed due to moisture ingress.
There was a significant delay getting a replacement battery from China due to Covid. The vehicle was returned to APT in July. As a result, we have not had a full year of the vehicle performing deliveries.
FD: Running costs for the EV are far better than that of the fuel-based comparison. When you compare fuel costs, we would normally use around $70 of diesel a day in a vehicle this size; but the cost to charge the EV per day is less than $20 a day.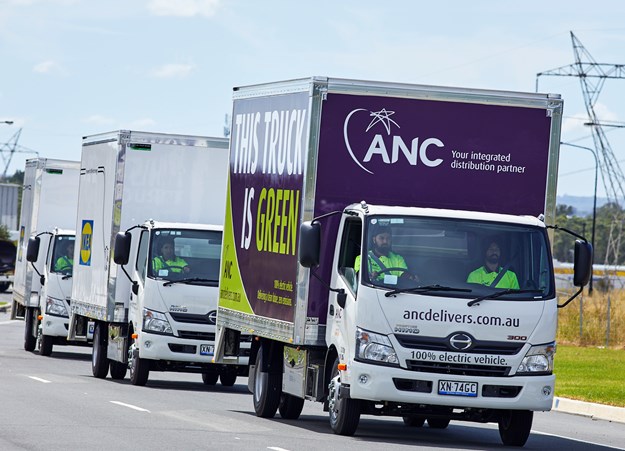 What was the emissions saving?
PK: An initiative that we have just commenced is to identify an electricity provider who can offer us carbon neutrality for their electricity supply. We are currently using the standard grid supplier, so I don't really want to say we are saving on emissions as the generation is done by coal fired power stations.
After we install our PV solution in early 2021, and have changed supplier, we can say that we are 100 per cent emission free for the vehicle.
FD: In 2019 (over 10 months) we saw a tailpipe emission saving of 56.57 (t) CO2e and so far in 2020 we have saved 58.20 (t) of CO2e, which averages out to 68.72 (t) of CO2e. Cumulatively, since launch, the EVs have saved 114.77 tonnes of CO2 emissions going into the air.
What was the maintenance costs comparison?
PK: It is too early to say, as the vehicle has not travelled far enough to have had its first service.
FD: From a servicing comparison, tyres, lights and other normal vehicle consumables are the same, but an EV motor and its drivetrain has far fewer moving parts than a fuelled vehicle and less that can go wrong or wear down, so there is also a significant saving here.
What about tyre wear?
PK: As above.
FD: It's the same as any other vehicle on the road.
Was there anything in the stop-start nature of delivery that affected the way they performed?
PK: We have not had the vehicle operate in a Queensland summer – during winter the vehicle performed fine with it being turned off at each delivery.
Over summer, I expect that the delivery teams may keep the air-conditioning going, which will impact on the battery's performance.
Delivery runs are being built working on getting the vehicle back with 20 per cent of battery available. We will review the statistics in March to see whether the heat has an effect on this.
FD: None, EV is built for stop-start. In fact, if anything, it is better, because when you are not moving you are not consuming energy, unless running cabin features and creature comforts, so there's no burning fuel while in stopped traffic.
Did they fail at any time and if so, why?
PK: As per note above we did have a tough time at the start of the project. With hindsight, SEA found that the battery, which has very sensitive electronics, was not properly sealed, resulting in moisture damaging the electronics. This appears to have been rectified with the new battery.
FD: In the early days we had a few minor issues but nothing serious (e.g., engine lead couplers coming undone and other minor issues). When you are an early adopter, you resign yourself to these sorts of things as a reality.
What technical support was available for such an occurrence?
PK: We knew that the support from SEA would be Melbourne based – they flew their technicians to Brisbane when we experienced our first issues and tried to get the battery repaired locally. It was their suggestion to return the truck to Melbourne to resolve the issue and do a full audit of the vehicle before returning it to Queensland.
FD: SEA was fantastic; they recruited and deployed a technician to the Sydney market in conjunction with ANC taking possession of the vehicle, so help was never far away.  In the first weeks, the technician would even go out for a ride along with the delivery teams in order to answer questions and allay driver 'range anxiety' issues.
Read about the driver's experience, how the managers went about it and how the early adopters view the future, in Part Two.
Subscribe to our newsletter
Sign up to receive the ATN e-newsletter, digital magazine and other offers we choose to share with you straight to your inbox
You can also follow our updates by joining our LinkedIn group or liking us on Facebook. 

Trucks For Hire | Forklifts For Hire | Cranes For Hire | Generators For Hire | Transportable Buildings For Hire