New 721 leads the way in upgraded Hino 300 Series
---
Increased towing capacity and multiple safety features are the main features of the new Hino light range
Hino Australia has announced the introduction of the new 2020 Hino 300 Series range, expanded to more than 60 models including Standard Cab, Wide Cab and Wide Crew Cab configurations.
Leading the way is the new 721, which boasts 205hp and 600Nm of torque from its five-litre J05E-UJ engine, coupled to a six-speed double overdrive true automatic transmission, giving a 3.5 tonne towing capacity.
"The new 721 opens up many opportunities in the 6.5 tonne Gross Vehicle Mass (GVM) class for tradespeople and local councils, with the true automatic transmission matched to the most powerful and highest torque engine in its class," says Daniel Petrovski, Hino Australia's manager of product strategy.
"The 721 is available in multiple wheelbases, as well as single and crew cab models and fills an important gap in the market for Hino."
At the lower end of the new 300 Series, the 616 standard Single Cab comes with independent front suspension, which Hino says is a unique feature among the 300 Series range.
Gross combined mass (GCM) ratings range from 4.5 tonne to 8 tonne in the 616s, which are fitted with the four-litre N04C common-rail turbo diesel engine rated at 150hp and giving out 420Nm of torque.
The 616 Standard Cabs are available with both manual and true auto transmissions with a towing capacity of up to 3.5 tonne; hence it can be driven on a car licence. Hino says all 616 Standard Cab models can be upgraded to an increased payload of 5.5 tonne GVM on a light rigid truck licence.
The 616 Wide Cab model is said to produces 150hp and 420Nm with the four-litre N04C common-rail turbo-diesel engine combined with the six-speed automatic transmission.
"The 617 manual model is also powered by the N04C engine, this time with the Hino six-speed double overdrive manual transmission – this combination produces 165hp (121kW) and 464Nm of torque," Petrovski continues.
Further up the range, the 716 and 717 Wide Cab models cover the 6.5 tonne GVM range, fitted with the four-litre engine, with either a true automatic or manual transmission available.
The 816 Wide Cab model also comes with an automatic transmission, and is fitted with 17.5-inch wheels, higher rated tyres, and higher rated axles, which increase its GVM to 8.0 tonne and boost its payload offering.
The 917 model retains the four-litre engine mated to the six-speed manual transmission and has an 8.5 tonne GVM on a medium rigid truck licence, and can be rated to 7,995kg for light-duty truck customers.
Hino says its 920 is another model utilising the manual transmission. With the five-litre engine option, it can be registered for a light or medium rigid truck licence, resulting in GVMs of 8.0 or 8.5 tonne respectively.
However, Hino says when combined with the true automatic transmission and the high horsepower five-litre engine, the 921 offers superior performance and 3.5 tonne towing capacity. Again, it can be configured with an 8.0 tonne GVM for light rigid truck licences, or 8.5 tonne GVM for medium rigid licences.
For the environmentally conscious, the new Hino Hybrid electric-diesel model is available in four variants: the 616 Standard and Wide Cab car-licensed models through to the 716 Wide Cab and the 916 Wide Cab, which has a maximum Gross Vehicle Mass (GVM) of 8.5 tonne.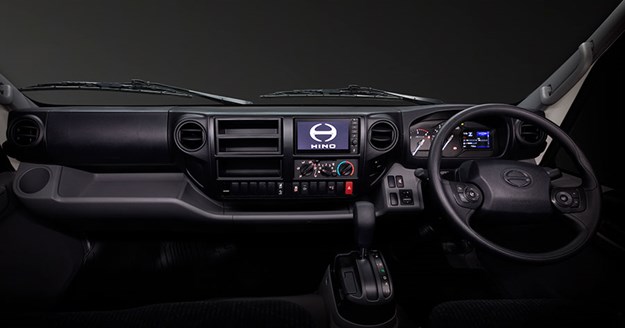 Safety to the fore
The new Hino 300 comes with a host of new active safety systems, including a Pre-Collision Safety System (PCS), Autonomous Emergency Braking (AEB), Pedestrian Detection (PD), as well as Lane Departure Warning System (LDWS), all of which are fitted as standard on the new 300 Series 4x2 model range.
PCS can detect a potential collision with another vehicle, and/or a pedestrian using radar technology and image sensors.
"If the system detects the possibility of a collision, it will warn the driver to apply the brakes using both visual and audible alerts," Petrovski explains.
However, he says if the system determines that a collision is imminent, it can autonomously apply the brakes to minimise the damage or even avoid the collision.
"PD can detect a pedestrian in front of the vehicle; if the system detects a pedestrian, it will warn the driver to apply the brakes using both visual and audible alerts and, if the driver takes no action to avoid a collision, it can autonomously apply the brakes.
"Since its introduction as standard fitment on our medium-duty 500 Series Standard Cab models in early 2019, our customers have embraced PCS as an active safety system and have been requesting its introduction across other Hino models," Petrovski says.
Meanwhile, the Lane Departure Warning System (LDWS) similarly alerts the driver visually and audibly if the truck is deviating from its lane without the turn indicators being engaged.
Daytime Running Lamps (DRLs) along with the PCS radar in the bumper and an updated grille help to distinguish the new 300 Series from its predecessor.
"The DRLs are a unique feature for Hino in the light-duty truck segment," Petrovski continues. "They ensure that if headlamps are not turned on in low light conditions, the vehicle will be still seen, adding to the overall safety of the vehicle."
Other safety features carried over from the previous 300 Series models include dual SRS airbags, four-wheel ventilated disc brakes, and Electronic Brake force Distribution (EBD).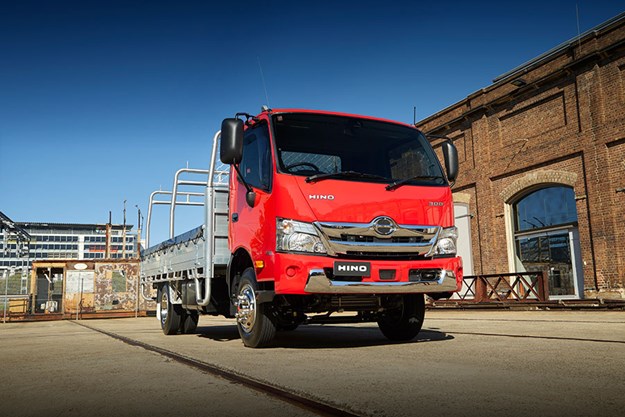 Hino says the 300 Series Cab has been tested to the UN ECE R-29 cab strength certification and features narrow A-pillars, which ensure a nearly uninterrupted forward view.
Forward vision is complemented by the heated and electrically operated flat main mirrors, and the convex spotter mirrors which offer vision to the side and behind the vehicle.
"When combined with the high definition waterproof and infrared Reverse Camera, the new 300 Series offers near 360-degree vision for improved safety when manoeuvring the vehicle," Petrovski says.
Hino Australia general manager Bill Gillespie believes the new 300 Series models are a cornerstone to achieve Hino's long-term business goals in what is possibly the most competitive segment in the Australian truck market.
"With new entrants arriving all the time, we need to keep moving and innovating, if we're to retain and grow our Hino light-duty sales," Gillespie says.
"The 300 Series range represents 58 per cent of our Hino sales volumes each year, having broad appeal to buyers across many segments. This range remains a linchpin in our Hino line-up."
Subscribe to our newsletter
Sign up to receive the ATN e-newsletter, digital magazine and other offers we choose to share with you straight to your inbox
You can also follow our updates by joining our LinkedIn group or liking us on Facebook. 

Trucks For Hire | Forklifts For Hire | Cranes For Hire | Generators For Hire | Transportable Buildings For Hire