Cummins: 100 not out for the driving force
---
The famous American engine manufacturer has notched up 100 years in business but isn't resting on its laurels in the fiercely competitive Australian trucking market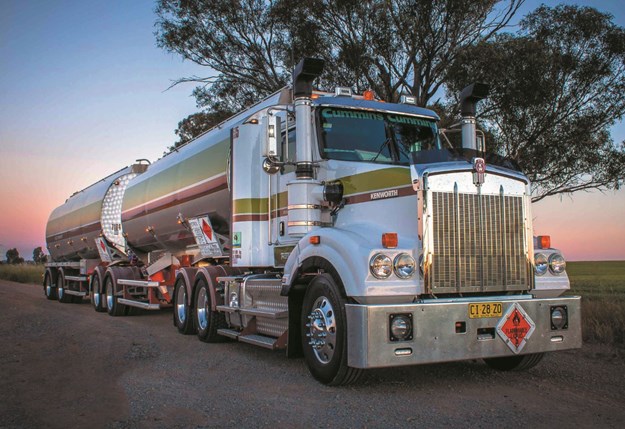 For a company to be around for a century, and for customers and staff to stay loyal for decades, it must be doing something right.
That might sound like an advertising blurb but there was genuine affection for Cummins at a recent gathering to celebrate 100 years since Clessie Cummins started experimenting with three-horsepower diesel engines in Columbus, Indiana, in early 1919.
The event was part of the Australian Trucking Association's Technology and Maintenance Conference (TMC) held last year in Melbourne.
"The Cummins engine has been very good to us over a long period of time," said Kenworth bulk haulage operator Kel Baxter, pictured below with Chris Bowerman, from Berrigan in southern NSW.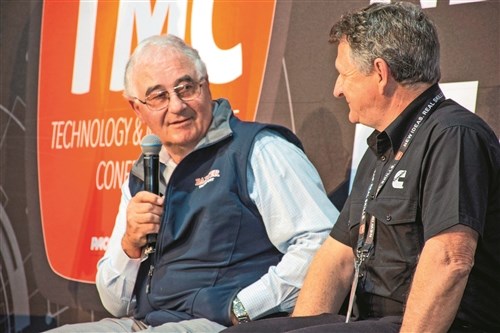 "They are so well supported … and they have got a very reliable product at the end of the day," added Baxter, who is also chair of the ATA Industry Technical Council.
After running "Pommy trucks", a VT903 was Baxter's first Cummins application in a truck, after running a Cummins-powered grader "which just went and went and went".
"They've been through ups and downs," Baxter added. "Every manufacturer has been challenged by the emissions standards and controls and most engine companies have had a problem in that area, and that's where I think Cummins' support has shown out. They go that extra mile."
Presumably that was a reference to the major dramas Cummins had with EGR (exhaust gas recirculation) emissions control a few years back.
Cummins has nearly 60,000 employees worldwide, and builds an impressive 550 15-litre engines a day.
The Australian head office is at Scoresby in south-east Melbourne. It sends out 20 engines a day from its warehouse and hosts the 24-hour call centre.
Chris Bowerman, who's in charge of the bus and coach division, started off with Cummins as an apprentice 40 years ago. He said a "giant leap" happened in the 1990s, when engines went electronic, meaning "the skill base required these days is enormous".
OEM account manager Lora Miller, pictured below, has 25 years' service up since kicking off in Perth, as does on-highway sales manager Scott Alexander, who started on the tools in Adelaide. His father, Ian, worked for Cummins for 40 years, Scott learning the ropes early by riding around with his dad on jobs in the Cummins ute.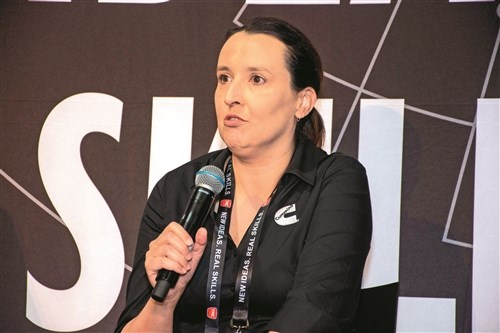 Alexander pointed out that Cummins is getting into electric and most recently hydrogen fuel cell technology, but he reckons diesel engines will still be around for a long time, especially in the linehaul market.
THE LATEST TECHNOLOGY
On that note of diesel power, the Cummins technical session at the TMC kicked off with a rundown of the field tests which have been running for nearly two years on the 15-litre Euro 6 X15 engine. It has 'Efficiency' and 'Performance' versions with similar ratings but different hardware.
Doing the explaining was Neil Husband, pictured below, who started out with Cummins UK 30 years ago and leads the engineering team for Cummins South Pacific.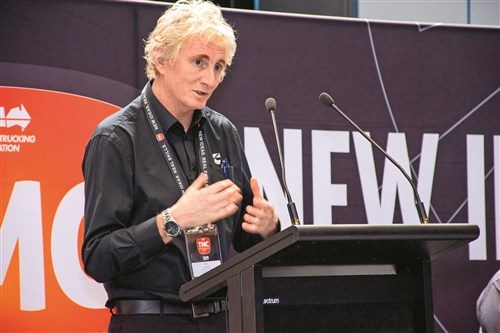 He said the tests are going well and the engine has been reliably powering trucks in North America for four years. Two dozen test trucks are in service in Australia and they have already notched up five million kilometres between them in less than two years.
Euro 6 isn't mandated in Australia yet of course, but in the Euro 6 X15 the emissions control uses SCR (selective catalytic reduction) and DPF (diesel particulate filter) but no EGR.
Husband said he expects the maintenance interval for changing the DPF to be more than 600,000 kilometres, with an oil drain target of 70,000km. He expects a typical life for the engine of 1.2 million km.
Fuel consumption in Australia is twice that of North America, where they typically carry only half the weight. But the Euro 5 X15 – introduced in 2017 – is getting up to 6 per cent better efficiency than its predecessor ISXe5; and the trials are showing better fuel efficiency in the Euro 6 versions of the X15 compared with the current Euro 5 versions.
Discussion in the session also involved newly introduced or imminent technologies, which must have seemed unimaginable to Clessie Cummins a century ago.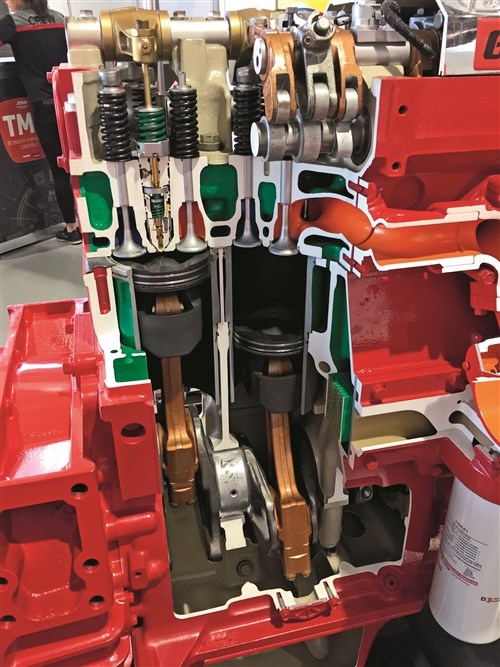 These include the downhill 'maximum vehicle speed control', which works whether the truck is in cruise control mode or not and whether the engine brake switch is on or not. It will be released next year on both Euro 5 and Euro 6 products.
Then there is such wizardry as connected diagnostics using telematics; predictive cruise control using GPS and pre-programmed maps; 'SmartTorque2' to maintain road speed while eliminating unnecessary downshifts; 'SmartCoast' to idle the engine and therefore save fuel downhill; and the list goes on.
CUMMINS SCHOLARSHIP WINNERS
It's hard to imagine a century ago that any truck engine builder would have female apprentices.
Back then, even diesel was a fairly new thing, with petrol – or as the Americans call it, gasoline – being the dominant truck fuel.
Fast forward to 2019 and Cummins TMC scholarship winner Renee Gibson doesn't even call herself a diesel mechanic.
"Definitely technician is a good way to word it," says Gibson, who works for Volvo Commercial Vehicles at Prestons in southern Sydney.
"We're not just mechanics anymore. We're moving forward with technology these days, so it's not just as simple as the mechanical side of it."
---
More on Cummins' centenary at the Brisbane Truck Show, here
---
Gibson says she's always had a passion for trucks, growing up around them with a lot of family members running farms. "It was very motivational, seeing them getting their hands dirty."
Gibson said the best parts of the TMC was networking and making connections for future learning, and seeing how people can come together to try and resolve problems.
She was one of three young mechanic/technicians who scored return airfares and accommodation to attend the TMC.
The other two were Kale Marsh, of Richers Transport in Maryborough, Queensland (who also grew up around trucks on a farm); and Cameron Pevitt, from Midfield Meat Transport at Warrnambool, Victoria, who grew up with a passion for cars.
Both young men work on Cummins engines in Kenworths.
Cummins itself is hiring nearly 50 new apprentices to start next year at 35 locations across Australia and New Zealand.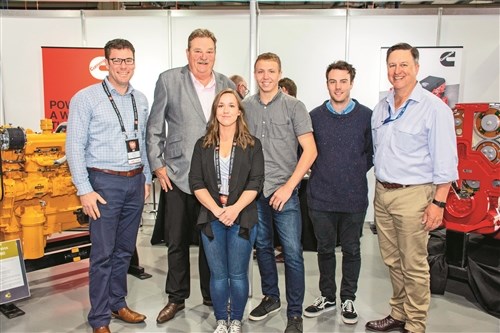 Apprentices and their supporters (left to right) – Cummins' Scott Alexander, session host Geoff Cox, Renee Gibson, Kale Marsh, Cameron Pevitt and ATA CEO Ben Maguire. 
Subscribe to our newsletter
Sign up to receive the ATN e-newsletter, digital magazine and other offers we choose to share with you straight to your inbox
You can also follow our updates by joining our LinkedIn group or liking us on Facebook. 

Trucks For Hire | Forklifts For Hire | Cranes For Hire | Generators For Hire | Transportable Buildings For Hire