Iveco unveils new Stralis X-Way range
---
Under the banner of 'made in Australia', Iveco has launched its new Euro 6-rated Stralis X-Way range
In front of a packed Melbourne Convention and Exhibition Centre auditorium on October 9, Iveco Trucks Australia lifted the lid on its new Stralis-X-Way range of prime movers and rigids.
Among the audience were current and prospective Iveco customers, as well as special guests including State Member for Dandenong Gabrielle Williams, V8 Supercar drier Jamie Whincup, and Australian rock music legend Daryl Braithwaite.
During the evening, Iveco also offered a sneak peek of its next generation Euro 6-rated ACCO.
Iveco's Cursor 9, 11 and 13 common rail engines will power the new Stralis models, with outputs ranging from 310hp (231kW) and 1300Nm for the entry level Cursor 9 to 510hp (380kW) and 2300Nm for the Cursor 13.
The Cursor 11 and 13 engines come with a new turbocharger boasting immediate response at low engine speeds and superior engine braking.w
The range comprises the 6x4 AD/AT and 6x4 AS prime mover models as well as 6x4 AD/AT, 8x4 AD/AT and 8x4 AS rigids.
The prime movers feature GVMs of 25 tonnes and GCMs of 45 tonnes while the rigids range between 25 and 30 tonnes GVM and 40 to 45 tonnes GCM. Iveco says higher GCMs are available across all models on application.
All prime mover are equipped with rear 8 bag electronically controlled air suspension (ECAS) and front parabolic springs. Iveco states that rigid variants use the same rear suspension plus there's front ECAS suspension on the 8x4 models. The 6x4 AD/AT has a mechanical rear suspension option and standard front parabolic.
Cabin options include a Day, Sleeper and 'Active Space Sleeper' for prime movers and rigid models while wheelbase options are 3900 and 4200mm for the prime movers and 5720, 5800, 6300 and 6500mm depending on the rigid model selected.
The Stralis X-Way range will be built in Australia at Iveco's Dandenong manufacturing facility alongside current generation Euro 5 Stralis AS-L models, the ACCO and the Delta and Graduate bus chassis.
Iveco says the new models have undergone extensive on-road testing in Australia and in Europe over a three-year period with outstanding results.
Common upgrades across the engine family include new rings and re-profiled pistons with lower tangential load to reduce engine friction. The engines also feature new high-pressure (up to 2200 bar) fuel injectors.
Iveco states that Euro 6 emission levels are achieved through the use of Iveco's unique Hi-eSCR system which featured in the latest Eurocargo model which was launched in Australia last year.
Iveco points out that Hi-eSCR is a single after-treatment system featuring passive DPF (diesel particulate filter), the DPF regeneration not requiring driver intervention.
Its new HiTroniX automated transmission is a 12-speed, direct drive unit which Iveco says delivers fast gear changes, complementing the new engine range.
According to Iveco, the HiTroniX can achieve an extended life (up to 80 per cent), compared to other AMTs, for durability of up to 1.6 million km as well as delivering more efficient vehicle performance. In addition, the HitroniX is equipped with 'Rocking' and 'Creeping' modes as well as four reverse gears.
Iveco explains that when Rocking mode is engaged, the clutch is disengaged by simply releasing the accelerator pedal (the vehicle rolls back) and re-engages when the accelerator is pressed again, in order to recover traction in slippery conditions.
With Creeping mode, the vehicle moves forward at minimum speed simply by releasing the service brake pedal – this is a useful feature allowing for precise, low speed maneuvering.
---
Read the Iveco medium-duty Eurocargo Euro 6 review, here
---
The Stralis X-Way models also come with many of the Euro 6 Eurocargo's safety features. Standard on all prime mover and rigid models is an electronic braking system (EBS) with brake assistance system (BAS), electronic stability program (ESP), hill holder, adaptive cruise control (ACC), advanced emergency braking system (AEBS) and LED daytime running lights.
Prime mover models also feature a standard extended catwalk allowing for safer access to the back of cabin area to connect air hoses or conduct maintenance.
"The addition of a Euro 6 8x4 at 460hp (336kW) with extensive safety equipment will see Iveco build sales in general freight applications, as will a smaller Euro 6 6x4 rigid at 360hp," Iveco Australia and New Zealand product manager Marco Quaranta says.
"We also see the revised model mix doing well in single trailer applications as well as in vocational work.
"More broadly, the combination of cleaner, more efficient Euro 6-rated engines, the clever new HitroniX transmission and a full suite of advanced safety equipment, will appeal to government fleets and safety and environmentally conscious companies."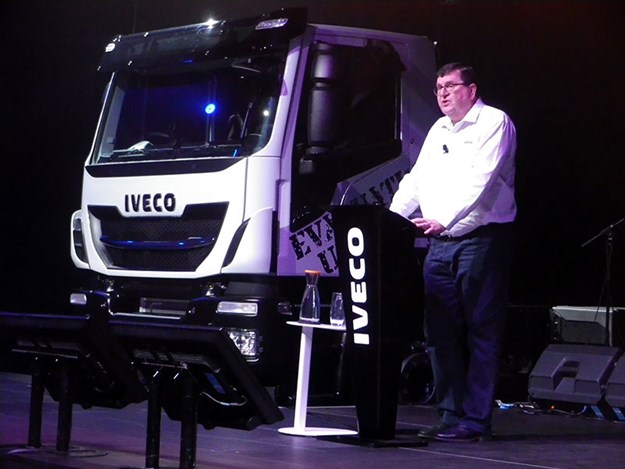 Iveco Australia business director Bruce Healy introduces the next generation ACCO. Photo by Greg Bush
Although the long-awaited new ACCO shared the stage with the Stralis X-Way range at the launch, Iveco says it will be conducting "real-world" trials with selected customers before it hits the market.
However, what is confirmed is that it will be available in 6x4 and 8x4 configurations, equipped with Iveco front axles, tapered two-leaf parabolic suspension and rear Iveco 8 bag electronically controlled air suspension with Meritor tandem drive axles featuring Active Traction Control and driver controlled diff locks.
Iveco Australia business director Bruce Healy says replacing a transport legend is no mean feat.
"Extensive local development has been undertaken in preparation for the next chapter of the ACCO's product life.
"In developing the new ACCO, Iveco has combined many of the much-loved attributes of the previous model with cutting-edge technology borrowed from the Stralis X-Way platform – it's been a joint effort between our local engineering department and the design team at Iveco's European headquarters," Healy says.
The new ACCOs will feature SCR Euro 6, Cursor 9 engines with between 310 and 360hp and 1300 and 1650Nm of torque with emission control handled via Iveco's Hi-eSCR system. The engines will be matched to the Allison Generation Five 3200 Series, 6-speed full automatic transmission.
Subscribe to our newsletter
Sign up to receive the ATN e-newsletter, digital magazine and other offers we choose to share with you straight to your inbox
You can also follow our updates by joining our LinkedIn group or liking us on Facebook. 

Trucks For Hire | Forklifts For Hire | Cranes For Hire | Generators For Hire | Transportable Buildings For Hire