Forklift Review: Crown C5
---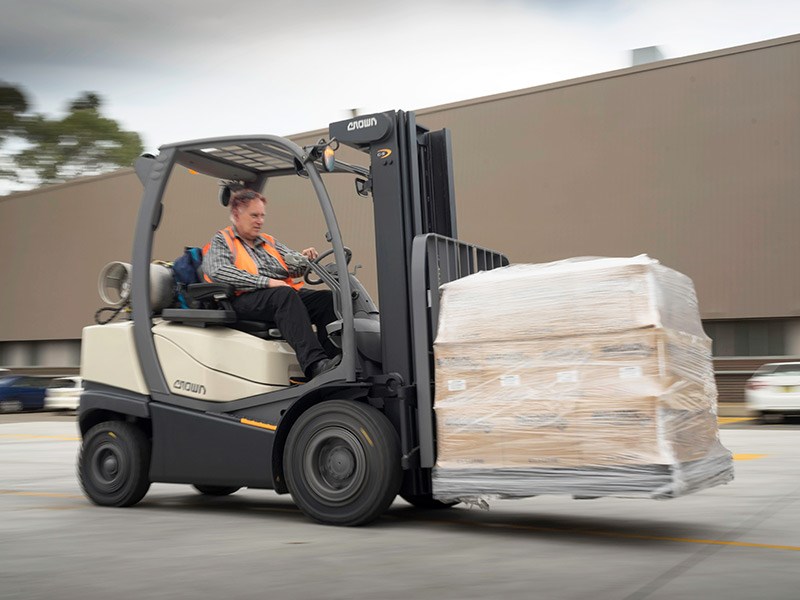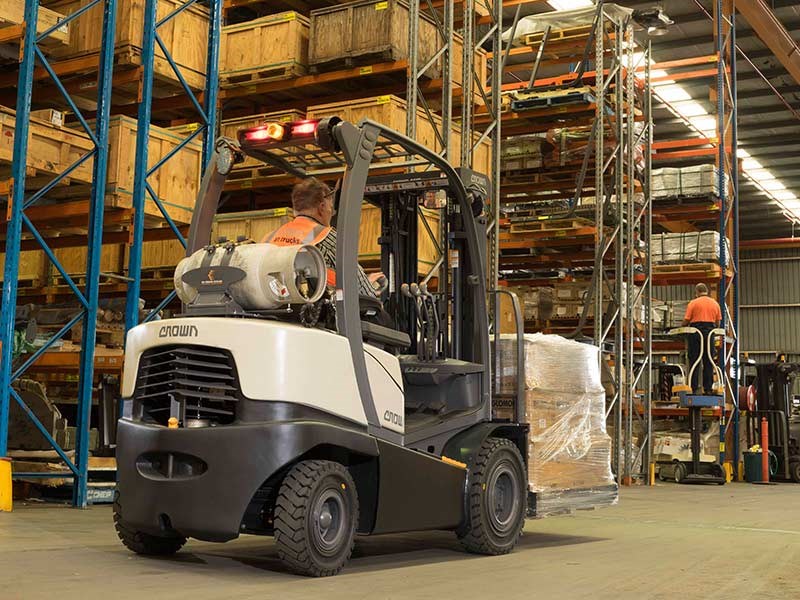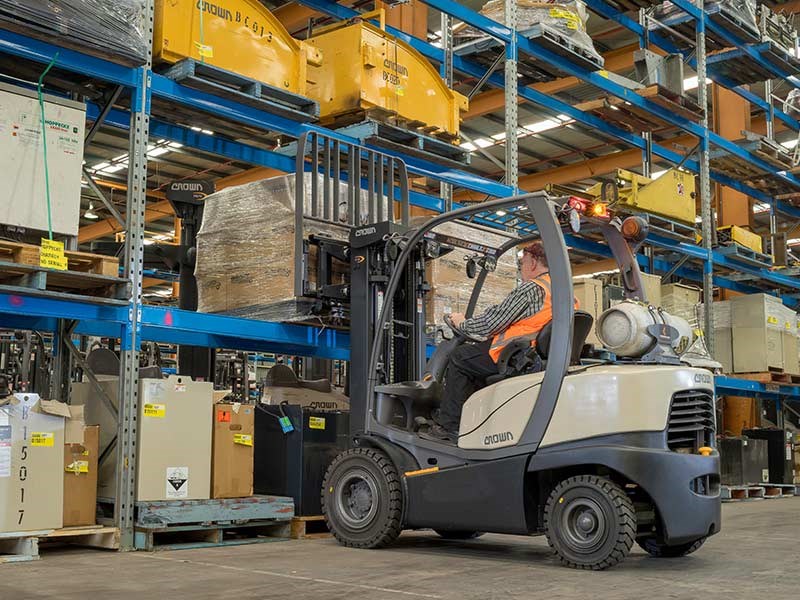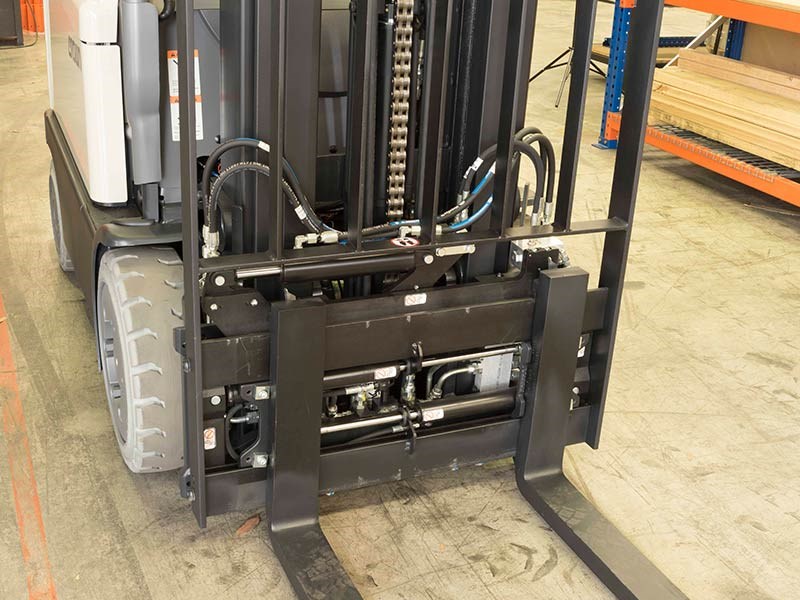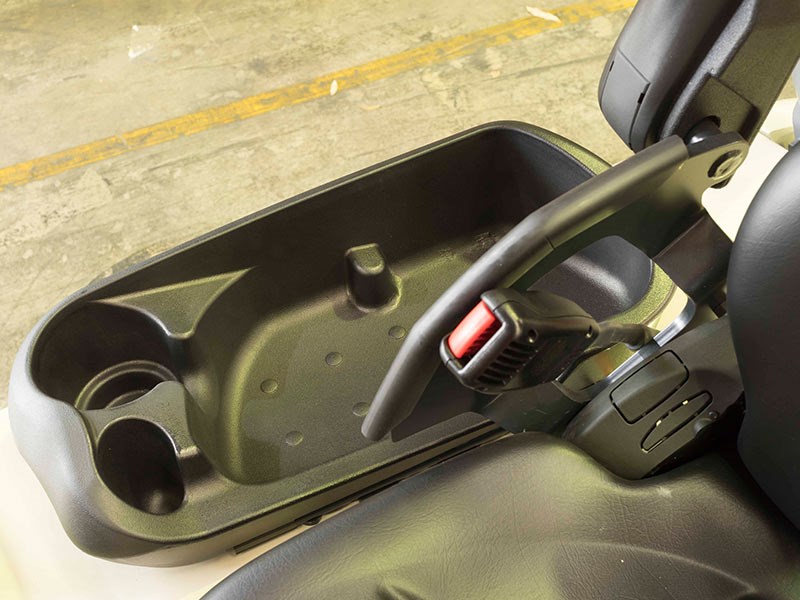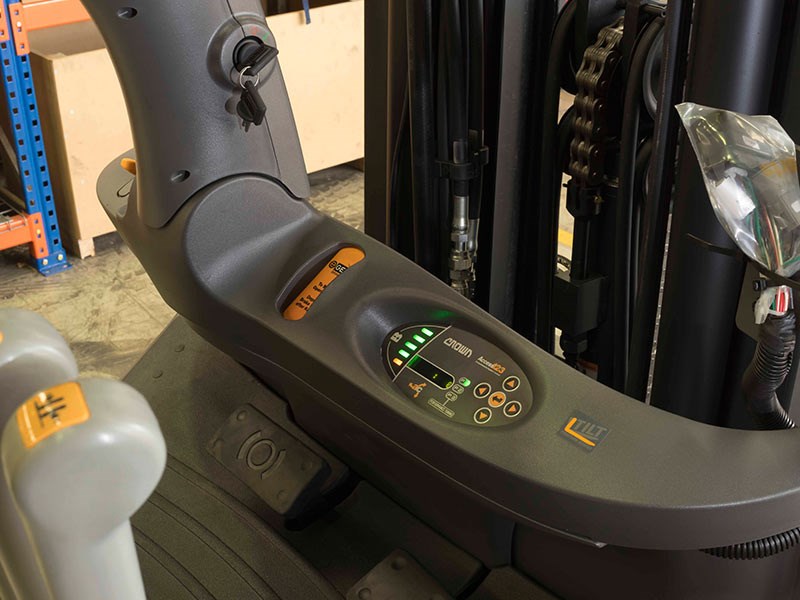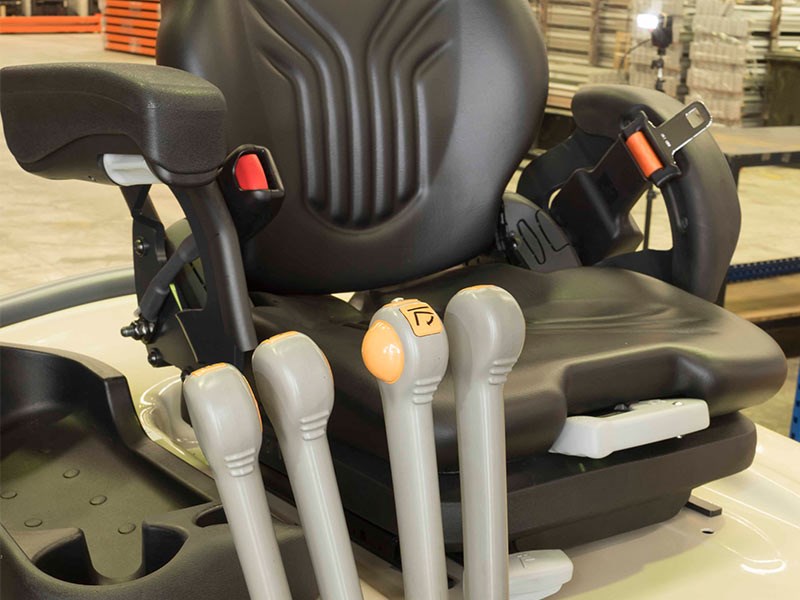 Putting the Crown C5 forklift to the test, we see whether there's a future for small IC trucks
IC trucks are great for multiple shifts when there's just not enough time to swap a battery pack. And they have way more torque for climbing ramps laden compared to battery trucks.
But Crown has taken IC truck development to the next level. Its torquey cast iron John Deere engine (officially designated JD-designed as Crown manufactures the engine) is built to survive the rigours of working in temperature extremes and it has features I've never seen before in a small IC truck.
For example, most IC trucks have a solid-coupled radiator fan that blows air through the radiator and out the back of the truck. Not so the C5.
Every time the engine is started the electric cooling fan sucks air in through the radiator to clear it of debris and blow dust away from the engine. The fan runs in this mode for 20 seconds then reverses flow so cooling air is blown back over the radiator. But only when the engine approaches normal operating temperature.
So that in cooler climates the fan only comes on when needed to reduce coolant temperature, saving fuel as it's not running all the time. A separate radiator (within the same housing) is fitted to cool the transmission fluid.
Known as "on demand cooling" the concept is so logical it makes you wonder why it isn't common place in all IC trucks.
Another feature is the Crown Power Brake. Instead of conventional drum brakes larger C5 models have full circle friction disks on the traction wheels that are designed to last up to 10,000 hours. The brakes are fully enclosed to virtually eliminate any dust and debris from entering them, reducing maintenance costs.
The US-made C5 range has load capacities from 1,800 to 3,000kg with lift heights from 2,060 to 6,100mm. Quad models (four traction wheels) have lift heights to 7,500mm.
As with Crown's FC 5200 battery trucks (reviewed here) there's provision for hitching up a small trailer.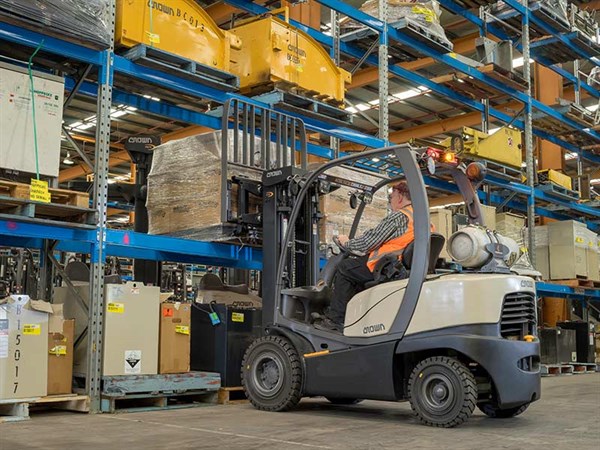 Engine and features
Crown was very clever in using the 2440cc JD 4024 industrial engine. This is available in naturally aspirated or turbocharged diesel versions or as gas or petrol engines.
I first tested a 4024 as a turbocharged diesel in a steel trawler yacht for Trade A Boat magazine. The engine had a relatively low (for an indirect injection diesel) compression ratio of 19.1:1 and unusually had hydraulic lifters, eliminating the need for valve clearance adjustments.
This well balanced engine developed 49.2 kW at 2,800rpm and an impressive 221 Newton Metres of torque at 1,600rpm.
It started instantly, didn't blow any black smoke and was remarkably smooth-running for a reasonably large displacement four cylinder diesel. This shows just how flexible the 4024 engine is regardless of whether it runs on distillate, LPG or petrol.
With its twin harmonic balance shafts gear-driven from the crankshaft the gas version is even smoother running. Though not mentioned in the engine brochure I'd imagine the gas version would also have hydraulic lifters.
Like the diesel the gas version has a gear driven camshaft that actuates the valve rockers via push rods, way more reliable than even a chain-driven camshaft. Unusually the spark plugs are mounted in the top of the rocker cover and each plug has its own ignition coil.
To the right of the engine is an easily-reached sump oil dipstick and the starter battery next to it for quick replacement if needed.
The engine has a counterflow or non-cross flow cylinder head so the exhaust manifold is beneath the gas mixing intake manifold.
There is a 70 amp/hour alternator at the back of the engine, driven by a self-adjusting serpentine belt that also drives the cooling water pump.
To the right of this is the coolant overflow tank.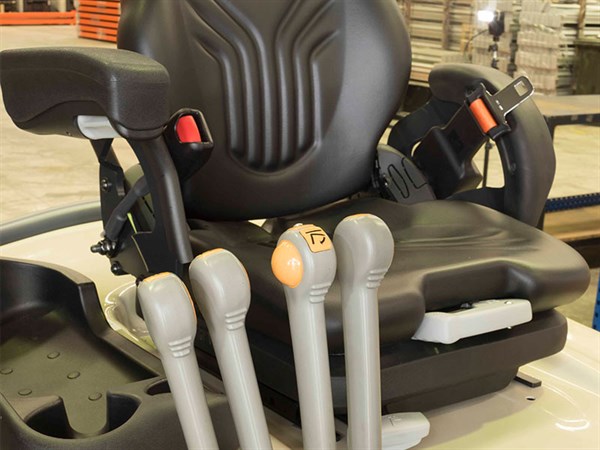 The air intake is high up in the right rear roof support and air is directed down to the large air cleaner, which appears to be cyclonic as there is a vacuator at the forward end for cleaning out any dust removed by the cyclonic action.
Side panels quickly remove to access more of the engine and related components such as the oil filter, while the floor panel unclips to access the transmission and the fluid filter.
The hydraulic pump for lift/lower and steering is gear-driven from the crankshaft. The oil and filter change interval for the engine is an impressive 1,000 hours
With cast iron used for the engine and transmission and differential housings the entire power train is designed to last 20,000 hours.
The factory warranty is 6,000 hours or three years for the frame, power train and Power Brakes and 4,000 hours or two years for the radiator and severe duty battery.
Performance
So good to get back to an IC truck.
I do love battery trucks for indoor work but I have to admit the C5 made me re-think that belief. The combination of a torquey and incredibly well balanced engine and a responsive transmission make indoors or outside tasks a pleasure.
Turning the ignition key fires up the engine after a few seconds and it settles down to an almost totally vibration free idle. With the engine cover raised, touching the rocker cover while the engine was running resulted in a slight tremor through my fingers but nothing more.
The gas engine was even smoother than the diesel. There was no smoke or even a gas smell on starting and the reverse cooling fan flow each time was so clever.
Once the 20 seconds were up the fan just cut out as the engine warmed and only came on when I was working the truck up and down Crown's Sydney warehouse floors or raising the 1.3 tonne pallet of engine oil we had as a test load.
Climbing up to the seating position was no sweat though the optional grab handle on the left front roof support would have been nice.
The suspension seat with adjustable lumbar support was incredibly comfortable, even for a porker like me. Once settled in I could adjust the tilt of the steering column and quickly familiarise myself with the conventional three lever controls for lift/lower, mast rake and fork tyne side shift.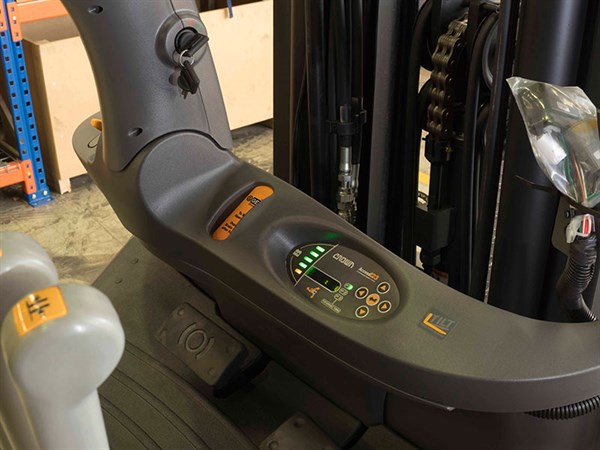 Vision through the mast was very good and for older operators used to conventional control layouts the C5 would make them feel right at home. No fancy joystick controls here, just the incredible precision possible from long-travel levers.  
The demo C5 had a load capacity of 2.7 tonnes and lift height of 4570 mm. But even with the pallet fully raised the truck was stable. Without the accelerator depressed the lift speed was impressive and the engine barely bogged down raising the pallet.
Of course depressing the accelerator pedal slightly did increase lift speed but this isn't necessary unless someone is holding a stopwatch to your performance.
The well-balanced engine put hardly any vibration through the seat and exhaust noise levels were lower than I remember with most open IC trucks. Acceleration was good though not quite as quick as the twin traction-motor battery Crown FC 5200 series.
Still with a top unladen speed of 17.7 km/h the C5 is no slouch and touching on top speed in a quiet corner of Crown's Sydney warehouse I could start to feel the wind in my hair. Though like the FC 5200 I just couldn't get the traction wheels to spin from a standing start.
The electrically-operated park brake was quickly released and once forward or reverse were selected there was the usual "creep" eliminating the need for using the inching pedal unless on a slope.
Crown's 'Hill Hold' feature holds the truck on a slope when the transmission is in gear, without having to use the brake pedal. A very handy safety feature.
The large brake pedal was way easier to use than a conventional small-width pad and handy for quick stopping without thinking about.
When needed the friction disk brakes were very effective and at low speeds could virtually stop the truck instantly. And being disk instead of drum the brakes would remain effective when working outside a warehouse in the rain.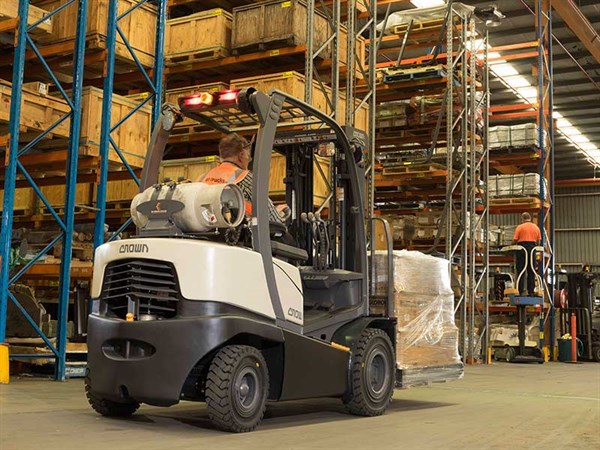 Verdict
Crown has shown that there's very much a future for small IC trucks.
The amount of design and development work is amazing for such a small truck, not bad considering that over its 50 years plus of forklift truck manufacturing it has concentrated mainly on battery trucks.
The standard of engineering in the John Deere 4024 brings tears to my eyes for an old fart like me.
It's simple, logical and virtually unbreakable and reflects the effort Crown has put into the C5. Bring on more of the same...
For more information on the C5 contact Crown Customer Support on 1300 072 572.
Specifications (Crown C5 1000-60)
Maximum load: 2,700KG
Load centre: 600mm
Maximum lift height: 4,570mm
Free lift: 818mm (including 914 mm backrest)
Mast rake (forward/back): 5/5 degrees
Fork length: 1,067mm
Fork spread: 940mm standard
Lifting speed (laden/unladen): 0.65/0.66 metres/second
Lowering speed (laden/unladen): 0.46/0.47 m/s
Minimum turning radius: 2,154mm
Wheelbase: 1,420mm
Length to fork face: 2,461mm
Overall width: 1,138mm
Ground clearance: 124mm (centre of wheelbase)
Tyres traction (load): 533 x 203 x 381mm (2)
Tyres rear: 457 x 152 x 308mm (2)
Travel speed (laden/unladen): 17.5/17.7 km/h
Grade ability (laden/unladen): 16.1/24.1 percent
Service weight: 4,832 KG
Draw bar pull: 1,977 KG
Engine: 4 cylinder LPG
Maximum output: 44 kW at 2800 rpm
Maximum torque: 170 NM at 1400 rpm
Transmission: Powershift
Number of speeds (forward/reverse): 1/1
Subscribe to our newsletter
Sign up to receive the ATN e-newsletter, digital magazine and other offers we choose to share with you straight to your inbox
You can also follow our updates by joining our LinkedIn group or liking us on Facebook. 

Trucks For Hire | Forklifts For Hire | Cranes For Hire | Generators For Hire | Transportable Buildings For Hire