A-double delight for Tyquin tipper fleet
---
Despite troubled beginnings, S. & S. Tyquin Bulk Haulage continues to see the benefits of PBS trailers
Victorian tipper operator Steve Tyquin takes great pride in all his gear but perhaps none more than a new A-double combination operating under Performance-Based Standards (PBS).
From any angle it's an impressive outfit and Steve is obviously convinced of the potential for big benefits but after almost a decade of complying with PBS requirements for truck and dog trailer applications, and enjoying the commercial advantages it provides, he wonders why the process continues to be so frustrating.
The founding principal of S. & S. Tyquin Bulk Haulage, Steve splits his time between a home office in Keilor East on Melbourne's north-western fringe and a truck depot on 12 hectares of rural property little more than a stone's throw off the Calder Highway near Sunbury.
There are 12 trucks in the business ranging from water trucks and a couple of Isuzu 4x2 rigid tippers through to a Kenworth T359 eight-wheeler and a mix of Kenworth T909 and K200 body trucks hooked to three and four-axle dog trailers, plus a pair of K200 prime movers towing semi-tipper combinations.
It is, without exception, one of the best presented tipper fleets you're likely to find anywhere.
The latest member of the Tyquin team is a new K200 'Big Cab' hauling the equally new Hercules A-double tipper set, believed to be the first A-double combination to operate within the 26m overall length limit of B-doubles.
His first introduction to PBS came in 2007 and he concedes it was the threat of encroaching competition that first influenced him to give serious thought to combinations working under Performance-Based Standards.
At that point he was largely running 19m truck and quad dog combinations grossing up to 50.5 tonnes. However, the prospect of PBS compliance providing a jump on the competition by allowing a gross weight of 57.5 tonnes on the same number of axles arranged within an overall length of 20m was too good to ignore.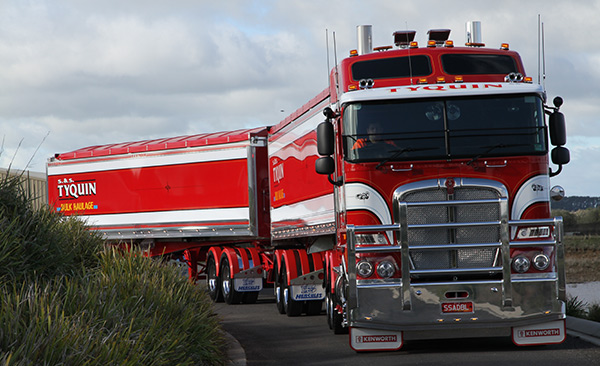 Presentation is everything and Steve Tyquin's A-double reflects the high standards of all his equipment.
However, the timing for his first foray into PBS wasn't perfect. In 2007 PBS was in its infancy, with compliance sure to demand any number of bureaucratic checks and balances. What's more, the Global Financial Crisis had kicked in and any investment had to be carefully considered.
Still, the potential benefits ultimately drove him headfirst into the cost and confusion of the PBS process, singlehandedly working his way through the seemingly endless hoops and hurdles of VicRoads and the National Transport Commission.
"It was a bloody stressful nightmare," he says with cold conviction. "The costs were scary and the whole process was daunting to say the least."
"It was bloody ridiculous," he said sharply.
Still, the commercial attributes of a truck and quad dog combination able to carry seven tonnes more payload were quickly realised when his first unit finally started work in early 2008. The costs of compliance were recouped in a matter of months, he asserts.
In fact, so prompt was the payback that 12 months later he went through the whole PBS process again, admittedly a tad wiser, to put an identical unit on the road.
Today, PBS is the norm for all his front-line truck and trailer combinations.
"The process is a still a pain in the arse but for what we do, PBS pays off," a resolute Steve Tyquin confirms.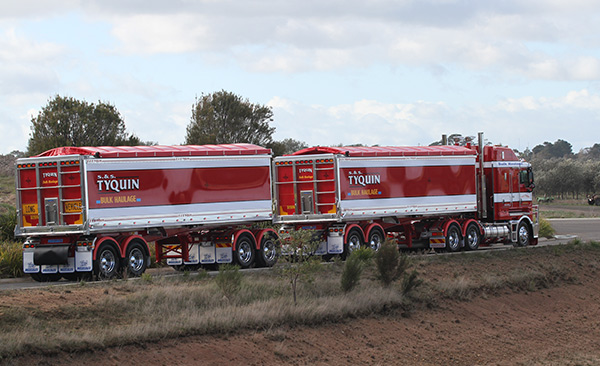 With an overall length of 25.8m, the Tyquin A-double is the first of its type to have access to B-double routes.
As for development of the A-double, he says it all started over a dinner with leading compliance engineer Ken Cowell and Hercules Engineering sales manager Kevin Wright.
The conversation revolved around a combination able to deliver inherently high levels of manoeuvrability, operational flexibility, and of course, maximum payload potential.
It was eventually concluded that an A-double built within an overall length of 26m would satisfy all requirements, including access to the B-double road network.
Four months passed from the time of the initial design through to the PBS application and assessment process, build time for the truck and trailers, and final certification and approval. Then, just when everything appeared ready for the A-double to start work, there was a delay in receiving the final road access permit from the National Heavy Vehicle Regulator (NHVR).
Despite the frustrations and setbacks, Steve concedes that productivity stands as the key to the combination's commercial merit, with gross weights up to 74.5 tonnes delivering close to a 50 tonnes payload.
"There's nothing to complain about as far as earning capacity goes," Steve says earnestly.
As he candidly states: "There's no way I would've invested so much on this combination if I wasn't absolutely sure of a good payback."
Read the full feature on S. & S. Tyquin Bulk Haulage and its relationship with Hercules Engineering in an upcoming issue of ATN.
Subscribe to our newsletter
Sign up to receive the ATN e-newsletter, digital magazine and other offers we choose to share with you straight to your inbox
You can also follow our updates by joining our LinkedIn group or liking us on Facebook. 

Trucks For Hire | Forklifts For Hire | Cranes For Hire | Generators For Hire | Transportable Buildings For Hire