Evolving technology in transport and logistics
---
New products and applications keep rolling in as transport and distribution IT gets more sophisticated
Technology and its accompanying software are playing an increased role in day-to-day operations of transport and logistics companies, from drivers to office staff.
But the directions of these developments are as diverse as the problems they are hoping to solve.
Trimble
The Brisbane Truck Show marked a milestone for Trimble with the launch of Truck4U and Fleet XPS on-board fleet management units.
Designed to allow transport operators the flexibility to deploy telematics solutions for long-haul, short-haul, pick-up and delivery, recurring runs or subcontractors, Truck4U is a fixed fleet management unit, while Fleet XPS is a mobile unit that connects to the Truck4U unit to facilitate driver interaction.
The fixed unit offers vehicle tracking, panic alerts, accident reconstruction, engine management, automatic trailer identification and multiple sensor support, while Fleet XPS adds a barcode scanner and camera to the mix.
The portable unit also has a series of software extras, boasting messaging, navigation with speed warnings, hands-free phone, electronic logbook, vehicle checks, fatigue management with warnings and driver history, and driver scorecards.
Alongside integrating its solutions across a number of fleets, Tom Debeule, business development manager at Trimble says the company's next 12 months includes expanding flexibility and on-demand bespoke reporting to further aid decisions made by operators.
"The integration of these solutions will enable transport and logistics service providers to make quick decisions for adaptations and changes when the transport industry market requires them," Debeule says.
"Trimble is also focused on further integrating its solutions with local technology providers both on the hardware and software level."
Longer term, Debeule foresees the next breakthrough to be an interconnected transport environment, where solutions can speak with each other.
"At the moment, we are seeing software and technology like weight scales, refrigeration and sensors incorporated into fleets but the challenge remains in how they can be integrated so they communicate with each other and to the back-office software," he says.
This need for adaptability is already being addressed by Trimble, which thinks its modular solutions will be able to cope with changing legislations and regulations and the needs of its customers.
Optalert
Optalert is targeting drowsy drivers not just in the transport industry but across the full range of road users.
The previous 12 months has seen it expand its early-warning drowsiness detection system to include the eagle Portable, a mobile application that suits fleets with rotating drivers.
Optalert's solution is based on the wireless connectivity between its glasses and eagle systems.
The specially designed glasses monitor a driver's eye and eyelid movements via infrared and alerts drivers to the early signs of fatigue through the eagle systems.
Like the larger, fixed eagle Industrial, the new mobile application displays the driver's drowsiness in an easy-to-understand number rating, which is based on the Johns Drowsiness Scale (JDS).
CEO Scott Coles says the solution is the first of its kind to be designed for a professional mobile workforce.
"We recognised a gap in the market for a smaller fatigue-detection product, which needed no installation time and could be transferable between vehicles, and hence the idea of eagle Portable was born," Coles says.
"We want to help companies make their workforce safe while on and off the job, and the ability to transfer this product easily between vehicles means their workforce can be safe while at work and on the way to and from."
The future of driver fatigue surrounds vehicle-to-vehicle and vehicle-to-infrastructure (V2X) technology, Coles says, which allows a car or truck to communicate with each other and roadway infrastructure, such as traffic signals.
"We are also looking at the exciting area of drowsy driver danger zones or fatigue black spots," he adds.
"We are in the fortunate position of having large volumes of data, which we have been overlaying onto geographical maps to determine driver danger zones.
"In the future, we envisage drivers will be given warnings on fatigued drivers with whom they are sharing the road to make travel so much safer."
Transtech
Transtech has had a big 12 months, culminating in news that its in-vehicle units (IVUs) are the first to get the Transport Certification Australia (TCA) tick in the type-approval process for telematics providers.
TCA guidelines seek to provide transport operators with an informed purchasing choice and require products to meet a minimum standard of reliability, accuracy, integrity and security.
Designed with compliance in mind, Transtech's solution revolves around its NextGen subscription service that connects fleet operators with the company's 7-inch (18cm) iFace tablets in the driver's cabin.
The cloud-based portal, suitable for IAP and OBM markets, allows office staff to monitor a vehicle's speed, compliance, real-time load and mass limits, location and engine state In the last 12 months, through the NextGen portal, Transtech has expanded its offering with the addition of Easydocs, SmartJobs and Sentinel 4.
Easydocs provides an electronic storage cupboard for documents, freeing up space in the cabin and providing a location for significant numbers of permits, notices and driver handbooks.
For iFace and Android devices, Transtech has provided a job management platform in SmartJobs. The platform can be tailored to suit a fleet's operational workflow and sync with freight management systems.
Drivers receive a real-time window with delivery details, PODs, item lists and have options for barcode scanning and proof of delivery, while fleet managers can track the vehicle in action and receive real-time reports.
Transtech says the revamped Sentinel 4, a fatigue management solution for drivers, can now work offline and makes it easier to access fatigue information, set-up alerts and view detailed reports.
Aiming to aid both drivers and office staff in complying with evolving fatigue management laws between states, the solution's electronic work diary allows drivers to input work hours and receive real-time audio and visual alerts on when and how often they should be taking breaks.
Connecting with office staff over cellular networks, the solution provides operators with a driver's current and past history and implements state-to-state rules based on the vehicle's location.
Transtech CEO Andrew Rossington says the next addition for the NextGen portal will be a complete journey planning system.
"This will allow operators and their back-office staff to devise routes for their drivers that are compliant against access restrictions, trips based on geofences or safe driving plans that take driver's fatigue and travel times into account," Rossington says.
Transtech's CEO foresees the industry's future revolving around the driver, a scene where drivers can make informed and concise on-road decisions thanks to the provision of real-time information.
"We believe the future is leading towards a driver centric world; a holistic view to empower drivers, increase safety and make it simpler than ever to comply," Rossington says.
"Transtech is moving toward a singular in-cab view for drivers that will blend information including route compliance, fatigue, mass and job data into an all-inclusive solution.
"It will amalgamate critical operational, application and entity data together to provide real-time information and instant feedback as a driver's environment changes to help them make compliant and safe decisions.
"Transtech will couple this with powerful back-office tools to provide deeper visibility into operations and planning."
IFS SmartFreight
Interactive Freight Systems (IFS) SmartFreight is looking to small businesses for its Tracker4Transport parcel tracking solution.
The company says the system provides a branded, multi-carrier tracking portal that runs in real-time with electronic proof of delivery and delivered in-full, on-time (DIFOT) capabilities.
"Tracker4Transport provides smaller or new entrant transport companies, or businesses who operate their own fleet of vehicles, with a low entry cost, hosted, QR-barcode parcel tracking system without the need for costly IT infrastructure investment," IFS SmartFreight says.
The portal can share tracking event status information with customers, via an iOS or Android app, and customer service teams as parcels move through the delivery process.
"Once the driver scans the barcode, the app presents a number of event options to choose from," the company explains.
"Once selected, consignment information is updated. These events are then sent to the multi-carrier web tracking portal. The status can be tracked via the web portal or via the SmartFreight Tracker app."
IFS global channel manager Ben Woodward says its price point will make it increasingly attractive over the coming months.
"An ideal time for our customers both existing and new to capitalise of the cost savings SmartFreight multi-carrier transport management systems can provide," Woodward says.
Price and connectivity will be the message into the future for IFS SmartFreight, as the company believes its customers desire a seamless integration to and from the various IT platforms used by them.  
"IFS will continue to develop clever and easy to implement 'connectors' enabling the optimum financial returns for customers wanting to get the best from their various IT platforms," Woodward says.
In terms of the industry, Woodward thinks cloud-based technology buzz may be a little early.
"Whilst an inevitable progression, limitations to and the adoption of high-speed internet accessibility remains a challenge for many Australian businesses," he says.
"SmartFreight believes it imperative to meet all customer needs, the provision of both installed and hosted solutions is the key to ensuring adequate diversity to a marketplace as varied as IT offerings are."
Paperless Warehousing Group
Warehouse and logistics software company Paperless Warehousing Group (PWG) has released a number of updates to its warehouse management system (WMS) in the past 12 months.
For small businesses, the company has a 'WMS in the cloud' offering that clients can install at their end. Based on a monthly subscription, the web application is available in English, Spanish and simplified Chinese.
Transport operators can expand their data reach with PWG's transport management system (TMS) that brings WMS control to the truck and final delivery.
The solution can create work schedules through GPS vehicle tracking and integrates with ERP and CRM systems.
In the warehouse, the company says its new optimiser system utilises mathematical algorithms to increase efficiencies.
"Our system addresses the complexities of slotting by utilising advanced mathematical algorithms which considers a product's dimensions like weight and velocity, physical characteristics of your environment including slot configurations, pick path and material handling equipment, and operational goals like pallet building, seasonality requirements and retail groupings," PWG says.
For office staff, PWG has added the Monitoring Services module, a 24/7 application monitoring service that alerts companies to problems should they occur, and the Integration Services module, that connects ERP, accounting, CRM and Point of Sale systems with the WMS.
The Business Intelligence Tool is a real-time online dashboard reporting tool to for supply chain managers, PWG says.
"Whether you are a top level supply chain executive with the overall flow of goods from conception to customer, or a warehouse operations manager with inventory fulfilment operations, our system can be configured to track critical performance metrics and provide a user defined level of business intelligence across your supply chain," the company says.
PWG business development manager Mark Clinch says, while he cannot disclose upcoming releases, there is a growing trend for small to medium businesses to choose monthly subscription and cloud options.
"Recently we have seen a lot of movement in the online space," Clinch says.
"This will continue to grow as these retailers get smarter and also bigger."  
Fleetmatics
Born 15 years ago to identify business savings, particularly around fuel reduction and labour rates, Fleetmatics is now providing small and medium businesses with a real-time platform to observe and analyse their workforce, productivity and operations.
Fleetmatics' director of sales WORK, ANZ, Vic Masi, says the company aims to fill a void faced by many small businesses through an overarching solution that connects all business departments.
"What they are lacking … is the ability to run their business from business development to lead generation, all the way through to scheduling, dispatching and invoicing of payment from a lead-to-cash perspective," he says.
"That's the role that Fleetmatics plays."
Rather than creating a one-off for a business, Fleetmatics works as a pre-packaged, tailored solution.
Businesses outline what they need and through a sub-drop process, Fleetmatics crafts a workflow for them that runs holistically to reduce costs, boost productivity and increase customer satisfaction.
Accounting systems are able to complete compliance and management work; mobile workers connect with the office via their smartphones; and executives receive real-time alerts should those workers break company guidelines, such as speeding or venturing out of bounds.
Part of the platform, described as Job Central, provides managers with an aggregated view of all jobs going on in the business at that time and a visual representation of the status of those jobs.
In order to cover all feature bases, Masi says the solution leverages feedback from the company's 30,000 global customers and over 6,000 daily users to ensure it is ever-evolving.
"We configure the platform to the customers' requirements," Masi says.
"But as we add to the platform on a regular basis, every few weeks, we communicate and educate our customers about the additional workflow, and ways they can consume it and realise the commercial and operational benefits."
Two key areas of the evolution, Masi says, is occupational health and safety compliance, and recipient created tax invoice (RCTI) for customers with flexible workforces.
One of these is the mandated 'Job Start, Job Finish' questionnaire that workers must finish before they are allowed to complete the work, ensuring a level of quality and service.
The inclusion of photos and signatures expand the platform's repertoire to include safety site inspections.
"They could take a photo, upload that into the platform," Masi says, then "share and collaborate that with all different stakeholders no matter where they are, and then make an informed decision around the safety aspect of it, whether to continue or not".
RCTI compliance comes into play for businesses with sub-contractors, where company's need to keep and maintain service records.
"If they engage a sub-contractor, effectively they are a supplier of services to that organisation, they need to have a transaction to show the commercial relationship between them and the subcontractor and have a purchase order created for that service," Masi says.
"RCTI is a very important compliance requirement for small to medium businesses and the majority of them aren't aware of this."
The future of business management will rely on margin management, according to Masi, which would allow companies to understand the profitability, margin and the costs associated for any work they do in real-time.
He says this stems from companies being unable to understand the profitability and the business value of an opportunity until the event has concluded.
"The key tenant of margin management and the identification of that in real-time is very, very compelling for our small business customers or any customer for that matter."
"That's something we will continue to focus on."
Step further
As technology evolves, the true potential will become clearer, however one organisation is already thinking outside the square.
Telematics could shape the way roads are built into the future, with fleet data potentially holding the key to direct road authorities to areas of need.
In the wake of Roads Australia's Brisbane Freight Productivity and Safety Workshop in June, the organisation announced telematics as an empowerment tool.
"Road freight operators have a real opportunity to influence road maintenance spending priorities and productivity and safety outcomes by sharing more of the information gathered from on-board telematics systems and video cameras with asset managers and other key stakeholders," the organisation says.
"For example, the capacity of telematics systems was currently under-utilised and could be used more effectively to gather and share vehicle and driver information. 
"Other on-board tools like video cameras — currently used by a number of larger fleet operators – could provide regular and up-to-date info on road condition to road asset managers, which could then be used to help prioritise road works."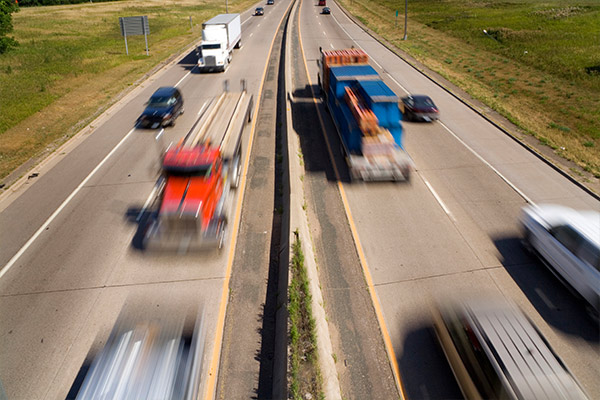 Truck Manufacturers
Telematics offerings for fleet managers are becoming standard from truck manufacturers.
While telematics companies can tailor solutions for businesses, many of the truck builders' systems are tackling fleet management issues through internet connectivity and GPS systems.
Daimler is making strides to improve its solutions straight from the factory, emphasised by Daimler Trucks North America (DTNA)'s minority investment in Zonar Systems in June, the truck maker's OEM partner for telematics and connectivity services.
Zonar and DTNA have been working together for over five years with the technology company providing factory installs of Detroit Connect's Virtual Technician in Freightliner and Western Star trucks and Thomas Built buses, an integrated remote diagnostic system for Detroit Diesel engines.
The partnership means DTNA and Zonar will co-develop new products for OEM and independent solutions, allowing for Zonar's diagnostic, safety and tracking systems to be integrated in all DTNA vehicles and even tailor solutions on a driver, route and payload basis.
Volvo is also investing in a technology company, but with a slightly different angle.
Through its Volvo Group Venture Capital subsidiary, Volvo is part of a group to invest US$16 million (A$22 million) in platoon technology company Peloton Technology, who specialises in vehicle-to-vehicle communications, crafting a solution that, it says, delivers advanced safety, fuel savings and analytical data to trucking fleets.
The Peloton Truck Platooning System electronically aligns trucks through a variety of vehicle-to-vehicle communications, radar-based active braking systems and proprietary vehicle-control algorithms, allowing trailing trucks to react to acceleration or braking of the front truck automatically.
While in communication with each other and the company's cloud-based monitoring system, the trucks can improve aerodynamics and fuel economy by reducing the distance between vehicles.
Volvo also unveiled a tracking service for transport operators in July called Positioning+, that monitors a vehicle's geographical location in real-time.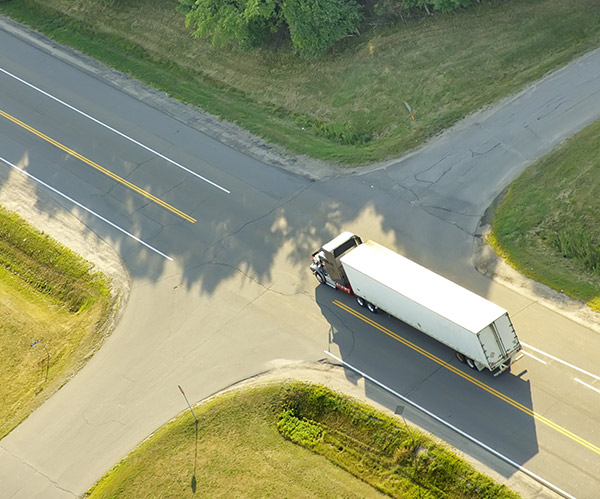 A supplement to the manufacturer's Dynafleet fleet management system, Positioning+ operates in minute increments and relays the truck's location to back-office staff.
The service, which will arrive in Australia this year, can also be tailored to alert or message staff when a truck reaches a predetermined geographical area or diverts from the planned route.
Volkswagen AG has also looked to location data in recent technology releases for its range of MAN trucks.
However, its EfficientCruise technology targets fuel economy by informing the truck of its position relative to upcoming upward or downward inclines.
By analysing 3D map data, the truck then predicts and automatically controls the speed required to maintain momentum.
"Using this system, a fully-laden 40-tonne truck can realise fuel savings of up to 6 per cent, without losing any time en route," the company says.
MAN's stable mate, Scania is using its C200 on-board 'black box' communications and telematics technology to allow for greater flexibility and precision of truck maintenance.
Rather than sticking to rigid distance- or time-based schedules, Scania is taking application and data sourced from the truck to define service timelines.
"We should use the technology on the vehicle so we don't over-service and don't underservice," Scania Australia managing director Roger McCarthy explains.
Like Scania, rival industry heavyweight Paccar is analysing truck health data, but instead of regular servicing information it has a new in-built solution for Kenworth trucks that provides engine diagnostic information to customers in real-time.
Announced in June, Kenworth Class 8 vehicles under production in the US will be fitted with TruckTech+, a solution for its Paccar MX-13 engine that alerts both the driver and fleet manager should an issue arise.
"Notifications may include keep driving, no action required; keep driving and have the fault addressed during the next service interval; head to a dealer for service; or pull over to prevent damage," Kenworth says.
"If the customer needs to take the truck in for service, the system maps out the locations of the three closest repair facilities."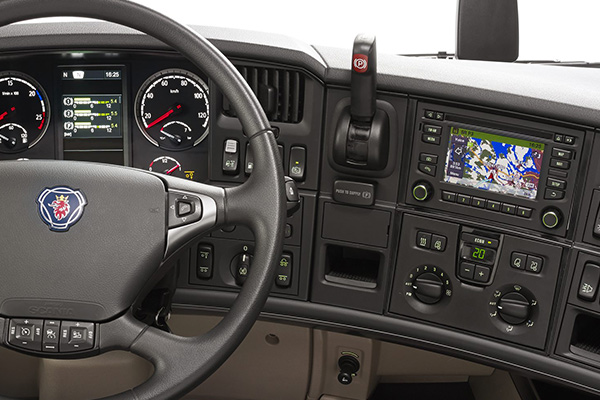 Fellow Paccar manufacturer DAF will soon have its own solution, the company says.
"DAF plans to launch its connected truck technology in the fourth quarter of this year," Paccar says.
Isuzu Australia made telematics the focus of its Brisbane Truck Show appearance, with visitors having the chance to get their hands on the Isuzu Connect and Connect Plus solutions.
Announcing the "arrival of the truly intelligent truck" last year, Isuzu Australia chief engineer Simon Humphries believes telematics is the next frontier in the trucking industry.
Isuzu telematics aims to provide real-time information to Australian fleet and transport operators by creating a link between the driver and their truck, and the rest of the team.
Isuzu Connect carries live tracking data, mechanical checks, driver monitoring, theft alert, route play back information, fleet reports from individual vehicle performance to entire fleet operations, and Geo Fence area monitoring.
Connect Plus adds a range of engine management information from fuel consumption to clutch activation data, as well as driver safety and efficiency measurements.
Isuzu says GPS satellite information is continuously sent via Telstra GSM towers to web servers, where data can be accessed by a range of team members.
Dispatchers receive real-time location data, service managers can see engine and distance data and fleet managers can see how their business is running, making it easier to identify potential future efficiency changes.
Developed with the aid of a local supplier, Isuzu Australia says it recognised "that transport operators want to work smarter and not harder by utilising technology and harnessing the benefits available from better and more informed decision making."
Isuzu Connect can provide GPS tracking and fleet management when fitted to any brand of truck, however the advanced features in Connect Plus restrict it to only Isuzu vehicles.
Subscribe to our newsletter
Sign up to receive the ATN e-newsletter, digital magazine and other offers we choose to share with you straight to your inbox
You can also follow our updates by joining our LinkedIn group or liking us on Facebook. 

Trucks For Hire | Forklifts For Hire | Cranes For Hire | Generators For Hire | Transportable Buildings For Hire