Clash of the Titans: the diesel debate
---
Fuel usage figures following the Melbourne-Brisbane return run were a provocation for some but it's time to look at the facts
It must be the smell of diesel that does it, the fumes permeating the minds of otherwise intelligent, level-headed individuals who for the most part live comfortable and content in a world of commercial reality.
Whatever it is, there is nothing like a discussion on fuel consumption to cause those same intelligent, level-headed, otherwise balanced individuals to become almost apoplectic when pre-conceived expectations and overtly optimistic notions of fuel economy fail the fact test.
Clash of the Titans proved it, with individuals in both camps (actually, three camps — Volvo, Kenworth and Cummins) making quiet yet succinct suggestions that fuel consumption wasn't quite as thrifty as they had hoped and largely expected.
The thing is, real world fuel consumption is far from an exact science simply because there are so many unpredictable and largely uncontrollable elements and variables at play.
Measuring the merits
So, let's just take a few steps back and restate a few of the raw details which formed the foundation for Clash of the Titans and most importantly, paved the platform for absolute fairness in all assessments of each truck, including fuel consumption.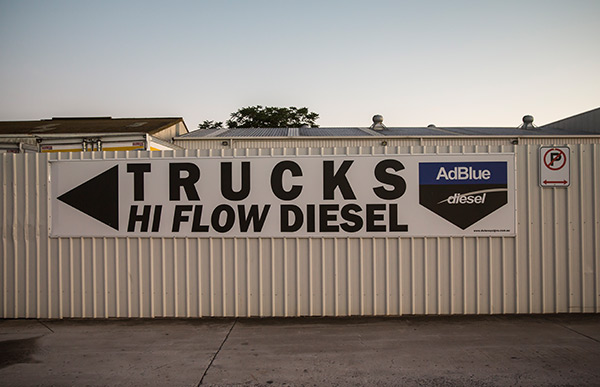 Foremost, this exercise was not about winners and losers.
As Matt Wood has said on many occasions, Clash of the Titans was from the outset designed to provide an insight into the traits and features of the two most successful cab-over brands on the Australian market which also happen to be two of the most culturally different creations in the trucking world.
Furthermore, both the Kenworth and Volvo were relatively new with low mileages, while in the interests of providing a balanced result over the five days, drivers and trailer sets were changed daily.
To further ensure an equitable appraisal, the trucks were driven in what could be fairly described as a professional, realistic manner to mirror the commercial practicality of moving freight between capital cities in a timely yet efficient manner.
Put simply, they weren't flogged but nor were we 'driving for Miss Daisy'.
It's also worth pointing out that fuel consumption was only one element in the overall equation.
Sure, it's critically important to any truck operator but again as Clash of the Titans so plainly highlighted, the reasons why buyers buy certain types of trucks are many, varied and sometimes commercially complex.
Yet arguably the most salient factor in the entire exercise and the single most prominent point in any assessment of fuel usage is that each unit ran the 3,500km 'triangle' fully loaded to 61 tonnes.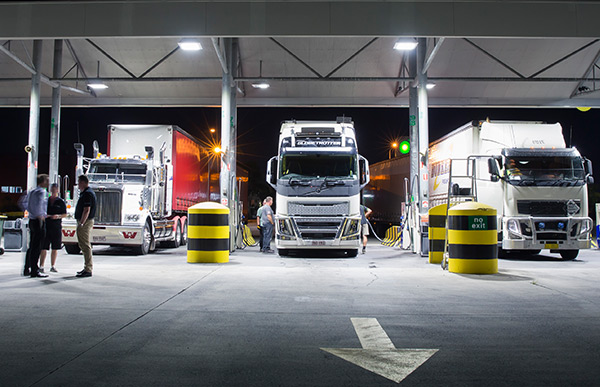 Expectations evaluated
So in the final wash-up, how do the computer-derived returns of 1.65km/litre for the Cummins-powered K200 and 1.73km/litre for the Volvo FH really rate?
Well, if you were to ask Woody or his co-driver, we'd both say: "Great!" It is, however, also worth reiterating that bowser measurements showed a difference of only 19 litres between the two trucks over the full distance.
Sure, the Volvo came out in front and much of that success can probably be attributed to the fact that the big Swede is a fully-integrated drive train whereas the Kenworth moulds the technical skills of several highly advanced entities — Kenworth, Cummins, Eaton et al.
Again, whatever the expectations of the various parties were before the event, it's difficult to understand how anyone could be disappointed with these fuel returns given the realities of running the triangle at genuinely high B-double weights.
Of course, there's nothing wrong with expectations. In fact, I had a few of my own, including the thought that with relatively new trucks running fully loaded over such a lengthy and diverse route, a fuel return of 1.5km/litre would be more than acceptable, and anything better would be exceptionally good.
Others obviously thought otherwise. I suppose it just goes to show that commercial reality and corporate expectation don't always run the same highway.
Read Steve Brook's full evaluation in the July issue of ATN. Subscribe here to get your copy.
Subscribe to our newsletter
Sign up to receive the ATN e-newsletter, digital magazine and other offers we choose to share with you straight to your inbox
You can also follow our updates by joining our LinkedIn group or liking us on Facebook. 

Trucks For Hire | Forklifts For Hire | Cranes For Hire | Generators For Hire | Transportable Buildings For Hire