Straddle carrier review: Combilift SC3 T
---
Irish materials handling manufacturer Combilift has launched an intriguing lightweight answer for container handling, the Combilift SC3 T.
Irish materials handling manufacturer has just launched the Combilift SC3 T container handler in Australia.
At first the Combilift SC3 T looks a bit ungainly and remarkably like an escaped piece of factory equipment that's made a bolt for freedom.
Much of this stems from the fact that in the past straddle carriers have been slow, ungainly, and awkward, and some were touch-and-go when it came to basic occupational health and safety (OH&S) compliance.
Combilift however, has taken the basic concept of a lightweight and lower cost container handler and run with it, and the SC3 T is the result.
The Combilift SC3 T container handler , as weird as it looks fills a gap for businesses that have limited space and hardstand, yet still need to handle containers from 20 to 48 foot (6.1 to 14.6m) in length as well as having the potential to stack two or even three high depending on specification.
Engine
A 4-litre 130hp (95.6kW) John Deere turbo diesel engine provides power to a central hydraulic pump on the SC, which in turn provides power to the hydrostatic drive wheel motors and to the lift and side shift mechanism.
Two wheels drive the machine as standard; however, a three-wheel drive option is available.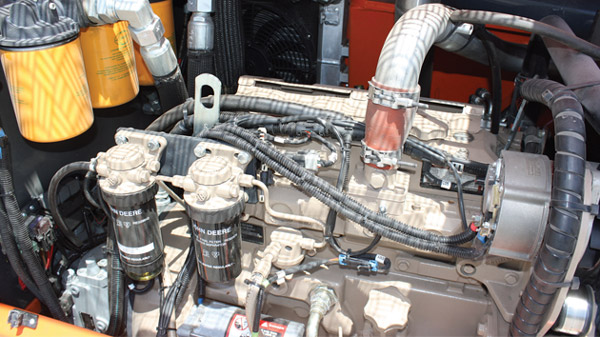 Cab and Controls
The ground level cab means driver's aren't climbing ladders and stairs to get in and out of the cab.
While this looks odd, it means trailer beds are at eye level when loading and unloading. The line of sight and the side shift function makes it easier for lining up container twist locks.
Performance
The base model SC uses a basic cable and winch set up on all four corners for lifting containers, however, local OH&S demands have led to Combilift developing the T version which is telescopic and uses a toplift frame and spreader that can be operated from the cab.
This keeps operators out of harm's way in busy manufacturing and transport environments.
Two wheel steering make the machine quite nimble, it can nearly turn on the spot swivelling on its one fixed outrigger wheel.
The addition of the toplift spreader and the ability to stack containers two high, thanks to a telescope function, really takes the straddle carrier concept to a new level.
The Combilift SC3 T that I met up with recently, was fully optioned and even with all the extra fruit it still only tipped the scales with a tare weight of 22,000kg. The machine has a working load capacity of 35,000kg, bringing the machines' gross working weight up to 57,000kg, a little more than half the weight of many container handlers when loaded.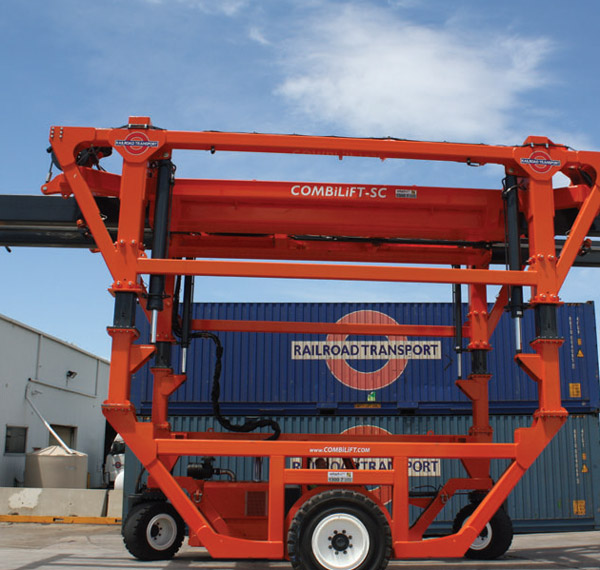 The large cushion tyres spread the machines footprint across a wide area, but the combination of hydrostatic drive and SC3's footprint, means it can easily operate on uneven and soft surfaces, and even ramps. The simple structure of the SC3 also makes it very easy to customise to specific site requirements.
This means the machine can be specified to clear doorways and factory awnings for indoor use, the machine can also tilt containers (48 degrees for a 20-footer) to make unloading of bulk product and ISO vessels quicker and safer.
While the assembly of container handling equipment on site usually requires a few trucks, and a crane or two, the SC3 fits into a 40-foot (12m) container itself. Combilift reckon the machine can be assembled in about a day.
The flexibility of the Combilift design really lends itself to a number of different applications, from transport and logistics to agricultural and manufacturing environments.
In fact, it also doubles as a mobile gantry crane when required, which only adds to its appeal.
The modular nature of the SC's construction also makes it reasonably easy to dismantle and transport to another site, if required.
Combilift claim an experienced operator in a toplift equipped SC can perform 20 container movements in an hour.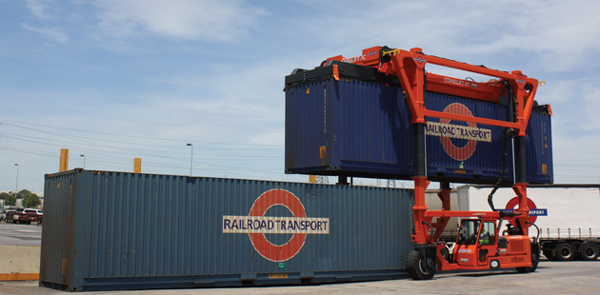 Verdict
The Combilift SC3 T container handler  is a novel approach to a materials handling task that is becoming more widespread.
For some businesses, this could save them money in swing lifter hire when containers are being transported onsite or indoors.
Many businesses could benefit from a lightweight straddle carrier that operates on surfaces that don't need substantial reinforcement. At roughly two thirds the price of a full blown reach stacker the economics of the machine look quite attractive indeed.
Combilift SC3 T container handler specs
Engine: 4-litre John Deere turbo diesel
Power: 96kW (130hp)
Drive: Two-wheel hydrostatic (3WD optional)
Length/Width: 9,148mm/4,800mm
Tare weight: 22,000kg
Capacity: 35,000kg
Subscribe to our newsletter
Sign up to receive the ATN e-newsletter, digital magazine and other offers we choose to share with you straight to your inbox
You can also follow our updates by joining our LinkedIn group or liking us on Facebook. 

Trucks For Hire | Forklifts For Hire | Cranes For Hire | Generators For Hire | Transportable Buildings For Hire