Forklift video review: Jungheinrich EFG 550S electric
---
A new machine from the masters of the stock-handling art is winning hearts and minds in warehouses around the world. Steve Kealy reports
If you're in the materials, warehousing or stock-handling industry, you'll have heard of Jungheinrich, in the same way that most have heard of Mercedes-Benz.
You might never have sat in one, but you know that they are a high-quality, hi-tech, big-ticket item that has a long pedigree, does the biz consummately and often out-lives models from rival makers.
The company began as a materials handling equipment producer but has grown to provide manufacturing logistics services too.
Here in Australia, the Jungheinrich brand is handled by NTP Forklifts, with main offices in Melbourne, Sydney, Brisbane and Adelaide. It offers more than 600 different goods-handling devices — and they're all bright yellow.
Sitting at the top of the pile is the all-new Jungheinrich EFG 550S, a machine that advances the current electric counterbalanced forklifts by a significant degree.
Engine
Now a fully-electric vehicle, the EFG 550S can lift a solid 5 tonnes and new technology gives unrivalled efficiency in terms of energy consumption and recharge rates. Launched last year in Europe, but new on the Aussie market, this machine is already being held up as a new benchmark in the industry.
Besides a high-capacity, slow-discharge, rapid-charge 80-volt battery and regenerative braking, Jungheinrich equips the new premier model with an easy-to-use battery changing system that allows for the quick and safe removal of the battery.
In tests, the makers claim the new model uses up to 20 per cent less energy than comparable rival models.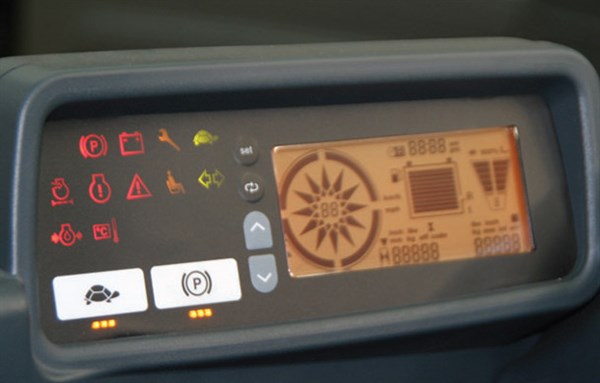 Cab and controls
Five different programs of variable travel and lift speeds from the 'Efficiency and Drive & Lift Plus' modules offer operators the means to match the truck's performance to the task at-hand; Jungheinrich will say that the new Series 5 stackers consume "as little energy as possible, yet as much as necessary".
The Jungheinrich EFG 550 also has electrically assisted steering, which changes the steering's behaviour, based on which of the five operating programs is selected. The 'Curve Control' system reduces speed automatically when a turn is initiated.
In addition, the new 'S Line' models are fitted with larger tyres and an extra heavy-duty steering axle designed for outdoor use.
Safety is boosted with an auto-engaging parking brake that works on flat and sloping surfaces and eliminates roll-backs, plus the complete shutdown of all hydraulic systems, if the operator's seat isn't occupied.
In addition, if activated, the 'Access Control' system will only permit the vehicle to be driven if a valid PIN is entered, the seat is occupied and the safety belt is engaged.
Performance
Careful design of the mast channels and hoses maximises forward view, whether the load is millimetres off the ground, or at the optional 7,180mm maximum.
With the new machine's long-shift capability, designers paid even more attention to operator comfort and safety, fitting an adjustable tilting steering column, a wide flat floor with large access steps, a full-suspension seat and floating cab and an ergonomic arm-rest with all major controls within easy reach to cut vibration and therefore, operator fatigue.
The obvious advantages of an electric unit extend beyond the emission-less motive power, near-silent operation and instant maximum torque, to the superior manoeuvrability offered by the much shorter chassis, using the battery's mass between the axles as a counterbalance weight.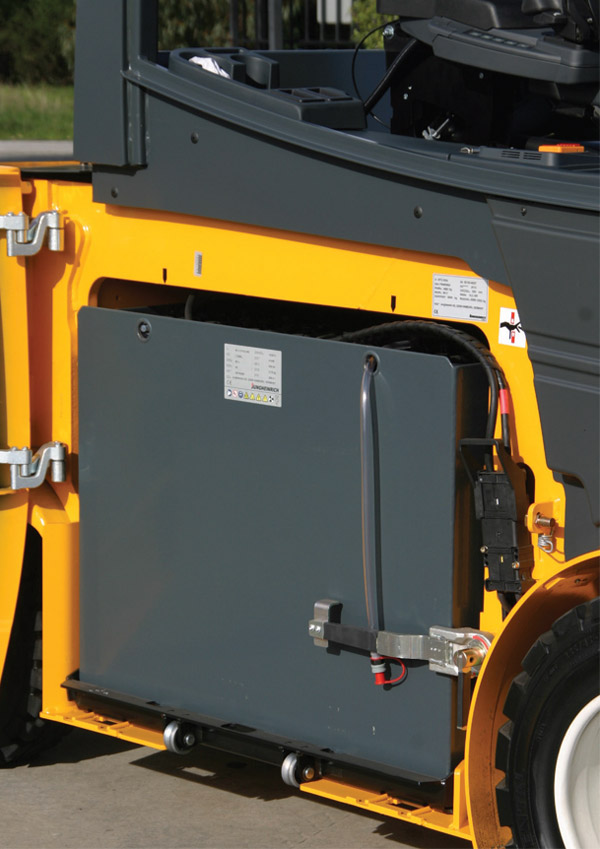 Service
Operating maintenance is kept to a minimum — besides plugging in the charger at the end of the day, there's little on the daily chore-list: the three-phase AC motors, transmission and brakes are all built into the drive axle, the machine boasts lifetime lubrication of major parts, and sealed wet disc brakes keep working, irrespective of the operating environment.
It uses SnapFit adaptors that provide a uniform battery changing system for all Jungheinrich electric counterbalance trucks, from 48V to 80V.
A standard Jungheinrich low-platform stacker can be used to remove and replace the battery if required; Jungheinrich suggests a fully-charged battery will cover two normal working shifts — and the battery will reach maximum charge in less than a third; in other words, it'll run for the day and afternoon shift and charge up fully overnight, ready for the next morning.
Verdict
Whether you're a user-chooser or a rival, there's no denying that the Jungheinrich EFG 550S model advances the art and science of electric forklifting by a significant degree and raises the bar — all the way up to 7.180m.
SPECIFICATIONS
Make/model: Jungheinrich EFG 550S
Length: Fork Face: 2,830mm
Height: Top of overhead guard: 2,320mm
Width: 1,450mm
Weight: 5,707kg
Wheelbase: 2,000mm
Ground Clearance: Lowest Point at Mast: 115mm; Centre of Wheelbase: 160mm
Turning Radius: 2,450mm
Drive Type: Electric
Brakes: Service and Parking: Hydraulic
Drive Control: AC
Capacity: 5,000kg
Operator Type: Seated
Find Jungheinrich forklifts for sale.
Subscribe to our newsletter
Sign up to receive the ATN e-newsletter, digital magazine and other offers we choose to share with you straight to your inbox
You can also follow our updates by joining our LinkedIn group or liking us on Facebook. 

Trucks For Hire | Forklifts For Hire | Cranes For Hire | Generators For Hire | Transportable Buildings For Hire