Exclusive: New Intemec PDA scans documents
---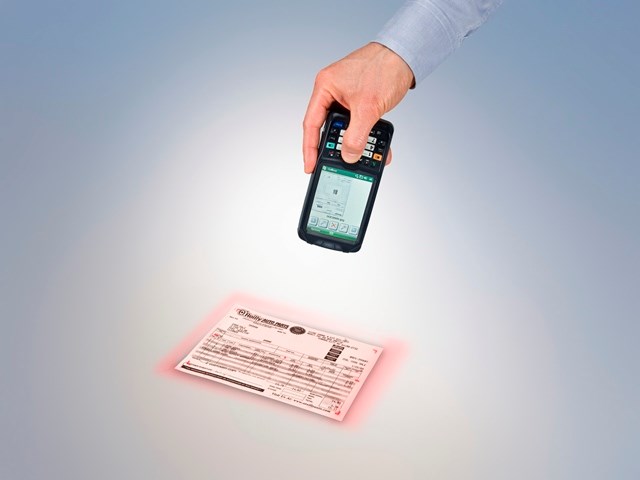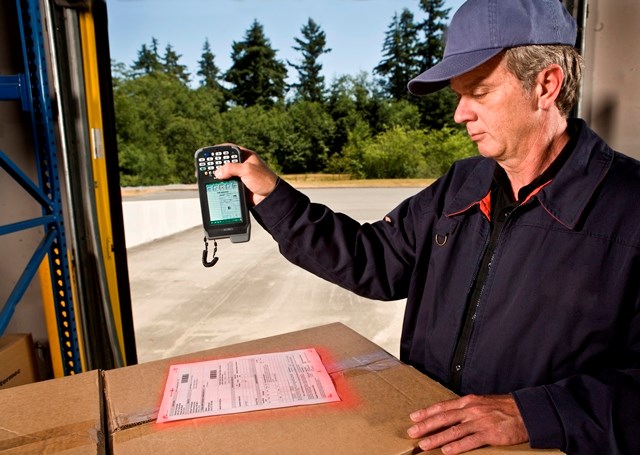 Intermec's new eMDI mobile computer not only reads barcodes at 45cm or 9m, it can also scan A4 documents or consignment notes
By Anna Game-Lopata | November 29, 2012
Intermec's new eMDI mobile computer not only reads barcodes at 45cm or 9m it can also scan A4 documents or consignment notes and take photos.
The Enhanced Mobile Document Imaging (eMDI) handheld computer utilises imaging technology specifically optimised to provide a fast and reliable way for mobile workers to convert paper documents into electronic files, such as PDFs or word documents while on the road.
Intemec's integrating software also allows the device to undertake high performance barcode scanning in the warehouse.
The
size of
a portable ruggedised industrial grade computer or personalised digital assistant (PDA), eMDI can be used in place of flatbed scanners or imaging services to reduce document management costs, streamline back office operations, and improve cash flow and responsiveness to customer requests.
With support for the 70 Series mobile computers, the latest release of eMDI allows users to easily capture high resolution document images using a 5 mega pixel
camera.
However, unlike a coventional photograph,
the image captured by the eMDi, whether
of a person, carton or document, can be managed and filed easily along with other digitised information.
"Customers with high value deliveries such as diamonds or cash are using the eMDI to take photos of the person receiving those goods," Intermec Vice President and General Manager for Asia Mike Muller tells SupplyChain Review.
"In the express delivery business, photos of damaged cartons or boxes can be used to prove the goods weren't damaged in transit."
The scanner software also allows for cheque recognition.
"Five percent of revenue loss is due to the misplacement of cheques," Muller says. "The eMDI allows companies to take a digital image of a cheque and in partnership with the banks, it can be processed as a direct payment. This eliminates revenue loss and speeds up payment processing time," he says.
Critically, the small portable nature of the eMDI allows a driver to capture documents at point of service rather than having to carry a pile of documents so they can be scanned later.
In terms of barcode scanning in the warehouse, the eMDI is the first "bipolar" scanner.
"While a typical scanner is optimised with a range between three to 45 centimetres
and a different scanner is needed for distances of five to eight metres, Intermec's eMDI is the first
to provide "near far scanning", Muller says.
"It can scan barcodes within eye distance and up to nine metres away."
"In addition the eMDI can scan barcodes at the very high speed of 40 km hour. With that kind of speed, forklift drivers can scan while moving through the warehouse."
Muller says another distinct advantage of the eMDI's scanning function is that it can read damaged or faded barcodes.
"In the past faded or damaged barcodes on shipments arriving at the docks from regions such as Latin America or China needed to be read manually and the barcode re-printed before shipping out," Muller says.
"The eMDI technology eliminates that problem. Customers can be confident the scanner can read any barcode."
eMDI is easy to integrate with common document management systems. It creates images in native formats with common document indexing schemes that are acceptable to document management companies.
Integrating directly with existing mobile applications, Muller adds the software can be used "out of the box". APIs are available to customise user experience.
"Because eMDI is an integrated feature of the Intermec CN4 Series mobile computer, transportation and logistics companies can avoid the extra expense, maintenance and management of in-cab scanning solutions or roadside services," Muller says.
"eMDI works successfully in outdoor, indoor and cab lighting conditions."
eMDI features:
Supports Intermec 70 Series mobile computers
Support for high resolution document image capture with 5MP camera plus advanced image correction techniques
Fully support popular image formats such as bitmap, JPEG, and TIFF
Improves cash flow by reducing the time between delivery of shipments and invoicing the customer
"Point and Capture" user experience greatly reduces variability in image quality between individual users
Captures full-size documents
Easily integrates with document management systems
Eliminates the need for scanning services, drop off services or extra devicesWorks in outdoor, indoor and cab lighting conditions

Subscribe to our newsletter
Sign up to receive the ATN e-newsletter, digital magazine and other offers we choose to share with you straight to your inbox
You can also follow our updates by joining our LinkedIn group or liking us on Facebook. 

Trucks For Hire | Forklifts For Hire | Cranes For Hire | Generators For Hire | Transportable Buildings For Hire