Arch rivals face off at AGMs
---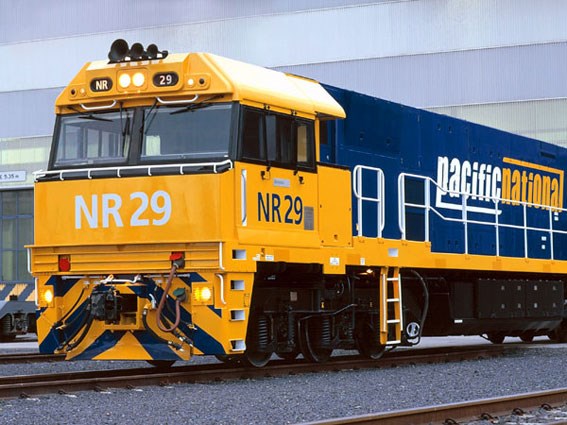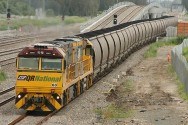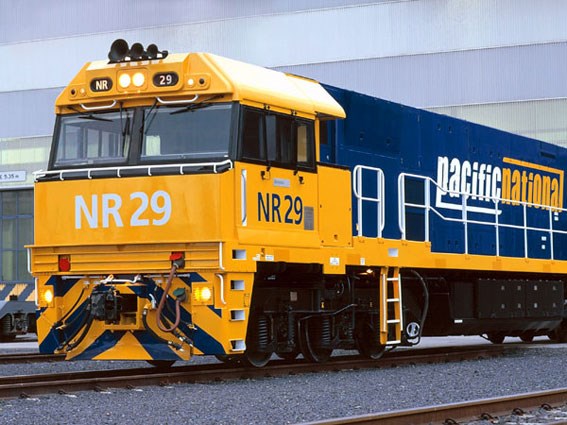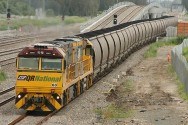 Rail haulage rivals Asciano and QR National both report $3 billion revenues and claim market leadership at AGMs on the same day
By Anna Game-Lopata | November 11, 2011
Rail haulage rivals Asciano and QR National both reported $3.3 billion dollar for dollar
revenues, and claimed market leadership at Annual General Meetings (AGM) held yesterday.
While Asciano's volumes were down 9 percent compared to last year, the company reported a total revenue for the financial year of just over $3 billion, an increase of 7.2 percent at its AGM yesterday.
The port and rail company's first full year of profit after tax in four years of $145.2 million, was nevertheless no match for QR National's (QRN) profit result after tax of $350 million.
Asciano's result represents a strong turn around from last year's loss of $975.9 million, and is driven by a 21.7 percent increase in EBIT compared to a 35 percent
EBIT increase from QR National.
Asciano Chairman Malcolm Broomhead claims the company still holds leading positions in its markets including mining, shipping, industrial, steel, automotive and general cargo sectors.
However Broomhead also took the opportunity to lob a pot-shot at the Australian government in relation to keeping up with demand for resources from China.
"There is an urgent need for governments to address the issue of productivity growth which for many years delivered improved living standards for Australians even at a time of low commodity prices," he says.
"Labour market de-regulation, infrastructure investment and taxation reform are all necessary inputs to productivity improvement and are in urgent need of attention."
"Productivity improvement is a key area where we can improve our own lot relative to the rest of the world."
Meanwhile newly appointed CEO John Mullen made it his business to attack the competition, saying Asciano's diverse assets will be the key to triumph against QR National.
"Having three businesses in Australia gives us a huge amount of advantage over a company that might only have one of those pillars in their portfolio," he says, a barely disguised reference to the company's nemesis.
"So over the next few years we will seek to leverage the synergy that we believe exists between the three businesses, so as to deliver better outcomes for customers and growth for our shareholders."
Mullen says Asicano plans to become "more than just
another provider" and to differentiate itself.
But to do this, he says, the company will need "a lot more talented people".
"We do have great people in all three divisions now, but for the growth plans that we have we're going to need an awful lot more of them, and to get the best talent we need to promote ourselves as an attractive place to work."
Like the Asiano executives, QR National Chairman John Prescott and CEO Lance Hockridge touted their company, a week or so shy of it's first privatisation anniversary, as a survivor of Queensland's disasters in January.
But it also pointed to innovative business reform, company restructure and infrastructure investment as key milestones ahead of its rail business rival.
"Transforming the company has been a top priority for management with the IPO now behind us," Prescott told shareholders.
CEO Lance Hockridge's proposed restructure will break down organisational silos and promote integration and collaboration across the company.
The company says its flagship growth project — the $1.1 billion Goonyella to Abbot Point (GAP) Expansion in Central Queensland, expected to provide significant benefits to coal customers, progressed on schedule and on budget despite the challenges posed by the wet.
"In fact, the first train is anticipated to run across the Northern Link on the 19th of December, ahead of the original scheduled opening in January," Prescott says.
Further, as reported by SCR, the QRN has inked an agreement with a consortium of coal companies to construct the $900 million Wiggins Island Rail Project to a new export terminal at Gladstone.
The new infrastructure will deliver an additional 27 million tonnes of coal per annum from the southern Bowen Basin coal region.
Hockridge challenged Asciano's claim to dominance, likening QRN's business
to "Class 1 railroads of North America that have set the global benchmarks for customer service, operational excellence and shareholder returns".
"We transport more than $50 billion of the nation's exports each year on our trains and track…. from iron ore in the West to coal in Queensland and New South Wales," he says.
"We are an integral part of the biggest coal supply chain in the country, operating a 2,300 kilometre heavy-haul coal network in central Queensland.
"Our business remains 80 percent leveraged to the resources sector, primarily coal and iron ore exports."
While Asciano boasted of its ramp up in our Queensland, with two new Anglo American contracts in 2012 and one with Middlemount Coal and predicted its annual coal haulage tonnages in the state to reach
169 million by 2014, QRN came back with impressive claims for its NSW coal business.
"Within a space of just a few years, we've captured market share of almost 30 per cent in the Hunter Valley," Hockridge says.
"Haulage volumes are set to go from 19 million tonnes per annum at the start of the 2011 financial year to an estimated 40 million tonnes in 2012 financial year."
In Queensland, the company says collectively, committed expansions to the Central Queensland coal network will add more than 70 million tonnes of extra capacity by 2015.
This equates to a significant 30 per cent uplift in capacity to 300 million tonnes per annum.
Not stopping there, QR National is hungry for the contestable iron ore market in Western Australia.
"Recent contracts and expansions by existing customers, means we're on track to treble iron ore volumes over the next three years," Hockridge says.
"The mid-tier miners emerging in the mid-west are a natural growth target for QR National and we are making strong inroads in this market. The Company is set to treble by 2013 the total iron ore haulage business to 30 million tonnes per annum."
The Galilee is seen as the next major coal basin for Australia with a range of players planning mega-mines that collectively could match the current volumes of the Bowen Basin.
"The Galilee and the Pilbara reinforce the scale of opportunity for our company, notwithstanding these are very early days and there's much work to do to progress these opportunities,"
Hockridge says.
While the company will achieve total coal haulage volumes will reach within a range of 200 – 210 million tonnes for financial year 2012,
Hockridge admits this volume falls below the targeted 233 million.
However, he says "the coal rollingstock fleet and the coal network are well positioned to respond to increased tonnages in the second half of FY 2012."
Both companies also argue they are leaders in contract development with Asciano boasting longterm, 10 year, take or pay contracts in Coal.
"In Rail they are generally anywhere between three and 10 years, and in Patrick three to five years," Mullen says.
"This gives us a degree of certainty that is exceptional and totally unlike the 30 day termination clauses that are more common with customers in much of the logistics industry."
Hockridge countered with revenue quality initiatives seeing "the replacement of old uncommercial contracts with customer focussed, flexible contracts".
"These provide superior value for our customers as well as better returns for your Company," he says.
"During 2010/11, an additional $93 million was created through contract renewals, incentives and performance bonuses in the company's coal business."
Finally, both companies claimed championship status on safety with Asciano pointing to the launch of its the "Home Safely" campaign while simultaneously expressing sympathy to the family of Port Botany Transport and Depot facility worker who lost his life in a
September incident.
Meanwhile Hockridge claims "safety will never run second to production", pointing to the company's 50 percent reduction in the Lost Time Injury Frequency Rate during 2010/11, which is a standard industry metric to a level of 3.08.
So far this year we have further reduced that rate to around 2.5," he says. "When I started at the Company in late 2007, it was in excess of 12."
Both companies mean to fight valiantly for a greater share of positive medium to long-term conditions pushing demand from China for Australian exports.
This will including metallurgical and thermal coal, expected to grow on average by about six percent per year until 2015 and to reach as much as 450 million tonnes by 2030.
The world appetite for Australian iron ore is similarly bullish, with Australian production forecast to grow 8.5 percent a year until 2015.

Subscribe to our newsletter
Sign up to receive the ATN e-newsletter, digital magazine and other offers we choose to share with you straight to your inbox
You can also follow our updates by joining our LinkedIn group or liking us on Facebook. 

Trucks For Hire | Forklifts For Hire | Cranes For Hire | Generators For Hire | Transportable Buildings For Hire