Ron Finemore Transport on the skills treasure hunt
---
Ron Finemore Transport has a very modern fleet and a host of other attractions but finding the right people is as difficult as it is crucial
Ron Finemore has been in the transport and logistics game for more than 60 years but still likes to keep things simple. Adhering to long-standing basic values has seen regionally-focused Ron Finemore Transport consolidate its footprint across eastern Australia, winning major contracts to serve customers from Rockhampton to Adelaide and everywhere in between.
The company leads the way in embracing the latest safety and technological innovations in its incredibly young fleet and is growing faster than the labour market can provide workers.
"We do what we do and we try to do it well," Finemore explained, with trademark simplicity.
Finemore got started in 1962, when he launched the transport side of his parent's farming supplies business.
Over the next 40 years, he built up a formidable reputation for excellence and was crowned GM Supplier of the Year for logistics three years running.
Finemore Holdings was bought out by Toll in 2001, but Finemore had no intention of retiring, so when Wodonga's Lewington's Transport went into receivership, Finemore bought back into the game, launching Ron Finemore Transport in 2004.
With 280-plus prime movers, 700 plus employees and depots in Wodonga, Orange, Wagga Wagga and Goulburn, and a presence in Sydney, Brisbane and Melbourne, the business is strategically positioned to service regional communities, specialising in transporting ambient and refrigerated food, and liquid fuel. 
"The simple thing in business is you've got to be safe, you've got to be reliable, you've got to be cost-effective and you've got to have good people," Finemore said.
It's those four core values that guide everything RFT does.
LOCAL APPRECIATION
If there was a fifth value it would be to honour your regional roots.
As managing director Mark Parry, pictured below, explained: "Our drivers live in the region they service. They know the customers, know the stores. It's a big part of our brand that we're a regional transport provider employing people in the regions and providing food and fuel for people in those regions."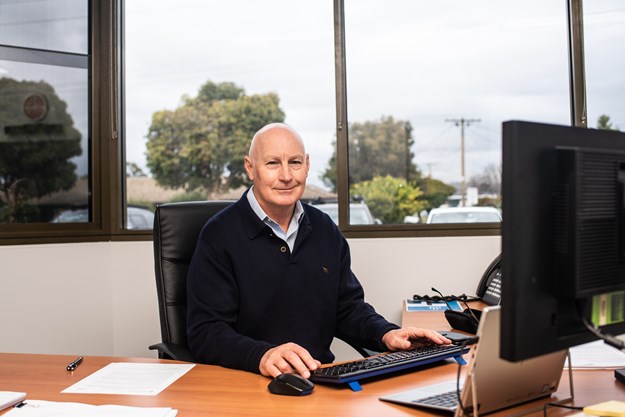 While some operators prefer to keep customer lists quiet, you can't be too coy when they're splashed across your trailers.
New MaxiTrans trailers regularly leave the Wodonga depot, resplendent in Primary Connect (the logistics arm of Woolworths) livery.
While Woolworths is RFT's biggest customer, with multiple contracts for both food and fuel, RFT also delivers for Big W, Baiada Poultry and Ampol, and has just won a new contract with Aldi, running out of the Goulburn depot.
Telling in the company's success is how often the contracts are renewed, five times since 2005 in the case of Primary Connect.
RECRUITMENT CHALLENGE
"We could take on 70 drivers tomorrow," is Parry's blunt assessment.
"We need people across our operations area and admin and finance. Our workshops have taken five people on as apprentices this year, and we'll take another five next year. There are opportunities all over the business."
The opportunities might be there, but, like many regional industries, transport and logistics is struggling to find enough workers.
Road freight is increasing in volume each year and the supply of drivers can't keep up. Couple that with an aging population of current drivers (many of whom are due to retire in the next decade or so) and it becomes a situation needing urgent attention.
Over the last year, RFT has had times when trucks have sat idle for lack of drivers – a frustrating situation for a business that prides itself on productivity and fleet utilisation.
Parry said young people starting out in the workforce could have
an outdated perception of the transport and logistics industry, not realising how cutting edge the technology now is.
"This industry has as many opportunities as any," he said.
"If you sit in the Mercedes-Benz trucks we have, today, it's the same as sitting in the equivalent car.
"We're working with artificial intelligence, machine learning and robotic processes. Gone are the days of trucks with all the gears, manual loading and tarping your trailer."
RFT is using innovative methods to get the message out there, including using social media to connect with young people and talking directly to school leavers.
One young person who has embraced those opportunities is 18-year-old Damon Phegan (pictured below right next to mechanic Glen Brown) an apprentice heavy diesel mechanic who started in Wodonga with RFT six months ago.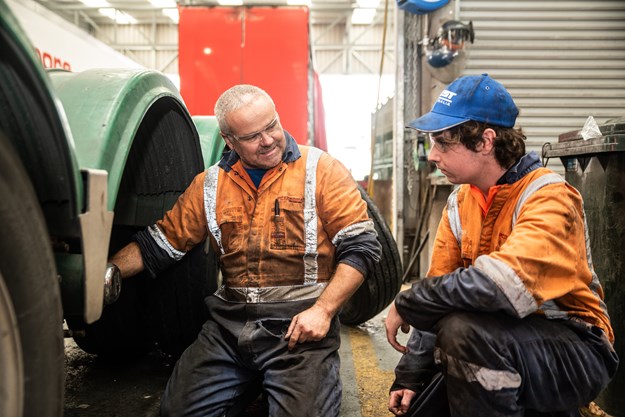 Phegan said he'd always been interested in working with engines, so when an opportunity came up at RFT he leapt at the chance.
"I've learned a lot in the time I've been here and I really love it," he said.
"The technology is always being updated, always getting more high tech."
Phegan said employment opportunities for people his age have never been better.
"I've got mates who are doing this kind of training and they're getting picked up so quickly. And this industry can really take you anywhere."
Seeing youngsters like Phegan get their start is always a proud moment for Finemore, who's always had a passion for nurturing the youth.
"I've worked hard for a long time to bring young people into our industry," he said.
"It's an industry that's always advancing and there's a wide range of jobs for young people to get a start in."
Finemore and Parry both know though that it's going to take more than just recruiting youngsters to address the current labour shortage.
Policy settings within migration pathways need to change if we're to have any chance of suppling the growing needs of our country.
"Australia doesn't have sufficient drivers to meet current and future demands, and yet drivers aren't on the skilled migration list," Parry said.
"That needs to change."
It's something many sectors within the industry, from unions to the ATA and Finemore himself, have been lobbying for.
"For truck driving to not be recognised as a skilled occupation when you're driving a B-double down a highway next to a family car is just crazy," Finemore said.
"We've proven over the last 15 months that we're an essential service, providing support to our communities all through Covid, and doing it very successfully."
YOUNGEST FLEET
RFT runs a fleet with an average age of just two years. A young fleet means staying at the forefront of technology, lower maintenance costs and less chance of breakdowns. But for RFT the critical factor is having the latest technology in safety.
In April, RFT celebrated the purchase of its 200th Mercedes-Benz Actros.
Volvo round off the rest of the cab-over units, while Freightliner Cascadias (the only bonneted truck in Australia with airbags) haul the liquid fuel tankers.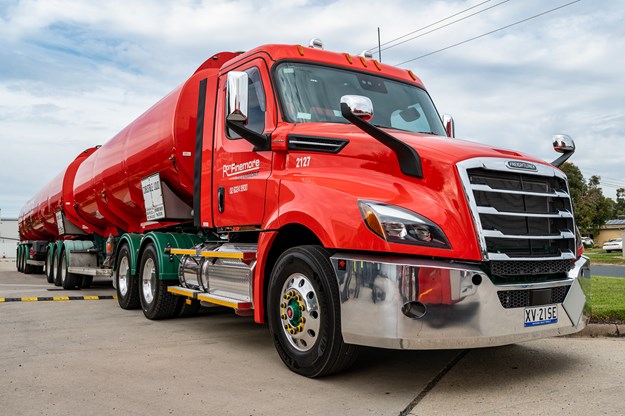 Out in the yard, driver trainer Bill Hutchins fired up an Actros with the push of a button.
The technology inside the cab is a far cry from what the 72-year-old grew up driving, but Hutchins said even young drivers are blown away when they climb inside.
The dash is completely digital and a touchscreen display gets drivers the essential information, including weight on each axle, tyre pressure, temperature, maps and tracking.
There's a fully automatic gearbox, active drive assist with semi-autonomous steering, adaptive cruise control and automatic hill start function.
"It can do all sorts of weird and wonderful things," Hutchins said.
"If the cabin tilts because you're taking a roundabout too fast the truck will automatically apply brakes, but only to the axles it needs to. It's a brainy wee thing."
The thinking all comes back to safety. On top of the dash is a Seeing Machine – forward and driver-facing cameras that record the road ahead and the driver's eyes, giving the driver an audio and seat vibration alert if it senses fatigue – part of RFT's Driver Safety System (DSS).
Every truck in the fleet is fitted with DSS, which is integrated into the telematics and monitored remotely from the fleet control room in Wodonga.
While RFT constantly seeks out the best new technology, it's not a case of blindly adapting something simply because it's shiny and new. It must prove its worth.
After trialling the MirrorCam system on the new Actros, whereby wing mirrors are replaced by cameras, feedback from drivers was that the technology wasn't yet giving them the clarity they required. And because safety comes before fuel savings, MirrorCam was shelved for the time being.
SAFETY STUDY
In 2020, RFT was invited to partner in a ground-breaking study called the Advanced Safe Truck Concept, looking at the causes and management of driver fatigue.
During the study, drivers were monitored by the Seeing Machines, made by Canberra company Guardian, with data collected and collated by Monash University's Accident Research Centre. One of the aims was to see how the technology can be proactive rather than reactive, so that we can learn to recognise the signs of fatigue and alert drivers before it's too late.
---
Finemore's double century of Actros trucks, here
---
Parry said the study gave some surprising results.
"A major learning is that you cannot predict when you're going to have a fatigue event. There are some higher risk periods, but you can have one in the first hour of your shift, after coming off a three-day break," he said.
"So, we need to use those learnings to teach the driver when to stop, rather than relying solely on a logbook.
"Certain drivers are best having multiple short breaks, rather than mandated 15-minute breaks. Others would be best splitting their long break.
"We believe the technology should eventually replace logbooks if it's used correctly, in line with an electronic work diary."
TELEMATICS TIE
RFT chose Irish company Blue Tree (later bought out by US company Orbcomm) to supply its telematics. Blue Tree pinpoints each truck's location and records information such as speed, cornering and breaking metrics. Each week, drivers receive a report and scorecard through Yarno's remote learning platform, an example of using "gamification" to incentivise and improve driver performance.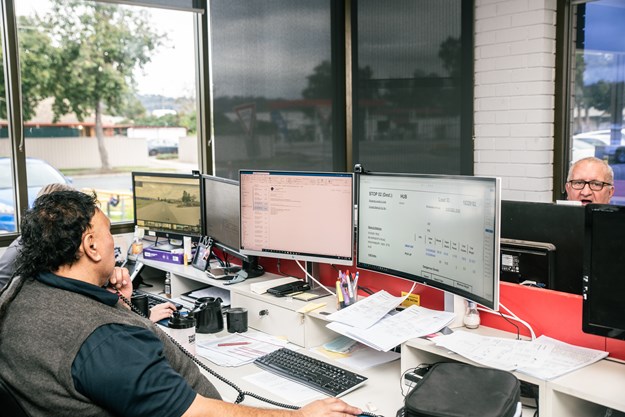 The fleet management sits within Trimble Transportation's system, which gives fleet controllers real time information, enabling live scheduling, live ETA's inventory management and optimum planning.
Seeing Machines act as both a sword and a shield for the drivers, more often than not exonerating the driver from blame in any incidents.
Parry sees challenges in integrating the telematics, with getting all the systems to talk to each other.
The aim is to remove waste and duplication, which ultimately frees up people to concentrate on value-added tasks.
"We have a deliberate strategy to utilise technology as a differentiator, and we continue to invest significantly in that space," he said.
"We take a long-term view on investments such as information technology to get a long-term, sustainable outcome, as opposed to looking for a return today."
COPING WITH COVID
The pandemic created a unique set of challenges. Panic buying spiked demand in some areas, while Melbourne's extended lockdown saw fuel demand take a hit. Being on the border was difficult, and the company had to manage constantly changing conditions just to get people to work. Some distribution centres closed in major cities, leading to supply chain issues.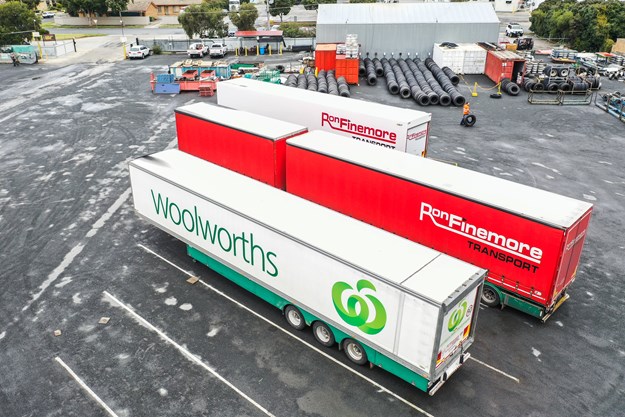 "Stock availability became the key, so we worked closely with our customers to be flexible," Parry said.
"Everyone responded really well to the disruption."
On-site Covid-19 testing is offered once a week to all employees, and is often mandatory for many drivers crossing state borders.
When ATN visited RFT's Wodonga depot, Parry was having his.
"We strongly urge all our employees to get tested," he said.
"It safeguards the business and also gives employees and their families reassurance."
THE ROAD AHEAD
At 77 years of age, Finemore said he'll keep going as long as health allows.
He's proud of what he's built over the last 60 years and even more proud of the opportunities the business has provided for the young people of regional Australia.
"We don't want to be the biggest, but we want to be the best at what we do," he said.
"Continuing to see young people who start with us become successful is the most rewarding part."
Subscribe to our newsletter
Sign up to receive the ATN e-newsletter, digital magazine and other offers we choose to share with you straight to your inbox
You can also follow our updates by joining our LinkedIn group or liking us on Facebook. 

Trucks For Hire | Forklifts For Hire | Cranes For Hire | Generators For Hire | Transportable Buildings For Hire