T&L's mental health crisis and the road to recovery
---
Industry's mental health custodians reveal how adversity has spurred a widespread response
With growing clarity on transport and logistics' mental health affliction, a whole new sector devoted to improving the industry's outcomes is emerging.
Already facing an uphill climb, Covid-19 only served to add barriers, with research persistently painting a bleak picture.
The reading is stark. A summary of the data cited includes:
Transport, postal and warehousing's overall SuperFriend workplace index score is the lowest of any industry, with 46 per cent of workers experiencing a mental health condition, with nearly one in five believing their work is to blame
A Deakin University mortality study shows 323 truck drivers committed suicide between 2001 and 2010, with the rate of suicide among road and rail drivers higher than any other occupation
That same study shows truck drivers have a 7 per cent higher chance of developing depression, while those with moderate depression are twice as likely to have a road crash while driving
Despite all this, Monash University's Linfox-backed Driving Health Study finds only 10 per cent of truck drivers seek treatment for the signs of mental illness
A growing concern from Driving Health is the poorer profile of mental health for drivers under 35 years old.
These findings have motivated myriad initiatives and foundations to find answers, with proponents honing in on specific or broad areas including work culture, employment conditions, emotional awareness, education and access to professional help.
---
Read the most recent report from the Driving Health Study series, here
---
Beyond mainstream associations like LifeLine, Black Dog and Beyond Blue, though often working in conjunction with them, industry-specific efforts are gaining recognition and government backing, particularly via the Heavy Vehicle Safety Initiative (HVSI) – the yearly funding pool dedicated to improving industry outcomes.
Recent HVSI recipients sought for comment include: Healthy Heads in Trucks and Sheds (HHTS), represented by interim CEO Lachlan Benson and recent inaugural CEO Naomi Frauenfelder; Steering Healthy Minds, represented by Transport Workers Union (TWU) national secretary Michael Kaine; HeadFit MindFit, represented by Victorian Transport Association (VTA) CEO Peter Anderson; and Mental and Physical Safety (MaPS) on Our Roads, represented by Injury Matters recovery support manager Christine Smith.
Also offering their insights are former police officer and now Teletrac Navman solutions specialist Chris L'Ecluse on his career on the road, and NHVR CEO Sal Petroccitto on the regulator's responsibilities in this space.
It's important to note these aren't the only ones invested in steering industry to a light at the end of a dark tunnel.
There are too many to credit – including, on the owner-driver side, the OzHelp Foundation developing a 'Health in Gear' program for owner-drivers – which at this point can be viewed as a positive.
DIAGNOSING THE PROBLEM
The respondents unanimously acknowledge that truck driving is fraught with danger – both physical and psychological.
Before his career led him to the private sector, L'Ecluse was an officer policing the gateway into Perth, populated by vehicles from eastern states.
"Patrolling those streets frequented by the heavy vehicle industry, you become aware of some of the challenges that the drivers and the operators are exposed to," he regales.
"It's not just doing the school run – this is a profession and these individuals do an arduous job, and I don't think society lends them the respect and patience they deserve.
"It became apparent early on that people think you're just sat in a chair holding a steering wheel."
Even back then, L'Ecluse could sense the disquiet bubbling underneath the surface.
"The physical health had a lot to do with endless hours behind the wheel without physical activity, and the truck stops didn't often cater for a healthy diet.
"All of this can combine to create not only a poor physical state, but a poor mental state.
"On one hand, contractual pressures were such that it was difficult to meet requirements without breaching some sort of requirement, whether it be speed related or hours behind the wheel.
"Then you add the other layer of being absent from your family, kids, home, a normal bed for the normal routine, and after a while it manifests."
Kaine, who has been involved with multiple studies, recites the union's well-repeated line on industry conditions and driver wellbeing.
"Long working hours, social isolation, long periods away from family and friends, financial stress, deadline pressure, low levels of job control, and chronic fatigue are factors that many drivers would identify with," he lists.
"These factors are directly linked to the economics of the industry, whereby low-cost contracts at the top by retailers, manufacturers and oil companies have a direct impact on transport operators and result in drivers being pushed to drive long hours in stressful conditions."
There's also growing cognisance of the mental trauma cause by suicide by truck, where members of the public seek to self-harm via a heavy vehicle collision, and truck drivers as first responders to incident, particularly in remote areas.
The former is subject to an ongoing Suicide in Road Transport (SiRT) probe, led by the National Road Safety Partnership Program (NRSPP) and peak roads agency Austroads, which follows Toll Group's own recent analysis and recognition on the matter.
L'Ecluse is involved with the SiRT national working group, which acknowledges "road traffic suicides are a particular problem for the heavy vehicle industry with drivers placed at risk of death, injury, and trauma".
"A lot of these guys, when they started up in the industry, didn't realise that they were going to be involved in a lot of these incidents," L'Ecluse says.
"Maybe not as participants, certainly as a witness, and it's really hard for them to have to deal with that.
"It doesn't matter how strong or experienced you are, there are some things that can trigger mental health issues in everybody."
The latter is part of MaPS on Our Roads' focus, while the Northern Territory Road Transport Association (NTRTA) was allocated HVSI funding in 2019 to assist heavy vehicle drivers who become first responders to road accidents.
Frauenfelder, who joins HHTS from a rail background, including harm-prevention charity TrackSafe, notes the issues aren't dissimilar in that sector.
"Train drivers are exposed to most incidents on the networks, so there at a suicide, or a level crossing collision, or a trespasser, or even in the hit," she says. "The driver ultimately doesn't know if the person's going to get out of the way in time and it can cause just as severe and lasting trauma as an actual collision."
COVID IMPACT
A global pandemic only compounds the complex task of tackling the sector's mental health challenge.
One positive has been a belated public acceptance of trucking's intrinsic role in society's functionality and, on a basic level, survivability.
"In the past, formative research identified a range of common concerns including feeling undervalued, lacking infrastructure, and having unrecognised skills within the broader community," Smith says.
"Positively, since the Covid-19 pandemic, there has been a wider recognition of the essential role heavy vehicle operators play within society and the critical role that the industry has in food security and ensuring day-to-day needs; thus, the value, need, and perception of heavy vehicle drivers has increased overall."
However, individually, "workloads and pressure increased simultaneously at this time".
Anderson, whose state suffered the most severe Covid outbreak, is no stranger to the added roadblocks to the freight task in and out of Victoria.  
"A crisis like Covid-19 has not just been very disruptive affecting the way we live, work and run businesses but has exacerbated the underlying issues that have been evident in the industry for decades.
"Further, the implementation and management of the restrictions at worksites, border crossings, personal testing regimes and meeting the changing customer demands throughout lockdowns has placed major strains on the entire workforce of every T&L business." 
While those linked to supermarket or essential supplies distribution reaped the rewards of surplus demand, others had their livelihoods ruptured by severe downturns.
"Owner-drivers have experienced fluctuating work, with business almost cut off during lockdowns as elective surgery, retailers and hospitality venues stopped, and then pressure on when demand surged during panic buying," Kaine explains, also citing the ongoing uncertainty caused by border rule changes and the potential of transmission from exposure sites.
"Drivers have battled bureaucracy, permit systems, Covid testing regimes, checkpoints and shut and restricted truck stops, where hot meals and showers were often hard to come by.
"This has had an impact on their mental health.
"Drivers have endured working on the frontlines during the pandemic, and for drivers with vulnerable family members at home this added a layer of stress."
AVAILABLE HELP
HHTS has rapidly emerged as industry's eminent mental health foundation, attracting bipartisan political support, acceptance from large and small operators, union support and links with accredited psychological experts.
Benson points out its vast network of influence and industry engagement: founding patron Lindsay Fox's Linfox company is a partner of Monash University's studies, along with the TWU, and it has a memorandum of understanding (MOU) with the NRSPP suicide study.
It was allocated a $600,000 HVSI grant that will go toward the development of an industry-wide Blueprint Strategy for best-practice psychological safety.
Benson has been a major pillar of HHTS's growth, describing the foundation as born from a workshop by a "coalition of the willing" led by Paul Graham, the Primary Connect managing director and chief supply chain officer of Woolworths Group, in August 2018.
"Paul is a real champion of mental health, not just in his own workforce but across the sector as a whole, and it's something he's very passionate about."
The HHTS vision was to establish an overarching whole-of-industry foundation.
"Like the industry, mental health knows no borders – we wanted to deliver a foundation that could facilitate the delivery of new and existing programs to support the industry on a national scale."
---
More on HHTS's recent partnership with the NHVR, here
---
It's that ambition that drew Frauenfelder to become the first permanent HHTS CEO.
"My personal motivation for joining was based on my passion for mental health and improving mental health outcomes, and the opportunity to do it at an industrial scale, particularly with the industry the size of transport and logistics.
"It just presents such an awesome opportunity to improve the lives of people in those industries."
Frauenfelder becomes one of the few women in leadership roles, and while acknowledging the gender imbalance, notes "mental health issues don't discriminate between genders".
"There has been a lot of work done to improve this imbalance; however, by promoting thriving workplaces, we hope that in future more women are encouraged to participate in the industry."
At the core of HTTS's national mental health strategy development is standardising policy and procedures for transport logistics operations to de-stress their working environment.
"One of the questions we asked ourselves, in preparing for the launch of our blueprint later this year, was: where do you want to be in three years' time?" Benson says.
HHTS wants to put more emphasis on playing a stronger role as the coordinating umbrella organisation in addressing the industry-wide risk factors and structural challenges.
"There will be three pillars on which we're going to build that national mental health strategy: training, standards, and wellness."
The first step is increasing the number of people trained in transport logistics facilities as mental health first-aiders.
"So not only is there someone that you can tell, 'I'm not feeling well,' but someone who's watching the person who may not be well and check in with them, and make a positive intervention to say, 'Hey, you're really quiet today. Are you okay?'
"We all talk about safety in terms of our operations and when we get on the road, but that kind of mental wellbeing conversation and checking needs to be part of the daily set of operational protocols in any transport logistics workplace.
"Above all, through delivering these tools and education programs and resources, and de-stigmatising the conversation, we want to be building resilience for people."
The wellness pillar also puts exercise, diet, nutrition, physical wellbeing into mix as a way of improving mental health.
The aim for HHTS is to have the national best-practice framework adopted and supported across industry, with stakeholders measuring themselves against the self-certification process in the blueprint to find improvements across their operation.
"We want to go from being a laggard in mentally healthy workplaces to an actual leader," Benson says, noting a pilot program and research study will further drive these ambitions, with a membership drive and mobile application to follow.
"We want to build our research evidence of positive mental health interventions in the sector – what works, what is actually turning things around and making improvements in people's daily lives in the sector."
Benson is adamant a balance has been struck at the foundation that will adequately cater for the whole industry, with HHTS to be open to all operators in the industry, regardless of size or scale.
"There is acknowledged responsibility by the big end of the town that they need to fund the participation and accessibility of this initiative – because not only do they have the willpower, but they've actually got the capacity to help make this happen.
"It has been set up as an industry-for-industry solution with have a broad representation, right down to individual drivers being involved."
In a similar vein, Steering Healthy Minds' objectives include bringing about peer-to-peer training on mental health so transport workers can access immediate help from someone known to them in their workplace who can offer initial support and point them to further help.
The program came about initially about 18 months ago from a working group involving the TWU, industry superannuation fund TWUSuper, Queensland safety regulator WorkCover Queensland, the Queensland Transport Association (QTA), Transport Education Audit Compliance Health Organisation (TEACHO) and chair Professor Daryl Hull of Macquarie University, Toll and the Queensland Bus Industry Council.
"The aim was to train up mental health first aiders," Kaine says.
"Other programs focusing on getting drivers to access professional support services are important but often are only accessed when problems are critical.
"The peer-to-peer support that the Steering Health program entails is vital in getting drivers to talk about mental health problems when they begin and to access treatment quicker."
Since its launch in October, three pilot projects are underway at Toll, Startrack and Surfside Buslines on the Gold Coast, with another four companies in Queensland involved in waterfront and waste management to begin later.
With national expansion on the cards, a working group has been set up in Western Australia, with more planned for Northern Territory and Tasmania.
Kaine concludes with a warning shot, noting that ultimately the 'economics of the industry' must be adequately addressed to truly aid industry's sustainability.
"If we want to tackle mental health and other problems in our industry, ultimately that is the issue we must address."
The VTA's HeadFit BusinessFit aims to help keep businesses remain commercially viable and retain productive and motivated employees.
Linking with service provider Gallagher's Workplace Risk, rather than being one-off, it seeks "genuine ongoing commitment" by focusing on implementing an integrated change-management approach to mental health and wellbeing in transport organisations.
"It is designed to create a positive workplace environment in employer companies by building positive workplace cultures and senior leadership, implementing effective systems and processes, connecting and engaging individuals and providing the individual support into T&L organisations," Anderson says.
"The VTA has been encouraged to witness a number of businesses recognise the need to take action and are accepting the assistance that is now available. 
"They recognise it is not easy and requires an open and committed approach by senior management and a practical framework to manage the program."
HeadFit BusinessFit experienced challenges due to Victoria's Covid-19 situation but is now fully developed and being implemented into specific transport companies, Anderson adds. 
A one-year roll out across Melbourne and regional Victoria, using a seven-phase process, will deliver and measure the outcomes and benefits for each individual company, with the VTA to report on individual outcomes in due course.
MaPS on our Roads is the latest brainchild of Western Australian foundation Injury Matters, an organisation that aims to prevent and reduce the impact of injury, and actively works alongside older adults.
"Available data, and our experience in supporting people affected by road trauma, highlighted the need for a program co-designed alongside drivers – culminating in the development of the MaPS on our Roads program," Smith says.
It aims to increase awareness of staying mentally and physically safe, such as after a traumatic event; increase understanding of how to assist others impacted by a road crash and/or experiencing mental concerns; and raise awareness of when and where to seek professional help.
It launched its first campaign in 2020, with encouraging results.
"Education, resources, and presentations have been well received when the teams have had the opportunity to present to heavy vehicle operators," Smith says.
 "It has been great to see the way operators interact on social media, particularly through Facebook, with hundreds of comments and discussions about their experiences on the road for work.
"We saw the resilience and receptiveness of this industry to wellbeing programs that genuinely aim to understand their experiences.
"We also saw a significant number of friends and family engaging with our messaging; raising awareness to those in their lives working or who have worked in the industry the support available."
A continued review and dialogue with industry is underway on delivery strategies to reach the broader workforce in upcoming campaigns in the face of competing demands, time and Covid-19 constraints on the workforce.
"As humans, we need human connection for our emotional wellbeing," Smith says.
"There is now more awareness within society, including the heavy vehicle industry, of the benefits of opening up about mental health issues.
"This dialogue about mental health can always be improved, and we hope that ongoing MaPS on our Roads campaigns will further enhance this change."
The OzHelp Foundation is basing a new 'Health in Gear' owner-driver pilot program on its own review that draws on many recent findings into the poor health outcomes of drivers.
The program will shortly start a pilot phase and is informed by the findings of the review, an OzHelp statement notes, with key themes, nature of program interventions, and possible delivery methods identified.
Interventions will focus on 'Wellness in small chunks' – a series of practical tools and tips to support health and wellness for owner drivers through diet and exercise, sleep, connections with family and friends, financial wellbeing, job pressures and the owner-driver community.
The program will offer flexible delivery through a digital platform, face-to-face, telephone, or face to screen support, and collaboration with other services and organisations working in the mental health and wellness space.
"This is an incredibly important project that we are well placed to deliver," OzHelp CEO Darren Black says. "Our long history in working with hard to reach and at-risk male workforces gives us a baseline understanding of the barriers to seeking help and behaviour change."
REGULATOR'S APPROACH
For the most part, each group is supportive of others' efforts and see co-existence as necessary.
This view is shared by the NHVR, with $1.8 million allocated to activities that support mental health matters in the heavy vehicle industry.
Admitting there is "no real silver bullet", Petroccitto says industry's realisation of the need to raise awareness and develop various programs is a "fantastic outcome".
"I think the success in a lot of those is the industry coming forward and saying, 'We've got issues here. We need to step up, work with government agencies, with our own partners and industry itself to start to really address these concerns.'
"The amount of money that goes into the health budget every year as a result of mental health issues is something that we all need to take seriously, and by focusing on the areas that can achieve the greatest outcome and benefit holistically, there are benefits to other parts of society."
Now six years into the role, Petroccitto acknowledges the regulator plays a huge part in industry's mental health outcomes.
He points to regulator's focus on collaboration throughout Covid-19 as underscoring its own evolving approach.
"We've seen the pressure points that hit the industry through border closures – do you or don't you have to get tested?
"We advocated and fought hard to keep truck stop and rest areas open.
"Even in the way we approached our regulatory methods, we're of the view that we educate and inform before we enforce."
The next elephant in the room is the impact of the onerous Heavy Vehicle National Law (HVNL) as a key pillar of the mental health discussion, with simplification in Petroccitto's sights.
"There are 790-odd pages in the ledger plus the supporting documents. It is literally too complex, so we've been very vocal in our desires to ensure that a reviewed HVNL simplifies the complexity in the law.
"We want operators to focus on the task of driving, not whether they ticked the box or used correct spelling in a work diary. That doesn't deliver a better safety outcome. That's just bureaucracy gone mad.
"We've been advocating for a streamlined law, but the ability to have a lot of the provisions in regard of guidance materials, which we can then work with to demonstrate what compliance looks like.
"I've got 300-plus staff that work in the regulator, 70 odd enforcement officers on the side of the road – they have similar type challenges and issues.
"So for us, that mental health wellbeing goes across the whole diverse activities of the things that we do as regulatory authorities through to the owner-driver, who has to deal with those challenges of meeting deadlines and understanding and navigating complex regulation."
WINDS OF CHANGE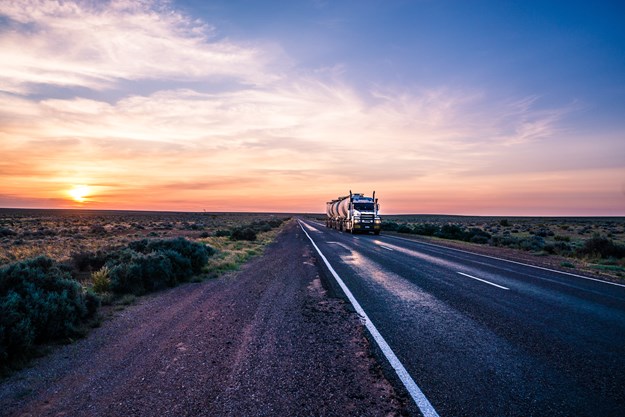 Echoing much of society, Anderson says effectively addressing mental health was previously hampered by low levels of understanding, with underlying causes of work-related stress often complex, making specific programs difficult to implement.
"The individual in the transport workplace is constantly under time and scheduling pressure, financial pressure, family balance issues that can all lead to many symptoms that have a negative effect such as marriage breakdowns, emotional disassociation and coping difficulties," he says.
"Apart from the risk factors of depression and anxiety, mental health issues may present as interpersonal conflict, safety incidents and errors, absenteeism and low levels of worker engagement."
A stigma continues to prevail in most workplaces, Anderson says, which prevents those with mental health conditions speaking to the same extent that they would about their physical health.
"As a consequence, the mental health stigma discourages people from seeking help and this makes recovery more difficult, fuels isolation and impacts productivity."
L'Ecluse pinpoints industry's demographic as a contributing factor.
"If industry was all 30-year-old people, and not just men, I think you'll find a very different industry.
"Because we've got an ageing population of drivers that came from the era of 'toughen up', it's been difficult to overcome that stigma and say something's not right. Often it's too late by the time that occurs."
Despite this, Anderson is optimistic the understanding and acceptance of the crippling impact of mental health in line with broader society "is gradually changing and the supportive evidence that has been developed cannot be denied".
L'Ecluse also believes cultural change is achievable, albeit gradual, likening it to shifting perceptions around drink driving.
"Back in the 1970s, it was common to boast about exploits while drink-driving: 'Yeah, I went out and drove home, and didn't spill my beer,' and that would be celebrated.
"Then, starting in around the mid-to-late 1980s, there was a concerted effort by authorities and governments to educate people on the dangers of drinking and driving and bring in the alcohol limit.
"Now, drink driving is rarely talked about and certainly not celebrated."
In his current line of work, L'Ecluse sees technology as working hand-in-hand with legislation, pointing to electronic work diaries ensuring drivers don't have to focus mentally on when their next rest break is required, or not breaching their rule set, "because the electronic device does that".
Change is vital for industry's viability, Benson says, given the ageing workforce and imminent skills shortage, with a bleak mental outlook making transport and logistics an even less enticing career option for younger people.
"Not only is there a social and a duty care aspect to this, there's an economic aspect.
"If we don't look after the people in the sector, and if those increasingly impacted are people in their late 20s, early 30s, if they exit the industry due to mental health, we won't have a new generation coming through to replace a largely older male demographic."
Benson and Frauenfelder are optimistic reform is possible, noting a virtual call with a firm that burst to life when a manager opened up on their mental health journey.
"A conversation which had been very quiet, from 20, 25 people across the organisation, became very chatty, and there was a mood that lifted as people were able to talk about their problems and issues.
"So, we think we are starting to see that change."
Subscribe to our newsletter
Sign up to receive the ATN e-newsletter, digital magazine and other offers we choose to share with you straight to your inbox
You can also follow our updates by joining our LinkedIn group or liking us on Facebook. 

Trucks For Hire | Forklifts For Hire | Cranes For Hire | Generators For Hire | Transportable Buildings For Hire