NT WorkSafe alert on heavy vehicle fire risks
---
Workplace authority says maintenance and modifications to blame
An increase in heavy vehicles on road networks or mobile plant on mine sites has prompted a fires alert from workplace safety authority NT WorkSafe, which points the finger at certain maintenance methods and modifications causing risks.
"Fires present a potential safety risk to the operator and nearby workers. In some of the incidents, the mobile plant or heavy vehicle has suffered significant damage or been destroyed," it says.
"The purpose of this safety alert is to highlight the increased risk of fires in mobile plant and heavy vehicles when maintenance or modification work does not follow the recommendations of the Original Equipment Manufacturer (OEM)."
It says investigations into the various incidents have found a number of maintenance or modification related factors contributed to the fires.
These include:
maintenance work not incorporating the latest safety updates from the OEM
OEM guidelines not followed when fitting additional equipment or accessories, including in some instances, electrical wiring not installed to industry best practice
hydraulic and fuel hoses failing due to: Fitting additional hose protection which reduced the service life of the hose; Increased wear and tear on incorrectly routed hoses due to chaffing or interference with other components; Incorrect alignment of clamps and grommets on hoses; Loose or damaged clamps not being identified and changed out; Failure to change hoses in line with OEM recommendations; and hoses installed with insufficient length, causing additional stress on the hose, especially to the connection point to the fitting.
---
How truck fire increases this year prompted NHVR action
---
WorkSafe advises operators take the following measures to reduce risk:
OEM safety updates should be immediately incorporated into maintenance work, including fitting upgraded parts as they become available in line with OEM recommendations;
modifications or the installation of additional equipment are done in-line with OEM guidelines, and to industry best practice;
systems should also be in place to identify and manage aftermarket equipment or unapproved modifications to vehicles or machines;
review the fitting and routing of all hoses to ensure they are in-line with OEM guidelines;
iInspect hoses at intervals recommended by the OEM, or in the absence of OEM guideline, as recommended by a competent person.
remove any shielding or guards to aid in the inspection.
the installation Fire Suppression Systems, including the location activation control should be consistent across the fleet.
ensure all operators and drivers are aware of the emergency procedures in the case of uncontrolled fires, including how to activate any installed Fire Suppression Systems;
operators and drivers where possible, should view the actual deployment of the Fire Suppression System.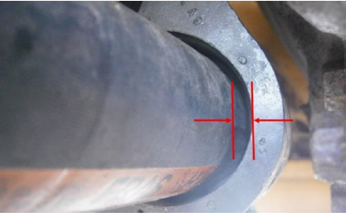 WorkSafe image of an aftermarket smaller diameter hose installed in OEM clamp grommet. The hose must be a firm fit to prevent hose pulsation and movement.
You can also follow our updates by joining our LinkedIn group or liking us on Facebook. 

Trucks For Hire | Forklifts For Hire | Cranes For Hire | Generators For Hire | Transportable Buildings For Hire