2016 cover stories: Zoom2u
---
On-demand express courier service Zoom2u may be a young business but it's worth keeping an eye on
Steve Orenstein, founder and CEO of Zoom2u, has more experience than most 35-year-olds could imagine.
At 19 he dropped out of IT studies at university to establish a business fixing computers for small companies.
In 2010 he founded Connect2Field, a job-management scheduling tool allowing customers to juggle client and job data via their mobile phones. Three years later he sold that business for a reported $7million to Dublin-based fleet management software company Fleetmatics Group, before setting up Zoom2u in July 2014.
And after 18 months the nrew company is going strong, partnering with Greyhound Australia to spawn a next-day delivery service, having received an $850,000 investment from Temando non-executive director Anthony Klok and Gandel Invest founder Tony Gandel.
Orenstein was inspired to set up the same-day courier service when he found he was consistently missing parcel deliveries.
"After I sold the previous business, I had nothing to do,"he says.
"I was sitting at home ordering things online and I experienced the complete inefficiency of the entire logistics industry to the point where I had a courier who tried to deliver a parcel three or four times over a week, ringing me up and abusing me because I wasn't at home while I had no idea at any point that this courier was actually trying to deliver.
"I thought there was an opportunity to do something there and after some research I could see there was nothing taking place in the industry.
"From my previous business experience, I knew I could build something that could really make a difference to the industry and have an impact on people's lives – being able to know rather than being frustrated going to the post office or sitting at home waiting for a courier through the entire day."
Making things easier
Zoom2u makes it easy for people to book a delivery and see exactly where their parcels are via GPS technology, by providing the driver's name and phone number.
Customers can choose same-day or three-hour delivery times, while drivers are independent contractors who can pick and choose the time they work and what jobs they accept.
You can register online or via Zoom2u's app, enter the type of delivery, pick-up and drop-off location, and track the parcel's progress in real-time until drop-off.
From birthday cakes to fruit baskets, flowers, fragile items, machinery tools and furniture, Zoom2u delivers anything – except animals – weighing less than 30kg.
The company has moved parcels in as little as 12 minutes and delivers outside courier hours in Sydney, Melbourne, Brisbane and Adelaide.
It has hundreds of drivers on its books – all have completed Zoom2u's courier training program – and the company pays up to $300 for repair or replacement of lost or damaged items, a service rarely needed.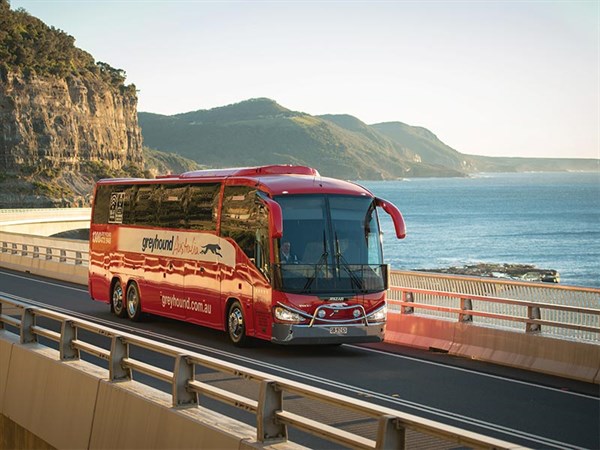 Spare capacity in Greyhound luggage holds is a money-earning asset.
Across state borders
By partnering with Greyhound Australia late last year, Zoom2u can now offer a next-day delivery service at a fraction of the cost of air freight. Parcels are moved on buses 365 days a year, providing an alternative to traditional courier movements.
Overnight pricing starts from $39 for a document delivery before midday from Sydney CBD to Melbourne CBD. A parcel up to 10kg under the same conditions is $50.
Orenstein says the partnership makes sense, with cost-effective measures on offer.
"We wanted to make sure we had a lot more control over the parcel and the reason we chose Greyhound is they've got capacity on buses going every single day of the year and they've got unused capacity that we can jump on the back of quite easily," he says.
"Customers really like being able to look online and track the location, and know who the courier is."
Greyhound Australia marketing manager Kristy Stevens says the company, which celebrated its 110th anniversary last year, is also known for carrying freight and thinks this partnership will open opportunities.
"They're a forward-thinking business, with their online technology and leading applications," Stevens says. "It will help Greyhound service customers through Zoom2u in a much more streamlined and better-presented digital environment.
"For a fairly young business they cover quite a lot of ground and from a Greyhound perspective we've got a lot of history and we've been around the block. We find it really beneficial to partner with younger businesses so we can make sure that we're staying relevant to our customers, and that we're adapting to digital fields. But we also like to partner with forward-thinking businesses like Zoom2u because it gives us a better insight into what else is available to us out there.
"We're confident the relationship is going to be prosperous; we know Zoom2u has an excellent business model that fits very well with ours and we have full faith that it's going to be a really good partnership."
Orenstein says the overnight service with Greyhound buses is expected to go nationwide later this year.
More than a good idea
Zoom2u board member and investor Klok says it was Orenstein's personality and expertise that made him invest in the business; he wasn't too concerned about the company's short life, as Orenstein's leadership and drive set him apart.
"Fifty per cent of the decision is based around my assessment of Steve Orenstein as CEO and somebody who can manage it," Klok says.
"The other part of it is the idea and the platform, so I had no issues – the idea is great and the platform worked. All of that gets a tick. It then comes down to the person – the wrong person can have the greatest idea in the world but it doesn't mean it will stick, whereas the right person can make a sub-par idea work through sheer hard work and tenacity."
The investment will help expand Zoom2u's business throughout Australia and hire new staff across operations, development, sales and marketing.
There are currently 20 employees in the operation's team and the company will look into further funding in order to continue growing, Orenstein says.
"It's really about accelerating the business and what we're doing. We know what we're doing works and we know our customers love what we're doing so now we're trying to build our network and make it as successful as possible to as many consumers as possible but also to lots of businesses that are sending high-volume items to customers – the likes of e-commerce and retail companies."
Part of this growth plan, he explains, was that he looked for logistics experience when selecting the appropriate investors.
"Through the network of people I know, I spoke to a lot of different investors – it was really a matter of finding investors who matched the type of skill set I was looking for but also people who I knew I could work well with and who understood the industry.
"Advice is the key thing I receive from them; getting the funding is relatively easy, it's more about finding the right people and people who are experienced and have been involved in lots of different businesses."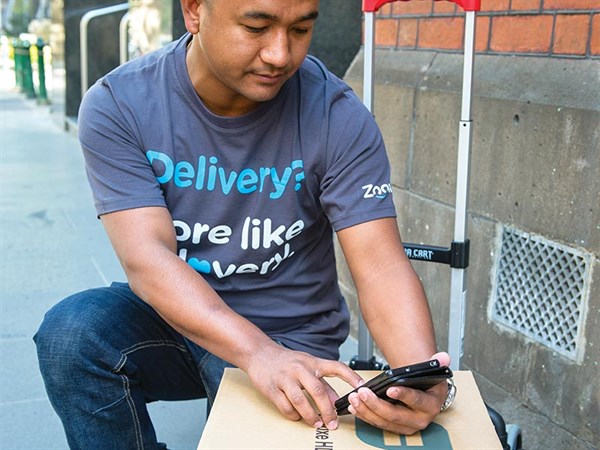 Above: Mattress company Ergoflex now uses Zoom2u's GPS tracking. Below: Customers can track their items via GPS in real time.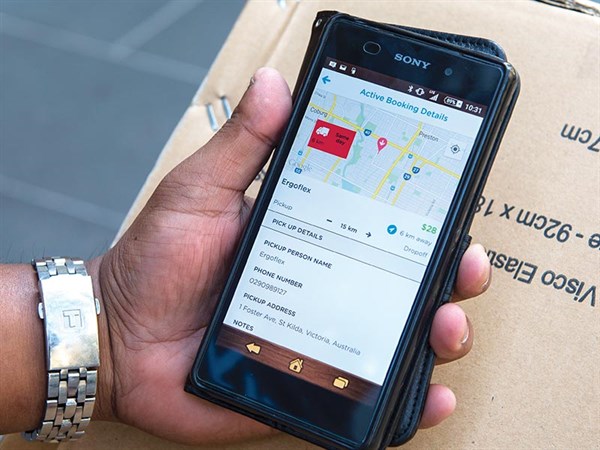 History Lesson
Looking back on his 19-year-old self when starting his first business, Orenstein says he was a callow young man who made the mistake of handing over financial matters to two older partners.
"I guess I was naïve and had no idea what I was getting myself into and in some ways that's been a good thing," he says. "What it meant was that at that age – still living at home, having very few expenses – you're able to take a lot more risks.
"When you're older, holding a steady job and you've got family to look after, and a mortgage, it's much harder to start a business from scratch.
"When we started Zoom2u, we started with a very basic technology platform – the minimum viable product – to test the market and see what sort of response we'd get from customers.
"We were getting this amazing response from people who kept emailing us, telling us how great the service was – from that point onwards we started building a product which is constantly being built on.
"Being able to change and evolve the product, making sure couriers deliver on time, these are critical to our success."
Zoom2u has grown through word of mouth and online marketing, and Orenstein plans to spend the next year doing what he does best – acquiring customers.
"It's really about acquiring customers and letting customers know about what we're doing," he insists.
"We've got a number of big customers in the pipeline; bringing them on board and not letting existing consumers get frustrated is my goal."
Never one to take success for granted, Orenstein acknowledges they need to do the hard work, evolving and tackling the ups and downs along the way.
"When you start a business you have big dreams and hopes for it," he says. "There is often never any certainty, which is why most people don't start a business."
So far, more than 10,000 customers have used Zoom2u's service, with the company having delivered close to 30,000 parcels.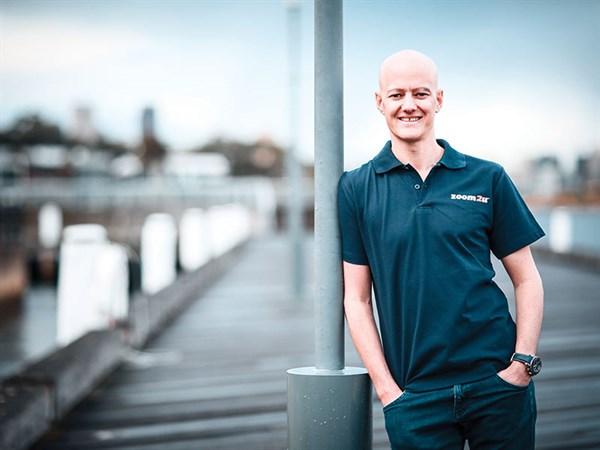 Before starting Zoom2u, Steve Orenstein sold his last company for a reported $7 million.
Behind the times
Orenstein believes the Australian courier industry is outdated but says no other courier company has the technology they have brought to market.
"We can see the detail of everything, of every single parcel right down to the street location where the courier is," he says.
"Gone are the days where a parcel has been lost. There's a huge advantage in the technology we've developed to what else is on the market. It's not an off-the-shelf product; it's been specifically designed and developed for this business."
Zoom2u's service is also customised accordingly to clients' needs, allowing direct communication between the parties.
The sale of his previous business made financial sense, Orenstein says, with the right customer coming at the right time.
"Building that business and knowing how to acquire customers meant that what would take three years to build has taken us a year," he adds.
"You're able to do things a lot faster because of the previous experience and knowing the right ways to use the internet to acquire customers.
"I think a lot of people in the industry don't realise or don't know how to do what we've been able to do. We're looking at this from a different point of view, a very technology-based point of view."
Orenstein believes in fixing the things that frustrate him. "I see something completely of out date, completely frustrating for the customer and know we can fix it."
Klok – who has more than 30 years' experience as CEO and director on public and private company boards in various industries – says the courier industry is a difficult space to operate in.
"It's an industry that's not marked by any particular dominant player; it's not that easy to sustain a successful business because of margins," he says.
"What I've learnt from Steve so far is that if you're going to do something in an industry, make sure you build the best software platform you can.
"I think he's done a great job in having a platform built and tested before we went out; we haven't really been surprised by anything breaking or not working.
"I don't see any risk as long as we don't get silly on the expense side."
Sleeping on the job
Mattress-in-a-box company Ergoflex Australia is now using Zoom2U's GPS system tracking to deliver its mattresses on time to customers.
The direct-to-consumer company has no shopfront and relies heavily on fast deliveries, director Matthew White says.
"Since we launched Ergoflex Australia in 2010, customer expectations have certainly changed as have delivery options available," he says.
"At first we offered a 9am to 5pm delivery window, then we were able to introduce after-hours and weekend deliveries; last year a two-hour window and now GPS tracking.
"We were always looking for ways to improve the online shopping experience for our customers, so Zoom2u's GPS-tracking technology really has come along at the perfect time."
Subscribe to our newsletter
Sign up to receive the ATN e-newsletter, digital magazine and other offers we choose to share with you straight to your inbox
You can also follow our updates by joining our LinkedIn group or liking us on Facebook. 

Trucks For Hire | Forklifts For Hire | Cranes For Hire | Generators For Hire | Transportable Buildings For Hire