2016 cover stories: S & S Tyquin Bulk Haulage
---
Victorian tipper operator Steve Tyquin takes great pride in all his gear but perhaps none more than a new A-double combination operating under Performance-Based Standards
At a quick glance, there's a lot to make you think life has been very good for Steve Tyquin for a very long time. The meticulously restored homestead on rolling farmland, the small but perfectly preserved collection of iconic Aussie cars, and the immaculate trucks and trailers.
It's all mightily impressive, and there's no question pride pervades. Even the workshop and driver's room are more museum than truckie's hangout.
Meet this big, burly bloke for the first time, though, and it's soon apparent that the showpieces of success have not come without long labour or harsh lessons in the raw realities of commercial life. There are no silver spoons in this story.
In fact, it's an abrupt Steve Tyquin who concedes that the impacts of 'the recession we had to have' in the early 90s saw the small but ambitious Tyquin tipper business suddenly teeter close to the point of no return.
"We were just starting to grow a bit but in what seemed like a heartbeat we went from three trucks back to one and I wasn't even sure we would end up keeping one," he says bluntly. "It was a close thing. But you learn a lot if you get to survive things like that.
"In my case, it definitely made me smarter and more careful, especially about borrowing money and the need to maintain good cash flow. It also teaches you to put money away, just in case."
These days, he splits his time between a home office in Keilor East on Melbourne's north-western fringe and the 12 hectare property and truck depot little more than a stone's throw off the Calder Highway near Sunbury.
Typically, the mobile phone is both constant companion and business lifeline, and the calls are incessant as customers, drivers and any one of eight full-time subbies dial in. Finally, he hands it over to a trusted off-sider and quickly settles back to talk trucks and trailers.
Only memory and experience now bear the scars of those tougher times and, surrounded by the success of several decades of dogged perseverance and carefully considered initiative, the company known as S. & S. Tyquin Bulk Haulage boasts one of the best-presented tipper fleets you're likely to find anywhere.
And for good reason. The way Tyquin puts it, the trucks and trailers are the frontline of the business and presentation is everything.
"If it looks good, people will see us in a positive way, whether they're into trucks or not," he remarks. 
More than anything else, though, you get the distinct impression that whatever it is, he just likes his gear to look good.
"Sure," he shrugs. "Good gear attracts good drivers who'll take pride in the equipment, so it pays off all-round."
There are 12 company-owned trucks in the business today, ranging from water trucks and a couple of Isuzu 4x2 rigid tippers, through to a Kenworth T359 eight-wheeler and a mix of Kenworth T909 and K200 body trucks hooked to three and four-axle dog trailers – plus a pair of K200 prime movers towing semi-tipper combinations.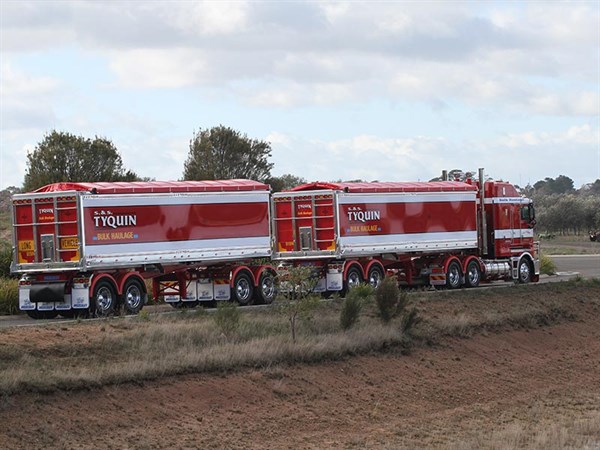 One of the prime movers is the latest member of the Tyquin team, a new K200 'Big Cab' hauling an equally new Hercules A-double tipper set, which, like almost every other truck and trailer combination in the outfit, obviously operates with PBS compliance. It is also said to be the first A-double to operate within the 26m overall length limit of B-doubles.
We'll get to the specifics of the A-double shortly. Meantime, it's blatantly apparent Tyquin has a strong preference for Kenworth, saying: "They stand up to the job and their resale is better than anything else."
Likewise, strong relationships based on product quality and service have developed with tipper builders Hercules Engineering and Chris's Body Builders.
There is, however, one other truck in the operation that sits outside the square yet holds a particularly special place for Tyquin and long-term friend and workmate Steve 'Chooka' Thomson.
"It's basically Chooka's truck," Tyquin says of the stunningly refurbished Mack Super-Liner V8, which earns its keep attached to a three-axle dog trailer.
"He did all the hard work rebuilding it and he keeps it in top condition. It's a real credit to him and the thing goes like a train. They just don't make trucks like that anymore." 
Indeed they don't!
Evolution
With a broad smile, it's a reflective Tyquin who admits that, 40 years ago, when he went to South Australia as a 16-year-old with a couple of mates to acquire a rigid truck licence – "Back then you could get a licence in South Australia younger than you could in Victoria" – the thought of one day owning a pin-up fleet of trucks wasn't anywhere on the agenda.
"My father had a couple of trucks carrying hay and milk, and I just reckoned I could make more money driving trucks than anything else at the time," he explains. "It was really as simple as that."
Back home, he eventually bought his own tipper and started subbie work with local quarries. As is often the case, one thing led to another and, with the opportunity to sell quarry products direct to end users, the future started to take shape.
Admittedly, the balance between potential and profit had its fair share of challenges, but with the lessons well learned, the Tyquin operation now bears all the markings of a successful enterprise in what he admits is a tough business where competition is never too far from the door.
He keeps the details close to his chest, but lists quarry products, gypsum, lime, compost, firewood and woodchip as the main loads in trucks that average around 100,000km a year.
"It's not big mileage compared to some, but that's probably due to the fact that we don't haul grain," Tyquin comments. "There's enough competition in that work without me adding to it."
Ironically, or perhaps fortuitously, it was the thought of encroaching competition that first caused Tyquin to give serious thought to a new regulatory and industry initiative called Performance-Based Standards, PBS. At that point, he was largely running 19m truck and quad dog combinations grossing up to 50.5 tonnes.
However, the prospect of PBS compliance providing a jump on the competition by allowing a gross weight of 57.5 tonnes on the same number of axles was too good to ignore.
The timing wasn't perfect, though. It was 2007, and not only was PBS in its infancy, with compliance sure to demand any number of bureaucratic checks and balances, but the global financial crisis had kicked in and any investment had to be carefully considered.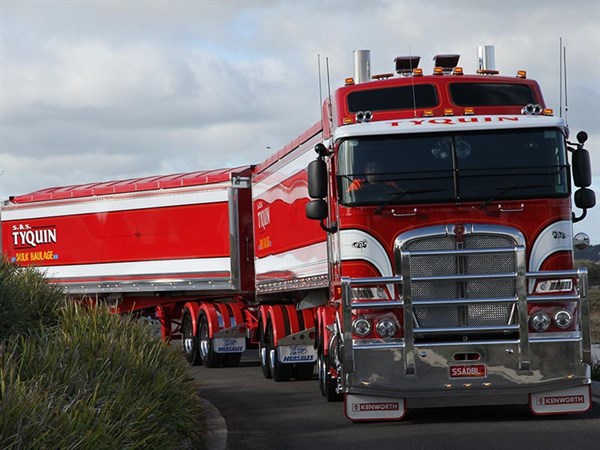 Still, the potential benefits ultimately drove him headfirst and alone into the cost and confusion of the PBS process, singlehandedly working his way through the seemingly endless hoops and hurdles of VicRoads and the National Transport Commission.
"It was a bloody stressful nightmare," he says with cold conviction. "The costs were scary and the whole process was daunting to say the least.
"Many times it got to the point where I wondered if the whole thing would be worthwhile. There was upwards of $20,000 in just getting the assessment and design modelling done, and most of that was spent with ARRB [Australian Road Research Board].
"So there were all those costs on top of a new truck and trailer built for PBS compliance, and I can tell you they didn't come cheap."
To put sour icing on an already bitterly expensive cake, Tyquin explained that even when the truck and trailer were built, approved and ready to start work, it took three more months to actually receive an access permit to operate.
Here was a new purpose-built Kenworth T908 and Hercules Engineering four-axle dog combination built to operate within a 20m overall length at a PBS-approved gross weight of 57.5 tonnes, spending several months waiting for a permit to operate.
"It was bloody ridiculous," he says sharply. "It was over 19m long, so officially it needed a permit, otherwise it'd be operating over-length."
"Like I said, bloody ridiculous, especially when it's sitting here with full PBS compliance doing nothing for three months while I'm paying for it. I can tell you, it hurt."
There was, however, one bright note. It was around this time he first met Ken Cowell, a highly qualified and much respected consulting engineer who firmly believes in the productivity benefits of PBS, but also holds the view that the compliance process is unnecessarily complex and too often stymied by various bureaucracies.
It was a meeting that would forge a strong relationship over following years as the two worked to maximise the potential of PBS combinations.
Anyway, the 'over-length' permit finally arrived, and in 2008 his first PBS-compliant combination went on the road. Best of all, the commercial attributes of a truck and quad dog combination able to carry seven tonnes more payload were quickly realised, and it's an adamant Tyquin who maintains the costs of compliance were recouped in a matter of months.
In fact, so prompt was the payback, that 12 months later he went through the whole exercise again, admittedly a tad wiser, to put an identical unit on the road.
"The process was little better, but at least I knew what I'd get out of it."
Yet despite all the problems and inconsistencies in achieving compliance, there's no question PBS has had anything other than a hugely positive effect on the Tyquin operation since that first unit went to work. PBS has, in fact, become the norm for all his frontline truck and trailer combinations, just as disc brakes have also become the standard stopping force.
"The process is a still a pain in the arse and it's certainly not a cheap exercise, but for what we do, PBS pays off," a resolute Steve Tyquin confirms.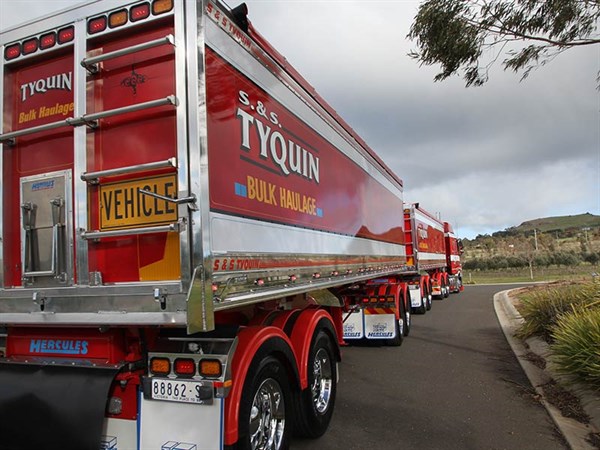 Out of the Ordinary
From a distance, or up close, it is a hugely impressive combination and, typifying the presentation of all his equipment, Tyquin has spared nothing in making the A-double a flagship of the fleet. It is, however, productivity that stands as the key to the combination's true commercial merit.
Overall length is a tad over 25.8m with each 8.8m-long aluminium trailer having a load capacity of 40 cubic metres, and depending on the roads it's operating on, the combination is able to run at gross weights up to 74.5 tonnes.
"It's close to a 50-tonne payload, so there's nothing to complain about as far as earning capacity goes," Tyquin says.
He is, however, quick to concede the combination carries plenty of 'extras' that contribute to a hefty total tare weight of almost 25 tonnes. It would, he agrees, be relatively easy to pull a tonne or so out of the tare to further increase payload, but given his obvious satisfaction with the complete unit, that's unlikely to happen.
An 'extra' he definitely wouldn't be without are the slippery quick-flow bin liners, which he describes as huge assets for both safety and efficiency.
"They stop product from hanging up in the corners of the bin, and it's amazing how much quicker the product comes out. The load's gone long before the hoist is at full height," he enthuses. "The amount of time it saves over a day is incredible.
"The liner material definitely isn't cheap and it probably adds a fair bit of weight, but it easily pays for itself. The amount of wear it saves on the aluminium bins is huge."
There's no question that over the past seven or eight years, PBS compliance has come with many frustrations and difficulties for Tyquin. But, likewise, there's no question PBS has paid off handsomely for his particular operation.
On the A-double specifically, the added versatility of being able to operate as two single semi-tippers or with the second trailer used as a quad-dog is an extra bonus.
As he candidly states: "There's no way I would've invested so much on this combination if I wasn't absolutely sure of a good payback. Believe me, there's a lot of money tied up in the truck and trailers."
On the PBS approval process for the A-double, he's quiet for a moment, before commenting: "I suppose being first with an A-double operating within the 26m B-double length was always going to come with a few hassles and hold-ups.
"The authorities aren't big on anything that's a bit different, but the way I see it, it's a lot easier now to get PBS approval on a truck and dog than it was when I first tried.
"So maybe it'll be the same with the A-double, and three or four years from now getting approval for a unit like this will be a lot easier and less complex.
"At least, you'd like to think it will be," he concludes with a wry grin.
Subscribe to our newsletter
Sign up to receive the ATN e-newsletter, digital magazine and other offers we choose to share with you straight to your inbox
You can also follow our updates by joining our LinkedIn group or liking us on Facebook. 

Trucks For Hire | Forklifts For Hire | Cranes For Hire | Generators For Hire | Transportable Buildings For Hire